Das Experiment Zugkraft im Drill
---
Rubrik: Das Experiment!
Das Wort Experiment steht für Versuche, Beweise, Prüfungen und Proben zur Gewinnung von neuen Erkenntnissen und Informationen. Meist sind Zählungen und Messungen ein fester Bestandteil eines Experimentes. Aber auch extreme Produkttests können Teil unserer Versuchsreihen sein. In dieser Rubrik möchten wir Euch bei unseren Experimenten mit einbeziehen und die gewonnene Erfahrung ebenso mit Euch teilen.
————————————————————————————————————————————————————
Wieviel Zugkraft üben wir auf den Karpfen beim Drill aus?
klicken zum vergrößern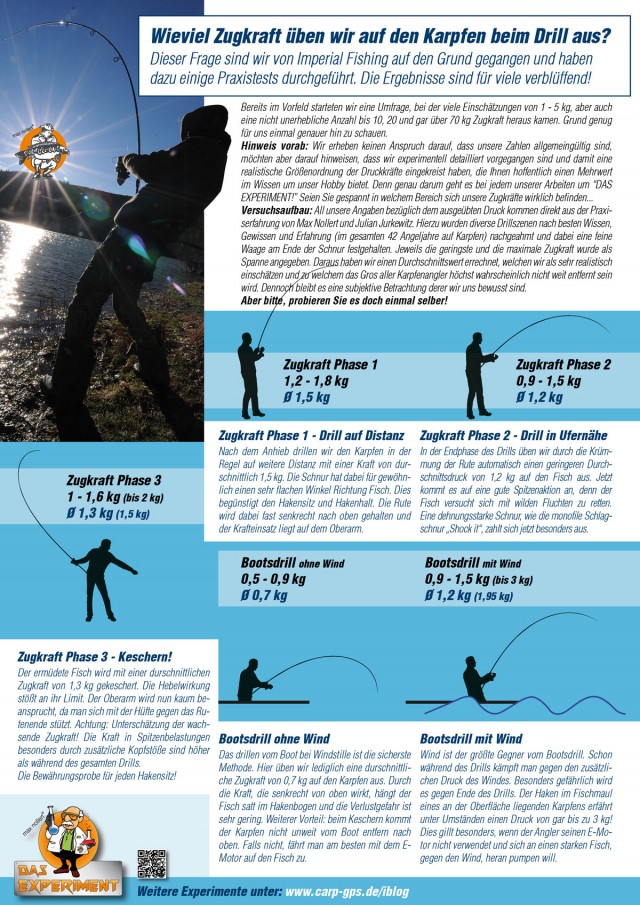 ————————————————————————————————————————————————–
English language:
How much pulling force are we placing on the carp during a drill?

Do you have an idea how much pulling force we as anglers are using when drilling a large carp?
This question was asked by Max Nollert in an iBlog Update and on Facebook. There were many different guesses which we received. There were many good answers, but there were many which also showed that this experiment was much needed, as there were guesses up to 70 kg!
All of the results related to the force used come direct from the practice and experience of Max Nollert and Julian Jurkewitz. Diverse drill sequences were simulated using all the knowledge, experience, and expertise (totaling 42 years fishing for carp) with a fine scale on the end of the fishing line. These measurements were carefully recorded and maximums and minimums were used to find the averages of both Max and Julian. These numbers we give high credibility to, and find them to be a realistic average for most all carp anglers. There are some factors which are of course subjective and we are aware of that as well.
We do not mean to say that these numbers are the "one and only" answer for everyone, but we do want to show that through the detailed experiments we have shed light on the question as to how much pressure is in play. We hope that this "Experiment" has brought you some more knowledge and wisdom which you can use on the water with our loving hobby, carp angling.
We go further in the diagrams below with more detail and commentary.
Until then, max nollert
click to enlarge

————————————————————————————————————————————————–
La langue française
Combien de force de traction est-ce que nous exerçons sur la carpe lors d´un combat?

Est-ce que vous avez une idée combien de force de traction vous exercez entant que pêcheur en moyenne sur une grande carpe?
Max Nollert vous a posé cette question dans un des iBlog Update ainsi que sur Facebook.
Comme nous nous sommes déjà doutés en avance, il y avait beaucoup d´estimations différentes. Néanmoins, il y avait aussi beaucoup de bonnes idées, qui ont fait de cet expérience un gain, car il y avait même des expressions jusqu´à 70kg de pression!
Toutes nos données concernant la pression exercée, résultent directement de l´expérience et de la pratique de Max Nollert et Julian Jurkewitz. Pour cela de diverses situations de combat ont été imité en notre âme et conscience et notre expérience (en tout, plus de 42 années de pêche à la carpe). Nous avons attaché pour ceci une balance très fine à un fil et surveillé très attentivement. A chaque fois nous avons précisé la force de traction maximale et minimale entant que marge (n´importe qui, si Julian ou Max). D´après cela nous avons calculé la moyenne, que nous estimons assez réaliste et qui ne devrait pas être très éloigné de la moyenne de la plupart des carpistes (hypothétiquement). Comme même cela reste une considération subjective, nous nous en sommes conscients.
C´est pourquoi nous ne prétendons pas, que ces données sont généralement admis, mais nous voulons faire remarquer que nous avons procédé d´une manière expérimentale et détaillée et avons pu grâce à ca, cerner l´ordre de grandeur des forces de traction. Nous espérons que cela vous offrira des informations précieuses qui enrichiront vos connaissances autour de notre hobby ci bien aimé, la pêche à la carpe. Car c´est pour cela que nous travaillons à "L´expérience!" Et nous continuons avec un thème de la même rubrique "Force de traction sur la carpe", inspiré par l´un ou l´autre commentaire actuel.
jusque-là, max nollert
cliquez pour agrandir

Weitere Experimente