Ein unvergesslicher Trip
von Attila Éles

Diesen Bericht bin ich Euch immer noch schuldig. Ich erinnere mich noch einmal für Euch zurück an diesen Trip im Oktober. Meine Hauptangelzeit ist die Phase vor dem eintreffen der Kaltfronten und auch dieses mal war es nicht anders. Während dem zweitägigen Ansitz erhöhte sich permanent der Luftdruck, was mich postitiv nach vorne blicken lies. Zuhause bereitete ich für diesen Ansitz eine größere Menge Boilies vor, welche ich am Wasser dann noch mit IB Carptrack Amino Pellets und etwas Grundfutter verfeinerte.
Die Futterbombe
Zum Anfüttern verwendete ich IB Carptrack Elite Boilies, IB Carptrack Monsters Paradise Cold Water (Jetzt Activ Bait), IB Carptrack BIG Fish und den IB Carptrack Scopana.Love Boilie in jeweils 20mm, welche ich ca. 2 Stunden zuvor mit In Liquid benetzt hatte.
Während die Boilies die die Flüssigkeit aufnahmen, stellte ich die Spod-Mischung zusammen. Diese bestand aus kleingeschnittenen Boilies, IB Carptrack Amino Pellets in 4, 15 und 25mm, IB Carptrack Squid-Liver Mehl sowie verschiedenen Additiven (IB Carptrack NHDC, IB Carptrack InP). Zum abrunden dann noch etwas IB Carptrack Powder und IB Carptrack In Liquid bis die gewünschte konsistenz erreicht ist.
Ich plante im Vorraus schon eine größere Futtermenge ein, da sich die Fische auf die kalte Jahreszeit vorbereiteten. Größere Fische können da schon einmal eine größere Menge an Futter zu sich nehmen, welches auch viele Nährstoffe enthält. Das Wetter war gnädig und ich fand strahlenden Sonnenschein und ein nahezu windstilles Gewässer vor. Somit stand dem ersten Anfüttern der Spots nichts im Wege.
Milder Wind kam auf
Am Nachmittag kam ein milder Südwestwind auf. Ich wusste, dass dies ein gutes Zeichen war und dass die Fische sich langsam zeigen würden.
Ich musste nicht lange warten
Nicht das größte Exemplar, aber ich habe mich riesig darüber gefreut. Schnell fotografieren und dann wieder zurück ins Wasser.
Der Köder, welcher ihn überzeugt hatte, war kein geringerer als mein Lieblingsköder, der IB Carptrack Monsters Paradise Activ Bait in 20mm. Schnell den Haken neu beködern und ab auf den Spot zurück. Als ich das Wasser beobachtete, bemerkte ich, dass die winzigen Fische, die um den Spodmix herumfraßen, plötzlich verschwunden sind.
Dies deutete darauf hin, dass nun die Größeren Fische die Spots entdeckt hatten. Nach einer kurzen Weile hatte ich auch den nächsten Fisch am Haken und ich merkte sofort, dass dies wohl ein größerer Fisch sein würde. Nach ca. 15 bis 20 Minuten Kampf konnte ich den Fisch endlich keschern.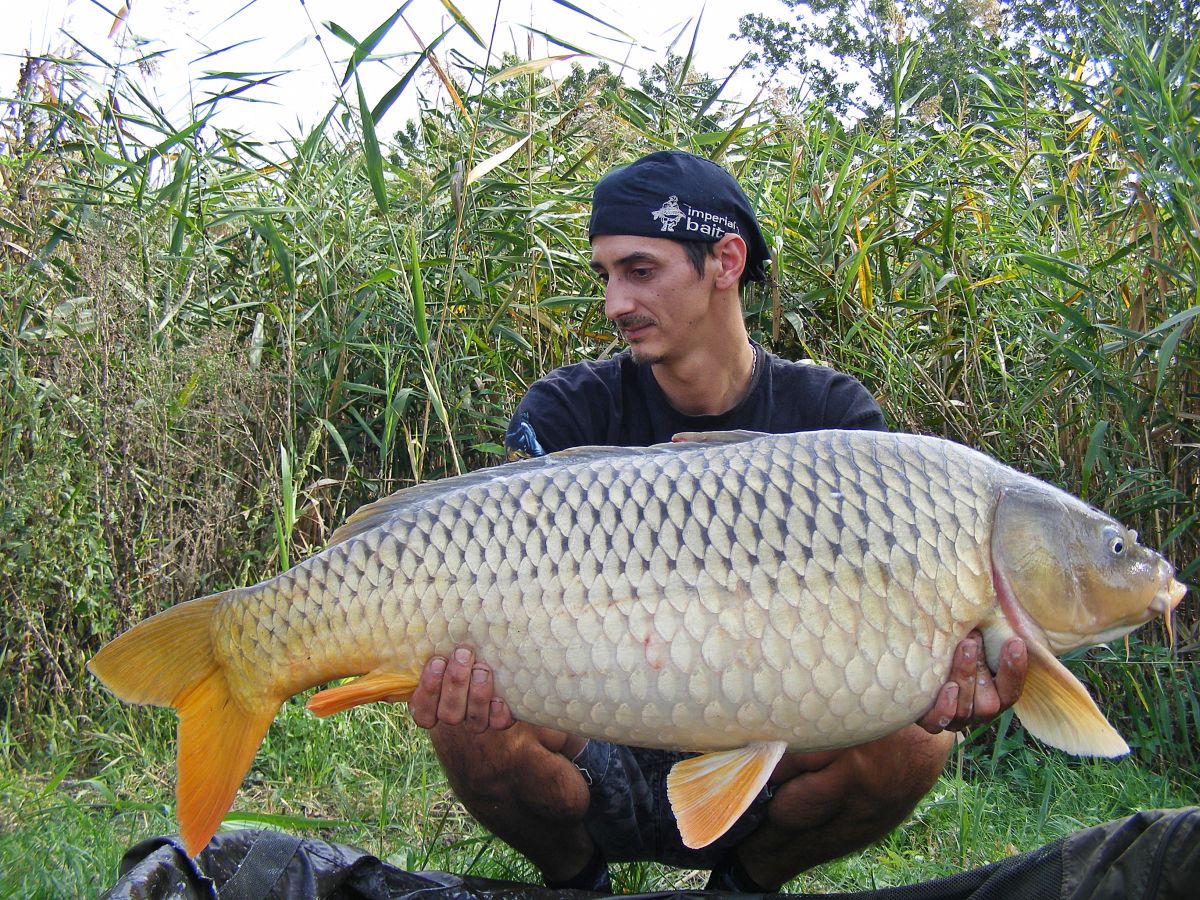 Dieser wunderschöne Karpfen konnte dem IB Carptrack Scopana.Love RAMBO Hookbait nicht widerstehen.
Erst einmal Ruhe
Dieser Hakenköder wurde dazu konzipiert seine Form beizubehalten und Angriffen von Krebsen, Weißfischen und Grundeln standzuhalten. Zudem ist er noch Federleicht im Wasser, was ihn langsamer zu Boden sinken lässt und er vom Karpfen schneller einzusaugen ist. Der Rest des Tages verlief ruhig. Zeit für die schönen Dinge, wie zum Beispiel das Beobachten von Wasser- und Landbewohnern um den See. Kurz vor der Dämmerung fütterte ich dann nocheinmal ca. 1kg Boilies mit dem Wurfrohr nach.
Langsam wird es dunkel
Mit zunehmender Dunkelheit stieg die Hoffnung auf einen Fisch. Ich blieb noch etwas wach, aber es sollte kein Ton der Bissanzeiger erklingen. Also legte ich mich schlafen und hoffte auf den ersehnten Fisch.
3 Uhr nachts – der Bissanzeiger ertönt
Wieder hatte der IB Carptrack Scopana.Love RAMBO Hookbait zugeschlagen! Nach ein paar Fotos ließ ich ihn wieder schwimmen und legte mich wieder hin.
Beobachten und lernen
Gegen 6 Uhr wachte ich auf und blickte über das Wasser. Ich beobachtete die Spots und konnte kaum glauben was ich da sah. Die wahrscheinlich besten Fische des Sees hatten sich um den Spot versammelt. Zuerst wollte ich direkt noch etwas Futter ausbringen, entschied mich allerdings dagegen, da die Anzahl der Fänge das Einbringen von noch mehr Futter nicht rechtfertigten.
Während ich meinen Kaffee trank, meldete sich erneut der Bissanzeiger. Als ich die Rute anhob, merkte ich wieder sofort, dass ich es mit einem ordentlichen Kämpfer zu tun habe. Auch diesen Fisch konnte ich sicher landen und ihn kurz ablichten. Köder war hier der IB Carptrack Monsters Paradise Activ Bait.
Nun ging es Schlag auf Schlag
Die Rute war schnell neu beködert und wieder auf ihrem Platz und ich zog mir erst einmal frische Klamotten an. Noch während ich mich umzog, der nächste Biss! Es hatte sich also alles bezahlt gemacht.
Gegen Nachmittag dann der nächste Streich
Am späten Nachmittag packte ich meine Sachen für die Heimreise. Ich war sehr froh, viele schöne und gesunde Fische gefangen zu haben. Die Köder hatten sich wieder einmal bewährt. Es gibt keinen Wunderköder und es hängt sehr viel von dem jeweiligen Angler, der Zeit, der Platzwahl und dem nötigen quäntchen Glück ab. Aber egal ob es sich um einen mehrtägigen großen Trip oder um ein kurzes, spontanes Fischen wie dieses handelt, für mich sind die Boilies und Zusatzstoffe von Imperial Baits immer die erste Wahl. Die Auswahl aus dem Sortiment ist extrem groß und es ist für jede Art der Angelei etwas dabei.
Attila Éles
Team Imperial-Fishing Hungary
"Zu guter letzt" – Smoothy Time bei Imperial Fishing
Smoothie time bei IB! In einem gesunden Körper wohnt ein gesunder Geist! Und damit gehen wir heute Abend Karpfenangeln an der Mosel beim Döbelspezialisten Roland Gründler ;-()
Smoothie time at IB! A healthy mind lives in a healthy body! In with that we go carp fishing at the river Mosel this evening and night with the "Chub specialist" Roland Gründler
😉. Have a good time everybody!