Winter Time – wenn Karpfenangeln zu einem extremen Abenteuer wird.
von Zsolt Bundik
Claudia Darga – nimmt sich eine Auszeit und stöbert genüsslich im neuen Imperial Fishing Katalog.
Sende auch dein KAT-Pic um es hier auf dem iBlog veröffentlicht zu sehen! Ob am Wasser, zu Hause oder z.B. in der öffentlichen Bahn, wir sind auf Deine kreativen Bilder gespannt!

---
Winterzeit – die Zeit der traumhaften Sonnenuntergänge, aber auch der extremen Abenteuer. Ich möchte Euch heute in die Eindrücke eines meiner Winterabenteuer entführen.

Im Winter setze ich auf wenig Futter, also kamen pro Spot 10 – 15 IB Carptrack Boilies zum Einsatz. Als Boilie Sorte verwende ich bei niedrigen Wassertemperaturen gern die Cold Water Boilies.
Ich liebe die Monster-Liver's!

Der erste Karpfen lies nicht lange auf sich warten…

…was für ein langer Kämpfer!

Ein Doppellauf in der kommenden Nacht brachte mir gleich zwei wunderschöne Fische auf die Matte.

Noch schnell ein kleines Portrait und schon ging es zurück ins kühle Nass.

"YES" – der nächste ist im Sack. Die Cold Water Monster-Liver Boilies laufen mal wieder zu meiner vollsten Zufriedenheit!

Ein kugelrunder Winter-Carp – stark!

Meine Köder pimpte ich mit inLiquid und inP, das gerade bei kaltem Wasser extrem wasserlöslich ist! Ich löste den erhofften Fressreiz aus und fing kontinuierlich sehr schöne Winterkarpfen.

Der extrem starke und eiskalte Wind, machte jeden Drill und jedes erneute raus schaffen der Montage zu einem Abenteuer.

Immer hart im Wind!
Der Erfolg trieb mich immer und immer wieder in die Fluten. Durch die Geoff Anders Raptor Jacke war ich vor Kälte und Nässe bestens geschützt!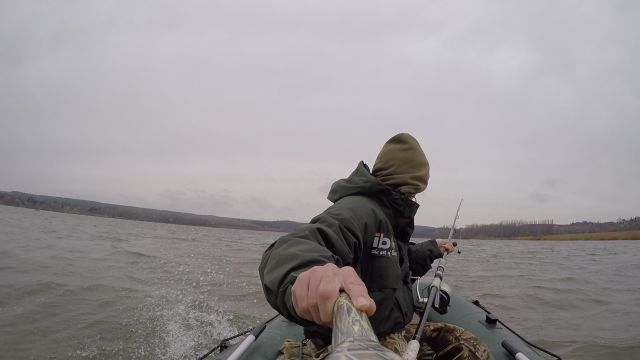 So geht`s: Im Winter setze ich auch gerne mal auf große Köder.
Hier der IB Carptrack Monster-Liver Cold Water Boilie in 24mm, den ich selbst aus dem Monster-Liver Cold Water Boiliemix drehte.

Yes!!! Unfassbar!!! Ein dicker Winterfisch im Sack!

Der erste BIG-ONE dieser Session!

Ich war einfach nur überglücklich!

Ein Wahninns Gefühl…
Winterfischen: hart, extrem, abenteuerlich und faszinierend zu gleich!

Die Temperaturen fallen jede Nacht unter Null und lassen überall am Tackle das Wasser gefrieren. Zum Glück bleibt der See offen 🙂

Wie 1000 Nadelstiche fühlte sich das Wasser an…

…ich kämpfte mit ihm und er mit mir. Doch ich ging als Sieger vom Platz!

Über 20 Kilo pure Kraft… Wahnsinn!

Hin und wieder bekam ich Besuch im Camp – Schwan müsste man sein, ihnen scheint die Kälte nichts auszumachen. Aber ich halte durch und kämpfe weiter mit den Naturgewalten des Winters…

Die Ruten bestückt, so warte ich auf den nächsten Run.

Dieser ließ nicht lange auf sich warten und wieder hieß es ab in die eisigen Fluten.

Einfach Wahnsinn was hier passiert. Ein Run nach dem anderen.

Unzählige Male wurde meine Matte gefüllt.

Zwischen den vielen Drills, genoss ich das traumhaft schöne Wetter und die atemberaubende Aussicht, die mir die eindrucksvolle Wintersonne bot.

Winter Time – wenn Karpfenangeln zu einem extremen Abenteuer wird.
Das verlangt auch schon mal nach was extremeren an Bait:
Der IB Carptrack Big Ball im Schein der Sonne – ready to take off.

Erneut bereite ich mich für ein paar schöne Fotos vor…

…um den letzten Winter-Carp aus dieser Session abzulichten.

Abschließend mein Fazit:
Winterfischen lohnt sich. Hart und extrem an der Belastungsgrenze, aber ein Wahnsinns Erlebnis, wenn's dann noch so gut läuft! Die Cold Water Boilies tragen einen großen Teil zu meiner erfolgreichen Winterangelei bei.
Raus mit Euch ans Wasser – solange es eisfrei ist!


Zsolt Bundik
Team Imperial Fishing Ungarn
———————————————————–
Imperial Fishing Catalogue 2018 – english
Free order incl. free stickers!
It is also automatically included with every order you place.
Two possibilities to look at the new catalogue:
1. Click here to scroll online through the new Catalogue 2018
2. Click here to download the complete PDF file
——————————————————————–

Das iBoat 260 – iBoat, E-Motor, Batterie, Turbogebläse alles in einem Set!
Nur solange der Vorrat reicht.