SONNTAGSSPECIAL in unserer APP
> WANN? ACHTUNG NUR DIESEN Sonntag den 20.10.2019
> WAS? PUSH Notifications in der "IF Carp Shop" App bis 12:00 Uhr einschalten!
> WARUM? 15 % Gutscheincode wird via Push Notification um 12:30 Uhr gesendet
> HINWEIS: Der Code ist am 20.10. (Sonntag) nur von 12:30 bis 22:00 Uhr gültig!
P.S. Gutscheincodes, wie der aktuelle 10% Herbst Gutschein CHM-AU7,
können nicht kombiniert werden.
Viel Spaß beim Shoppen!
——————————————————————————————————

Kanalangeln mit Tobias Seeber
Jeder hat es, jeder kennt es – sein Hausgewässer. Es ist die erste Wahl, wenn es darum geht eine schnelle Nacht zu fischen. Irgendwann kam für mich der Moment, in der das vorbereiten von Spots aufgrund der ständig wachsenden Anzahl an Karpfenanglern unmöglich wurde. Selbst unter der Woche brauchte man Plan B und C, wobei diese Stellen selten gut erreichbar sind. Meine unmittelbare Nähe zu den Niederlanden, brachte mich vor einigen Jahren dazu die zahlreichen Kanäle zu befischen. Und was soll ich sagen…: Die Kanalfischerei zieht einen schnell in seinen Bann. Den einen Tag sitzt man in der City, den nächsten in der Natur. Soviel Strecke auf der sich die Fische aufhalten können, wodurch jeder einzelne Fisch um ein Vielfaches bedeutsamer wird als aus jedem meiner Seen.
Die Abendstimmung an einem kleinen Kanal nahe der französischen Mosel. Ein Kontrast zwischen Natur und Industrie, der einen magisch anzieht…
Dass es nicht immer die erholsamste Art ist kann man sich wahrscheinlich denken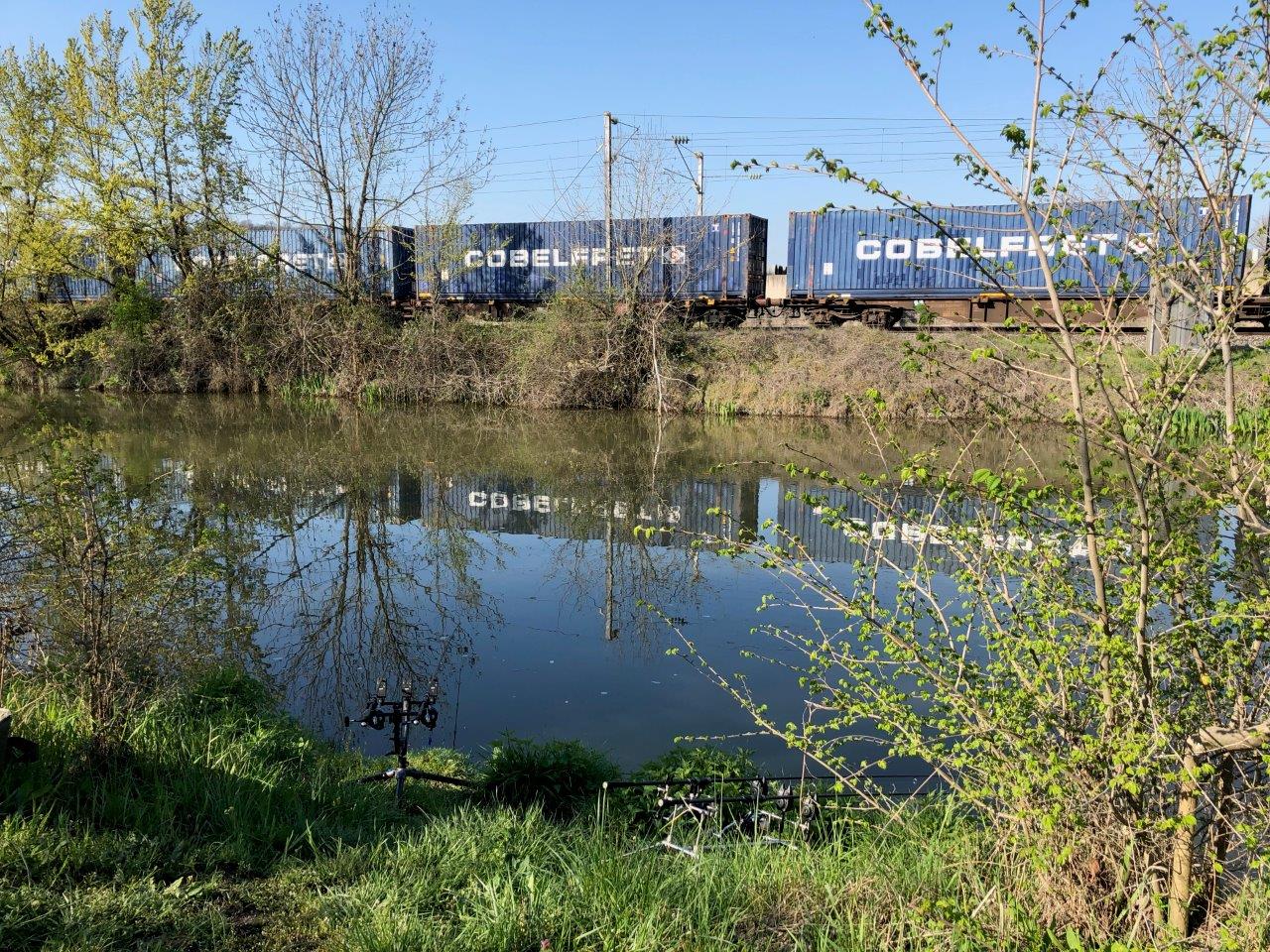 Dieses Bild wurde leider nur mit dem Handy aufgenommen. Es war ein ständiges Zittern, ob ein Karpfen oder Wels am Haken hing.
Mal schauen was die Nacht bringen wird…Abendstimmung am Kanal.
Drill vom 160er Iboat. Es ist seit etwa 6 Jahren mein ständiger Begleiter an allen Gewässern, an denen ein Boot zum Einsatz kommen darf. Hier brachte es die Ruten teils 200m Kanalstrecke hinauf und half im Drill schnell über den Fisch zu kommen.
Dank des Iboats und Osmotic Oriental Spice Boilies in 16mm konnte ich einen der begehrten Kanalfische überlisten.
Die aktive Schiffahrt in den Niederlanden macht einen zusätzlichen Reiz an dieser Angelei aus. Die Strömung und den Sog der Schleusen bringen ständig Bewegung in das Wasser. Oft kommen die Bisse sogar direkt nachdem das Schiff alles aufgewühlt hat.
Hier spielen die Gele ihre ganze Power aus. In diesem Fall nutzte ich das Monster's Paradise Amino Gel in Kombination mit einem 16mm Monster's Paradise Half'n Half.
Schwere Gewichte jenseits der 150g sind an den meisten Spots Pflicht. Da sich diese sofort lösen sollten sind die iRocks ohne Bleianteil die verträglichste Wahl.
Auf Distanz kommt erneut das 160er Iboat zum Einsatz, da das Futter oft schon in der Luft von den Möwen geklaut wird.
Dafür fährt man an den Kanal. Die Chance auf einen wirklichen Charakterfisch ist enorm.
Und auch die Natur lässt an vielen Stellen nicht zu wünschen übrig.
Die Schleusengegenden sind an allen Kanälen extrem interessante Spots.
In Erwartung auf einen der seltenen Bisse…
Ein schöner Schuppi, der in der Kanalmitte auf einen 16er V-Pop orange hineinfiel.
Tight lines,
Tobias Seeber
---
Giacomo Giovannini – a carp angler!
EN: A passion that I have been pursuing for a long time and that occupies me most of my free time, more than passion – it is a lifestyle.
DE: Eine Leidenschaft, die ich schon seit langem verfolge und die mich den größten Teil meiner Freizeit beschäftigt. Es ist mehr als eine Leidenschaft, es ist ein Lebensstil.
EN: Later, I began with friends the first experiments with mixes and flavors… After some time behind our roller tables and kg for kg of baits which we rolled, they got better and better. The carps didn't take long time to like them!
DE: Später begann ich mit Freunden die ersten Experimente mit Mixen und Aromen… Nach einiger Zeit hinter unseren Rolltischen und kg für kg boilies, die wir rollten, wurden sie immer besser. Die Fische brauchten nicht lange, um sie zu mögen!

EN: Monsters Paradise – what an awesome range!
DE: Monsters Paradise – was für eine Range! Hier die gesamte Range im Überblick!

EN: After about 2 years I went to a shop that offered me to add the proteins to the base mix and the Imperial Baits squid / liver. From there my mixes changed well and the size started to rise!
DE: Nach etwa 2 Jahren ging ich in einen Laden, der mir angeboten hatte, die Proteine in den Basismix und die Imperial Baits Squid/Liver zu geben. Von dort aus änderten sich meine Mixe und die Größen der Karpfen begannen zu steigen!
EN: Massiv common
DE: Massiver Schuppenkarpfen
EN: What a common
DE: Was für ein Schuppenbrett
EN: Absolutley dreammirror
DE: Absoluter Traumspiegler
EN: It almost seemed like a drug … my favorite environments are the great lakes of central Italy such as Salto, turano and scandarello and volcanic lakes … I also love Slovenia very much as a setting and lakes of all respects like Bled and smartinsko .. .
DE: Es schien fast wie eine Droge. . . . meine Lieblingsgewässer sind die großen Seen Mittelitaliens wie z.B. Salto, Turano und Scandarello und vulkanische Seen. Ich liebe auch Slowenien sehr, mit seinen Seen in jeder Hinsicht, wie Bled und Smartinsko. . . . . .

EN: Sometimes one rod is enough – just needs the right place!
DE: Manchmal ist eine Rute schon ausreichend – es braucht nur den richtigen Platz

EN: I prefer fishing from the boat because it gives you the true emotions of this fishing makes you live places where the car does not arrive … I realy entirely on my Iboat!
DE: Ich bevorzuge das Fischen mit dem Boot, weil es dir die wahren Emotionen dieses Fischens vermittelt, und dich an Orte bringt, die du mit dem Auto nicht erreichst. . . . Ich verlasse mich voll und ganz auf mein iBoat!
EN: Everytime I do this I have a very good feeling and get curious!
DE: Jedes Mal wenn ich das tue, habe ich ein sehr gutes Gefühl und werde sehr gespannt!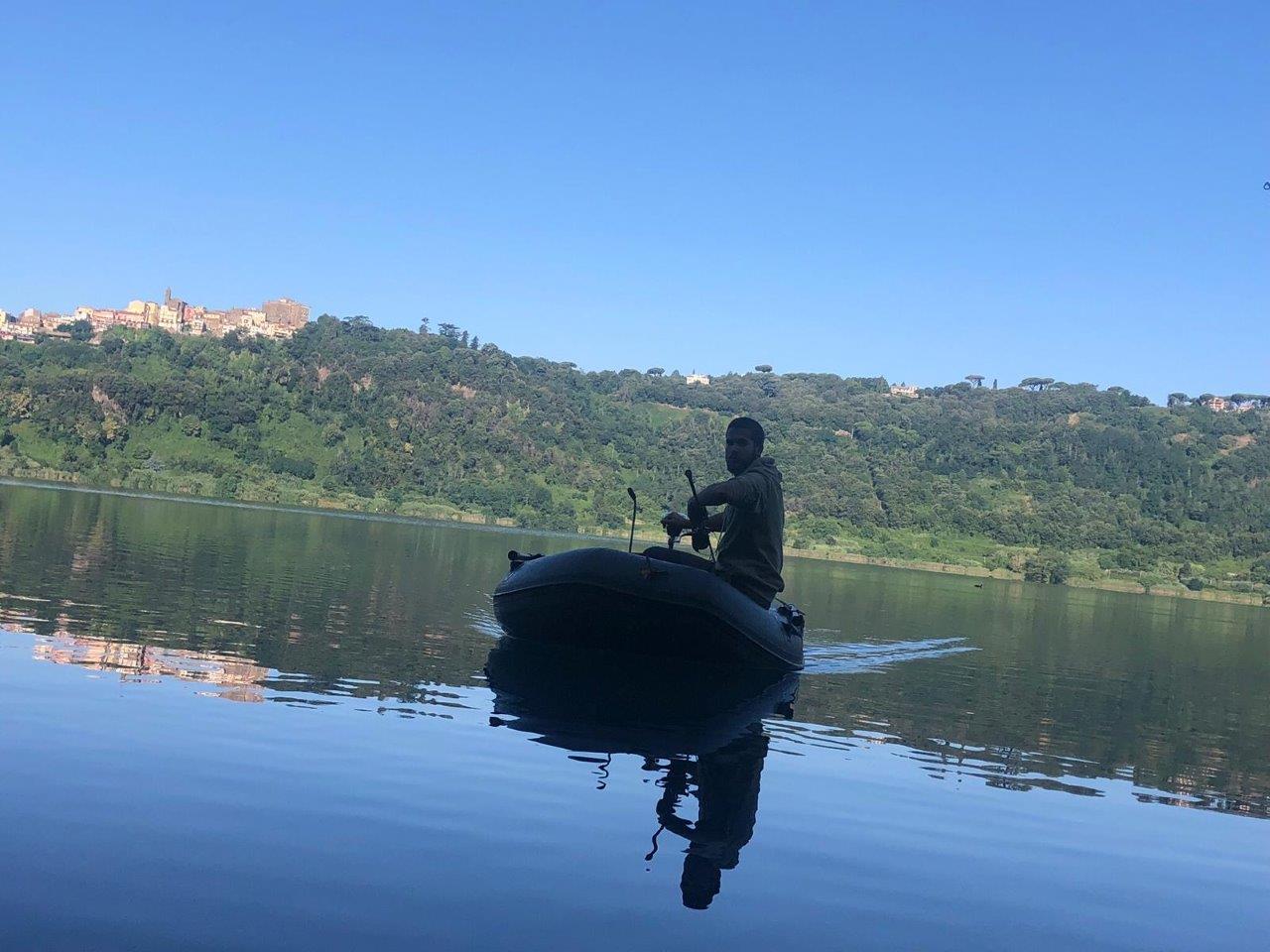 EN: The sensations felt by the boat are something magical. It is indescribable to see from the echo sounder what you have under you.
DE: Die Empfindungen, die das Boot mit sich bringt, sind etwas Magisches. Es ist unbeschreiblich, auf dem Echolot zu sehen, was man unter sich hat.
EN: The fish themselves are the point on the I. To be honest, without it, it would not be what it is!
DE: Die Fische selbst sind das i-Tüpfelchen. Um ehrlich zu sein, ohne sie wäre es nicht was es ist!

Tight lines to all of you!
Giacomo Giovannini
---