Ist Erfolg so Selbstverständlich?
von Ernst Helmhart
Die Ansitze heuer waren bis zum Herbst sehr erfolgreich, also galt es abzuwarten, was nun der Herbst selbst so bringen würde.

Ich änderte je nach Fangerfolg die Futtertaktik und wurde mit unbekannten Fischen belohnt.
Der Vorteil von großen Gewässern, man fängt nicht immer dieselben Fische.

Die letzte Oktoberwoche hatte ich mir Urlaub genommen, noch einmal in Ruhe angeln den Stress des Arbeitsreichen Jahres ein wenig vergessen. Am Montagmittag startete ich los, der See war ruhig und ich positionierte meine drei Ruten in verschiedenen Tiefen.
Am Nachmittag zogen Wolken auf und Wind kam auf

Am Abend wurde es wieder ruhig und ich machte es mir im Hauptboot gemütlich. Gegen 22 Uhr der erste Biss, rein ins Beiboot und dem Fisch hinterher. War kein großer aber ein toller Kämpfer. Während des drill kam heftiger Wind auf, ich kescherte den Fisch und entließ in auch gleich wieder in die Freiheit. Inzwischen waren die Wellen schon heftig geworden und ich machte mich schnell auf den Weg zum Carolina.
Am Boot angekommen, legte Innerhalb kürzester Zeit ein gewaltiger Sturm los. Ich konnte die dritte Rute gar nicht auslegen, das war mir zu heftig. Gegen Mitternacht kapitulierte ich, holte
die restlichen beiden Ruten ein, rein in die Watstiefel die Verankerungen am Hauptboot gelöst und so schnell wie möglich zum Ufer. Da ging es nicht mehr um Karpfen, sondern nur darum die Nacht zu überstehen. Am Ufer angekommen, waren die Wellen inzwischen so hoch, dass die ersten Wellen über die Seitenwände schlugen. Da heißt es schnell handeln. Ruten raus, ans Ufer und schöpfen, damit die Kabine trocken bleibt. Spätestens wenn die erste Welle über die Oberkante der Wattstiefel geht, das Wasser (13°) dann bei den Zehen ankommt, wünscht ihr euch den Sommer zurück.
Der Spuck dauerte von 22 Uhr bis 1 Uhr. Dann konnte ich drei Stunden schlafen, um 4 Uhr kam der Sturm noch mächtiger zurück. Am Morgen packte ich zusammen und vertäute die Boote, an ein Angeln war nicht zu denken, der Sturm hielt an und der See war mit Schaumkronen bedeckt.

Auf den AMIAUD Rod Pods sind die Ruten auch beim stärksten Sturm sicher verwahrt
Erst am nächsten Tag startete ich erneut los, der See hatte sich beruhigt und ich legte erneut meine Ruten aus. Gegen 14 Uhr der erste Biss, schnell mit dem Beiboot hinterher, das war ein guter fisch
er zog im Tiefen seine Bahnen. Inzwischen kam wieder Wind auf und wurde heftig. Nach langem Kampf kam der Fisch an die Oberfläche, ein massiver Schuppenkarpfen durchbrach die Wellen.
Nun kämpfte ich gegen den Fisch und die Wellen, die mich immer wieder vom Fisch wegdrückten, er war ca. 3 Meter vor dem Kescher an der Oberfläche, als mich eine Welle erfasste, aushob und die Rute schnellte nach oben, ausgehakt! Ein Moment den ich sehr selten habe, aber anscheinend ist momentan der Wurm drinnen. Zu allem Überfluss kam in der Nacht der Sturm zurück, wieder dasselbe Spiel wie in der ersten Nacht.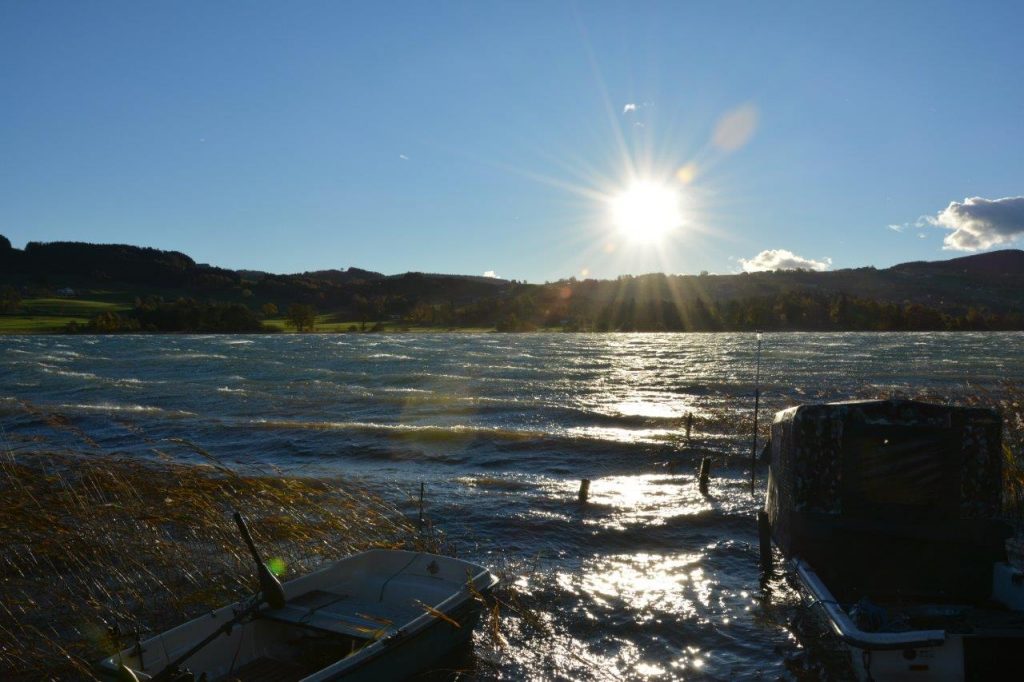 Den Rest der Woche fing ich zwar noch Fische, aber die angepeilte Größe war nicht dabei.

Auch ein erfahrenen Karpfenangler hat Tage, an denen nicht alles so selbstverständlich ist, wo es immer noch darauf ankommt sich neu zu motivieren und durchzuhalten.

Genau diese Einstellung hat mich dann im November noch belohnt!

Mitte November war es dann soweit, ich fuhr trotz Dauerregen und Windstille an den See, obwohl das an dem See in der Vergangenheit noch nie einen guten Fisch gebracht hat. Am Angelplatz angekommen wurden schnell die Rig's auf die gewohnten Plätze abgelegt. Der erste Biss kam nach 15 Stunden, ein kleinerer Fisch hat dem Carptrack Boilie nicht widerstehen können. Sorgfältig wurde die Rute wieder abgelegt, bereits eine Stunde später kam ein brachialer Biss. Nachdem ich die Rute aufgenommen hatte, wurde mir bewusst das ist ein guter der unbeirrt Richtung Seemitte davon stürmte. Nach einem nicht endenden Kampf in tiefem Wasser durchbrach dann endlich ein massiver Rücken die Wasseroberfläche, und glitt beim ersten Versuch in die Keschermaschen.
Ich liebe diese langen kämpferischen Schuppenkarpfen.

Thight Lines
Ernst Helmhart
Team Imperial Fishing Germany
MIXPICLE
> Nachfolgend noch ein "Mixpicle" The Power of IB – damals, wie heute!
> Below a "Mixpicle"; The Power of IB – then as now!
Gut sortiert und vorbereitet, fischt es sich bekanntlich am Besten

Mega.Krill – in aller Munde, nicht nur bei den Karpfen

David Fort, jüngste Erfolge mit Mega.Krill

Uncle Bait, Erdbeer / Sahne, läuft…!

Die Dips und Gele dazu – ein Klassiker!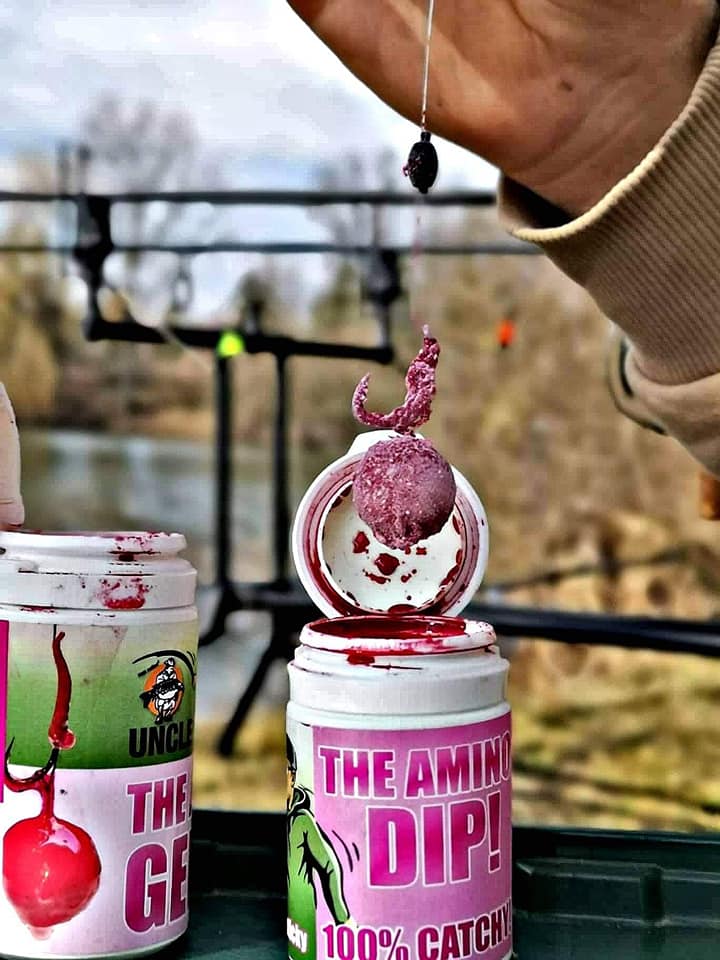 Gute Ware bringt stets gute Fische


Die Liquid Powder Paste – haste Paste, haste Fisch! Oft kommt die Frage, ob es diese nicht auch in größeren Gebinden gibt. Die Antwoert ist aktuell nein, wir teilen sie lieber in viele Dosen à 180 g auf. Im Power Tower kann man diese gut verbinden und hat stets frische Ware. Große angebrochene Dosen haben den Nachteil, dass viel Luft dran kommt. Die Fängigkeit der Paste ist außergewöhnlich, jeder der sie verwendet kommt nicht mehr davon los. Für alle, die sie nicht kennen, einfach probieren…