Schwere Bedingungen – Was tun?
von Maike Prinz
Ja die Session liegt nun mittlerweile knapp 2 Wochen zurück. Langweilig waren die letzten Tage und Wochen wahrlich nicht, doch dazu später etwas mehr.
Zunächst möchte ich Euch von unserem letzten Ansitz berichten. Ziel war einmal mehr ein für uns unbekanntes Gewässer. Für mich ging es bereits am Donnerstag los und am See angekommen, ich würde sagen, auf den ersten Blick sehr vielversprechend.

Der erste Blick trügt
Voll motiviert baute ich das Camp auf…

…und bereitete Futter, sowie Hakenköder vor. Tja und was folgt dann? Klar, Ruten raus. Doch was sich mir auf dem Wasser oder besser gesagt unter Wasser bot, war alles andere als vielversprechend. Schlamm, Schlamm und noch mehr Schlamm.
Normale, sinkende Boilies als Hakenköder, aber auch als Futter, das brachte hier nichts. In manchen Bereichen hatte der Schlamm eine Dicke von ca. 1 Meter.
Was also tun?
Zunächst suchte ich mir ein paar Bereiche, in denen der Schlamm nur wenige Zentimeter hatte und im Anschluss machte ich mir ein paar neue Rigs.

Als Hakenköder entschied ich mich bei einer Rute für den IB Carptrack Flying – Crawfish in 28mm. Dieser ist auftreibend und sinkt somit nicht im Schlamm ein. Für meine zweite Rute wählte ich zwei 20mm IB Carptrack Osmotic Oriental Spice Boilies. Da ich nicht unnötig viel Futter im Schlamm versenken wollte, kam zu jeder Rute nur eine Handvoll Boilies vom Crawfish black & white und vom IB Carptrack Osmotic Oriental Spice.
Die erste Nacht konnte kommen
Am nächsten Morgen die Ernüchterung, ich konnte durch schlafen. Nachmittag kam auch Anne am See an und wie auch ich, war sie im ersten Moment vom Anblick begeistert und sagte noch…"das sieht aber traumhaft aus". Wie der Schein doch trügen kann…
Für mich hieß es nun aber mal Gas geben. Also ab auf Wasser und Spots suchen.

Meine Strategie
Ich entschied mich dazu, zwei Ruten mit dem IB Carptrack RAMBO – Scopana.Love Hookbait in 24 mm…

…und die anderen beiden Ruten mit dem IB Carptrack Flying – Crawfish in 28mm zu bestücken.

Beim Futter griff ich zu den vielen verführerischen und hochattraktiven Additiven. Mein Ziel war, wenig Futter, was womöglich eh im Schlamm versinkt, doch die geballte Lockwirkung. Boilies, welche von Außen mit den Additiven benetzt sind, geben die Lockwirkung nicht nur an das Wasser ab, sondern der Geruch legt sich auf die Schlammschicht, wodurch die Lockwirkung erhalten bleibt.

Mein Plan ging auf
Gegen 23.00 Uhr gab es den ersten Run. Nicht der Riese, aber ein Fisch über den ich mehr wie Glücklich war. Gebissen auf den IB Carptrack RAMBO – Scopana.Love Hookbait.

Der Rest der Nacht verlief ruhig, doch der Anfang war gemacht und so schlief ich mit ruhigem Gewissen und Zufrieden…
Am nächsten Morgen bereitete ich ein paar Rigs vor.

Gern mach ich schon im Vorfeld ein paar beköderte Rigs fertig um nach einem Biss schnell wechseln zu können, oder die fertigen Rigs über mehrere Stunden in die Amino Dips der jeweiligen Boiliesorte einzulegen.

Eine traumhaft schöne Überraschung
Am Nachmittag gab es eine frische Tasse Kaffee. Die Ruten lagen, das Wetter war einfach traumhaft und wir genossen einfach die Stille. Doch mit der Stille war es plötzlich vorbei…
Ein zweites Mal meldete sich mein Bissanzeiger, es war die Rute mit dem IB Carptrack Flying – Crawfish. Ich stieg in mein iBoat und dann konnte es los gehen.

Es war nicht unbedingt ein spektakulärer Drill, nein, aber was am Ende im Netz landete….
Ich war überglücklich.

Was für ein toller Fisch. Voll Motiviert konnte es in die letzte Nacht gehen. Doch zuvor, klar, auch wir brauchten mal eine kleine Stärkung. Und was kann es da leckeres geben als ein frischer Burger am Wasser… 😛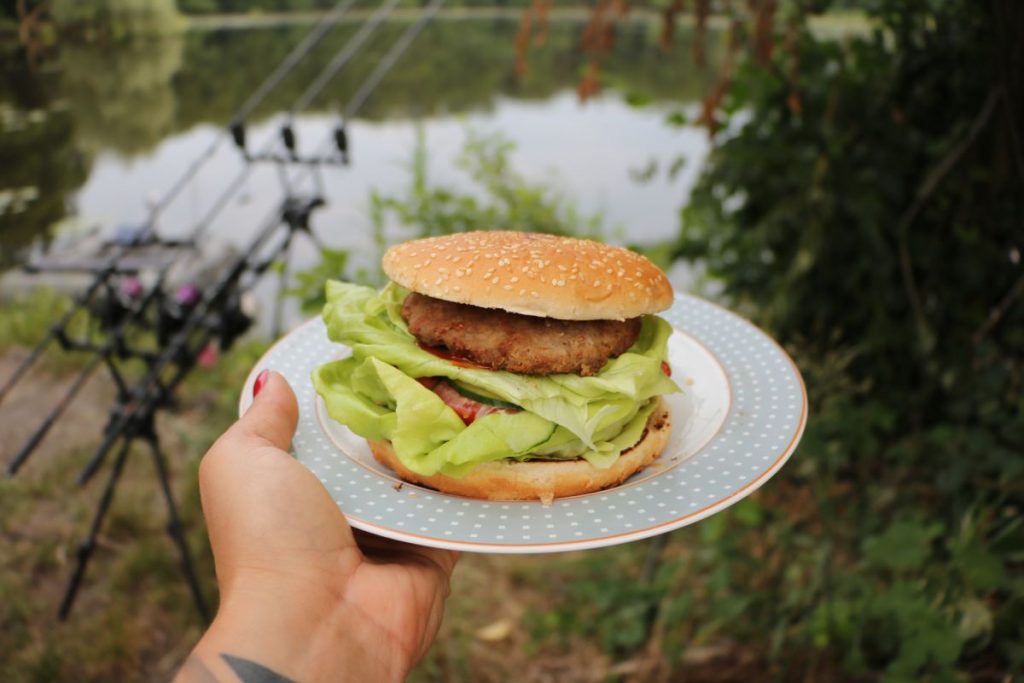 Die letzte Nacht
In der letzten Nacht wollte ich es noch einmal wissen. Da musste einfach noch einer kommen. Bereits am Nachmittag bereitete ich das Futter vor. Ich benetzte ein paar Boilies mit dem IB Carptrack inLiquid und dem IB Carptrack Liquid Amino. Hinzu kam noch etwas GLM full-fat und etwas IB Carptrack Amino Complex Powder.
Tja und was soll ich sagen, meine Strategie und nicht zuletzt auch der Einsatz der Additive zahlte sich aus und so brachte auch die letzte Nacht noch einen wunderschönen Fisch auf die Matte.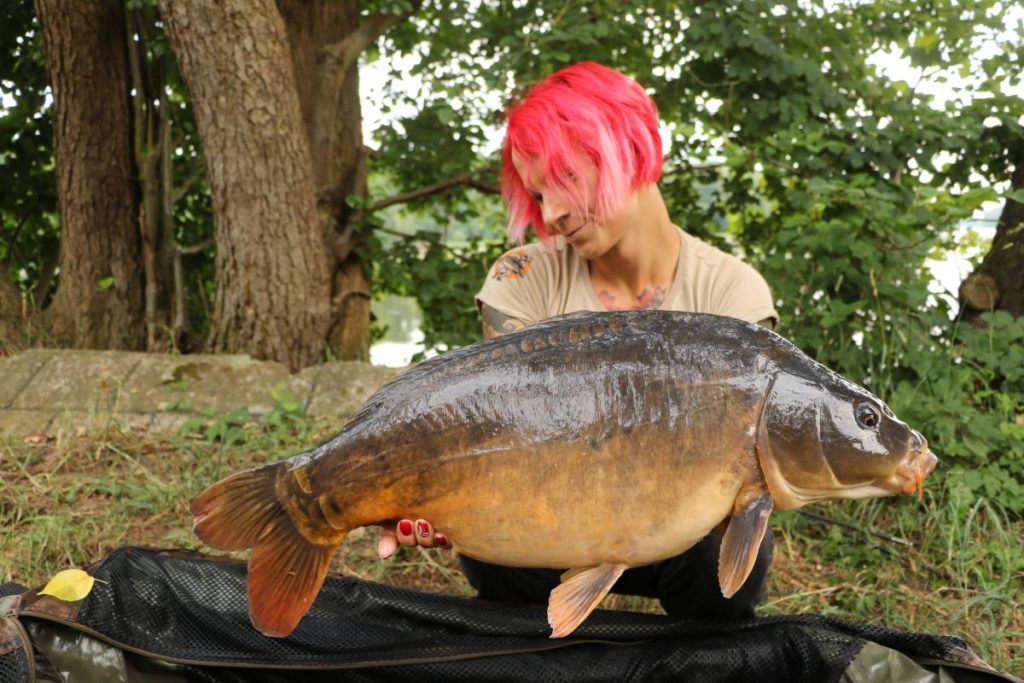 Es waren sicher nicht die ganz Großen, doch unter diesen Bedingungen war ich mehr wie zufrieden. Ich kann nur immer wieder sagen, der Einsatz der unterschiedlichen und hochwertigen Additive von IB, bringen in absolut jeder Situation das gewisse Etwas mit auf den Spot. Damit habt ihr eindeutig die Nase vorn. Probiert es aus und ihr werdet genau so begeistert sein wie ich.
So möchte ich mich mit diesem Knutsch-Bild verabschieden und wünsche Euch allen,
Tight Lines.

Liebe Grüße
Maike Prinz
Team Imperial Fishing Germany
---
Der neue Imperial Fishing Katalog 2018
Liegt auch automatisch jeder Bestellung bei!

---
Brad`n Batteries – Who knows the problem?
I recently got rebelcell batteries for my angling kayak.

These are light weight and last a long time. I just spent the whole day on the water fishing the hobiepredatoropen with my 7 inch Lowrance unit. The battery hardly lost any of its full charge and recharged at night in a few hours on the charger – great gear!
They cost more than conventional non-lithium batteries but the advantages make up for this. The fishing seasons you will get out of them make it a smart purchase. You will not need to replace them every few years. You can run them completely empty and not harm them. They do not lose charge when in storage either. They also maintain a constant delivery of power until empty, as other batteries slowly lose power and performance until empty.

If interested check out their website or you can purchase from imperialfishing here in Germany, as they have almost stock of the goods and you can have them on the next day.
Brad Smudzinski
Team Imperial Fishing Germany
---
Darko Župan – Amino Dip & BIG ONE
Darko Župan schickte uns ein Bild von seinem BIG ONE, den er am Wochenende auf die Schuppen legen konnte.
Seine Strategie ging auf und das Amino Gel beschehrte Darko eine DICKE Überraschung. YES!!!

Qualität zahlt sich am Ende immer und immer wieder aus…

Nachfolgend ein Beispiel für alle die noch keine Gele kennen. Hakenköder in das IB Carptrack Amino Gel Monster's Paradise tauchen….

Das Amino Gel legt sich um gedippte oder befeutete Köder und bildet im Anschluss, beim Kontakt mit Wasser, eine verführerische Gelschicht.

Ready to cast

Und so vertrauen auch Darko's Freunde auf die Produkte von Imperial Fishing…
An dieser Stelle wünschen wir Kroatien viel Erfolg bei der Fußball-Weltmeisterschaft – Jungs Ihr seid noch dabei und könnt es rocken;-) Viel Glück!!!


Herzlichen Glückwunsch Darko zu diesem BIG ONE
---
Sergio Cecarelli
Bald gehts los mit kurzen IB Power-Videos made by Sergio Cecarelli!!!
https://www.facebook.com/max.nollert/videos/1927360940661594/
Zu guter Letzt
Katalog 2018 Imperial Fishing > heute vorgestellt auf Carpzilla