ATTENTION:
---
In the middle of October my real autumn season begins!
Hot summer days are going away and the first autumn winds arrive followed by the first rains and morning fogs.
Our carp friends begin to prepare them for the cold season, going almost in a real feeding frenzy to get more calories as possible. Me and my friend Barba decide to go in a beautiful lake in northern Italy.
A session in Italy at Lake Viverone!
The Baits
Calls on the phone, write hundreds of text message… you know it 🙂 … try to arrange everything at its best. We decide to use two types of Imperial Baits Boilies. We choose the Monster's Paradise and Osmotic Oriental Spice, focused of seeking the big carp and then a classic super tested workhorse, a ball that fits in all seasons, a bit 'lighter' from the nutritional point of view, but very digestible and complete, FISH & BANANA, composed by joining the two respective mix in one boilie.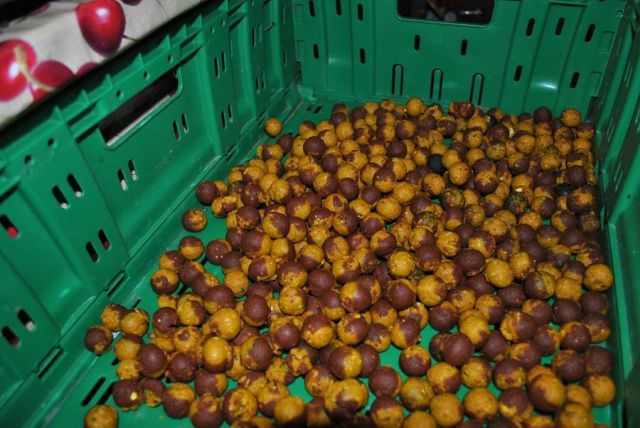 Our Rig for a very successful session!
After months of waiting finally it comes the day X.
I came home from work and after a while I also reached at Barba. We had dinner, we loaded the van and off we gone. At 1.00 am we had a day of work behind us and prepared the last things, before falling into sleep!
BIG SUCCESS!
We bond the rig with our loving CARP'R'US CENTURION 2000 size 4 together with 45 lb SMOOTH BRAID, we "pimp" all our baits with LIQUID AMINO and NHDC. We decide to dip the hook baits with MONSTER'S PARADISE dip or in the AMINO GEL Banana. The result of our work has been a week full of emotions and dream catches, where friendship and complicity were always in first place!
These were our moments…
I thank all the friends and members of the IB Team Italy that were close to me and helped me, both in the months before and during the session.
Greetings, Mirko Benlodi
Team Imperial Fishing Italy
---
Max Nollert teilt seine Gedanken zum neuen Weltrekordkarpfen – 49 Kilo!
Max Nollert:
"Meine Gedanken zum 49 kg Karpfen, angeregt durch den Post von ED Skillz auf Facebook!
Die Wertschätzung eines Fisches…
…obliegt zunächst einzig und alleine dem Fänger selbst! 100.000 Angler. ergeben 100.000 verschiedene Verbindungen zum Fischen. Aufgrund unserer Erfahrung und Einstellung zu unserer persönlichen Angelei, bewerten wir aus unserem Blickwinkel jeden Fang ganz auf unserer eigene persönliche Art und Weise, sofern wir nicht bequem der Masse folgen – und das ist auch gut so! Ich möchte niemandem die Freude über einen großen oder kleinen Fisch, egal aus welchem Gewässer und egal aus welchen Fangumständen absprechen, wenn er diese ehrlich und aufrichtig fühlt! Wo sind die Grenzen? Wann ist es o. k. und verdient die volle Wertschätzung? Und wer beurteilt das? Die Grenzen von großen Gewässern, die dünn besetzt sind, über große Gewässer mit einer top Population, bis hin zu klein und sehr schwer zu beangelnden Gewässern oder kleinen sehr einfachen Gewässern, da vollbesetzt und wenig natürliche Nahrung sind sehr schwammig! Und darüber sollen wir nun bei jedem gefangenen Fisch der in der Öffentlichkeit gezeigt wird urteilen? Nein! Jeder wertschätzt individuell wie er will, so lange die Achtung vor der Kreatur gegeben ist ist alles gut!

Und ganz ehrlich die Wertschätzung eines solchen 49 kg Fisches nach Bekanntgabe wo er gefangen wurde (das Fanggewässer ist interessanterweise auch immer die aller erste Frage und so wird es wohl auch immer bleiben) wird doch nun von den allermeisten als Weltrekord eher gering geschätzt.
Interessant dazu: Ein solcher Fisch aus dem Lac Du Der oder der Rhone beispielsweise, wäre sicherlich eine ganz andere Größenordnung der allgemeinen Wertschätzung!! Am Ende ist es Zielfischangeln und damit automatisch begrenzt auf Spot und Jahreszeit bzw. Vegtationsperiode – auch in einem gigantischem Fluss oder einem Monstersee, wie dem Lac Du Der – und schon wird das Miracle greifbar!
Denn, wie hilft man seinem Glück auf die Sprünge? Ständig Infos über große Fische einholen und nutzen bzw in Fisch verwandeln – auch das sind Themen die am Ende bei der Wertschätzung von außen über einen gefangenen Fisch eine Rolle spielen können – wenn man den darum weiß!
Und last but not least, ohne es damit in irgend einer Form wertschätzen zu wollen: ein guter Bekannter und ausgezeichneter Angler (viele Giganten über weit über 25 und über 30 kg aus den unterschiedlichsten Gewässertypen in D und anderen Ländern, hat nun in unzähligen Tagen und Nächten über Jahre auch noch ca. 40 Karpfen über 30 kg im Euroaqua gefangen – diesen WR allerdings nicht! Ein anderer Bekannter hat nur einen Bruchteil dieser Zeit in das Zielfischangeln auf den großen Moby Dick am Lac du Der investiert und beim zweiten Trip gefangen – 38 kg!!! Wertschätzen Sie nun selber aufgrund Ihrer persönlichen Einstellung, Erfahrung und evtl auch ein bisschen wegen den hier beschriebenen Gedanken!
Ich persönlich liebe große Seen und Flüsse und meine Größten sind zumindest vom Gewicht her nicht vergleichbar mit denen, von denen hier die Rede ist und doch habe ich mich über jeden einzelnen sehr gefreut!
Good carping und HI HOPE.
Max Nollert
Gratulation an den Fänger – einen Rekordkarpfen in den Armen zu halten muss so oder so ein unbeschreibliches Gefühl gewesen sein!