Hol´ Dir bis zu 20% RABATT auf Dein iBoat!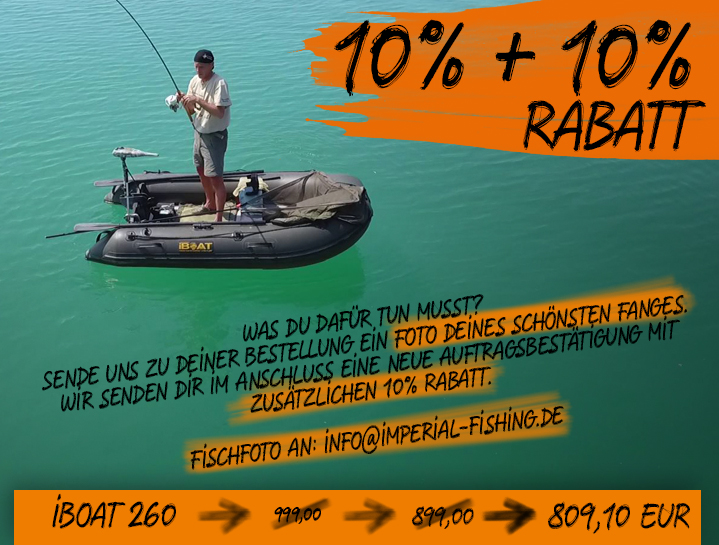 ---
BIG ZSOLT IS BACK!
Big Zsolt is on the road again and we are very happy about it. Good luck Zsolt, enjoy the time on the Danube and let us participate on your trip. Imperial Baits, we love big rivers and big lakes!
——————————————-
BIG ZSOLT IST WIEDER DA!
Big Zsolt ist wieder unterwegs und wir freuen uns sehr darüber. Viel Glück Zsolt, genieße die Zeit an der Donau und lass uns an deinem Trip teil haben. Imperial Baits, we love big rivers and big lakes!
Die Pferde sind gesattelt, los geht`s

Die Weite des großen Fluss` ist gut zu sehen


Unterwegs sieht man so einiges

Die Ankunft

Das iBoat – ein Packmonster, jetzt mit 10+10 % Rabatt sichern!


Erst mal angeln 😉


Und dann fangen – wir gratulieren Zsolt!

The river!

…weiter geht`s


Und nochmal der erste Donaubewohner von der anderen Seite in besserem Licht!

—————————————————————————————————–
SPRING ON THE RIVER ELBE
von Zdeněk Marel
DE
Ich fische nun schon seit 5 Jahren an der tschechischen Elbe. Im alter von 13 Jahren traf ich einen jungen Mann namens Míra Kroupa in der Nähe meines Wohnortes. Er sollte mich ein Jahr später an die Elbe zum Fischen führen und mir auch zugleich Honza Kratochvíl vorstellen. Honza lehrte mich wie man an der Elbe erfolgreich auf Karpfen angelt und stellte mir weitere großartige Angler vor. Von nun an fischten wir gemeinsam und ich konnte sehr viele Tipps und Kniffe lernen.
EN
I had been fishing on the Elbe River (Labe in Czech) for five years. At the age of 13, I met a young man named Míra Kroupa at the fishing district near my home; he brought me to the river a year later. At the river he introduced me to Honza Kratochvíl, who taught me how to fish on the Elbe River and, more than this, he introduced me to a lot of great fishermen and friends as well. I started fishing with them and tried to learn the best tricks from them.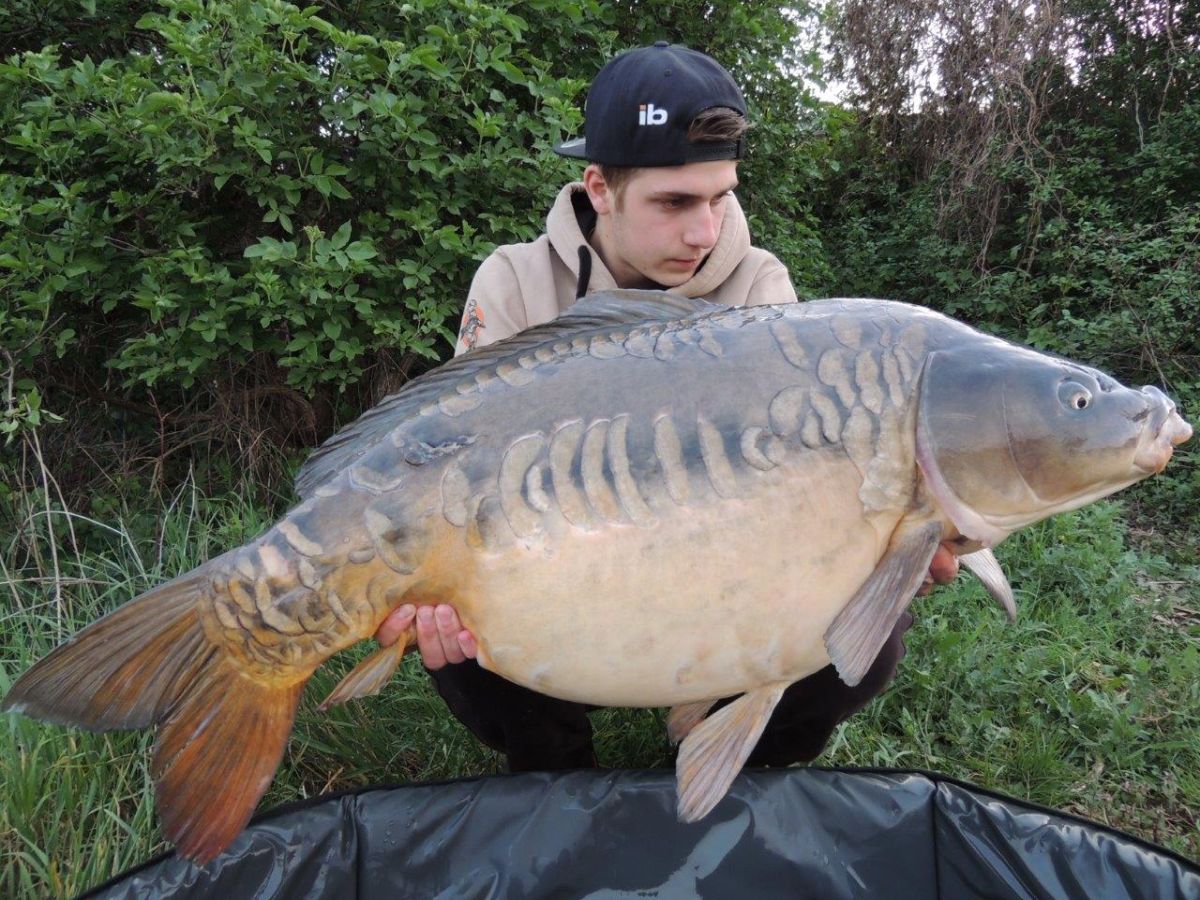 Seit dem ersten Besuch an der Elbe, packte mich dieser Fluss und ich verbrachte fast meine gesamte Freizeit an seinen Ufern. Schon in jungen Jahren begann ich mit dem Angeln auf verschiedenste Fische mit unterschiedlichsten Methoden, doch keine Angelei beeindruckte mich so sehr wie das Karpfenangeln. Mein Traum war es, einmal einen Fisch über 20kg zu fangen. Letztes Jahr war es dann endlich so weit. Ein Beauty, gefangen von einem Freund, durchbrach die magische Grenze von 20kg.
Since that first walk to the Elbe, the river has consumed me so much that I spend almost all my free time on its banks. I have fished since I was young and I have worked through all the fishing techniques, but what I enjoyed most was carp fishing. My dream was to catch a carp weighing over 20 kg. Last year I wittness my friend catching a beautiful scaly beast that weighed more than the magic number of 20kg.
THE GOOD OLD PLACE
Am Ende der letzten Saison konnte ich einige dicke Fische mit über 15kg verbuchen, wovon der größte 17,5kg wog. Doch dieses Jahr habe ich mich dazu entschlossen meine bisherigen Fangmethoden zu ändern. Ich dachte viel über die vergangenen Erfahrungen nach und entschied mich für den Spot, an dem ich schon einige gute Karpfen fangen konnte. Meiner Meinung nach war dies eine gute Entscheidung hier hin zurückzukehren und es nocheinmal zu versuchen. Hier gibt es viele dunkle Stellen im Wasser und ausreichend natürliche Nahrung.
By the end of last season I was reeling in a lot of big fish,weighing over 15 kg, the biggest catch being 17.5 kg. But this year I decided to fish using a different technique. I thought a lot about my past experience and I decided to return to the very place where I had caught a few fish in previous seasons, in the Spring. I thought it is a good idea to stick with this location and see what would happen. I knew the site had shallow parts rich in food.
Anfang April, bei der ersten Session, konnte ich auch gleich einen 10kg Karpfen überlisten. Nur eine Woche später landeten dann zwei Karpfen von 7 und 10kg auf meiner Matte. Diese Erfolge zeigten mir, dass ich die richtige Entscheidung getroffen habe, diesen Platz zu befischen. In der letzten Aprilwoche hatte ich Ferien, also verbrachte ich die ganze Woche an diesem Spot. Ich hatte alles sorgfältig vorbereitet, Tackle und Baits waren breit. Doch es sollte kein Fisch anbeißen. Nichts passierte. Weder in der ersten Nacht, noch am folgenden Morgen. Ich entschied mich trotzdem zu warten, da die Fische durch Sprünge aus dem Wasser gezeigt hatten, dass sie da sind.
The first weekend in April I fished at this place and immediately caught a 10 kg carp. A week later I was lucky again to capture a 7 kg and a 10 kg carp. These victories suggested this would be a really good place to fish. I had Spring break in the last week of April so,of course, I went fishing for the whole week. I traveled to my sweet spot, quickly unpacked everything, prepared rods, bait and lure, and was ready to catch big fish. Nothing happened, not the first evening nor the following morning.The water literally bubbled with life, I saw carp jumping out of the water here,there and everywhere. I decided to wait, and not scare the fish just yet.
ROARING ACROSS THE RIVER
Kurz vor dem Abendessen des zweiten Tages fing ich dann die ersten Fische. Zwei Karpfen mit 11 und 13kg auf der gleichen Rute. Schnell notierte ich mir alles und brachte die Rute wieder schnellst möglich ins Wasser.
Right before dinner I get my first shot and I catch a carp weighing about 11 kg. I set the rod a second time and right away I get a 13 kg carp on the scales. I quickly document everything and my rods fly into the water again.
Am nächsten Morgen sollte ich wieder einen 10kg schweren Fisch noch vor meinem Kaffee in den Kescher bugsieren. Nebenbei chattete ich mit einem, in der Nähe von mir sitzendem, Angler und wir waren beide der Meinung, dass es Zeit wäre einen dicken Rogner ans Band zu bekommen. Den Rest des Tages verbrachte ich wartend in meinem Camp.
Next morning, before my first cup of coffee, I catch another carp, about10 kg.I chat with my neighbouring fisherman and we agree it would be great to catch a female carp with fish eggs. I spend the rest of the day at my camp site.
Gerade als meine Eltern anriefen und mich fragen wollten ob sie mir etwas zu Essen ans Wasser bringen sollten, machte sich mein Bissanzeiger bemerkbar und ich rannte zur Rute. Gleich merkte ich einen starken Gegendruck und der Fisch begann Schnur zu nehmen. Ich zögerte nicht, warf den Kescher auf das Boot und kam dem Fisch entgegen. Bis zum anderen Ufer sollte er mich ziehen. Nach ca. 20 Minuten durchbrach ein massiver Spiegelkarpfen die Oberfläche. Erst im dritten Anlauf und unter vollem Körpereinsatz gelang es mir den Fisch endlich in den Kescher zu manövrieren. Ein Schrei der Erleichterung und der Freude hallte über die Elbe – der Sieg war mein!
My parents call in the evening asking if they should bring me food. I have to stop in the middle of the conversation and run to the bending rod. I grab the rod with both hands but the fish is very strong and starts pulling. I don't hesitate, I immediately throw the landing net into the boat and head for the fish. Despite applying the brake, I am pulled to the other side of the river, and battle commences. After about twenty minutes, an incredibly big mirror carp appears just below the surface. In a couple more minutes, it looks as if I am going to catch him. But I try twice with no success; stretching my body out of the boat, trying not to fall into the water. Finally the carp is in the net and I scream like a fool on the River Elbe.At the third try, victory is mine!
Mit dem Fisch im Schlepptau erreichte ich das Ufer wieder, an dem mein Nachbar schon zur Hilfe und mit einer Waage bereit stand. Wir wogen den Fisch gemeinsam und mehrfach bis es endlich amtlich war – 20,60kg!! Der Traum, die magische Grenze von 20kg zu durchbrechen, hat sich erfüllt!!!
I bring the fish to the shore, where a fisherman is waiting for me with scales to weigh my catch. We weigh the fish several times and the needle stops at an amazing 20.60 kg! Yes! My dream has come true! I have caught a big carp, I have crossed the magic 20 kg mark!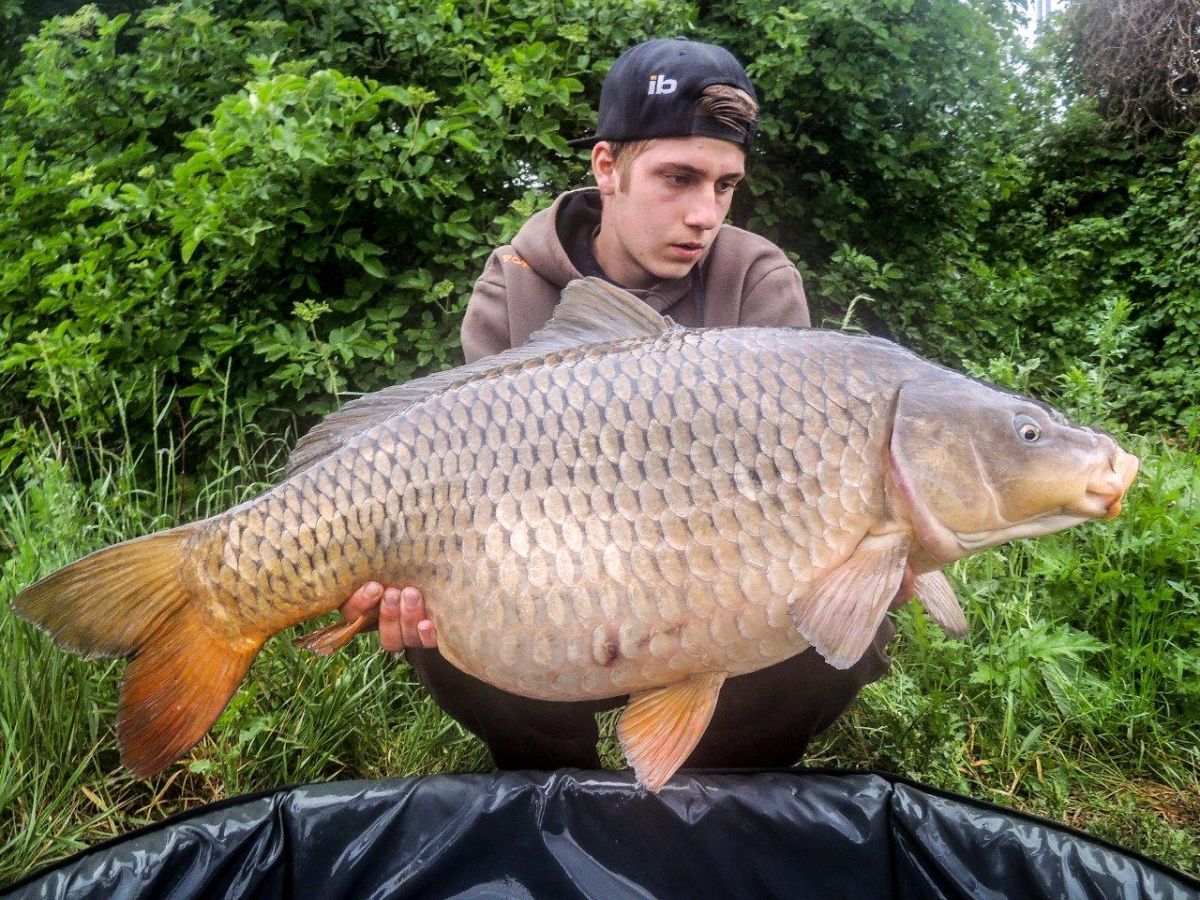 Dieses Gefühl voller Glück ging durch meinen ganzen Körper. Nach diesem tollen Erfolg machte ich um Mitternacht mehr Ruten bereit. Gegen 6 Uhr morgens riss mich der nächste Biss aus dem Schlaf und nach ebenfalls 20 Minuten Kampf, konnte ich den nächsten Fisch über 15kg landen. Nach ein paar Fotos durfte der Fisch dann auch wieder schnell zurück in sein Element.
I enjoy my victory and feel the excitement through my body all night. Following this great success I set up more rods at midnight. I lie down in my sleeping bag and at about six o'clock in the morning I am awoken by the rods and their bending. I smile and land a fish in my net in about 20 minutes. I can't believe my eyes when I see the 15 kg carp. On the shore, I take pictures with it and repase it back to its kingdom.
Im Verlauf dieses Tages sollte ich noch mehr Fische fangen, mehr denn je. Schlag auf Schlag ging es weiter. 32 Karpfen sollten es am Ende dieser Woche sein – UNGLAUBLICH! 1 Fisch über 20kg, 3 über 15kg, 15 über 10kg und der Rest war zwischen 5 und 10kg schwer. Diese konnte ich nicht alle per Foto festhalten.
For the rest of the day I fish more fish than ever. Carp after carp. No time to eat. Setting rods, landing fish, releasing. I catch a total of 32 carp in that week, 3 over 15 kg, one over 20 kg, 15 over 10 kg, the rest of the catch in the 5-10 kg range. I am so exhausted I stop taking pictures of them all.
Diesen außergewöhnlichen Erfolg verdanke ich den Boilies von Imperial Baits.
My success belongs partly to the "Imperial Baits".
Ein zusätzlicher Dank geht an meine Eltern, die mich unerbittlich unterstützen und David Fořt, der mich schon seit 3 Jahren im Team Imperial-Fishing CZ unterstützt. Ich wünsche Euch allen viel Erfolg.
And also I would like to thank the River Elbe, my parents who, despite not being fishermen, support me in this hobby, and David Fořt, who includes me in our club, the Imperialaits team for the third year. On behalf of the IB team I wish all good fishermen a lot of success.
Zdeněk Marel
Team Imperial-Fishing CZ
—————————————————————————————————-
Das große iBoat-Gewinnspiel zum 10 Jährigen Jubiläum!
in Kürze gibt es ein schönes Gewinnspiel dazu, mit fettem Preis! Das schönste iBoat Photo wird gesucht! Nicht nur alle, die bereits eines haben sondern auch alle, die sich noch ein iBoat mit 10+10% Rabatt kaufen wolle können mitmachen.
Wie das geht? KLICK HIER
The big iBoat lottery for the 10th anniversary!
soon there will be a nice lottery, with a fat prize! We are looking for the most beautiful iBoat photo! Not only everyone who already has one but also everyone who wants to buy an iBoat with 10+10% discoun now can take part.
How's that work? CLICK HERE