Der Neue IB Katalog 2018!
Jetzt als Print Version erhältlich…
Mit einem Klick auf das Bild, gelangt Ihr in unseren Online Shop und Ihr könnt den brandneuen DIN A3 Katalog 2018 direkt in Euren Warenkorb legen…
---
Kurz Ansitz – mit Erfolg
von Tom Schuldt
Servus und Hallo aus dem schönen Baden-Württemberg.
Es gibt Tage da hält es mich nicht mehr auf dem Sofa und ich will einfach nur für ein paar Stunden ans Wasser.
Kennen wir doch alle oder?
Und so zog es mich an einem Mittwoch Nachmittag los ans Wasser.
Da es zu meinen Hausgewässern keine Weltreise ist und ich in ca. 10 Minuten alle erreicht habe, nutze ich die Zeit oft um eine schnelle Nummer zu Starten.
Meine Rigs bereite ich mir schon immer Zuhause vor "Zeit ist Fisch".

Ein Paar auffällige Pop Ups dürfen bei solchen Ansitzen natürlich nicht fehlen.

Dips und Gele machen den Hakenköder noch etwas Attraktiver und sorgen oft für schnelle Bisse.

Augen auf bei der Spot-Wahl
Meine Spot Auswahl treffe ich dann meistens Spontan aber wenn es solche Plätze wie diese gibt, fische ich oft auch vor den eigenen Füßen.

So schnell kann es gehen, Saskia kam gerade von der Arbeit und durfte den alten "SCHLEIMER" natürlich gerne halten.
Zwar nicht der Zielfisch aber wir würden schon mal nicht ohne Fisch nachhause fahren.

Die Ruten lagen wieder und der nächste Lauf konnte kommen….

Mit Qualität zum Erfolg
Eine Hand gutes und Hochwertiges Futter dazu und es läuft wie von selber.
16mm und 20mm IB Carptrack Monster-Liver Boilies ummantelt mit Liquid Powder Paste und kurz geschwenkt in IB Carptrack Liver Powder
Bis zum nächsten Biss erkunde ich sehr gerne die Natur, denn es gibt immer was zu entdecken.
Eine Stunde hatten wir noch, ob da wohl noch was kommt?

Es dauerte garnicht lange und die Rute am Seerosenfeld 2m vor meinen Füßen lief wieder ab. Diesmal war es aber endlich der ersehnte Zielfisch…
Ein schöner Schuppi " lang wie eine Bahnschranke " fand den Weg in den Kescher.

ENDE GUT ALLES GUT
Eine Rute war noch scharf und ich wollte gerade zusammen Packen als diese plötzlich auch noch ablief – ein kleiner aber feiner Spiegler ließ sich den Monster-Liver Boilie mit einen pinken V-Pop Up nicht entgehen.

Haut rein und Zerrt raus!
Lg Tom Schuldt
@Carp Junkys
---
Matteo Paini
---
The Power of IB – Damals wie heute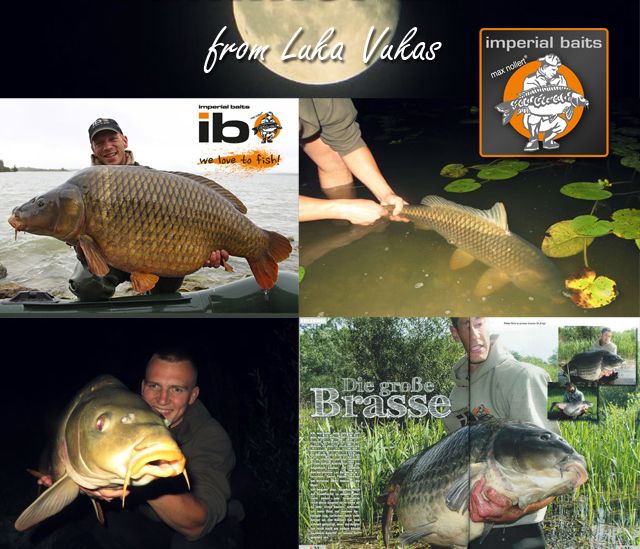 ---
Róbert Galánek
Am Wochenende wollte ich für eine Nacht mein Glück versuchen. In den letzten Tagen hatte es sich etwas abgekühlt, doch die Fische interessierte das nicht. Die Erfolgsköder waren der IB Carptrack Monster Liver 24 mm gedipt mit dem IB Carptrack Amino Dip BIG Fish und dem
IB Carptrack Amino Dip Elite Strawberry 🎣 💪 🤪Bereits nach kurzer Zeit gab es den ersten Run und ich spührte einen heftigen Gegendruck und das hatte einen guten Grund…und der war Groooooß 👏 🤩 🐳 🎣 🐔 🎏 Die Imperial Baits haben wieder zugeschlagen…. 🎏 💪
Elite Strawberry und Big Fish – ein Garant für Dicke

Was für ein schöner Schuppi

Wir sagen, Petri zu dem Fisch und weiterhin ein erfolgreiches Jahr.
---
IB – a never ending story
---
Das Amiaud Combi Carpos
Jetzt lieferbar! Mit einem Klick auf das Bild, gelangt Ihr direkt in unseren Online Shop.

---
Wir wünschen viel Spaß beim lesen des neuen Imperial Fishing Katalog 2018