Update Nr. 1305 – seit 2003!
!!!Summer Holidays!!!
☀Summer Holiday Info☀ mit gratis iGlas!
Wer bis diesen Donnerstag, den 19. Juli bestellt, bekommt seine Ware garantiert noch vor dem Urlaub versendet!!
☀Summer Holiday info ☀ with for free iGlas!
Get your order done till this Thursday, 19th of July, and we guarantee sending out your goods before our holiday!

---
Imperial Fishing Interna von Büro bis Produktion…
– und Action!
Aftragsbearbeitung, Mixe, Additive, Versand… seid gespannt!
---
Neues IB Teammitglied – Marcel Behling
Hallo,
mein Name ist Marcel Behling, ich erblickte am 05.07.1989 das Licht der Welt.
Ich komme aus Gießen an der Lahn, im schönen Mittelhessen gelegen.
Beruflich arbeite ich als Elektroinstallateur in einem kleinen Handwerksbetrieb, in der Nähe meines Wohnortes.
Die Arbeit macht mir sehr viel Spaß, aber am Wasser bin ich dennoch lieber.

Meine anglerische Laufbahn begann ganz klassisch…
Im zarten Alter von 7 Jahren, kam ich durch einen damaligen Freund, das erste Mal in Kontakt mit Rute und Rolle. Wir trieben zusammen an die heimischen Bächen und Teichen unser Unwesen. Damals hatten wir es hauptsächlich auf Forellen und Barsche abgesehen, oder was uns eben sonst noch so an den Haken ging, die Hauptsache war, es hatte Flossen.
Von diesem Zeitpunkt an, war ich komplett infiziert. Seitdem drehte sich alles in meinem Leben nur noch um das Angeln.
So nahm alles seinen Lauf
Als ich mit 12 Jahren meine Fischerprüfung ablegte, trat ich den ersten regionalen Angelvereinen bei. Dort lernte ich auch schnell die ersten Karpfenangler kennen. Keine andere Angelmethode faszinierte mich auf Anhieb so sehr wie diese. So setzte ich mir schon damals das Ziel, ein erfolgreicher Karpfenangler zu werden. Es kam eins zum anderen und so wurde das gesamte Taschengeld komplett in Angelzubehör und Tackle investiert.

Das Feuer und die Leidenschaft blieb bis heute unverändert, ich bin heute noch vor jeder Session genauso aufgeregt wie vor 17 Jahren. Angeln ist viel mehr als ein Hobby, es ist eine Lebenseinstellung. Die direkte Verbindung mit der Natur, wie man sie am Wasser erlebt, ist ein unbeschreiblich tolles Erlebnis, welches nur wir Angler kennen.
Meine bevorzugten Gewässer
Heute fische ich am liebsten an mittleren bis großen Baggerseen oder Talsperren. Diese Angelei macht ca. 90% meiner Fischerei aus. Ich bin ein Freund von stehenden Gewässern. Hin und wieder zieht es mich aber auch an den Fluss.

Das Leben mit dem Wasser
Der wichtigste Faktor um erfolgreich auf Karpfen zu angeln, ist ganz klar die Zeit! Ich habe quasi mein ganzes Leben auf das Angeln ausgerichtet. Dies bedeutet natürlich auch auf vieles zu verzichten, aber das ist es mir definitiv wert. Unser Leben ist zu kurz um Dinge zutun, die wir eigentlich gar nicht möchten. Außer die wesentlichen Dinge, wie Arbeiten und auch die Familie, dürfen natürlich nicht zu kurz kommen.
Wenn man es wirklich will, bekommt man das auch alles relativ gut unter einen Hut und kann im Jahr 150 Nächte und mehr am Wasser verbringen.

Wie und warum IB
Imperial Fishing ist jedem passioniertem Karpfenangler ein Begriff. Keine andere Firma dominiert den Markt mehr, wenn es um hochattraktives Futter von höchster Qualität geht.
Aber nicht nur im Futtersektor setzt Imperial Fishing Maßstäbe, die iBoat Serie ist nicht umsonst bei so vielen Karpfenanglern europaweit beliebt.

Imperial Fishing bietet mir alles, was ich für meine Angelei brauche. Es ist ein schönes Gefühl auf so eine enorme Produktpalette zurückgreifen zu können.

Umso mehr freute es mich, dass sich die Möglichkeit ergeben hat, dem Team beizutreten.
Ich freue mich sehr auf die Zukunft und eine intensive Zusammenarbeit mit Max und dem gesamten Team!

Liebe Grüße und good carping
Marcel Behling
---
New iBoat in the house
iBoat 360 – The Pioneer!!
Zieht euch das Video rein… und seid gespannt
---
!!!BIG ONE aus Italien!!!
Ü25 BIG One von Ghirardi Claudio auf einen selbst abgedrehten Mix aus IB Carptrack Monster´s Paradise und IB Carptrack Elite.

---
Andy Lange mit einem gelungenen Wochenende
Ein krasses und erfolgreiches Wochenende geht zu Ende und selbst der Nachwuchs hatte dieses Mal sehr viel Spaß!🤗

Die Mischung macht´s!
Als Hakenköder vewendeten wir den IB Carptrack Big Fish Boilie und den IB Carptrack Banana Boilie.

Ein guter Tipp
Den IB Carptrack Big Fish Boilie hat mir ein guter Freund, Daniel Trocha, empfohlen und der Boilie hat sich gut bewährt. Die Plätze habe ich mit Partikeln und Boilies gleichermaßen befüttert.

Die Partikel habe ich mit IB Carptrack Flavour Carp Total verfeinert…

…und die Futterboilies wie immer mit IB Carptrack InLiquid, IB Carptrack Powder, IB Carptrack inP, IB Carptrack Liquid Amino veredelt.

Schneller als erwartet
Die Fische haben den Platz wunderbar und schnell angenommen, nach drei Stunden waren schon 4 Fische auf der Matte.

#IB Carptrack Big Fish
#IB Carptrack Banana
Tight Lines Euch allen!
Andy Lange und Sohn
---
Carp´R´Us – Unsere Entscheidung!
Die langjährige Erfahrung von Carp´R´Us im Endtacklebereich garantiert Zuverlässigkeit in höchstem Maße. Worauf Du Dich verlassen kannst!
Alles rund um CRU HIER im Shop
Neu in unserem Sortiment, der Carp´R´Us Predator mit Micro Barb. Der kleine Wiederhaken lässt den Haken noch einfacher eindringen!
Der Mouthsnagger shorty und der ATS Continental Snag Hook – die perfekte Kombination.
Hier hat der Mouthsnagger Dragonfly Larvae ganze Arbeit geleistet!
In Verbindung mit unseren Gelen, wie hier mit dem IB Carptrack Amino Gel Monster´s Paradise, eine unschlagbare Kombination.
Ein beruhigendes Gefühl, wenn man sich auf seine Montagen verlassen kann…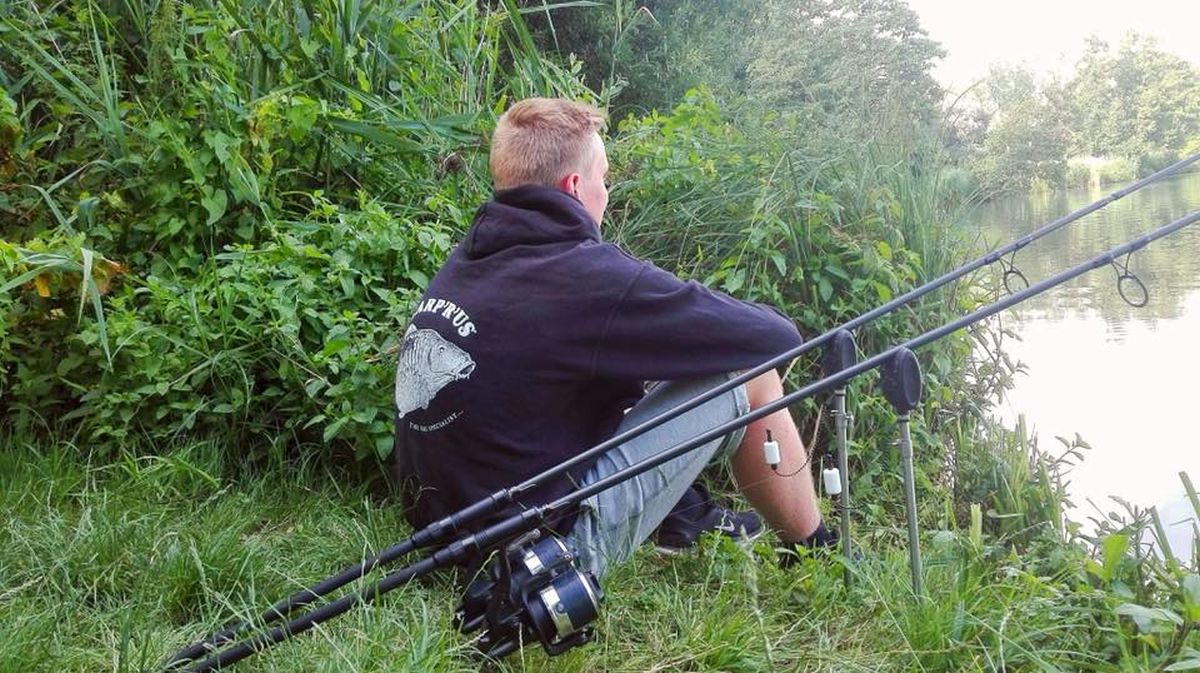 …und der Erfolg gibt bekanntlich Recht!
Martin Jandik – Team IB CZ
Marco Bertaglia – Team IB Italy
Good Moments in Life 😉

good carping…
max nollert&Team
---
New iBoat in the house
iBoat 360 – The Pioneer!!
Zieht euch das Video rein… und seid gespannt
---
New Big Ones (25kg+) on the Blog!
Have a look at this amazing captures with Imperial Baits – 100s of 50+!!!