Freitag kurz vor Feierabend…
Nachricht an meine Frau: "Hey Schatz, hast du bock über das Wochenende nach Frankreich fischen zu fahren?" Antwort: "Klar, wo soll es hingehen? Ich sag dann meinem Chef das ich heute schon um 13 Uhr Feierabend mache, damit wir nicht so spät ankommen."
Mit diesen Worten war mir klar, dass es keinesfalls ein Fehler gewesen sein konnte, diese Frau geheiratet zu haben!
Schnell packen
Also ab nach Hause und den ganzen Krempel schnell ins Auto verfrachten. Ein paar Klamotten und etwas Proviant mit ins Gepäck und dann noch schnell unter die Dusche. Kein großes Hexenwerk, man braucht ja eigentlich nicht mehr wie sonst auch. Dennoch wird die Karre immer vollgepackt.
Eingespieltes Team
Alles lief wie am Schnürchen und so machten wir uns auf den Weg nach Frankreich. Bis an unser Ziel waren es ca. 400km, doch dank meiner zügigen Fahrweise erreichten wir die Grenze über den Rhein recht schnell.
Erinnerungsfoto inklusive
Leider war es auch die Art der Fahrweise, die uns auf einer Landstraße ein nettes Erinnerungsfoto zukommen ließ. Eigentlich kenne ich die Strecke sehr gut und wusste auch, dass dort die schönen Kästen stehen aber ein Moment der Unachtsamkeit verhalf uns dazu diesen Augenblick zu verewigen. Da war ich wohl zu heiß auf´s Fischen.
Und los geht das Abenteuer
Angekommen verschafften wir uns einen kurzen Überblick der Lage am See. Da wir immer noch Ferienzeit hatten, blieben uns nur wenige Optionen übrig einen Platz zu beziehen und so mussten wir uns mit dem zufrieden geben was noch frei war. Schnell war das Boot beladen und wir konnten auf das gegenüberliegende Ufer zu einer Nachtangelzone übersetzen.
Das Zelt stand schnell, musste es auch denn es fing schon an zu dämmern und so war es schon klar, dass ich die Ruten im dunklen auslegen musste. Dies würde zwar ein wenig mehr Zeit in Anspruch nehmen aber davon hatte ich ja zum Glück ausreichend.
Nach einer eher unruhigen Nacht, in der mich die Weißfische auf Trab hielten und die Karpfen quasi links liegen ließen, hieß es Ruten neu Beködern. Da die Krebse hier sehr aktiv zu sein schienen und sich meine Köder redlich schmecken ließen, gab es nur einen Ausweg: RAMBO! Während hingegen die weicheren Köder schon nach wenigen Stunden den Krebsen zum Opfer gefallen sind, waren die Rambo Hookbaits selbst nach 12 Stunden noch am Haar. Natürlich auch nicht ohne von den kleinen Scherenkünstlern gezeichnet zu sein. Aber noch mehr als ausreichend um von einem Fisch gefressen zu werden.
Pimp my Baits
Um meine Hakenköder noch attraktiver zu machen, benetzte ich diese in dem dazu gehörigen IB Carptrack Amino Dip und dem dazu passenden IB Carptrack Amino Gel. Diese unwiderstehliche Schicht um meine Hakenköder hat mir schon oft den ein oder anderen Bonus Fisch gebracht.
Immer dran bleiben
Auch nach der zweiten und letzten Nacht an dem 300ha Stau, fanden lediglich die Brassen und Schleien gefallen an unseren Hakenködern. Immerhin war auf unseren Plätzen Aktivität zu verzeichnen und das ist für mich immer ein Indiz, dass früher oder später auch die Karpfen dort eintreffen werden.
Soll ich, soll ich nicht?
Mittlerweile war es schon Mittag und somit fingen wir an die Zelte abzubrechen, schließlich hatten wir noch einen weiten Heimweg vor uns. Beim Einpacken meldete sich wieder einer meiner Bissanzeiger. Fallbiss! Und wieder drillte ich einen dieser Klodeckel ans Ufer. Ich hatte echt die Nase voll und wollte die Rute eigentlich gleich draußen lassen, da wir ja eh schon am zusammen packen waren. Aber irgendetwas in mir sagte: "Andi fahr die Rute noch mal". Also zog ich doch tatsächlich für die letzten 20 Minuten einen neuen Banana Birdfood Boilie aufs Haar und legte die Rute noch mal neu.
Alles richtig gemacht!
Keine zehn Minuten später lief die gerade frisch gelegte Rute los, Vollrun! Ganz perplex blickte ich zu den Ruten und konnte es im ersten Moment nicht so recht glauben. Als ich begriff was da gerade passiert ist, stürmte ich zur Rute und sprang ins Boot. Der Tanz konnte beginnen! Die Temptation Ten bog sich im Halbkreis und der Fisch verlangte mir so einiges ab, doch am Ende des Drills stand der Sieger fest!
Dank dem Carp´R´Us Mouthsnagger drehte der Haken extrem schnell und saß weit im Fischmaul in der Unterlippe bombenfest. Und so war ein entkommen quasi unmöglich.
Last minute Sieg!
Mit so einem Brett an Fisch hatte ich nicht mehr gerechnet. Eine echte Schönheit die wirklich keine Wünsche offen ließ. Einfach ein Wahnsinns Fisch, ich war geflasht von diesem Wochenende. Erst geht zwei Nächte nichts und beim zusammen packen kommt dann doch noch die Belohnung für all die Mühen.
Niemals aufgeben!
Am Ende gewinnt eben doch der tüchtige, der auch für 20 Minuten noch die Rute neu beködert und nicht aufgibt.
In diesem Sinne tight lines!
Andreas Filusch
Team Imperial-Fishing Germany
---
Patch "ib – the art of Bait" – Aufnäher
Jetzt lieferbar: Aufnäher/Abzeichen mit feinem Logo + "ib – the art of Bait" Stick auf schwarzem Abzeichenstoff, mit schwarzer Umrandung.
Geieignet zum aufnähen oder aufkleben an Taschen, Rucksäcken, Zelten, Mützen, Hosen, T-Shirts, Hoodies, Jacken usw.
Abmessung:
10cm x 6,5cm
Preis: 8,90 Euro – klick hier und gelange in den Onlineshop
---
This year I had a late seasons kick off.
Struggling with too much work, there was no extra time for chasing carps.
Finally half april I can start with my preparations. Besides cleaning up the mess from last year, I want to make some fresh Imperial Baits. This time I will work with the Fish mix. Definitely one of the best fish mixes on the market. It contains three different LT-fishmeals, water soluble protein concentrate, Robin Red and Super Red from Haith's. A killer!
So here is my personal recipe for 10 kg of Imperial fish mix!
– 10 kg IB Carptrack Big Fish mix
– 1 kg IB Carptrack Add Fat
– 1kg IB Carptrack Squid-Liver concentrate
– 200ml IB Carptrack Liquid Amino
– 400ml IB Carptrack Intense Fish oil
– 75ml IB Carptrack Fish flavor
– 35ml IB Carptrack Black Pepper Essential oil
– 110 eggs
If I use the IB Carptrack Stabil'it (preserver), 600ml, I reduce the amount of eggs to 90.
I'm happy that I have my own chicken's so that means fresh high quality eggs.
I also like to use the eggs from my gooses. It is even better. An egg from a goose is much bigger (3 times bigger than an egg from a chicken), but also contains much more vitamins and fat.
A 30l Ibox is perfect to mix the eggs with the other liquids and flavours.
Than I add the dry mix to make the dough. I prefer that the dough isn't too hard, it always dry's out after extruding the sausages.
With the Monster Alu-Airgun (4,5kg of dough) the job is done in no time.
Don't forget to use the IB Boilie Protector Spray, or BPS.
This product will help you with your boilieproduction. No more sticky hands and tools.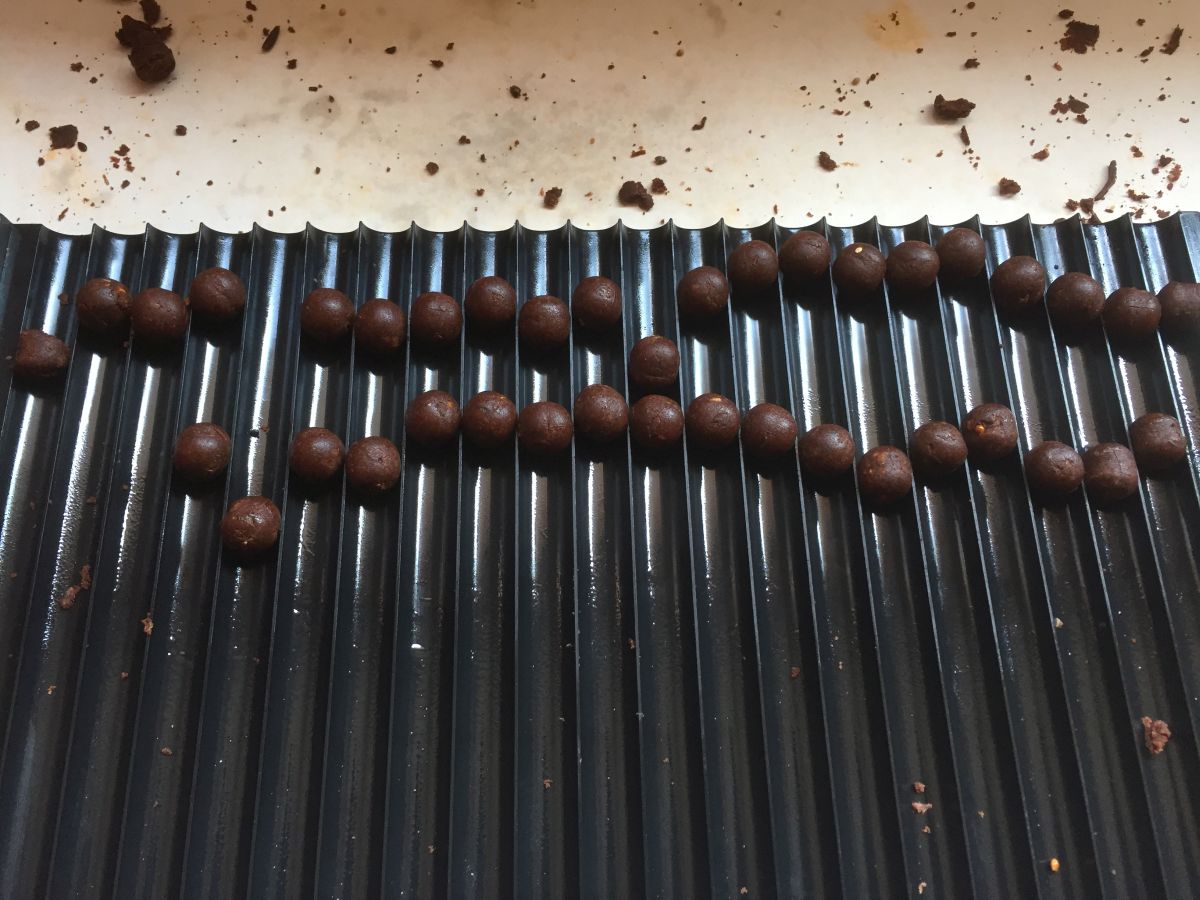 I also spray the BPS on the rolling table, and on the fresh rolled boilies.
They don't stick together and the BPS protects the boilie when boiling it, so you will lose no flavour or taste.
I boil the baits till they appear up in the water. No stopwatch for me.
After cooking, I let them dry for several days in a good dry, and ventilated area. Don't forget to shake them well, twice a day. When they are dry enough they end up in the freezer.
Time to fish!!!
On invitation of my French brother Dious, I will participate an enduro in France. I will fish the competition together with Christophe Trap.
It won't be easy fishing as the temperatures have dropped down in the latest weeks. At night temperature is going under zero degrees. Even worse is that the lake is pretty virgin so a lot of lines in the water and noise on the bank will definitely spook the carps.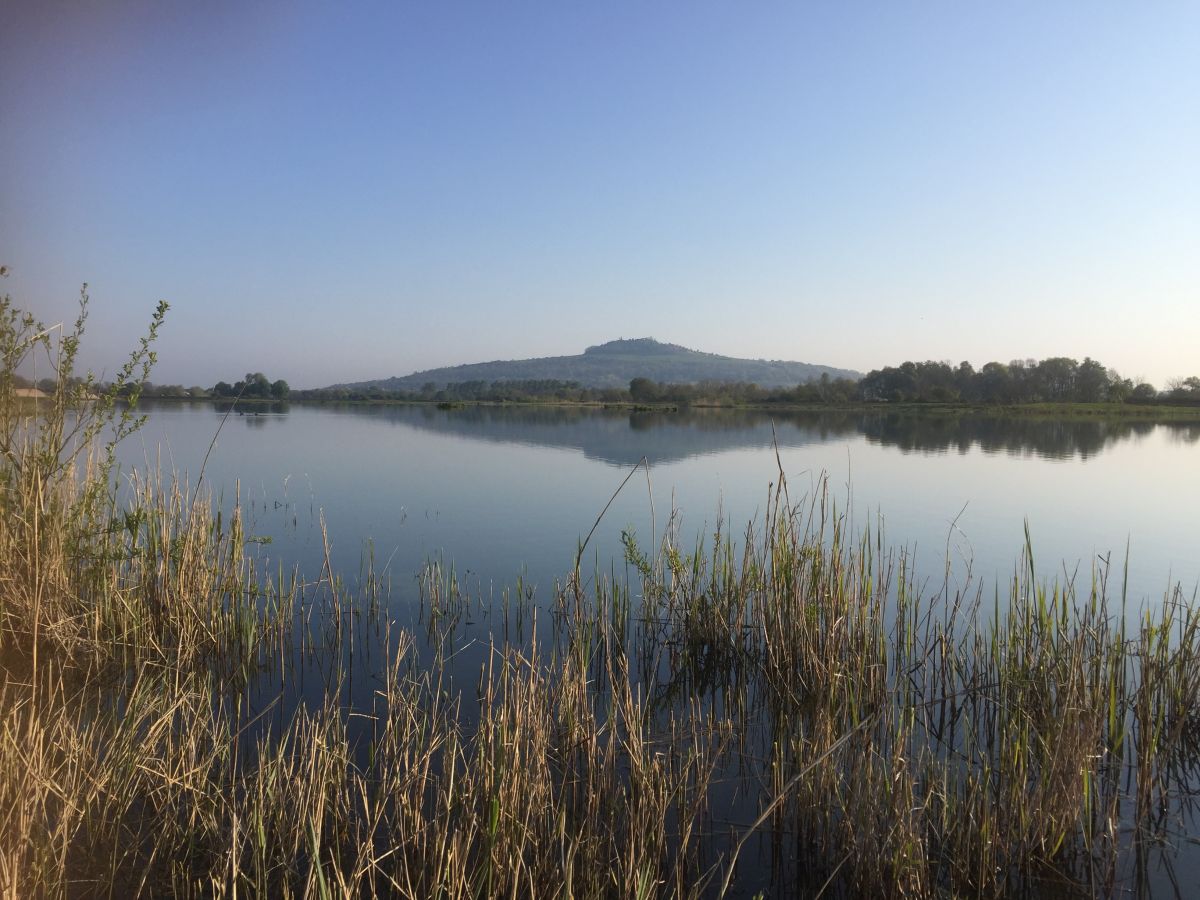 I decide to fish with slack lines and fluorocarbon mainline, the best way to do this. Of course when the bottom is clean and there are no obstacles. Besides the fluorocarbon mainline I use a Carp'R'Us Gizmo Spead leader (also fluorocarbon, in 50lb). Easy to use and very strong. A Carp'R'Us fluorocarbon ready rig with a Centurion 6 hook and a yellow IB Carptrack Banana Pop up will rest on a bed of my 16mm Fish boilies.
First take came in the night, a small common carp of 7 kg.
Not big but every kg counts and at least we are "off zero"! Only 2 carps where caught that night on the lake, so my nightmare of spooked carps has become reality. We decided to fish at large distance with a boosted single hookbait. We use the same rig but the spools must be changed and we use a Carp'R'Us Safety Helicopter leader to make the distance. We discovered a clean an sandy bottom. The place to be!
Let's boost the single hookbait!
We use a IB Carptrack Half'n Half fish boilie and a small V-pop. We coat the bait with the Liquid Powder Paste, and pimp it extra with IB Carptrack InP.
140 meters and 30 minutes later a 15kg common carp is in the hands of a French angler with a big smile, my partner Christophe!
The last day we caught another carp, using the same strategy. But it was a smaller one. Anyway we ended third in the competition.
Carpfishing doesn't always have to be catching a lot of fish. We had a wonderful time on the bank, with a lot of fun, good friendships,
…and of course the wine and the cheese!!!
Stijn Praet & Christophe Trap
---
More pictures with new IB clothes coming soon!