From the smallest babies to the biggest carp…
…and how it began
Hello, my name is Luka Vukas and I am 22 years old. I finished the middle school in Zagreb and now I work as driver for a medical company in Zagreb.
Zagreb – I love my home

Once there was a time…
Keep fighting
When I started with middle school, I start to train kickboxing. After 3 weeks my trainer told me: "Hey Luka, you are really good fighter, you can go with us on competition this Saturday. I was astonished and I was excited. I didn't sleep the nights before. This magic Saturday came so fast. So far it was the biggest day in my life. I walked into the ring and I lose first fight, but they told me I would show really big heart and desire for wining. Today I have more than 100 fights in kickboxing, grappling, wrestling and MMA. I traveled Italy, Slovenia, Czech Republic, Slovakia, Serbia, Bosnia and Herzegovina, Hungary and whole Croatia with my team. People know me as kid who always give best of me, and never get down. I have some beautiful memories to it – I am very thannkful.
Hard times, new chances
Last year was very stressed for me. I had potential good fight career (other people say), but I have right eye injury since childhood. I don't like to talk about it. I don't know how, but doctors allowed me fights before, but 3 months ago, I lost my fight license. It is so hard, when somebody take a big piece of your life. I really enjoyed in fights and trainings, but now it is different. I just wanna have a quiet life. Every cloud has a silver lining, people say.
Comment max nollert: "Everything happens for a reason – try to find the good one!" And I guess you are on a very good way to find and follow it…all the best from me my friend!
And it is the same with me. Now I haven't any more trainings and fights, but finally I have time for this what I live. My obsession is called CARPHUNTING!
New passion…Fishing!
My family is really big and I am the first of 5 children in my family. As kid, I was always mischievous (German = Spitzbube:-). I never had peace more than 5 minutes. When I was growing up, one day, my cousin showed me his fishing rod. I was fascinated. It was like first kiss with girl for me. Then he took me to the creek and we start fishing for chub (Döbel). Our bait was lobworm. He caught a lot of chubs and I was very happy because I was there with him. After that one my neighbor gave to me his old short fishing rod. He says: "I have a lot of rods, this is my present for you". It was Shakespeare rod and Balzer spinning reel with monofilament line and that changed my life till today and I hope forever! Then I became a little hunter. I started with fishing on summer holidays. Every morning I was on my creek. I managed to catch a lot of chubs, more than my cousin and he was very angry on me ;-). Through time, I met new people and start with new walk of life. But deep inside me, something was wrong. I didn't go fishing anymore. I was unhappy and unaware of that.
…then the vocation (Berufung) carp-fishing
I started fishing for carp when I was 12 years old, that is, 10 years ago. One day my friendhood proposed fishing on our local lake. I was very happy, but I didn't have anything for lake fishing, I just have one creek rod, good old Shakespeare. We come on lake at 6 o`clock in the morning. It was a cold morning, I remember well. We start fishing on the smallest lake in that complex. Here are 4 lakes in one complex. After a few hours somebody propose our relocation. We assembled our stuffs and walk through gravel road to oldest lake in the complex. After a while my friend who had best rods, caught small grass carp. It weight about 3 kilos. Then, for me, it was really giant fish. I was so happy because I had chance to see fish bigger than my chubs. What a brilliant fish it was for me. Then my carpangler career started. It was 2007. Somehow I buy 2 rods for lake fishing. My old 3 meters long telescope rods (creek rods) was now in my garage, waiting for better days, maybe once I will make someone happy as my neighbor done that for me. At first I need whole year to catch just one grass carp. That time I was fished with dad of my friend. He learned me a lot in that year. In July I think, I caught my first big fish. Grass carp about 3 kilos, same as year before of my friend. But mine was much bigger in that moment for me. It was world record for me then – haha :-(). I was so happy and proud. My soul was full of happiness. Then my parents come and we made party on lake shore, we called all friends to celebrate that moment. It is very funny for me, but it was very big moment in my life. And now it is.
After that I start with much more serious fishing – my first carp rods of english style.
Long time ago…
..and nowadays
Learning to fish was hard
In the beginning I had no success really. My friends always fished better than me. I was youngest and always fishing on worse places. Between 2 anglers, with just one rod, and a lot of unfair things yet. I started carping with my friends, but they taking fishing as an escape from home and parents. They drink alcohol there, smoking cigarettes. They didn't realized fishing like me. Truly, in beginning I was just one boy who didn't thinking about carp like I realized things now. And what carp fishing means to me. By the time, some desire was born in me. I want to be better than other boys in my hometown. In the beginning I haven't had some good knowledge about carp. Everything I knew is that I need to catch all of them haha. After a short time I started to learn about carp on web, fishing magazines and books. Soon, I learned a lot of new things which my friend didn't know so far. By the time I realized things which my friends did never realized before. "May the student surpasses the teacher?" At that time I was fishing for carp only on my local waters. By the time I wished to try something new, more difficult, harder, more demanding. I started with fishing at all lakes in my region. Soon I was catching more and more carp. And I was sure and confident in everything I did. Now I can say that carp fishing is not only my hobby, it is big part and the style of life, my pure passion. Today all things I see, I try to use to improve my fishing. At time when I start carp fishing on other lakes, I start thinking about making boilies. After long deliberation and research I made first own boilie. Without fish meal, without liquid additives, without amino acids. And I put one thing that was a very important ingredient: I believed in what I did! I was full of confidence. In 48 hours of fishing, only with that boilies, I caught 2 carps about 3-4 kilos and one especially mirror for me, first one over 25 kg for me. The Carp was 25,8 kg, my biggest then and most important thing was that I caught him on my first own handmade boilies. I was happiest angler in the world. I think, something like Tomas Blazek when he caught Moby Dick at Lac du Der 🙂
More and more experience
From day to day, I collected experience by fishing many many hours on the bank. Now, my first choice is balanced hook baits. Bottom bait in combination with V-Pops or Flying Hookbaits. When I need fast and attractive weapon, Half´n Half is best. For me, important thing is "hook on the bottom, bait in the air". I am convinced, we can provoke the faster bite by this. Before I start fishing with IB products, I mainly used a lot of seeds. Now, I have different opinion and experience in my head. Through time, I recognized that big feeding areas with lot of food aren't good if you want to catch biggest carps in the lake. Before, I fed carps at wide area with lot of particle. Now, I know that is not best idea. In my region, pretty better is if you try to select bigger animals with smaller traps. I speak about boilie fishing. Whole last season, I put just few kilos of seed in water. I decide to use fish boilie for pre-baiting and also for time I spend on the bank. Coming season will be potentially good for me. Again I will use just boilies in combination with Aminopellets in short sessions.
My first big strike!
After my first carp over 25 kg, I continued in same rhythm. After Saturday-morning-training my car was full and I went to weekend session, another one. So I did it from weekend to weekend. Some things we can learn from other people, but many situations in life we need to cross alone, it is life no matter if it is fishing or whatever. How much you give in thing you do, life will give it back to you, in some way, believe in that and you will be good! I know that and I believe in that.
Life is good, people are…May be we have only 10% of influence to our own life, 90% is how we deal with all others.
Unforgettable moments

Stupid or Smart?
Today we can find on www really a lot about carp, but some things about that fish, we must to conclude alone, especially how it is in our lake or river and how we can adapt on the circumstances at its best. For many people carp is just a stupid fish with 3 seconds memory. It is really funny. For me, carp is king of the fishes and my motive for investigating and waiting for him. From the smallest babies to 40+kg carp – every carp is special and each fish has a new story. Normally, in the human being is the desire for more and better, same situation is in fishing. Always I will try to catch biggest animals, but I will be satisfied with any of them. "Hope for the best, prepare for the worst" I like to say.
Once this was the Croatian record 35 kg+
This lovely common came with the sunrise and made me happy
Ultimate lifestyle fishing
Carp angler is not just a man who can catch carp. Carp angler is more than just sitting on the bank and catching fish. In my village I am "the funny stupid guy who catch and release carp". You never prepare your catch for us, people say to me. But I don`t care about what they say. I love to live this and share emotions with these animals.
I love to fish!
My first Love
I am so happy because my friends took me fishing, 10 years ago. And when I caught that first big fish, a grass carp of 3 kg, my body was trembling. That is the moment I will remember forever and I am sure you know exactly of what I am talking about! And I relive that emotion every time when my Delkim produce any sound. Anyway, I will try to catch and feed carp all over the world. Carp give me pleasure, adrenaline, passion and satisfaction. In return, I give them a life as they deserve C&R!
A dream comes true…if you fight for it!
I have always believed in to be an IB team member one day. People in my country told me: "You are crazy, man." But I believe in my dream, my passion. Through years I managed to catch few big carp and grass carp too. I was the only Croat who catch carp over 35 kilos. I catch few carps between 20 and 30 kilos, few grass carps between 15 and 20 kilos. With time, I became dissatisfied. I catch fishes, and everything was good but I was unhappy anyway. I didn't fish on big lakes like guys from IB, like Max, like Julian, like Zsolt. And I started to practice new style of fishing. Without any knowledge, but with strong desire. Now, I put all my efforts and whishes to big lakes, big rivers, big old gravel pits. And now I am very happy. I didn't have a lot of success in beginning. I caught some small and bigger carps, but now I am really happy, and I believe I will catch really seriously carp on my waters. I really believe in that. I choose biggest accumulation in my country as one of my destination. Around 2000 hectares of surface. That will be real challenge. I was there once for fishing, without success, but I believe in myself again and again. I have planned to be constant visitor of biggest river in Croatia. I need to make my baits in my garage. In 2016 I spooled my reels with Visible Touch Snaggy Water. I really like big preparations for extreme challenges. However, I will catch carp always. My wish is travel through European big lakes and rivers. I really like France, Romania, Spain and Italy. But also, I think we all have millions acres of lakes and rivers in our regions and there is a lot to find out – a live time work already!
iBoat 320 narrow – I am very proud to have one of only two existing essays!
Small temperature, big fish!
Once I finished my first longer. I was 4 nights on bank of cold river. Water temperature was just around 6 degrees, and carp were really uninterested, but one night before the last I had one run. I lost the fish in obstacles. I was wrong fishing because I put my rod too close to stumps. But I was really amazed with performances of Visible Touch Snaggy Water. I can feel every move now through my rod. Really fantastic line! And the last night brings to me beautiful big cold river mirror. Last trip of the year and first of the new year, I tried to select only bigger carp to my hooks. In autumn before I was 6 nights on the lake and had only 1 carp in my cradle. But a big one! Now again, I had only one fish and also big one. Have I found a tactic or did I just have a lot of luck?! I do not know, but I believe in what I do and it gives a result to me. And satisfaction is really strong weapon for my next trips.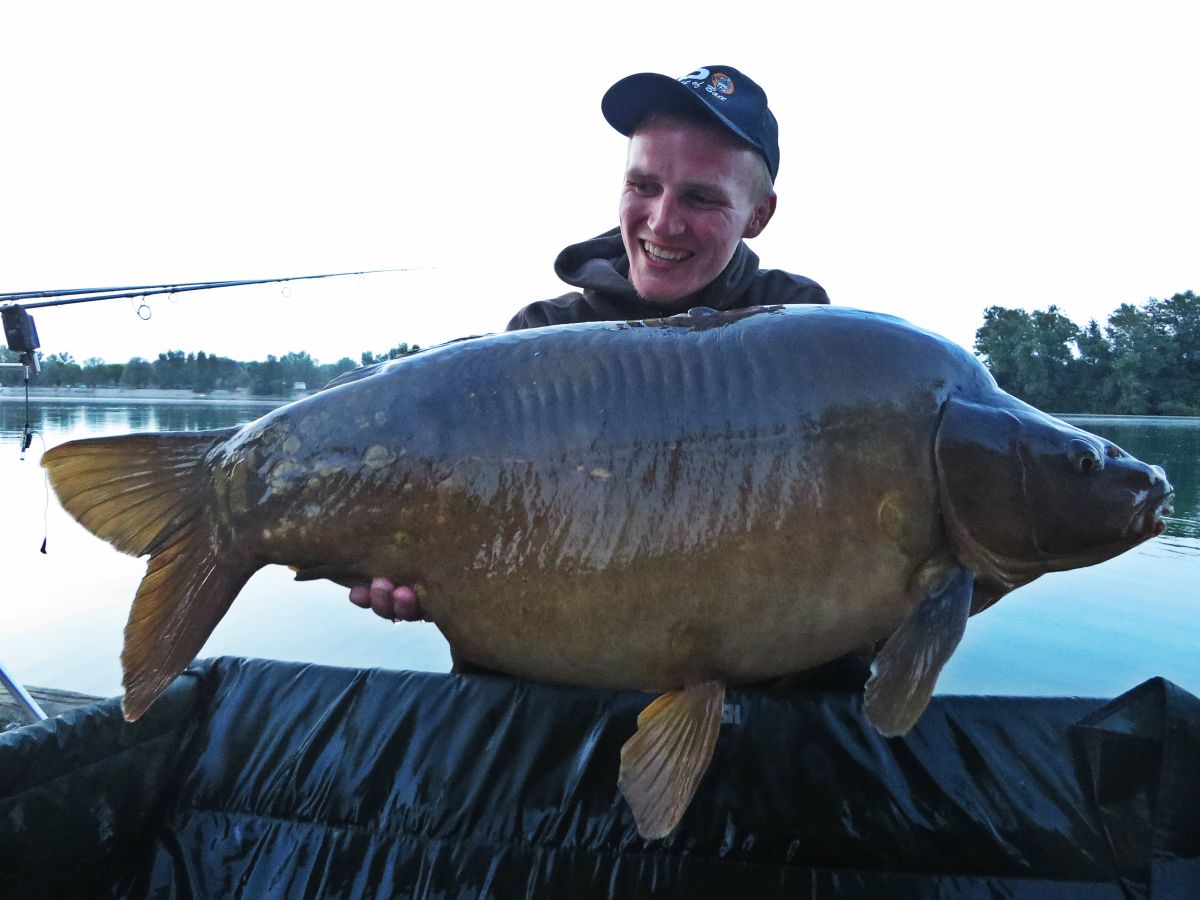 I want to say that it is amazing to be part of Imperial Fishing today! Thank you so much guys for all your support, it means a lot for me. Always faithful!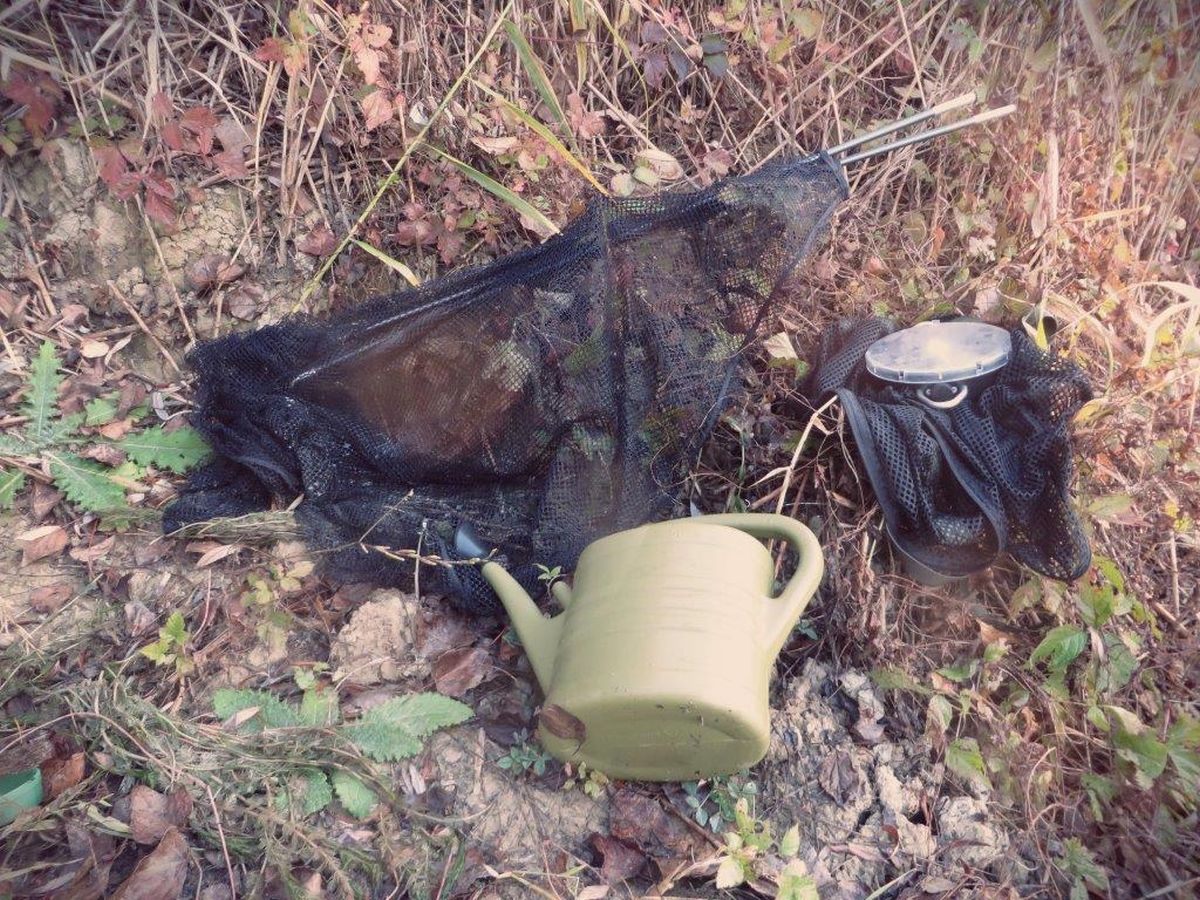 Thank you!!!
In the end, I want to say also thank you to my family and my girlfriend Jelena. She is my biggest support in everything what I do and she learn and teach me to be better person and carpangler. I want that all people catch their Jelena and Moby Dick!
Tight lines!
Luka Vukas
Team Imperial-Fishing Croatia
---
Kundenfeedback
Hallo liebes Imperial-Fishing Team,
ich hatte mir die 5kg Testvariante von dem neuen IB Carptrack Scopana.Love Boilies bestellt. Der erste Eindruck überraschte mich etwas, da nun mal ein und der selbe Boiliemix durch 2 verschiedene Fertigungsarten sich dann optisch so unterscheidet.
Während die eine Version für das Auge des Anglers kräftige und etwas dunklere Farben aufwies, so war das Produkt der anderen Fertigung eher optisch "ausgewaschen". Das Aroma beider Varianten war top. Ich habe 5 Tage vor dem Testfischen von jedem 2,5 kg Paket die Hälfte entnommen und mit IB Carptrack Powder und IB Carptrack InLiquid gepimpt.
Natürlich wurden die unterschiedlichen Boilies nicht gemischt, sondern getrennt gekennzeichnet, so dass immer nur der Boilie aus einer Fertigung auf dem Spot lagen. Soweit zur Vorbereitung der Boilies. Das Gewässer, welches ich für den Test wählte, ist ein ca. 35ha großes Kiesgewässer mit extrem starken Krautbewuchs und klarem Wasser und welches in der Testzeit ca 22 Grad warm war. Mit dem Boot waren schnell zwei nebeneinander liegende Kiesbänke mit meiner Meinung nach gleichen Fangchancen in etwa 2 – 2,5m Tiefe gefunden. Gefüttert habe ich immer nur ein paar gepimpte und ungepimpte Boilies auf einem Spot (instand – ohne vorfüttern), zusammen ausgebracht mit der Montage. Hakenköder war immer ein Scopana.Love-Boilie mit etwas IB Carptrack Liquid-Powderpaste ummantelt.
Die Ruten waren nicht lange ausgebracht und der erste Fisch lag auf der Abhakmatte. Die Bissintervalle waren so kurz, dass ich manchmal die Ruten gar nicht wieder sofort ausgefahren habe, sondern mir eine Verschnaufpause gönnte. Natürlich blieb der Fangerfolg nicht unbemerkt, da noch einige Angler mit am Wasser waren und in der Zeit als ich "Fisch um Fisch" drillte, diese selber "Schneiderten".
Die Werbetrommel für Euer Produkt war nun heftig gerührt…
Kurz um: Eine sensationelle Session über 3 Nächte mit herrlicher Angelei, guten und vielen Fischen und einem top Köder, der top gefangen hat. Und nun kommen wir zur wichtigsten Frage: Variante 1 oder Variante 2? Ich habe auf alle beide Varianten hervorragend gefangen und konnte keinen Unterschied bei der Lockwirkung und den Fangerfolgen verzeichnen. Tut mir leid das ich keine eindeutige Antwort auf Eure Frage habe – es sind beide top!
Nun stellt sich die Frage, ob ich Euch damit helfen konnte und ich antworte selbst darauf: na klar! Es zeigt, dass Ihr alles richtig gemacht habt. Bei Variante 1 und Variante 2:-)
Harte Fakten:
MfG Sandro Schüßler
Vielen Dank für Dein tolles Feedback Sandro!
Good Carping & Tight Lines
Max Nollert und Team
---
Euer Feedback ist uns wichtig!!!
Möchtest auch Du mit Deinem Feedback in unserem iBlog erscheinen?
Dann sende uns Deine Bilder per E-Mail mit einer kurzen Beschreibung an:
info@imperial-fishing.de
Wir freuen uns auf Deine Nachricht!
Max Nollert & Team