"Goldige" Schönheit von Kevin Hoffmann
Kevin Hoffmann war mit der neuen IB Carptrack Mega.Krill Range am Fluss unterwegs. Gebissen hat dieser schöne Spiegelkarpfen auf einen 20mm Half´n Half – Mega.Krill.
---
Endlich stand wieder ein langes Wochenende vor der Tür
Pünktlich um 13.45 Uhr hatte ich am Dienstag Feierabend und sofort ging es auf die Autobahn Richtung Frankreich. 4 Nächte angeln und abschalten. Am See angekommen, musste ich feststellen, dass auch viele andere den gleichen Plan hatten. Doch was soll's, einfach das Beste daraus machen dachte ich mir. Nach kurzer Begutachtung der Location fand ich doch noch ein vielversprechendes Plätzchen. Schnell war das Tackle bereit und die Ruten konnten scharf gemacht werden. Dieses Mal griff ich zu unseren IB Carptrack Monster-Liver Boilies in 16 und 20mm.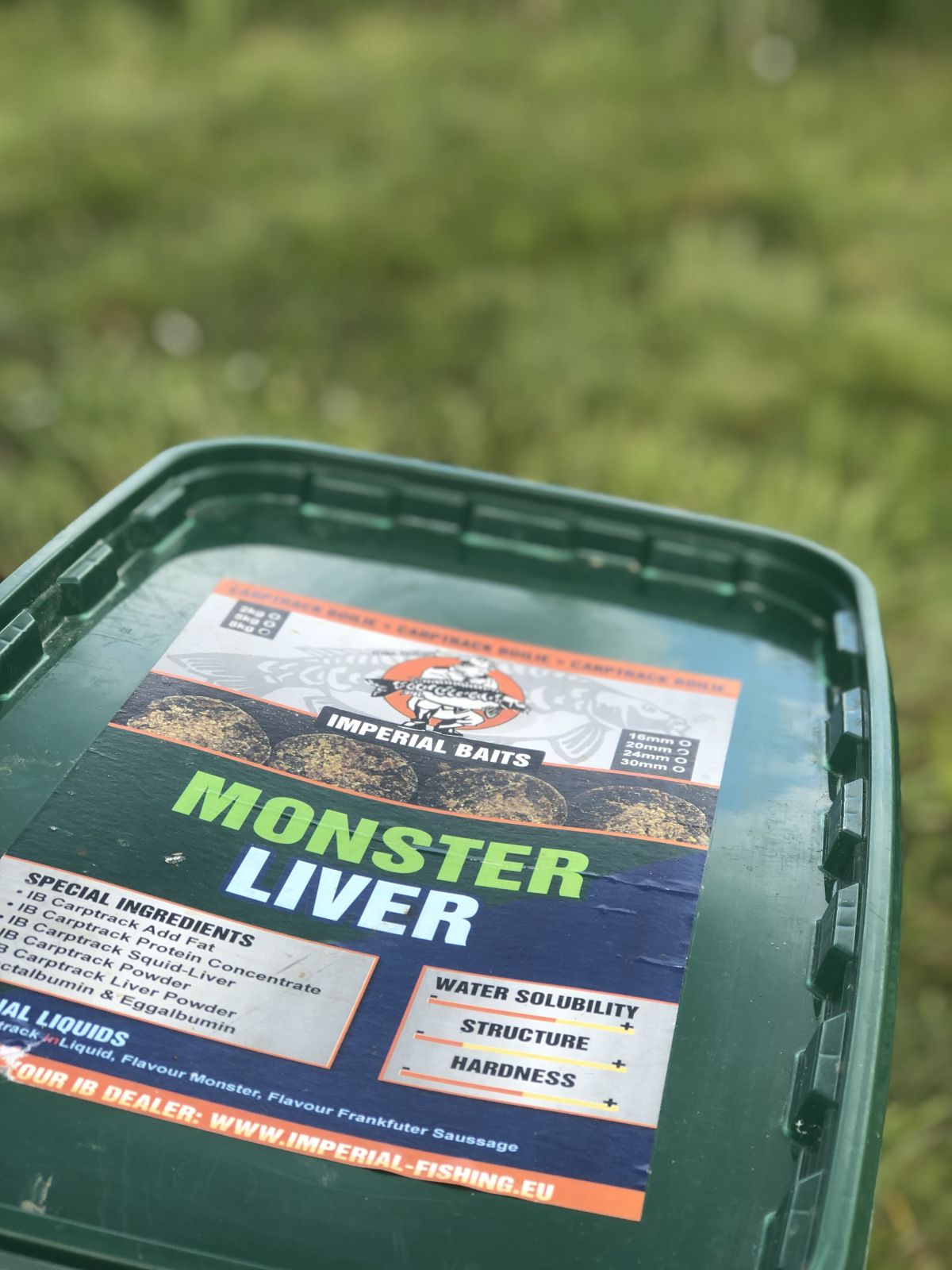 Schneemann und Single-Hookbaits waren meine Wahl
Ein Schneemann mit einem pinken "V-Pops" in 16mm und die erste Rute war startklar. Die anderen beiden Ruten bestückte ich mit einem Single-Hookbait Monster-Liver Boilie. Ruck zuck konnte ich die Ruten ausbringen, es mir für die nächsten Tage gemütlich einrichten und was kochen.
Nach einer kleinen Stärkung konnte die erste Nacht beginnen und ich legte mich voller Hoffnung auf´s Ohr – Leider erfolglos. Doch der Anblick als ich morgens das Zelt öffnete war ebenso schön anzusehen.
Auf Fehlersuche
Woran hat es gelegen, dass diese Nacht nichts lief. Sollte ich vielleicht moven? All diese Fragen gingen mir beim Kaffee durch den Kopf. Ich entschied mich, die Ruten nochmals anders zu platzieren und den Fischen so gut wie möglich den Weg zu versperren, so dass sie auf jeden Fall auf Futter stoßen und zuschnappen müssten. Doch die Bissanzeiger schwiegen auch die zweite Nacht und ich konnte erneut ausschlafen. Nach einem schnellen Frühstück entschied ich mich dann doch den Platz zu wechseln.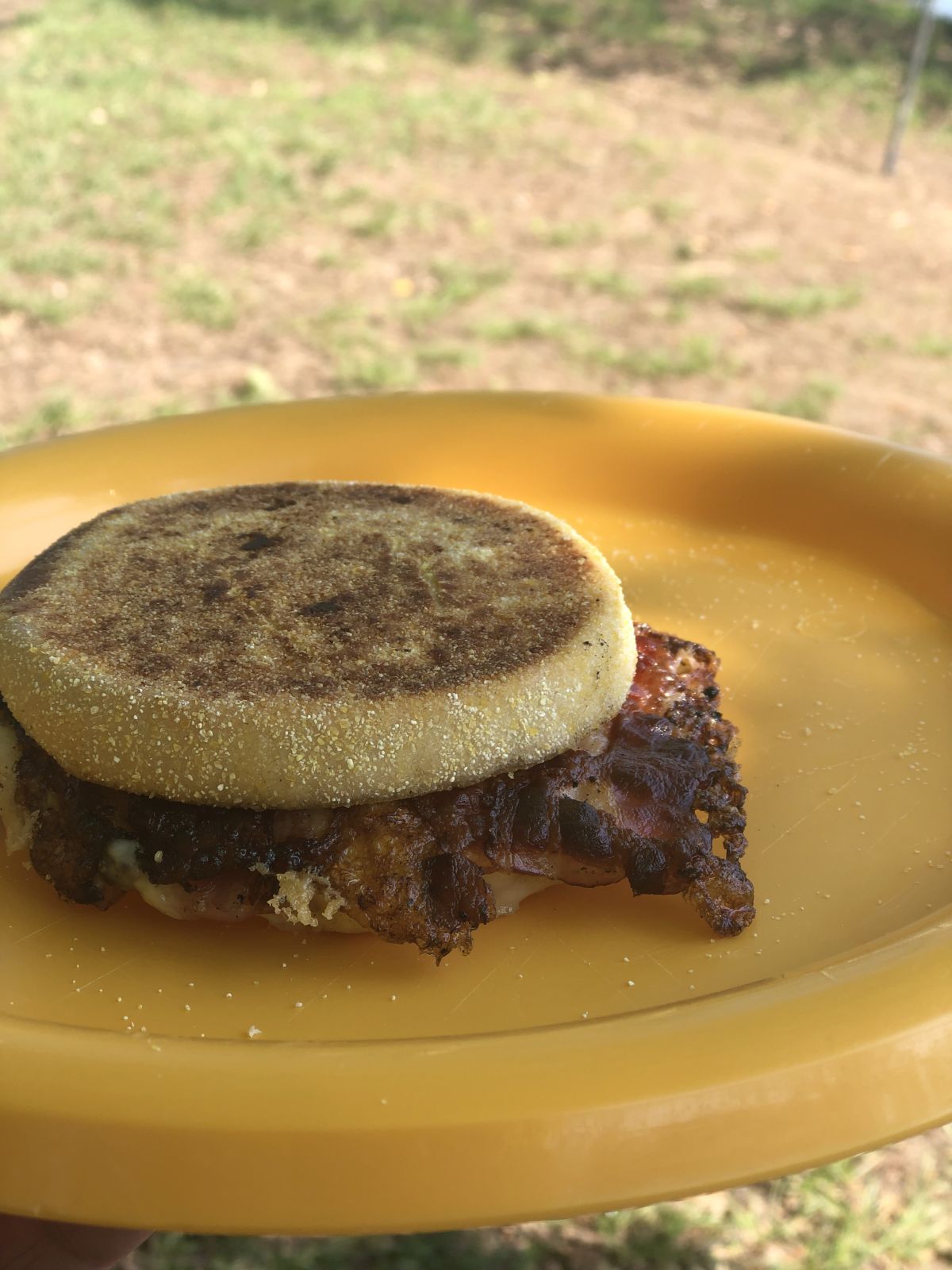 Neue Motivation
Ich musste etwas tun und die Fische suchen. Denn dieses Mal wollten sie nicht zu mir kommen, also komm ich hoffentlich zu ihnen. Moven bringt ja bekanntlich neue Motivation. Also packte ich meinen Krempel zusammen, schmiss alles ins Auto und fuhr um den See um eventuell Aktivitäten der Fische oder gar Fische zu sehen. Daraufhin entschied ich mich in einem ruhigen Teil des Sees mein Glück zu versuchen. Das Zelt stand und die Ruten warteten auf ihren erneuten Einsatz. Nach einigen Interessanten Stellen, die ich durch das Abtasten gefunden hatte, lagen die Ruten recht zügig auf den neuen Spots und die Motivation war wieder voll da. Auf den ganzen Stress kochte ich mir eine Kleinigkeit zu essen und genoss die Sonnenstrahlen.
Der erste Fisch – leider nicht der Zielfisch
Ein kurzes Nickerchen und schon brach die nächste Nacht an. Ich hielt nochmal Ausschau nach eventueller Aktivität und in diesem Moment rannte meine linke Rute ab. Nach kurzem aber heftigem Drill kam ein kleiner Waller zum Vorschein. Doch ich war trotzdem zuversichtlich, zumindest einmal Aktion im Wasser. Ich fuhr die Rute schnell wieder auf ihren Spot und legte mich zurück ins Zelt.
Kurz nach Mitternacht
Um 00:30 Uhr riss mich mein Receiver aus dem Schlaf und ich eilte zur Rute. Schon beim ersten Kontakt merkte ich, dass da ist kein schlechter Fisch am anderen Ende war. Oder doch wieder ein Waller? Nach einigen starken Fluchten konnte ich den Fisch das erste Mal sehen. Es war ein Karpfen! Mit einem Grinsen im Gesicht konnte ich den Fisch erfolgreich über den Kescherrand führen. "In the net – YES! ". Endlich wurde ich belohnt. Als das Adrenalin ein wenig gesunken war, legte ich mich wieder hin und ich konnte bis zum nächsten Morgen gut schlafen. Morgens schmiss ich mir schnell den warmen Imperial Baits Hoodie "The Art of Bait" über den Kopf und der gute konnte geknipst werden.
Nach wenigen Fotos durfte der Fisch wieder in sein Element.
Die letzte Nacht stand an
Der restliche Tag verlief wieder ruhig und unspektakulär. Natürlich war auch dieses Mal die Motivation groß! Kommt da noch einer? 😉 Um 2 Uhr kam der erneute Wecker der Funkbox, übrigens für mich der wohl schönste Wecker den es gibt. Ich rannte erneut zur Rute und hatte direkt Fischkontakt. Nach wenigen Minuten konnte ich den zweiten Karpfen ins Netz befördern, doch der kleine durfte schnell wieder schwimmen. Die größte spielt für mich keine Rolle. Vielmehr zählt für mich, wenn mein Plan aufgeht und meine Falle zugeschnappt hat. Am nächsten Morgen packte ich meine Sachen, jedoch verließ ich den See trotz des schwierigen Anfangs zufrieden.
Euer Steven Kuznia
Team Imperial-Fishing Germany
---
Mega.Krill Video von Imperial Baits Italia
…the name is Krill, Mega.Krill. Enjoy the short clip, made in Italy