iBay – iBoats & Team Watch bis Do. 19.04.2018
Ende aller Auktionen: 19.04.2018 zwischen 19:00 und 19:30 Uhr!
Hier geht's zu den Auktionen – klick!
---
Teamangler packen aus #4 – Maike Prinz
Hallo,
mein Name ist Maike Prinz und seit 2016 bin ich stolze Teamanglerin bei IB.
Wie kam es dazu und warum IB?
Mittlerweile blicke ich auf über 20 Jahre anglerische Erfahrung zurück. Schon als Kind faszinierte mich das gezielte angeln auf Karpfen, doch soll es an dieser Stelle kein Rückblick in die Vergangenheit werden. Vielmehr möchte ich einmal ein paar Worte dazu schreiben wie ich zu IB kam…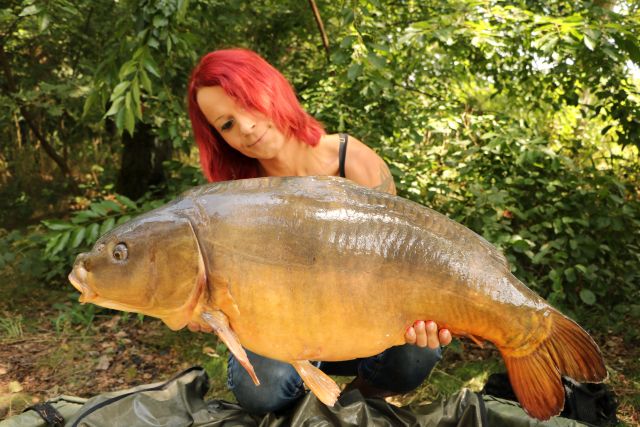 In den vergangenen Jahren spezialisierte ich meine Angelei auf Karpfen immer mehr, schier aussichtslose Gewässer oder Situationen sind es, die mich reizen. So probierte ich mich über Jahre durch die unterschiedlichsten Boilie-Hersteller durch und landete schließlich bei Imperial Baits / Fishing.
Für mich hat es oberste Priorität, dass meine verwendeten Köder von höchster Qualität sind. Lege ich eine Rute auf einer Distanz von 600 Meter ab, so möchte ich ruhigen Gewissens sagen können, die Boilies funktionieren und das auch über lange Sicht.

IB bietet mir genau das!!!
Höchste Qualität mit hoch attraktiver Lockwirkung, bei schnellen Sessions, aber auch bei langen und ausgedehnten Futter-Kampagnen spielen die "IB Murmeln" ihre Stärke aus und sind zudem für unsere Zielfische sehr verträglich, ja gar Nahrhaft – Wachstum inklusive!
Was meine ich damit?
Nun durch das ausprobieren vieler verschiedener Köder merkte ich oft, beißen mag es bei vielen, doch kontinuierliche Fänge in extremen Situationen, dass ist es worauf es ankommt. Denn auch ich mag nicht auf Dauer Produkte essen, die mir nicht schmecken – -simpel oder? 😉
Als ich zum ersten Mal die Boilies von IB fischte, war ich begeistert und ich kann sagen, ich liebe diese Murmeln von Beginn an und heute gar noch mehr, weil ich deren Wert bei meiner Fischerei nun nch besser einschätzen und honorieren.
Für mich, für Alle: Viele viele Jahre fische ich nun gezielt auf Karpfen und mir persönlich geht es darum, meine Erfahrungen und mein Wissen zu teilen. Jeder der mich bereits mal persönlich am Wasser kennen gelernt hat, weiß dass ich gern Tipps, Spots und Vorgehensweisen weiter gebe und mich über den Erfolg anderer mit freue.
2016 gab Max mir die Chance dem IB Team beizutreten und ich ergriff dankbar diese Möglichkeit.
Über den iBlog, Fachmagazine und bei Messen möchte ich so meine Erfahrungen mit Euch teilen und Eure Fragen beantworten. Mir persönlich ist es von Anfang an wichtig gewesen, dass nicht nur ich hinter den Produkten und der Firma stehe, sondern das auch die Firma hinter mir steht. IB ist eine solche Firma, zuverlässig in Qualität, Service und Menschlichkeit! All dies gab und gibt IB mir und den Kunden!
Max selbst hat sehr viele Jahre Erfahrung im Karpfenangeln und ich wage zu behaupten, wir liegen bei vielen Dingen auf einer Wellenlänge. So entwickelte sich nicht nur eine gute Zusammenarbeit sondern auch eine gute Freundschaft. Und auch innerhalb des Teams fühlte und fühle ich mich gut aufgehoben. Sehr gute Freundschaften entstanden hieraus bereits.
Warum ich nach wie vor auf IB zähle?
Ganz einfach: IB ist das was ich sowohl für meine Angelei als auch menschlich gesucht habe – Danke!
Bei IB kann ich auf höchste Qualität in Sachen Köder und Tackle zählen. Wer mich kennt, weiß das ich stets zu meinem Wort stehe! So sagte ich im vergangenen Jahr, ich werde stets hinter IB und den Produkten stehen! Einmal IB, immer IB! Und dazu stehe ich! Ein Motto, dass unter die Haut geht… 😉
Nun möchte ich mich an der Stelle verabschieden und sag nur, Tight Lines und …feel good!
Liebe Grüße
Maike Prinz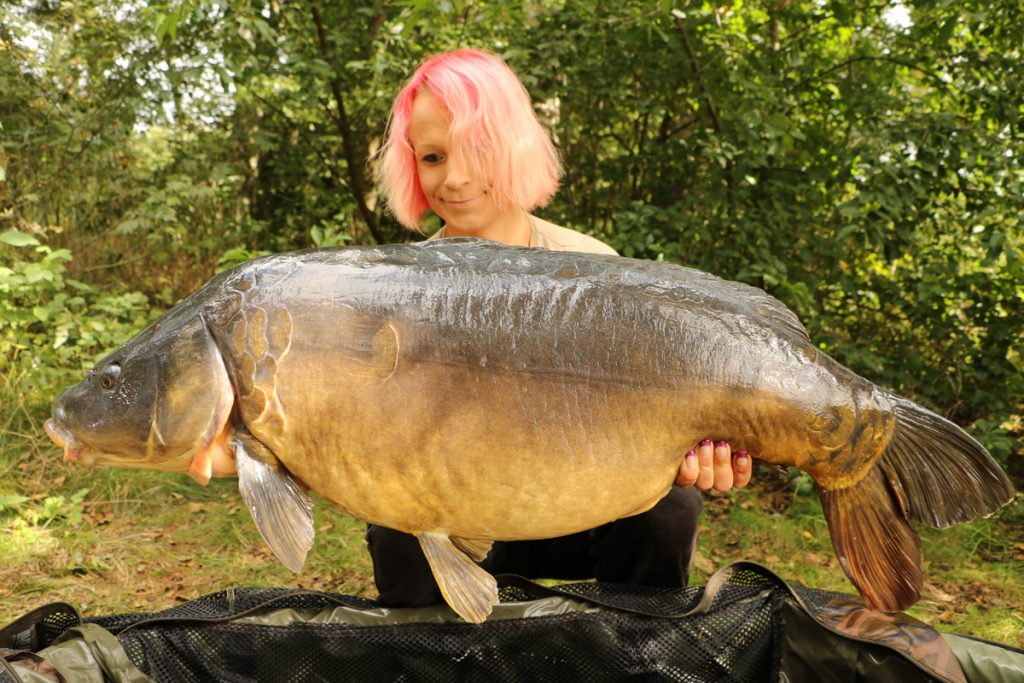 ---
Alle Pop Up Hakenköder kommen in praktischenPower Tower System Boxen
Das IB Power Tower System…
…ermöglicht es Dir zu Deinem Angeltrip einen "IB Power Tower", mit genau den
Produkten zusammen zu stellen, die Du gerade benötigst. Die Boxen lassen sich
individuell einsetzen, z.B auch für andere Kleinteile oder Lebensmittel und können
sehr kompakt und platzsparend mitgeführt werden.
Ein Griff und los…
– zusammenhängende Dosen mit Gewinden oben und unten
– die obere Dose bildet immer den Deckel der unteren
– übersichtliche und zusammenhängende Aufbewahrung von versch. Produkten
– hervorragende Aufbewahrung von Kleinteilen
– auch für Lebensmittel vorgesehen: Tee, Suppenpulver, Zucker, Salz usw.
– gute Sichtbarkeit des Inhaltes
Pop Ups (Flying Hookbaits)
Diese auftreibenden Hakenköder bestehen aus 65% des jeweiligen Boiliemix, inklusive
allen Aromen und 35% Pop Up Mix. Sie bieten damit das gesamte Lockprofil
des gleichnamigen Sinkers. Ab geht's in den Shop!
---
Imperial Fishing iGlas
Auf der Suche nach einem passenden Geschenk für Karpfenangler?
Oder einfach stilvoll am Wasser einen Drink genießen?
iGlas – "we love to fish!"
Schott Zwiesel "Cabernet Salto" 32cl aus Kristallglas
Mit eingelasertem Imperial Fishing Logo und Slogan "we love to fish!"
– extrem standsicher, da große Auflagefläche und extrem tiefer Schwerpunkt (siehe Video unten) steht auch auf unebenem Geländer sicher!
– dickes bruchsicheres Glas, ideal für die Angeltasche
– für Kalt- sowie Heißgetränke bestens geeignet
Stiellos mit Stil am Wasser!
iGlas einzeln = 4,90 Euro
4er Set in IB Klickbox geliefert = 19,90 Euro
Teatime

klick hier und gelange zum iGlas in den Onlineshop!

klick hier und gelange zum 4er Set in den Onlineshop!

Umfalltest bestanden!
---
Zu guter Letzt …
in Kürze geht der IF Katalog 2018 online!
Imperial Fishing 2018 – way back home! Mit zu den schönsten Momenten bei unserer "Zunft" gehört es, nach einem erfoglreichen und möglicherweise auch sehr anstrengendem Trip mit Höhe und Tiefen, all dies auf dem Nachhaueseweg noch mal im Kopf revue passieren zu lassen und mit diesem wohl erhabenen Gefühl, am Ende alles richtig gemacht zu haben, den Lieben zu Hause wieder freudig entgegen zu treten! Das Motto schmückt den neuen Katalog 2018 und soll jedem Leser, Kunden, Fan möglichst viele solche Moment bescheren. max nollert