Update Nr. 1300 seit 2003!
Herzlich willkommen zum neuen iBlog Update!
Imperial Fishing Katalog 2018
---
BIG iBOAT DAY
Heute sind sie wieder eingetroffen… Eine riiiiesen Lieferung unserer iBoate, auf die der ein oder andere unter Euch schn sehnsüchtig gewartet hat!
Auf Prost geht`s los…!
Und schon machen sich die iBoate auf den Weg zu Euch!
DPD inkl. Live Tracking funktion über e-mail oder Handynummer.
Gutes Training für Big Ones 😉
Brad (Big Brad) hätte gerne noch weiter gemacht, denn zum Glück war am frühen Morgen Jörg Schlegel zur Stelle, so dass Brad jetzt noch genügend Power hatte und am WE auf Fischjagd gehen kann. Viel Glück Brad und DANKE! Jörg, großes Kino und vielen lieben Dank für Deine tolle Hilfe! Bis in Kürze…..
Getreu dem Motto…"Viele Hände, schnelles Ende"…
packten alle mit an, damit Eure iBoats pünktlich bei Euch eintreffen.

Brad Smudzinski – work is done!

Why iBoats are fit out with wooden bench again from July 2018!
Because it's the best and that's explained here in the video. Have fun 🙂
Here is an overview of the advantages:
– Aluminum is much too cold, because aluminum dissipates body heat directly from the back. Even at 20 degrees + you have a cold bottom after a short time
– Wood is "warm" and keeps the heat in the right place
– The seat cushion on the aluminium bench can help against the cold, but in case it is wet when it rains, you can't get the seat cushion dry quickly.
– With a wooden bench, you remove the seat cushion in the rain and immediately have a dry and non-heat dissipating seat with a puller.
Wood is the only real solution! Others will follow, I'm sure 😉
Warum iBoats ab Juli 2018 wieder mit Holzbank!
Weil`s das Beste ist und das ist hier im Video erklärt. Viel Spaß 🙂
Hier die Vorteile im Überblick:
– Alu ist viel zu kalt , da Alu die Körperwärme am Hintern direkt ableitet. Selbst bei 20 Grad + hat man nach kurzer Zeit einen kalten Po
– Holz ist warm und hält die Wärme am richtigen Fleck
– Das Sitzkissen bei der Alubank schafft zwar Abhilfe gegen die Kälte, jedoch ist es nass am Hintern wenn es regnet, da man die das Sitzkissen nicht schnell mal trocken bekommt.
– Bei einer Holzbank nimmt man das Sitzkissen im Regen ab und hat mit einem Abzieher sofort eine trockene und nicht Wärme ableitenden Sitz.
Holz ist die einzig wahre Lösung! Andere werden folgen, ganz sicher 😉
BW and good carping,
Max
---
Mit Vertrauen zum Erfolg
von Éles Attila
Verbringt man viel Zeit am Wasser und vertraut auf seine Strategie, so bleibt die investierte Arbeit nicht ohne Erfolg.
Bei dieser Session setzte ich mein ganzes Vertrauen bei den Hakenködern einzig und allein auf den IB Carptrack Rambo – Monster's Paradise .

Dank der ausgeklügelten Zusammensetzung sind die Rambo Hookbaits fast Schwerelos, dennoch hart um den Attacken von Kleinfisch zu widerstehen.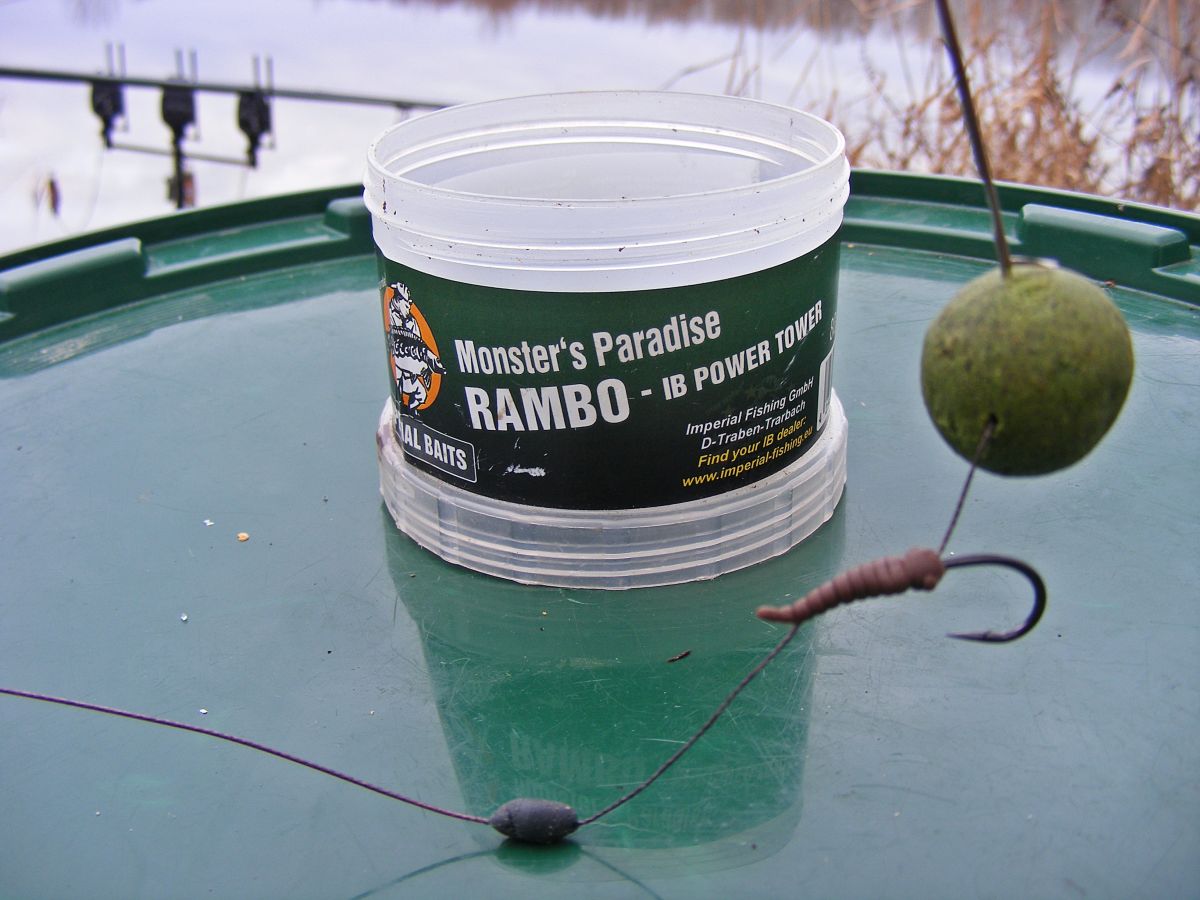 Meine Futtermischung
Der See an dem ich war, hatte einen großen Bestand an Kleinfisch. Um nicht zu viel Kleinfisch auf den Platz zu locken, lautete das Motto für meine Futtermischung "so gering wie möglich aber so viel wie nötig".
So bestand mein Futter aus etwas Mais, Amino Pellets, IB Carptrack Monster's Paradise Boilies und ein paar IB Carptrack Elite Strawberry Boilies. Gerade genug um die Aufmerksamkeit der Karpfen auf den Spot zu lenken. Ich rundete das Ganze mit etwas IB Carptrack GLM full-fat und etwas IB Carptrack inLiquid ab.

Die ersten 24 Stunden vergingen ohne eine Aktion.
Was für ein traumhaft schöner Sonnenuntergang.
Auch wenn die ersten 24 Stunden ohne Erfolg waren, so war ich mir sicher, dass meine Futtermischung gut arbeitete und die Zeit würde mir auch den Erfolg bringen.

Vertrauen ist alles
In den frühen Morgenstunden des zweiten Tages meldete sich mein Bissanzeiger mit einem Dauerton. Ich stürmte zur Rute, nahm sie auf und ein wahres Kräftemessen konnte beginnen. Der Fisch, ja man möchte meinen, kämpfte um sein Leben und ich um ein kleines Bildchen. Nach einem kurzen aber harten Drill, glitt der Fisch über den Kescherrand. Ich hatte gerade den Fisch versorgt, noch immer in Gedanken an den Drill, da gab es den nächsten Lauf.
YES!
Nummer 2 landete auf meiner Matte. Was für ein Glücksgefühl.

Überglücklich und zufrieden, dass meine Strategie auf ging, konnte ich zwei wunderschöne Fische mit je 15 Kilo in die Kamera halten.

Auf ein Neues
Ein paar Stunden blieben mir noch und so machte ich beide Ruten neu, in der Hoffnung noch einen weiteren auf die Matte legen zu können. Und was soll ich sagen, die Mühe machte sich bezahlt und so konnte ich in den Nachmittags Stunden einen weiteren schönen Karpfen zum Landgang überreden. Der IB Carptrack Monster's Paradise Boilie spielte sein intensives Aroma voll und ganz aus.
Fazit
Die Köder von Imperial Fishing haben einmal mehr gezeigt was in ihnen steckt. Danke für diese tollen Köder. Gerade in stark überfischten Gewässern und in Situationen wo es schwierig wird, spielen sie ihre Stärke, dank der hochwertigen Zusammensetzung aus und bringen einen Erfolg nach dem anderen.

Éles Attila
Imperial Baits Hungary
---
Das Wochenende rückt näher
Ihr wollt Euren Hakenködern das gewisse "Extra" verpassen?
Mit unsren Amino Dips und Gele könnt Ihr Eure Hakenköder von der Masse abheben und noch attraktiver gestalten.

---
Ernst Helmhart mit einem dicken Schuppi
Schon lange vertraut Ernst auf die Qualität der Carp'R'Us Haken.
Sein Statement dazu: Also wenn man im klaren Wasser unter dem Boot sieht, was so ein Kraftpacket alles versucht um den Haken loszuwerden, gut das ich den Carp'R'Us – ATS Predator verwende.

Kennrt Ihr schon den neuen Haken von Carp'R'Us?
Überzeugt Euch selbst und Ihr werdet begeistert sein.
Mit einem KLICK auf das Bild, gelangt Ihr direkt in unseren Onlinshop…

Zu gute Letzt:
Eles Attila`s son – iBlog Update will follow;-)