Es ist Winter, die Tage sind kurz, draußen ist es kalt und frostig. Man möchte am liebsten den ganzen Tag faul im Bett liegen und nichts tun. Die Karpfensaison scheint vorbei zu sein…
Nichts da!!
Für mich geht es jezt im Winter erst so richtig los. Da ich es besonders mag im Winter bei Minusgraden und Extrembedingungen zu angeln, zieht es mich regelrecht jedes Jahr um diese Jahreszeit sehr häufig ans Wasser. So wollte ich auch im Winter 2014 wieder einige Wintersessions starten, in der Hoffnung ein paar schöne Karpfen zu überlisten. Die erste Session sollte Anfang Dezember direkt losgehen. Am Abend zuvor packte ich noch alles zusammen und pimpte meine Baits bereits vorab, denn es sollte am nächsten Tag schon sehr früh losgehen. Am See angekommen konnte ich es kaum erwarten meine Köder auszulegen.
Da war es, dieses Wintefeeling! Der See zeigte sich in seiner vollen Schönheit…

Die Angeln wurden scharf…
Ich entschied mich für ein Schneemann-Rig mit einem "Carp Total!" Boilie in 16mm, umhüllt mit Liquid-Powder Paste und einem V-Pop Orange. Der Haken meines Vertrauens ist der CRU ATS Continental Snag Hook und der CRU Mouthsnagger Shorty in grün darf bei einem sicheren "Fangeisen" natürlich nicht fehlen.

Als Blei verwende ich gerne Abrisssteine die ich mit einem Stück altem Fahrradschlauch fixiere. Das funktioniert super, schont das Portmonai und die Umwelt. Ich angelte vor einem Krautfeld, da sich die Fische bei sonnigem Wetter gern im flacheren Wasser aufhalten.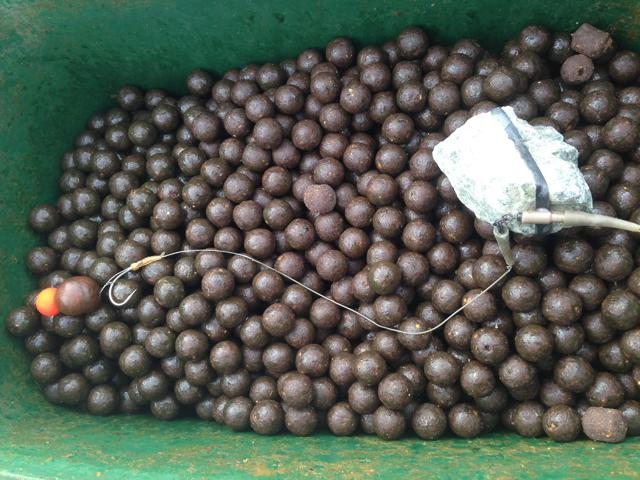 Ein sonniger Tag kündigt sich an – jetzt stehen die Fische flach!

Als die Sonne aufging, musste ich nicht lange warten und ich hatte den ersten Run. Ich freute mich Meter für Meter immer mehr auf den Fisch. Er kämpfte gut, zumindest für diese Temperaturen. Doch plötzlich hing er fest. Zuerst war ich sehr enttäuscht, doch dann löste sich der Hänger langsam und ich konnte mit großer Mühe meine Schnur einkurbeln. Yesss!! Der Fisch war noch dran!!
Doch irgendwas hatte sich auf der Schlagschnur verfangen. Es war eine andere Schnur, an der eine komplette Spinnrute mit Blinker festhing 🙂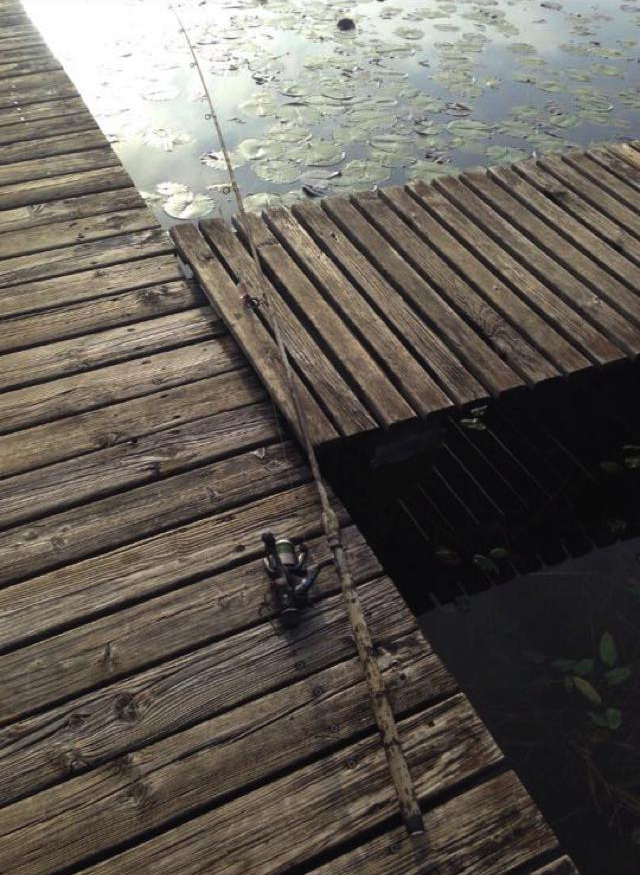 Wie das wohl passiert war?
Naja, aber Hauptsache der Fisch war noch dran und unverletzt. Erst am Ufer konnte ich erkennen welche Schönheit ich hier gefangen hatte. Ein Fisch der mir sicher lange in Erinnerung bleiben wird. Sicherlich, schon jetzt einer meiner Lieblingsfische in meinem Fotoalbum!

Einfach schön!

Die Fische waren in Beißlaune und so konnte ich nach weniger Zeit einen schönen Winterbullen überlisten. Imperial Baits – darauf kann man sich einfach verlassen!

Ich konnte einige Fische tagsüber überlisten und ich war mit meinen Fangergebnissen mehr als zufrieden. Doch nun sollte auch noch die Nacht zeigen was sie zu bieten hatte…
Einer schöner Spiegler in der Dämmerung!

Man konnte fast behaupten, dass ich meine neuen Imperial Legend gut eingeweiht hatte. 😉

Doch dann blieb es bis Mitternacht ruhig. Ich hatte schon Bedenken ob es nicht zu kalt geworden war für meine flachen Spots, denn es bildete sich schon ein wenig Eis am Ufer. Doch im selben Moment in dem ich gerade darüber nachdachte, schrie mein Bissanzeiger auf. Der Fisch nahm ungewöhnlich viel und schnell Schnur. Ich wusste zuerst gar nicht was los war, mit so einem kampfstarken Fisch hatte ich nicht gerechnet. Nach ca. 8 min Drill konnte ich den nächsten schönen Winterbullen endlich landen. Es war ein herrlicher Schuppmann!

Als sich der erfolgreiche Angeltrip dem Ende neigte, hatte ich schon alles bis auf Kescher, Abhakmatte und Angeln eingepackt. Gerade als ich die erste Angel einholen wollte, ging die Rute auf dem Joker Platz los. Dieser Platz hatte mir schon öfters sehr schöne Fische gebracht. Der Fisch kämpfte gut. Erst als ich den gewaltigen Nacken des Fisches sah, wusste ich, dass dieser Fisch mir keines Weges unbekannt war. Der schöne Schuppenmann wog gewaltige 19 kg und war ein alter Bekannter. Ich war sprachlos, mit so einem Traumfisch hatte ich nie gerechnet!


Ich wünsche Euch ein schönes neues Jahr und viele DICKE DINGER!
Daniel Trinkl
Team Imperial Fishing Österreich
——————————————————————————————
Be always prepared!
from IB Lady Elena Antoniucci
Many times when you can not go fishing the head is still on the bank a beautiful lake. In such a situation I try to use these thoughts for dreaming of the time when I catch my beloved carp.

So when I stay at home I take the Carp'R'Us materials and start work. One of my favorite hook setup consists of an ATS Centurion 2000 hook with Mouthsnagger Shorty and the Bead and Ring Kit. For the rig material I love to use the new Strip X in 25lbs.

With these accessories, a swivel and a bit of heat shrink tubing, I produce excellent rigs very suitable for Pop up presentations. Thanks to an excellent level of rotation to the Mouthsnagger Shortys during the ejection phase of the bait.

I use this presentation on muddy bottoms and where are small mats of weed that require a presentation of my floating baits.

One of the lakes where they work very well is the famous Lago di Bolsena. Here carp eat mostly detached from the bottom and can not resist a boilie that appears in a natural way in front of the mouth. The Strip X is absolutly safe during the fight and withstands abrasion on rocks with its strong coating.

After making the rigs for the Pop Ups I really like to use a small variant of the blowback rig for bottom baits. Therefore I always use the Strip X 25lbs, Centurion 2000 and rig rings. The rings creating a great rotation on the part of the hook during the ejection phase.

They allow the tip to always be in alignment for a safe hookhold. This rig can be used with big bottom baits and I have use it with 35mm boilies.

Another hook working perfectly with sinking boilies is the ATS Gladiator Ls, also used this in combination with a Mouthsnagger Shorty, Rig Rings and the Clearwater Medium Ready Hairs. It works very well in all natural environments and the hook take place in most cases on the lower lip.
I do believe that fishing is done mainly by experience and experiment and continue to find the best solutions through advanced materials. This is the right way to get great results!


Elena Antoniucci
Imperial Baits Ladies Team
————————————————————————————
Deutscher Magazin Artikel von Patrick Scupin online!
Klick hier um den Bericht aus der Carp in Focus Sept / Okt Ausgabe 2014 zu lesen

——————————————————————————————-
Imperial Fishing Malwettbewerb
Einsendungen noch bis zum kommenden Freitag (09.01.2015) möglich!
Bei unserem Imperial Fishing Malwettbewerb darf die ganze Familie teilhaben. Der Kreativität sind keine Grenzen gesetzt, alles ist erlaubt um dem IB Winter Logo einen pfiffigen Style zu verpassen und es in eine passende Landschaft (Hintergrund) einzubetten. Die IF Jury, bestehend aus allen Mitarbeitern in Traben-Trarbach, wird am Ende die drei besten, schönsten, liebevollsten Bilder auswählen und mit Preisen im Gesamtwert von 500 € prämieren. Einsendeschluss ist am 09.01.2015.
Gewinner Preise
Platz 1: Imperial Baits Carptrack Baitpacket nach Wunsch im Wert von 250 €
Platz 2: Imperial Baits Carptrack Baitpacket nach Wunsch im Wert von 150 €
Platz 3: Imperial Baits Carptrack Baitpacket nach Wunsch im Wert von 100 €
Und so einfach geht's
1. Malvorlage auf DINA 4 ausdrucken.
Downloadmöglichkeiten: PDF Datei, JPG Datei
2. Das Logo mit all Eurer Kreativität in einen Hintergrund einbetten und ausmalen (alles ist erlaubt)
3. Einscannen oder per Brief an uns schicken
Adressdaten:
info@imperial-fishing.de
Imperial Fishing GmbH
Wallgraben 2
56841 Traben-Trarbach
Download als: PDF Datei, JPG Datei

——————————————————————————————–
Eine kurze Erinnerung an die kleinen DIN A5 Kataloge.
Süß waren sie.
Und heute?
Alles online oder doch mal wieder Lust auf etwas handfestes?
Schreibe uns per WhatsApp an:
0176 – 43245759