KLICK HIER UND ERFAHRE MEHR / CLICK HERE TO READ MORE!
—————————————————————————————————————————————————————————
Big Lake in Ungarn
von Zolt Bundik
Hallo Max,
ich verbrachte vier Tage an einem 450 Hektar großen Baggersee in Ungarn. Zu dem Angeltrip nahm ich 4 kg Monster-Liver und 4 kg Elite Boilies mit. Es gibt in diesem See ziemlich viele Katzenwelse, die meine Boilies schnell entdeckten und zerlegten.
Ich beköderte meine Ruten jeweils mit zwei 24 mm Boilies. Die Katzenwelse hatten in zwei Stunden meine Boilies komplett abgenagt. Da kam ich auf die Idee, die Boilies am Haar in Banana Dip und Banana Gel zu dippen, so gewann ich noch etwa zwei Stunden, bis die Katzenwelse wieder alles auffraßen. Während des Angeltrips konnte ich einen sehr alten Karpfen mit 18,40 kg und einen Graskarpfen mit 12 kg fangen.
Ich wollte eigentlich sieben Tage am Baggersee verbringen, aber am vierten Tag tauchten einige seltsame Gestalten um mein Camp auf. Ich fühlte mich nicht mehr sicher, da ich am 3 km langen Seeufer ganz allein war. Deshalb entschied ich mich, den See möglichst schnell zu verlassen.
Nächste Woche möchte ich mich auf den Angeltrip am großen Lac d'Orient vorbereiten. Ich freue mich wahnsinnig auf diesen Trip und werde Euch berichten!
An einer schönen Kante mit 2 Wellen, platzierte ich das Rig…

Die Boilies behandelte ich zusätzlich mit Banana Dip und Gel

Dazu kamen wenige, hoch attraktive 24mm Boilies (Monster-Liver und Elite)!

Der alte karpfen von 18,40 kg

Ein wunderschöner Fisch!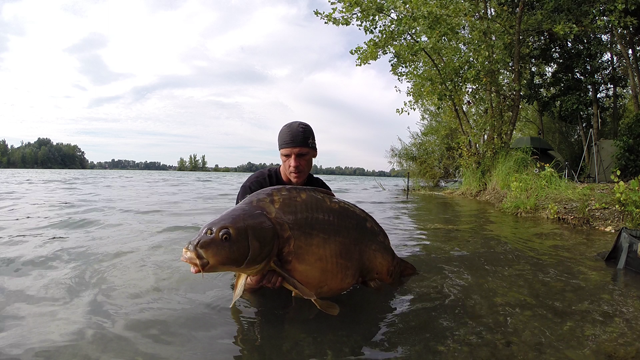 IMPERIAL BAITS – we love to fish!

Das Paradies, klares Wasser und eine einsame Insel 🙂

Mit meinem neuen Spielzeug mache ich super tolle Luftaufnahmen!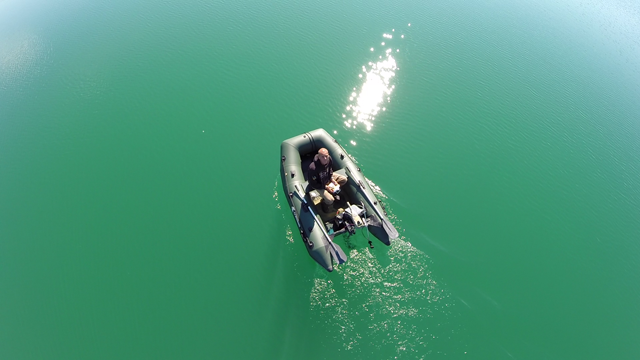 Ihr könnt gespannt sein was da noch so folgen wird – ich bin es auch :-)!

Seit 60 Jahren wird hier Kies gebaggert, deshalb wächst und wächst der See!

Aus der Vogelperspektive: Das kristallklare Wasser lässt Karibik Feeling aufkommen…

Der wunderschöne Baggersee mit noch schöneren Karpfen!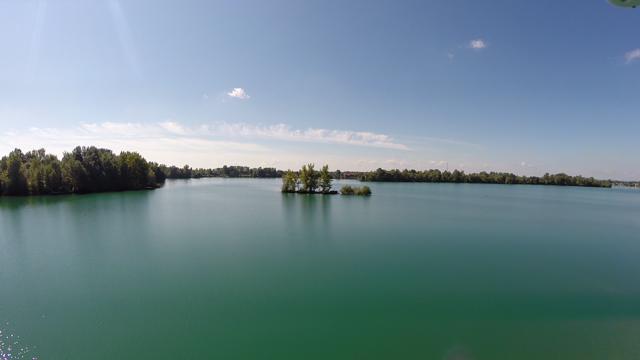 Ein Graßkarpfen konnte meiner eigenen Mischung aus IB Carptrack Banana-Fish Boilies nicht widerstehen. Die hatte ich noch als JOKER dabei 🙂

Mein camp und mein Atropa Bewegungssensor. Wenn ich alleine angle, benutze ich ihn immer. Gerade in Ungarn ist die Kriminalitätsrate leider höher als in Deutschland und so kann ich mich wenigstens etwas sicherer fühlen.

Morgens begrüßte mich dieser paradiesische Anblick

Hier wohnen besondere Karpfen – schaut Euch diese Beauty an:

Ich benetzte Monster-Liver und Elite Boilies mit Banana Dip und Banana Gel, so gewann ich ein paar mehr Stunden, bis die Katzenwelse alles auffressen…
TIPP Julian Jurkewitz: Mit Carp'R'Us Rap it hält man sich diese lästigen Plagegeister ein für alle mal vom Leib. Durch den Austausch mit Umgebungswasser, wird der Boilie über die Stunden im Wasser immer größer. In diesem Moment presst er sich regelrecht in das Rap it und wird dadurch schön zusammengehalten. Diese Kompression verhindert den Zerfall des Boilies. Ich fing damit nach 3 Tagen, ohne die Köder zu kontrollieren oder zu wechseln, Karpfen an einem Katzenwels und Krebsverseuchten Gewässer!


Bis zum nächsten Bericht alles Gute!
Zsolt Bundik
Team Imperial Fishing Ungarn
—————————————————————————————————————————————————————————
INFO: Liquid-Powder Paste aus der Dose
Auch Zsolt Bundik ist ein großer Fan der IB Carptrack Liquid-Powder Paste. Er mischt sie seit Jahren selbst am Wasser und fängt damit enorm viel Fisch. Momentan gibt es die Paste aus der Dose noch nicht einzeln zu kaufen, sondern nur im Set in unseren drei Herbstangeboten als GRATISZUGABE oben drauf.
Weitere Info dazu werden folgen!
Hier unser aktuelles Video zur Anwendung der Liquid-Powder Paste – Max Nollert erklärt:

Die Liquid-Powder Paste gibt es aktuell in unseren Herbstangeboten GRATIS dazu!
KLICK HIER