KLICK HIER UND ERFAHRE MEHR / CLICK HERE TO READ MORE!
—————————————————————————————————————————————————————————
"Carp Total!" – Phase 2
von Werner Mörs
Bei meinem ersten Testlauf (Update klick hier) der "Carp Total!" Boilies fütterte ich immer drei Tage vor! In der zweiten Phase wollte ich den Boilie auf seine "Instant" Fähigkeit testen. Am Nachmittag vor dem WM Finale fuhr ich für drei Tage zum See. Am See angekommen wurde alles routinemäßig aufgebaut.
Erst die Ruten…

…dann das Camp, solange kein Regen in Sicht ist.

Da der See an diesem Platz einer Badewanne gleicht, kamen die Ruten nur in unterschiedlichen Entfernungen vom Ufer zu liegen. Beide Ruten wurden mit "Carp Total!" Half´n Half bestückt und gleichzeitig kräftig mit "Carp Total!" Gel benetzt.

Zusätzlich fütterte ich jeweils fünf Hände 20mm "Carp Total!" Boilies lose um den Hakenköder herum. Nachdem alles auf seinem Platz war, machte ich es mir auf meiner Liege bequem und genoss das Endspiel. Eine halbe Stunde nach Abpfiff bekam ich einen Lauf und freudetrunken machte ich mich auf dem Weg zur Rute. Kurze Zeit später hatte ich den ersten Karpfen im Kescher.

Bis zum nächsten Abend kamen noch vier weitere Karpfen hinzu. Nach jedem Fisch fütterte ich jeweils zwei Hände "Carp Total!" Boilies nach.

langsam aber sicher…

…wurden die Fische größer 🙂

…und schuppiger!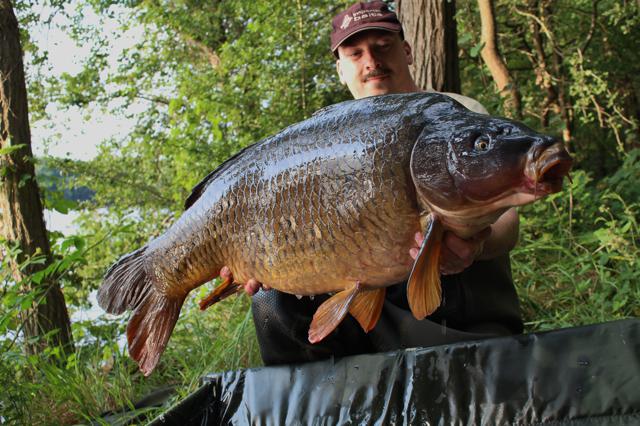 Die nächsten zwei Tage kamen nochmals fünf Karpfen hinzu. Wobei der letzte schon bei der Rutenaufnahme mächtig Druck machte. Nach geschlagenen zwanzig Minuten hatte ich ihn im Kescher. Als ich die Kopflampe an machte, war ich mir sicher dass dieser Fisch 25kg haben wird. Als er sich jedoch auf die Seite drehte, nicht mehr!

Es war ein ganz alter Recke mit 104cm Länge, aber leider mit null Bauch!

Die Fangorgie mit den neuen Carptrack "Carp Total!" Boilies nahm nicht ab!

Ein Fischlein nach dem anderen landete im Kescher!

Mein Fazit zu Carp Total Phase II:
Auch "Instant" geangelt ein sehr guter Boilie, den ich nur weiter empfehlen kann! So habe ich mit nur insgesamt fünf Kilo Boilies 17 Karpfen auf die Schuppen gelegt, wovon fünf die 20kg durchbrachen. Drei zwar knapp, aber drüber ist drüber! 🙂
Werner Mörs
Team Imperial Fishing Germany
—————————————————————————————————————————————————————————
Sommer 2014
von Philipp Resch
Hallo liebe iBlog Leserinnen und Leser,
endlich steht er vor der Tür – der Herbst! Die wohl heißeste Zeit für uns Karpfenangler. Doch rückblickend möchte ich Euch ein paar Bilder aus den Monaten Juli und August präsentieren.
Gemeinsam mit einem Jugendangler am Wasser – er freute sich riesig!

Einer der größten Graser aus dieser Nacht. Es bissen insgesamt sieben an der Zahl, sie konnten den Osmotic Spice Boilies mit extra viel NHDC nicht liegen lassen!

Carptrack NHDC – das Original = GRASERMAGNET!

Und noch ein Spiegler der unteren Gewichtsklasse – hauptsache Fisch 🙂

Das Amiaud Combi Carpo black/orange in Verbindung mit den Verlängerungsbeinen ist für alle Situationen bestens geeignet!

Carpsack Excellent – der wohl beste Karpfensack auf dem Markt!

Ein dickbäuchiger…

…dem die IB Carptrack Fish Boilies sehr gemundet haben.

Auch mein Kumpel Flo war erfolgreich – sein neuer PB!

Waterpicture

Und noch einer der etwas kleineren Sorte 🙂

Während ich die Fotos von Flo´s Graser schoss, lief eine meiner Ruten ab. Die Max Nollert Temptation Twin Tip federt die Fluchten des Fisches sehr gut ab! Egal ob Big One oder kleinere Karpfen – jeder Fisch macht mit dieser Rute sehr viel Spaß!

Keine zehn Sekunden nachdem dieses Bild entstanden ist, lief die andere Rute ab. Wahnsinn!

Auch dieser Fisch ließ sich die benetzten Fish Boilies schmecken!

Mehr braucht man nicht um erfolgreich zu sein! Benetzte Carptrack Liquid + Powder Boilies, ein paar Hookbaits und die neue Carptrack Paste – ready to fish!

Benetzte Carptrack Liquid + Powder Fish Boilies

Meine Montage wie ich sie zu 95% der Fälle Fische.
Durchgebundenes CRU Clearwater Fluorocarbon in 25lbs, CRU Haken und CRU Mouthsnagger. Den Sinker noch mit Paste ummanteln und fertig! Bald für alle Kunden erhältlich – einfach Dose und los – prima! HIER gibt es die Paste bereits zum testen GRATIS!

Ich wünsche Euch eine heiße Zeit am Wasser!
Philipp Resch
Team Imperial Fishing
—————————————————————————————————————————————————————————
Vorschau: Fabio Manzetti
Update coming soon…
—————————————————————————————————————————————————————————
NEW VIDEO: Max Nollert's Schlauchboot-Ära, since 1996
Für diese Produktion kramten wir sämtliche Boote aus den Kammern und Ecken, die Max Nollert seit 1996 am Wasser begleiteten. Anhand der Schlauchboot Flotte bis hin zu GFK Booten der Firma Technostrat, kommentiert Max seine persönliche Boots-Historie und geht dabei explizit auf die gewonnenen Erfahrungen und Erkenntnisse ein, die letztendlich zu der Entwicklung unserer heutigen iBoats geführt haben. Dabei untermalen über 50 zusätzlich eingeblendete Bilder aus der Vergangenheit den Filmstreifen.
Mittlerweile gibt es zahlreiche Image und Werbevideos die absichtlich nur mit Handys gedreht worden sind. Von dieser Technik wollten wir uns selbst überzeugen und versuchten erstmals nur mit dem Einsatz von Smartphones (Sony Experia Z2 für das Video und iPhone 5s für den Ton als Mikroersatz) diesen Film zu drehen.
Dabei gibt es sicherlich noch Verbesserungsmöglichkeiten (Gesichtserkennung sollte man deaktivieren), aber überzeugt Euch selbst von unserem Ergebnis – FILM AB!
—————————————————————————————————————————————————————————