KLICK HIER UND ERFAHRE MEHR / CLICK HERE TO READ MORE!
————————————————————————————————————————————————————
Cold Water fishing
von Marvin Eckert und Björn Dostal
Hallo liebe iBlog Leser,
das diesjährige Frühjahr ist für viele kein einfaches, extrem schwankende Temperaturen sorgten zu Beginn oft für wenig Action am Wasser. Auch wir hatten zu kämpfen und mussten alle Register ziehen, um doch noch ein paar Karpfen überlisten zu können. Dennoch zeigt sich, dass sorgfältig präparierte Futterplätze ein Garant für den Erfolg sind. Wichtig ist hierbei nicht die Menge des Futters, sondern die Qualität und die Kontinuität. Was wir mit den Crawfish black & white Boilies so alles auf die Matte legen konnten, seht Ihr im folgenden…
Noch liegen Nebelschwaden über dem See, die heisse Phase beginnt!

So sieht ein perfekter Start in den Tag aus 🙂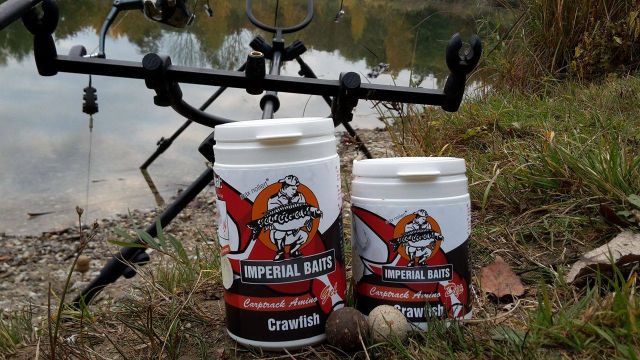 Mein erster Fisch des Jahres und gleich ein richtig Schöner!

Björn legte mit diesem alten, urigen Seebewohner nach. Guckt Euch mal das Paddel an!

Der Bube hatte einen Lauf und ich durfte den Kescherknecht spielen 😉

Wohlgenährte Kugel!

Seinen Hookbait mit Carptrack Liquid-Powder Paste zu ummanteln ist immer eine gute Sache, um dessen Attraktivität zusätzlich zu steigern!

Der ATS Continental Snag Hook ist schon lange unsere erste Wahl. Hohe Belastbarkeit und enorme Schärfe, auch nach mehreren gefangenen Fischen.

Keep it simple!
24er Hookbait, Line Aligner, 35lbs Quicksilver. Kein Schnickschnack!

Alles war scharf, wo blieb das erlösende Geräusch der Sounderbox?

Na also, läuft doch!
Der erste Fisch des Tages. Doch es sollte gleich noch richtig Dicke für mich kommen…

Bereits nach kurzer Zeit merke ich, dass es sich um einen guten Fisch handeln musste. Er stand tief und ruhig am Grund und ließ sich nur mühevoll nach Oben pumpen. Als ihn nach einer gefühlten Ewigkeit die Maschen des Keschers umschlossen, lag dieser Berg von Schuppmann vor uns.
Neuer Schuppmann PB – YESSSSSSSSSSSSSSSS!

Nachdem wir den Schuppmann mit einem Baileyskaffee begossen hatten, meldete sich Björn`s rechte Rute. Auffällig war, dass er alle seine Fische tagsüber fing, was für diesen See eher ungewöhnlich ist.

Mein letzter Fisch der Session – makellos!

Doch der Abschlussfisch gehörte der Grinsebacke 😉


Wir wünschen allen eine gute Zeit am Wasser!
Marvin und Björn
Team Imperial Fishing Germany
————————————————————————————————————————————————————
Frühjahrserwachen in Bayern
von Florian Tarnick
Hallo liebe iBlog Leserinnen und Leser,
jetzt sind wir schon wieder bei der Jahreshälfte angelangt und meine favorisierte Frühjahrszeit neigt sich dem Ende zu. Die Zeit zwischen kahlen Bäumen, bishin zum satten grün der Blätter und wenn die Natur von ihrem Winterschlaf erwacht, ist meine liebste Zeit am Wasser. Endlich kommt pö a pö Musik in die Natur 🙂 Hier nun ein kleiner Einblick meines bisherigen frühen Frühjahres 2016.
Das Jahr begann sehr zäh, kalt und windig. Das Wasser brauchte lange, um die Temperatur zu steigern, also hieß es erstmal keine guten Vorraussetzungen in Aussicht. Dennoch ließ ich nicht locker und trotzte auch nach zig Blanknächten den schwierigen Bedingungen. Eine kleine Hand voll Crawfish black & white Boilies und Tigernüsse mit Carptrack Powder verfeinert, platziert auf einem Spot unter einem reinhängenden Baum, auf nur 1,5m Wassertiefe, brachte mir endlich den ersten Fisch 2016!
Die Freude war groß!
Über den ersten des Jahres und dann auch noch so eine Schönheit 🙂

Im Frühjahr ist ein gut arbeitendes Köderprodukt, das viel Lockstoffe abgibt, das A und O für eine erfolgreiche Session. Ich bearbeite meine Murmeln immer mit Amino Dip und Amino Gel von Imperial Fishing!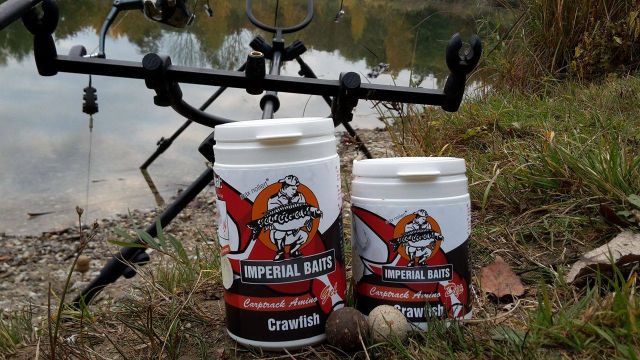 Plötzlich geht es dann los und man merkt, wie das Wasser von Woche zu Woche wärmer wird. Das bringt Leben in die Unterwasserwelt!

Die Natur blüht auf und die Fische werden hungrig!

Ein alter Bekannter, der sich schon längere Zeit nicht mehr sehen lassen hat. Immer wieder schön zu sehen, wie gut es ihnen geht!

Im Frühjahr fische ich gerne aus dem Bus heraus. Das erspart mir viel Zeit in der Früh, wenne s auf zur Arbeit geht. Ihr wisst ja, jede Minute zählt, nur solange die Köder im Wasser liegen, bringen sie Fisch!

Mutter Natur mit schönsten Farbspielen – Traumhaft!

So ein Fisch rundet natürlich alles ab, was man derzeit im Frühling miterleben darf!
Stolze 19,5 kg Frühjahreswampe! 🙂

Einfach nur Geeeeeeil!
WE LOVE TO FISH!

Die ersten wärmeren Sonnenstrahlen bedeuten für mich, endlich wieder offen im Zelt schlafen!

Das iBoat 210 steht in der Abendsonne bereit und wartet auf den Einsatz 😉

Der letzte im Bunde!


Euch noch allen eine erfolgreiche Zeit am Wasser bis bald!
Eeuer IB Supporter
Florian Tarnick
————————————————————————————————————————————————————
Zu guter Letzt:
Philippe da Rocha en action – TOP!