KLICK HIER UND ERFAHRE MEHR / CLICK HERE TO READ MORE!
————————————————————————————————————————————————————
CRAWFISH Action am Kanal
von Christoph Trippe
In den letzten Monaten bin ich aufgrund meiner Abiturklausuren und dem ganzen Lernstress kaum ans Wasser gekommen. Die Zeit zwischen dem Lernen verbrachte ich allerdings des öfteren mit dem iBoat und Echolot auf dem Kanal, um ein paar neue Stellen für das zeitige Frühjahr zu finden. Ich fütterte von nun an eine Stelle an einer Schleuse und eine andere Stelle an einem Wendebecken mit Carptrack Crawfish black & white Boilies in 20mm und dazu noch eine Partikelmischung aus Mais, Weizen, Hanf und Tigernüssen, welche mit Hilfe von NHDC gesüßt wurden.
Ich verteile mein Futter am Kanal immer schön großflächig, damit ich möglichst viele Fische erreiche und die Fische länger am Platz bleiben. Kanalkarpfen sind schließlich Nomaden. Ist der Futterplatz schnell leer gefegt, ziehen sie sofort weiter.

Des öfteren sah ich beim Füttern schon einige Fische an der Oberfläche rollen, doch an angeln war noch nicht zu denken. Zwei dicke Abiturklausuren hatte ich noch vor der Brust.

Doch dann war es endlich soweit!
Ich hatte aus schulischer Sicht nun alles hinter mich gebracht, die Ruten lagen und auch die Karpfen zeigten sich.

Und keine 20 Minuten später, biss auch schon der Erste auf einen 16mm Crawfish Pop-Up. "So kann es gern weitergehen", dachte ich.

Doch das angeln vor der Schleuse gestaltete sich schwieriger als gedacht. Da ein Schleusentor gesperrt war, fuhren die Schiffe noch näher an meinem Futterplatz vorbei und jedes Schiff verzog meine Montagen und setzte diese mit Kraut zu. An entspanntes Angeln war hier kaum zu denken.

Ich sah von nun an keine Fische mehr an der Oberfläche und die Bissanzeiger schwiegen. Bis zum nächsten Morgen…

Am Morgen weckte mich dann der Dieselmotor dieses alten rostigen Berufsschiffes.

Und auch der Ruderverein nebenan hatte wieder einmal eine große Veranstaltung – LÄUFT 🙂

Ich packte meinen Trolly und machte mich auf den Weg zum Wendebecken.

Ich sah auch hier am Wendebecken während des Aufbaus mehrere Fische rollen und begann sofort zu füttern. Mit dem kleinen iBoat160 geht das ruck zuck!

Futter marsch!!!

Wie beim Vorfüttern, setzte ich auch beim Angeln selbst auf die Crawfish black & white Boilies in 20mm und meinen Partikelmix.
Kurze Zeit später biss auch an dieser Stelle der erste Karpfen. Ein 20mm Crawfish Boilie in weiß mit ein 16mm Crawfish Pop-Up brachte den Fisch ans Band!

YEEEEEES. Und das war erst der Anfang…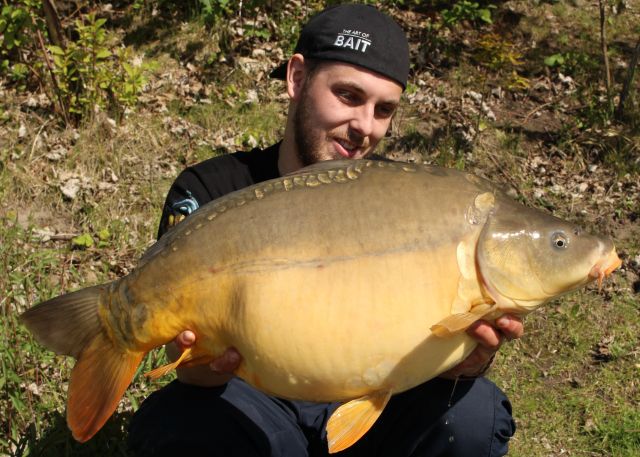 Die Schiffe die das Wendebecken zum Wenden nutzten, wirbelten mein Futter immer wieder auf und hielten den Platz somit immer bei Laune. Hier setzten sich meine Montagen komischer Weise nicht mit Kraut zu.

Am nächsten Morgen wurde ich erst sehr spät durch die Wärme der Sonne geweckt. Alle Karpfensäcke waren prall gefüllt und ich am Ende meiner Kräfte – aber es war ein geiles Gefühl!

Ich rief meinen Dad an, der auch sofort vorbeikam, um Fotos zu schießen. Hier der erste Fisch der Nacht mit 11,2 Kilo.

Weiter ging es mit diesem komisch geformten 15,3 Kilo Kanalkarpfen. Von oben hatte er die Form von einem "S". Was er wohl erlebt hat? Wir werden es nie erfahren!

Auch der erste Schuppenkarpfen von 15,1Kilo machte gewaltig was her 🙂

Der vorletzte Fisch dieser Nacht war ein sehr lange 13,7 Kilo Spiegelkarpfen welcher, wie alle anderen Karpfen auch, auf 20mm Crawfish Boilies biss.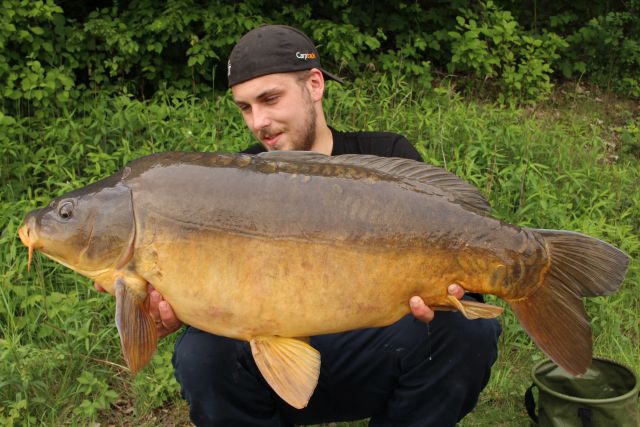 Doch die ganz dicke Belohnung biss erst am frühen Morgen gegen 5:20 Uhr. Genau 20,2 Kilo brachte dieser bisher unbekannte Kanalschuppenkarpfen auf die Waage – HAAAMMEEEER!!! 🙂

Mit diesem weißen Zipfel an der Schwanzflosse, kann man den Fisch definitiv wiedererkennen.

Alle Fische in dieser Nacht bissen auf Carptrack Crawfish black & white Boilies in 20mm. Der Grund liegt auf der Hand. Die natürliche Nahrung der Kanalkarpfen besteht hauptsächlich aus Flusskrebsen und Muscheln. Kein wunder also, warum die Kanalkarpfen voll auf die Crawfish Boilies stehen!!!

Die Fische haben den Futterplatz und meine Boilievorräte in dieser Nacht vollkommen leergefressen und sind am Morgen weitergezogen. Ich ließ noch einmal alles trocknen und dann ging es auch für mich nach Hause.


In den nächsten Wochen gibt es einige weitere iBlog-Update´s von mir, lasst Euch überraschen!
Bis dahin, viel Erfolgt am Wasser!
Christoph Trippe
Team Imperial Fishing Germany
————————————————————————————————————————————————————
Motorbootrennen in Traben-Trarbach auf der Mosel fand nicht statt!
No Racing last week-end!
Organisatoren, Teams, Fahrer und Fans müssen sich den Naturgewalten beugen. Erst Freitag Abend gegen 18 Uhr viel die Entscheidung, da ein erneuter Anstieg der Mosel vorhergesagt wurde und das Wasser- und Schifffahrtsamt damit jeglichen Verkehr auf der Mosel untersagen muss. Neben der starken Strömung, die die Fahrer aber auch von Rhein und anderen Flüssen bei Normalstand kennen, sei das mit dem erneuten Anstieg verstärkt aufkommende Treibgut eine echte Gefahr für alle Fahrer. Bereits Mitte letzter Woche waren diese aus ganz Europa angereist.
Mehr Info zum abgesagten Event – KLICK HIER!
Auf dem Bild welches ich Samstag Mittag vor Ort machte, sieht man das traurige Bild eines Anhängers aus Litauen – was für eine Enttäuschung!

Die Mosel fließt rasend schnell in diesen Tagen…

Kopf an Kopf Rennen mit unserem IF Racing Team 2014

Mehr Info zu unserem damaligen Racing Team findet Ihr HIER – KLICK!

Unser Fahrer Thimo Wende – 2014

Kurzer Video Clip: Imperial Fishing – the power to race!

————————————————————————————————————————————————————
Zu guter Letzt…
30,5 Kilo Pusiano Gold – in Kürze hierzu mehr!