KLICK HIER UND ERFAHRE MEHR / CLICK HERE TO READ MORE!
————————————————————————————————————————————————————
CRAWFISH & BIRDFOOD BANANA POWER!
von Marco Bertaglia
Während einer Session in Frankreich wurde meine Angelei von viel Regen und starken Temperaturschwankungen begleitet. Meine Strategie war IB CRAWFISH black & white Boilies zu füttern und zwar eine ordentliche Menge. Die Fische sollten in einen Fressrausch geraten!
Dieser dickbauchige war einer von den Gefräßigen!

Die Fallen sind scharf und die nächste Regenfront rollt gerade an!

Satte 10 kg CRAWFISH Boilies von 24, 20 und 16 mm flogen am ersten Tag ins Wasser. Über einen weiten lang gezogenen Bereich, einschließlich einer großen Schilfpatie und einem Labyrinth von Wasserlilien, verteilte ich die Köder in Tiefen von 3-8m.
Als Eyecatcher kam ein knallig gelber Banana Pop Up oben drauf!

Daran müsst Ihr riechen!!!
Ein umwerfender Krebsgeruch, mich wundert es nicht, dass wir so gute Erfolge mit diesem Boilie erzielen!

Dort müssen die Köder hin!

Aufgrund des extrem klaren Wassers, wählte ich transparente Rigbestandteile, wie z.B. den Fluorocarbon Stiff Link 16,5cm. Dazu ein stabiler Continental Snag Hook in der Größe 4 auf den ich einen MOUTHSNAGGER clear schob.

Ready to catch!

Das Rig funktionierte super und alle Fische waren sicher gehakt!

Das Warten auf den nächsten Run! Zwischenzeitlich begrüßte mich sogar die Sonne 😎

…aber am besten hat es während der Regenzeit gebissen!

Good Bye mein lieber!

Temptation MK3 mit Korkhandteil – that's style!

Und dann rappelte es richtig! Dieser dicke Schuppmann fegte den CRAWFISH Teppich leer!

Beauty carp! Über solche Perlen freue ich mich ganz besonders, völlig egal wie groß!

Step by Step zu meinem Erfolgsrig:
Man benötigt nur 6 Komponenten!
1. Stiff Link 16,5cm
2. Continental Snag Hook
3. Mouthsnagger clear
4. Smooth Braid (geflochtenes Vorfachmaterial)
5. Rig Rings 3 mm
6. Camo Shotz (Kneifbleie)
…und dazu ein Pop Up nach Wahl, in meinem Fall Flying Banana!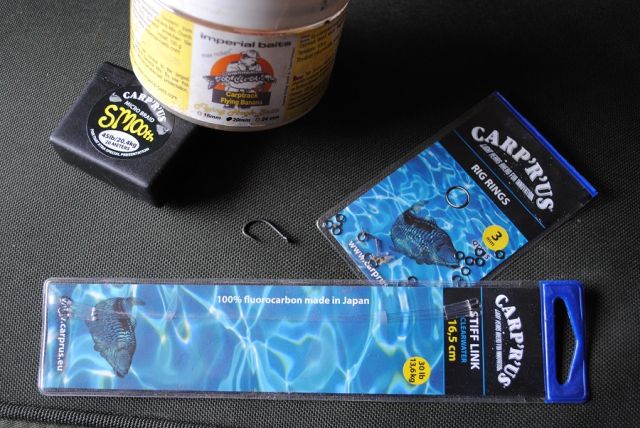 Bei der Länge des Smooth Braid, orientiere ich mich an dem 16,5cm Stiff Link – das passt!

Den Boilie aufziehen und einen Rig Ring 3 mm darunter anknoten.

Den Rig Ring auf den Haken fädeln und den Continental Snag Hook mittels No-Knot befestigen.

Anschließend den Mouthsnagger clear auffädeln, das Hakenöhr etwas befeuchten und den Snagger aufschieben!

Jetzt verbinde ich das kurze Vorfach mit dem Stiff Link 16,5cm mittels Grinnerknoten!

Kurz unterhalb des Knoten befestige ich nun einen Camo Shot als Kontergewicht. Dieses sorgt dafür, dass der Haken nachdem der Karpfen den Köder aufgesaugt hat, direkt zurück gezogen wird und seine durch den Mouthsnagger begünstigte Drehung ausführt.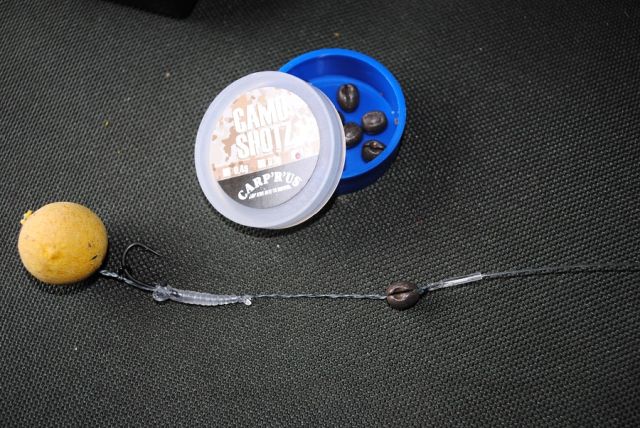 Fertig ist mein Rig, das mir schon unzählige Fische sauber gehakt und in den Kescher befördert hat.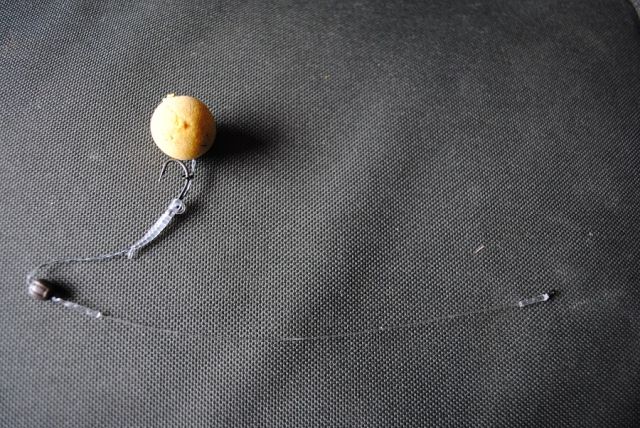 Team Imperial Fishing Italy
Marco Bertaglia
————————————————————————————————————————————————————
Bild des Tages
Philip Jakob auf großer Fahrt oder besser gesagt: PHIL ON TOUR! Checkt seine Facebookseite aus!
Wir hoffen auch Ihr hattet ein erfolgreiches und vor allem sonniges Wochenende!