KLICK HIER UND ERFAHRE MEHR / CLICK HERE TO READ MORE!
————————————————————————————————————————————————————
Fishing at the river Labe (Elbe)
from David Fort
May was a long awaited month for all carp anglers in the Czech Republic. Our IB team CZ was concentrating mainly on our biggiest public river – Labe (Elbe). This river produces big carp every year and many carp over 20kg have been reported in previous years almost from every part of the river. The biggest and documented common carp named "Buldozer" was caught this spring on the weight of 28kg.
Here is a picture list of some of our captures from the river Labe…
14kg David Fort – Elite Strawberry Boilies

15.50 kg David Fort – Elite Strawberry Boilies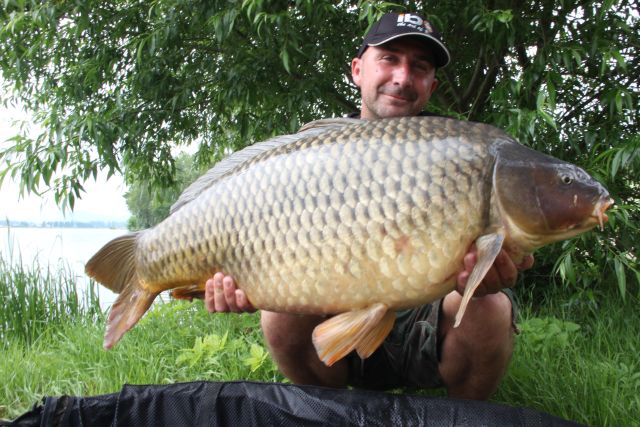 the same fish as previous 🙂

16.10kg Martin Skopa – Elite Boilies

There is another fish that needs to be mentioned caught by Honza Chvapil. This was the only fish of the weekend on 16.50kg on Monster-Liver Boilies. He had also another run that felt really good but unfortunately he lost the carp – thats fishing 😉

16.50kg Ondra Kubena – Elite Boilies
16.70kg Mirek Buzek – Elite

Another big common was caught by Martin Skopa on 20.50kg. He was fishing together with Ondra Kubena and they caught also some other fish between 13-14kg and 16.70kg and 16.10 kg commons. They were both using their favourite Elite Boilies. Martin likes to fish pre-soaked Elite in Elite flavour.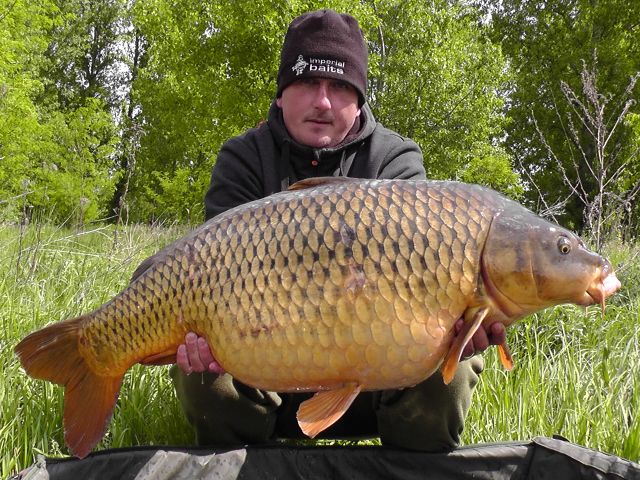 Mirek Buzek was fishinig Labe river with his son Dominik. They also managed to land several nice fish with the king on 20.50kg on 2 x 20mm Monster-Liver and another beautiful 16.70kg common.

Crawfish 😉

Dominik Buzek 13kg Elite

Another beautiful common over 15kg was caught by Lukas Pulec on a public lake near Prague. This fish has a nice story behind. It was Monday afternoon when he called me that he had a brutal run and the fish made its way behind the island in front of him. He was sure the fish is still there and asked me to bring my boat and help him. He was fishing about 30km from where I live but I asked my wife we put the iBOAT 210 to our van and went stright to the lake! Lukas was still there holding his rod for 1:30hr and waiting for us. We jumped to the boat and found out the fish went it completely through the wooden island full of branches and roots. It seemed we are lost as he did not have the anchor that would help us to find the line behind the island. I did not wait a minute and jumped into the lake a dive. After few minutes of hard underwater job I managed to free the line, jumped to the iboat 210 again and was watching another 20min fight. At the end we landed really beutifull old looking mirror. Real beauty! When I got home Lukas told me that he was comparing his photos and found out that he caught the same fish 2 weeks ago from the same spot 🙂 Because I lost lot of my working time on IBCC on Balaton lake I could not spent much time fishing in May but anyway few carps posed with me infront of the camera. Most of them were caught on 1 x 24mm Elite Strawberry boilies.

Zdeněk Lisec caught a real BIG ONE common 23.70kg on Elite Strawberry with Amino Gel Elite Strawberry. This fish was very strong and took him over 400m away from his spot on the boat before he finally landed it.

Zdenek Žaba is in love with Vltava river for many years. This river is very difficult to fish as the water temperature jumps up and down due to dam system. There are 1000´s of small carps but only few big ones. Last year he caught one of the biggiest documented commons from Vltava on 18.10kg. This year I have seen another big common 19.50kg so there are treasures to be found but this is only for the brave ones who are able to spent many and many hours in the search for this river´s gold. Zdenek Zaba managed to catch another beautiful and rare mirror carp in May on the weight of 13.50kg on Elite Strawberry boilie. This is again very precious fish from this river.

————————————————————————————————————————————————————
Elite Strawberry strikes back!
I love winter fishing but it is just so hard to find a place to fish when everything gets frozen even the river labe. I had a lot of work with preparations for Expos anyway so at the end it made me to concentrate my effort to my job. One Sunday afternoon I took my wife for trout ice-fishing so we had some fun with our friends. The following week it got hotter again, the ice started to melt so I was waiting for an info when it is gone and I can go fishing again. Due to restriction in our fishing law we are allowed to fish only from 7am to 6pm every day. No night fishing is possible. I found a free weekend and went for some day sessions again.
I could not wait the morning we were supposed to go fishing again. I was awake quite early in the morning so went to the garage to prepare some rigs and wait for the pick up. Happily the spot I wanted to fish was free so it did not take long and my rods were placed.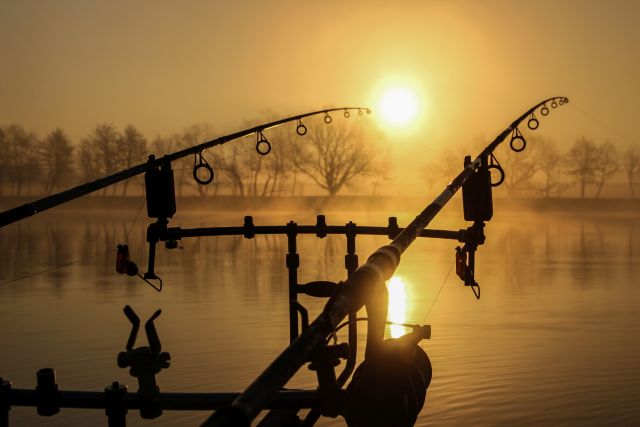 I brought my new set of Edwards Custom Upgrades MK1 Compacts alarms so was full of expectations for the first run. I did dot have to wait very long! I think it didn´t last an hour and my rod was off!

For my winter fishing I use Elite Strawberry, that was dipped several months ago in Elite Strawberry Dip and I also added a bit of inLiquid and inP powder. After few hours all additives get soaked and the boilie gets quite soft. I think it is ideal for winter fishing and my results in January speak for themselves. I always combine it with one 16mm pink V-Pop in Elite Strawberry Flavour.
Back to the run!
The fish felt really good from the beginning and the fight took several minutes. At the end I landed another beatiful wild river beast! Fantastic!

I was a bit sceptic for this session as there was so much snow water in the river with no oxygen but it seems that nothing can really stop you when using Carptrack Boilies!
The rest of the day was blanked. The next day was quite hot and nothing really happened. I had only one run, again on Elite Strawberry combination but with a small common at the end. I decided to try my luck for one more day. I still believed. I was quite happy with one run a day as it is a great success in this time of the year. And it came again! It was 11.30 am when my alarm made a single bleep. I was running to my rod and saw him bending and than it went to a full run! I was sure it will be a good one again! Unfortunately it got stucked in some trees after few minutes so I jumped into my boat the get it out. With a bit of luck I made it and I was enjoying another strong fight from the boat. I took another 3 minutes and I got another beautiful strong river carp!
What a day!…..and what to say? "WE LOVE TO FISH!"

————————————————————————————————————————————————————
Wintertime
December 2015 was just extremely good for carp fishing with its weather reminding more late autumn than winter time. I did few very short sessions, mostly just overnight only with my rods, bedchair and sleeping bag. I was changing locations spending some nights on the river and some nights on the lake. Every time I checked the weather and decided where to go. On the river I used the Imperial Baits boilies in cold water versions and Elite Strawberry. This boilie is just a KILLER everywhere – in my opinion 😉
17.50kg on 22.12.2015

I had many carp between 8-13kg and it is a great result for this time of the year anyway. I never got blanked! Carp mostly prefered Elite Strawberry.

The lake was different. The water was much colder than on the river. On 30.12.2015 when I managed to get a common 15.70kg the water was about 5 degrees. It was a strong cold wind on that day bringing the wheather change with big waves on the lake. I was boating my rigs next to an island where the water was quiet and I found carp hiding there. It was almost 400m from the bank.
15.70kg on 30.12.2015 Banana Boilies

I was feeding with only a little amount of 20mm Birdfood Banana boilie with a mix of 4mm a 15mm Aminopellets soaked in inLiquid , InP and Carptrack Powder.

I was combining 20mm dipped Birdfood Banana boilie with 16mm Flying Banana Pop up in Carptrack Banana Flavour or with 16mm pink V-Pop in Elite Strawberry Flavour.

Before my 2 days session from 28.-30.12.2015 I spent another night fishing from 22.-23.12.2015 with the crown of 17.50kg common caught on Birdfood Banana boilie 20mm.

I was also fishing a zig rig on one rod and I was really happy when I landed a small but beautiful mirror caught on one 16mm Banana Pop up soaked in Banana Flavour in the morning. The fish was caught 3.5m from the bottom on approx 7m depth.

Many common carp in the river 🙂

…

they are all strong fighters…

…even in the winter time!

The last one:
Zig rig Pop Up Banana 16mm water 5.5 degree


I want to say thank you to IB for the lovely season and I wish you all many great captures on IB products in 2016.
Wishing you all the best and tight lines!
David Fort
www.imperial-fishing.cz
Team Imperial Baits Czech and Slovakia
————————————————————————————————————————————————————
Exclusive Distribution / Wholesale
David Fořt
Pod Mezí 326
CZ – 25066 Zdiby-Brnky
Mobil: +420 603 181 500
E-Mail: davidfort@carpfishing.cz
Obchod Online v češtině:
www.imperial-fishing.cz
————————————————————————————————————————————————————
Last but not least: GO BANANA NEWS
Facebook Fanpage: Goban Ana
The iBanana journey continues- actually in Hungaria…
More info: https://www.gobanana.info/
07.06.2018 fb post