KLICK HIER UND ERFAHRE MEHR / CLICK HERE TO READ MORE!
————————————————————————————————————————————————————
International Carp Cup Balaton 2016 – Imperial Baits ist am Start!
Quelle und genauere Informationen auf www.carpfishing.cz
Unser tschechisches Team rund um exklusiv Vertriebspartner David Fort (https://www.imperial-fishing.cz/), nimmt aktuell am International Carp Cup am Balaton teil. Am Wochenende fiel der Startschuss und unter widrigen Wetterbedingungen begann das Event. Es herrschte vorerst Boots verbot, da ein starker Wind für riesige Wellen sorgte…
…zu Beginn galt es jedoch alle Vorbereitungen zu treffen. David setzt auf die geflochtene Hauptschnur Invisible Touch Snaggy Water. Diese widersteht problemlos den zahlreich vorhandenen Muscheln und anderen Hindernissen.

Im Balaton muss kräftig gefüttert werden, denn der See beherbergt eine unglaublich hohe Anzahl an kleineren Karpfen. Durch den zusätzlichen Einsatz von Imperial Baits Carptrack Aminopellets, bekommt David eine starke Lockwirkung am Spot!

Dazu werden halbierte IB Carptrack Elite Boilies gefüttert. Diese beinhalten neben Zutaten wie GLM fullfat viele weitere wasserlösliche Zutaten, die eine enorme Anziehungskraft auf Karpfen ausüben.

Für den Einsatz an Gewässern mit viel natürlicher Nahrung, wie dem Balaton Plattensee, bietet der ELITE Boilie einen optimalen Konkurrenten um sich gegen die natürlich vorkommende Nahrung zu behaupten.

Ein paar IB Carptrack Birdfood Banana Boilies in der Cold Water Version, sorgen zusätzlich für einen optischen Reiz und eine hohe Attraktivität durch besonders schnelle Löslichkeit.

Dinner for one 😉

Die Montagen hängen bereit, hier Elite Boilies mit einem Flying Hookbait Monster's Paradise kombiniert.

Das Amino Gel Banana pimpt den Hakenköder extrem auf und dorgt dafür, dass der Karpfen schnell den Fokus auf den Hakenköder setzt und diesen einsaugt. Der gelige Touch kommt außerdem der natürlicher Nahrung wie Schnecken, Würmern und Larven sehr nahe. Irgendetwas muss ja für den Erfolg verantwortlich sein 😉

Als Vorfachmaterial setzt das Team auf Carp'R'Us Clearwater Fluorocarbon. Dieses Material hat eine sehr hohe Abriebfestigkeit!

Das Amiaud Combi Carpo in schwarz steht bereit!

Durch den Sturm herrschte Bootsverbot…

…die Jungs mussten sich mit der Spomb Futterrakete helfen, um die Köder so weit wie möglich gen Horizont zu bekommen.

Aktuell hat sich das Wetter etwas beruhigt. Das iBoat 320 steht bereit!

David Fort – ATTACKE!!!
Er liebt seine Temptation Twin Tip Karpfenrute 😉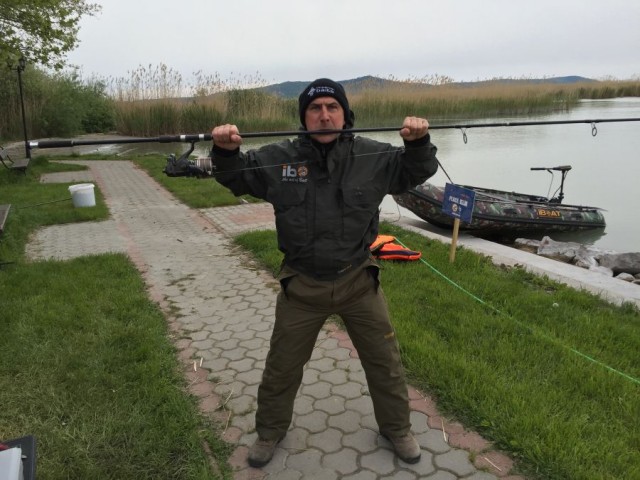 Aktuell heißt es: SITTING WAITING WISHING – that is fishing!


Quelle und genauere Informationen auf www.carpfishing.cz
Verpasse nicht den LIVESTREAM – KLICK HIER!
————————————————————————————————————————————————————
Die neue iBoatlieferung erreicht uns am 27.04.2016!
Alle vorbestellten Boote gehen noch am Tag der Ankunft raus, die Chancen stehen also sehr gut, dass alle innerhalb Deutschland schon zum letzten Aprilwochenende bei Euch im Einsatz sind!
Die "most wanted 320er iBoats" sind dann ebenfalls wieder verfügbar!
BIG, BIGGER, iBOAT 320!
Zu Sonderpreisen jetzt noch bei den letzten iBoat Angebote zuschlagen:
KLICK HIER um zu den aktuellen iBoat Angeboten zu gelangen!

klicken zum vergrößern