KLICK HIER UND ERFAHRE MEHR / CLICK HERE TO READ MORE!
————————————————————————————————————————————————————
VIDEO: Carpfishing on the River Ebro January 2016
from Zsolt Bundik
Carpfishing on the River Ebro January 2016 – Zsolt Bundik from Max Nollert on Vimeo.
————————————————————————————————————————————————————
Männerwochenende an der Donau
von Daniel Trocha
Servus,
kommt mit auf ein geiles "Männerwochenende" an der Doanu!
Mein bester Kumpel Michael und ich konnten es kaum mehr erwarten die Schnürre nass zu machen. Nach tagelangem Füttern mit IB Carptrack Fish Boilies und Birdfood Banana Boilies müsste doch was "ANNE" gehn oder?
Die Boilies bekamen noch einen kleinen Baitpimp aus der Give me 4 Box!

Wir platzierten unsere MKIII`s gleich vor einer langgezogener Krautbank.
Gemeinsam warteten wir auf den ersten Fisch.

Da weiß Man(n) nicht was besser ist, a kaltes Bier oder…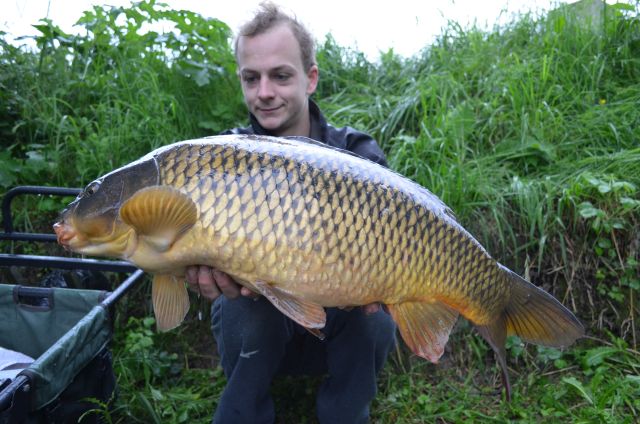 Da die Donau sehr viele Schuppenkarpfen beherbergt freue ich mich umso mehr, wenn ein solch schönen Spiegler anbeißt.

Fish am Haken & CRAWFISH in der Pfanne 😉
so lässt es sich leben…

Am frühen morgen läuft's bei uns.

Und wie es läuft….soooo geil!

Was für ein wunderschöner Donau Milchner, die Freude war kaum zu übersehen 😛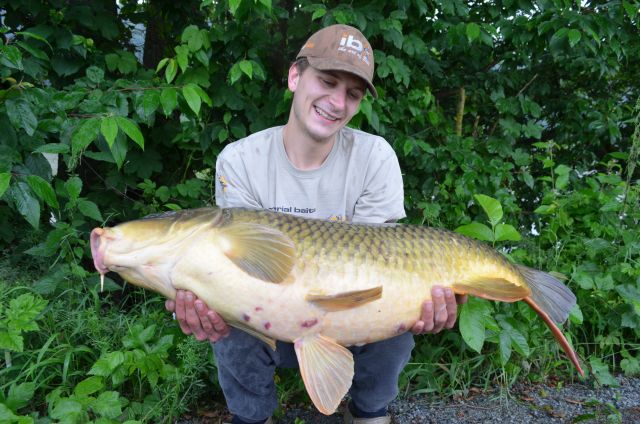 20,2 kg spätestens jetzt waren wir wieder nüchtern… 🙂

Das Wochenende war ruck zuck vorbei…
Sonntag heißt schweren Herzens die Heimfahrt antreten 🙁


bis bald, und man sieht sich bestimmt mal am Wasser!
Liebe Grüße
Daniel Trocha
————————————————————————————————————————————————————
Bewerbe Dich für das Imperial Fishing Team!
Wir wollen unser Team weiter ausbauen und suchen aktuell nach Verstärkung. Deine Chance Dich bei uns zu bewerben und ein Teil der einzigartigen Imperial Fishing Family zu werden.

Folgende Anforderungen haben wir an Dich:
1. Du solltest viel und regelmäßig angeln gehen.
2. Du solltest viele verschiedenen Gewässer befischen und regelmäßig ausgedehnte Trips im "Neuland" verbringen.
3. Du solltest in der Lage sein, ansprechende und hochaufgelöste Bilder machen zu können.
4. Das Erlebte gilt es auf Papier zu bringen. Interessante und wertvolle Textberichte zu verfassen sollte für Dich kein Problem darstellen.
5. In der Messesaison ist Deine Hilfe am IF Stand gefragt. Du solltest auf Leute zugehen können und Ihnen unsere Produkte näherbringen.
Wenn diese Punkte auf Dich zutreffen, freuen wir uns auf Deine Bewerbung mit einer Hand voll Beispielfotos, ggf. bereits veröffentlichte Magazinartikel, Blogbeiträge oder Videos.
Deine Bewerbung geht an: team@imperial-fishing.de
Wir sind gespannt darauf Dich kennen zu lernen!
Team Imperial Fishing
————————————————————————————————————————————————————
Folge uns auf INSTAGRAM: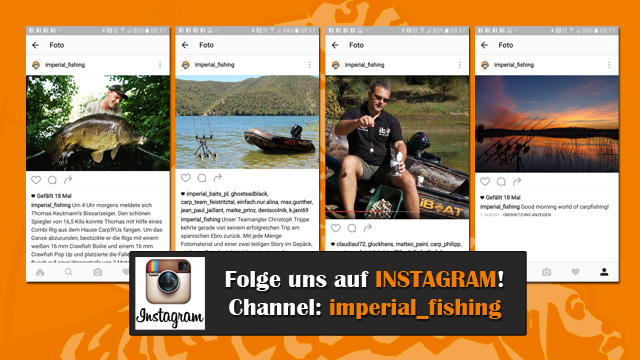 ————————————————————————————————————————————————————
NEU IM SHOP: Autosticker "…feel good!" – 50 x 14cm
– All-wetterfest!
– für Außen und Innen
Dimension: 50 x 14cm
Preis: 9,90 Euro
KLICK HIER!

KLICK HIER!

————————————————————————————————————————————————————
Das IF App Angebot der Woche KW33:
-50% Rabatt auf unsere "IF-POWER" Jubi T-Shirts!
– nur für kurze Zeit und nur für IF App User!
Die Imperial Fishing App findest du bei Google Play oder im Appstore unter dem Suchbegriff "IF Carp Shop" oder besuche diesen Link für einen direkten Download auf Dein Smartphone oder Tablet:
https://www.carp-gps.com/iblog/?page_id=20399