KLICK HIER UND ERFAHRE MEHR / CLICK HERE TO READ MORE!
————————————————————————————————————————————————————
Massenfänge mit Monster-Liver & ELITE Boilies an der Elbe!
von David Fort
Unser exklusiv Vertriebspartner für die Tschechisch und Slovakische Republic,
David Fort www.imperial-fishing.cz, fischte vergangene Woche mit IB Carptrack Monster-Liver & ELITE Boilies an der tschechischen Elbe. Dabei fing er überraschend gut und landete sehr viele schöne, wilde Flusskarpfen. Die Fische fraßen sehr gierig auf seinem Futterplatz, der ausschließlich aus Boilies bestand. Später stellte sich heraus, dass die Karpfenangler zu seiner linken und zu seiner rechten, nicht einmal ein Drittel so viele Karpfen fingen wie David.
Dieses Phänomen hören wir bei Imperial Baits sehr häufig. Ein mittelklasse- oder gar ein Grieskugel-Boilie fängt Fische wenn niemand sonst mit anderen, hochwertigeren Boilies am selben Gewässer und in der Nähe angelt. Karpfen spüren was gut für sie ist und wenn sie die Wahl haben, werden sie meistens den für sie ansprechenderen Köder inhalieren und genießen. Dann sind alle anderen Futterplätze wie ausgestorben!
Nachfolgend die Fangserie an der Elbe von David Fort:
IB Carptrack Liquid, Powder und GLM full-fat zum nachträglichen pimpen der Boilies!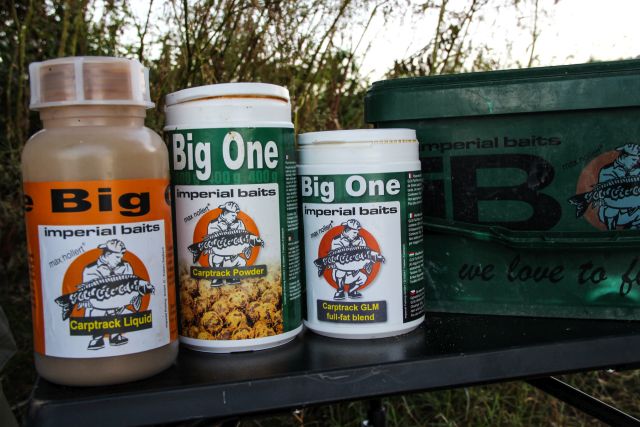 Als erstes immer die puderförmigen Additive…

…danach die flüssigen!

SHAKE SHAKE SHAKE – und fertig ist die Carptrack Kurste!

Man beachte den Helicopter – 1/800 Verschlusszeit!

Der IB Zipper

The Rod for success: Max Nollert Temptation TWIN TIP!

iBoat 320 im CAMOU STYLE!

IB Carptrack ELITE – der Köder wenn es drauf ankommt!

IB Carptrack Monster-Liver – der Klassiker mit den meisten BIG ONE Fängen in der BIG ONE Gallerie!


David Fort
www.imperial-fishing.cz
Team Imperial Baits Czech and Slovakia
————————————————————————————————————————————————————
Warum Boilies von IB?
Kommentar Max Nollert & Julian Jurkewitz:
Natürliche Köder wie Mais, Weizen, Hanf oder auch Tigernüsse, sind auf jeden Fall gute Köder. Gerade an Gewässern in denen die Karpfen Boilies noch nicht kennen, sind natürliche Köder zu Beginn oft fängiger. Mit speziellen Additiven wie Liquid Amino oder dem natürlichen Sweetner, NHDC von IB, lassen sie sich zusätzlich um ein Vielfaches lockintensiver gestalten. Allerdings sind Partikelköder lange nicht so selektiv und auf garkeinen Fall so nährstoffreich wie ein qualitativ hochwertiger Boilie. Dies wurde von Prof. Dr. Robert Arlinghaus in einer Studie getestet, bei der heraus kam, dass die mit Mais über lange Zeit gefütterten Karpfen kaum größer wurden. Die mit nährstoffreichen Boilies gefütterten Fische allerdings sehr rasant abwuchsen. Der Karpfen weiß was für ihn gut ist. Das bedeutet ein Platz der regelmässig mit guten Boilies gefüttert wird, ist einem Maisfutterplatz immer bei Weitem überlegen. Dazu gibt es genüngend Erfahrungen aus der Praxis.
Schon in den Neunzigern hatte der Holländer Luc de Baets einen faszinierenden Vortrag in Braunfels gehalten, bei dem er seine peinlich genauen Aufzeichnungen aus 20 Jahren Karpfenangeln unter anderen eindruckvollen Statements auch auf folgenden Satz reduzierte:
"Das größte Durchschnittsgewicht beim Karpfenangeln erreicht man nur beim alleinigen Füttern und Angeln mit hochwertigen nicht zu weichen Boilies."