KLICK HIER UND ERFAHRE MEHR / CLICK HERE TO READ MORE!
————————————————————————————————————————————————————
Mein Jahr 2016 bis August
von Philipp Resch
Hallo liebe iBlog Leserinnen und Leser,
es wird mal wieder Zeit für mich ein kleines Update zu präsentieren. Das ganze bisherige Jahr habe ich mich an einem sehr schweren Fluss fest gebissen.
Was soll ich sagen? Es ist kein leichtes Brot!
Über vierzig Nächte und gerade mal drei Fische. Jedoch bleibe ich am Ball, denn ich weiß, dass irgendwann einer der großen fällt! Gerade jetzt, denn bald steht der Herbst vor der Tür…
Bereits im zeitigen Frühjahr sind wir die komplette Flussstrecke abgefahren – wir hatten einige interessante Stellen gefunden, die wir übers Jahr verteilt befischen wollen.

Einen kurzen Abstecher zu unserem See – auch hier ging leider nichts. Die Fische waren bereits am Laichen… Wie immer ist auch das iBoat 160 dabei.

Auch mein Packesel – iBoat 320 macht überall eine gute Figur!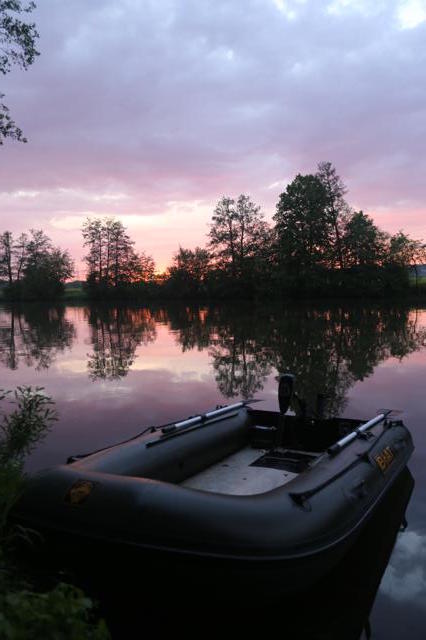 Und dann hat es endlich mit dem ersten Karpfen für 2016 geklappt!
Ich war mega Happy – denn wir hatten schon Mai… Auch hier diente das iBoat 160 als Abhakmatte sowie zum Ausbringen der Montagen.

Abendstimmung an der Schleuse

Ahoi – macht Platz!
Hier kommt das iBoat 320 gefahren 😉

Neuer Platz – neues Glück!
Leider blieben die Bissanzeiger bis auf ein paar Barben-Attacken stumm!

Und dann hat es doch noch irgendwann geklappt. Die Carptrack Fish Boilies scheinen ihm geschmeckt zu haben!

Ein Leichtgewicht – die Rebellcell 11AH Batterie. Ich möchte Sie nicht mehr missen! Nicht nur das Gewicht beeindruckt mich, sondern auch wie unglaublich oft man damit seine Geräte aufladen kann. Schon 10 Sessions lang liegt sie in meiner Tasche und es ist noch kein Ende in Sicht.

Passt alles so?
Nur noch ein kurzer Check und die Rute liegt auf dem Pod.

Im Sommer haben wir einen kurzen Abstecher an den Rhein gemacht. Mein Kumpel hat sich über den Winter ein neues Boot aufgebaut – es hat die Jungfernfahrt mit Bravur bestanden!

Auch mein Boston Whaler fährt noch! Wer Interesse daran hat, kann sich gerne bei mir melden. Auch ich möchte mir im Winter etwas neues, größeres aufbauen…

Dann endlich hat es wieder einmal mit nem Fisch geklappt!

Nanu, was ist hier los? Feuerwerk im Sommer?

Auch immer wieder kurze Nächte sollten den gewünschten Erfolg bringen – dachte ich zumindest!
Ich arbeite dran… 🙂

Mitte August – der Herbst klingelt schon kurz an!

Endtackle von Carp´R´Us, auf das ich mich verlassen kann! Gerade im Fluss muss alles eine Stufe gröber gefischt werden. Der Fluss verzeiht einem keine Fehler!

So einfach wie möglich – ein D-Rig mit Mini Wirbel und zwei 16mm Monster-Liver Cold Water Boilies

Futter Marsch! Sobald der Herbst eintrudelt, darf es ruhig etwas mehr sein! 🙂


Ich halte Euch weiter auf dem Laufenden, wie es bei mir am Fluss weiter geht und wünsche Euch allen eine fischreiche Zeit!
Philipp Resch
Team Imperial Fishing Germany
————————————————————————————————————————————————————
Umfrage mit Gewinnchance auf ein iBoat 210,
BIG ONE Baitpacket & mehr!
Jetzt auf unserer Facebookseite teilnehmen – KLICK HIER!
DE: Was liest Du?
Bitte nenne uns Dein Lieblings Karpfen Magazin, Deine Lieblings HP und Deinen Lieblings Blog wenn es um Karpfenangeln geht und poste es in die Kommentare auf unserer Facebookseite!
Unter allen Teilnehmern winkt als Hauptpreis ein iBoat 210 + 8 kg Crawfish Boilies, mit Dip, Gel, Pop Ups, zwei iMags und 8 neue Rutenbänder "The Art of Rod"!
Der Rechtsweg ist ausgeschlossen. Der Gewinner unter allen Einträgen in dieser Umfrage, die wir auf Deutsch und Französisch halten, wird am 12.09.2016 gezogen.
Kommentare zu Euren Lieblings-Plattformen wenn es um Karpfen geht sind aber auch danach noch jederzeit möglich und willkommen.
Vielen Dank an alle Teilnehmer!
Max Nollert und Team