KLICK HIER UND ERFAHRE MEHR / CLICK HERE TO READ MORE!
———————————————————————————————————————————————————–
Mein neuer PB
von Volker Protzek
Nachdem nun der eher durchwachsene Sommer endgültig vorbei ist, freuen wir uns doch alle auf den Herbst. Doch nicht jede Herbstsession ist ein Garant für dicke Fische. Mein Besuch an einem kommerziellen Gewässer im Süden Frankreichs sollte mir dieses bestätigen. Ende September ging es los, vor mir lagen ca. 1000 km voller Vorfreude. Das Auto war systematisch gepackt und jeder Zentimeter war vollkommen ausgenutzt um alles an Bord zu bekommen.
Uncas, mein ständiger Begleiter, hatte den besten Platz im Auto 🙂
Er liebt es am Wasser zu faulenzen…

Nach 13 stündiger Fahrt kam ich gegen Mittag endlich an meinem Ziel, ein wunderschöner Seenkomplex inmitten traumhafter Natur, an. Die Begrüßung vom Verwalter war sehr herzlich und sofort löcherte ich ihn mit Fragen über den See und wie es in den vergangen Tagen lief. Ich bezog meinen Platz, der am Ende des Sees lag. Es war der flachste Teil des Sees mit einer Durchschnittstiefe von etwa einem Meter. Nicht gerade optimal dachte ich, aber mein Vertrauen in meine Köder war groß – ich hatte Imperial Baits am Start!

Der See ist ca. 10 HA groß und von dem Ostufer aus (dort saß ich) bis zum Westufer wird es kontinuierlich tiefer und fällt bis auf 5m ab. Bivvy war schnell aufgebaut und schon ging es an die daran, den See in meinem Bereich mit dem Echolot kennen zu lernen.
Meine Spots waren schnell markiert und es konnte los gehen! Meine Wahl fiel auf Kombi-Rigs, da der Boden ohne Struktur war und auch sehr sauber ohne viele Hindernisse. Mit einem Partikelmix aus Maple und Tigers sowie Mais und Robin Red sollten meine Spots schnell aktiviert werden. Ich beschloss anfangs eher mit kleinen Ködern zu fischen. 16mm Boilies mit 10mm Popis als Schneemann – so sahen meine Fangeisen aus.
Nach einer Weile lagen die Ruten perfekt und nun begann das große Warten, welches ich mir mit einer leckeren Mahlzeit versüßte.

In den ersten 3 Tagen und Nächten blieben alle Pieper stumm. In der Nacht hörte ich zwar hin und wieder einzelne Karpfen unweit meiner Spots springen, aber kein Piep weit und breit. Frust machte sich breit, kennt ja jeder von uns 🙂 Man bereitet sich vor, voller Euphorie, man glaubt man hat alles richtig gemacht. Doch dann die Ernüchterung – nichts tut sich.
Also versuchte ich meine Taktik zu ändern und beschloss den See nochmal genauestens in meinem Bereich zu untersuchen. Dann änderte ich die Futtertaktik und legte die Rigs aus. Dazu fütterte ich nur ca. 15-20 Murmeln großflächig um jeden Köder herum.

Und wieder ist man voller Erwartung, was die kommenden Tage und Nächte wohl bringen werden. In der folgenden Nacht wieder kein einziger Piep, doch am Morgen des fünften Tages dann endlich der ersehnte Run!!! Der Adrenalinpegel schoss sofort auf MAXIMUM – bloß jetzt keinen Fehler machen!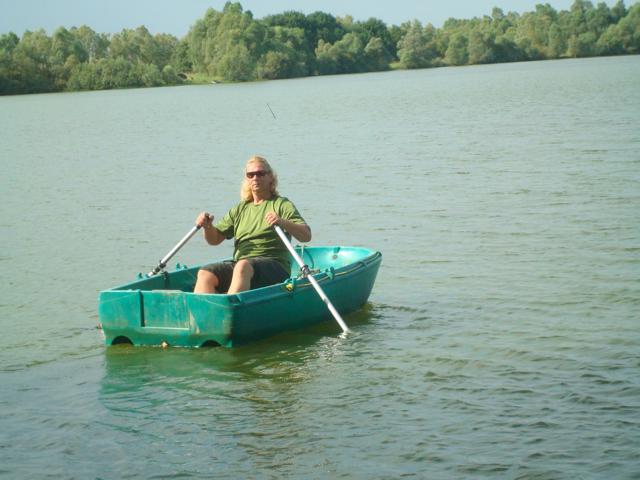 Nach einem harten, 30minütigen Drill:
Jaaaaaa das war es was ich wollte!!!
Ein prachtvoller Spiegler – 25,2 kg mein PB und Ziel war erreicht!

Was ein Prachtstück, makellos!

Catch & Release ist in Frankreich Gesetz!

So sehen Sieger aus! 🙂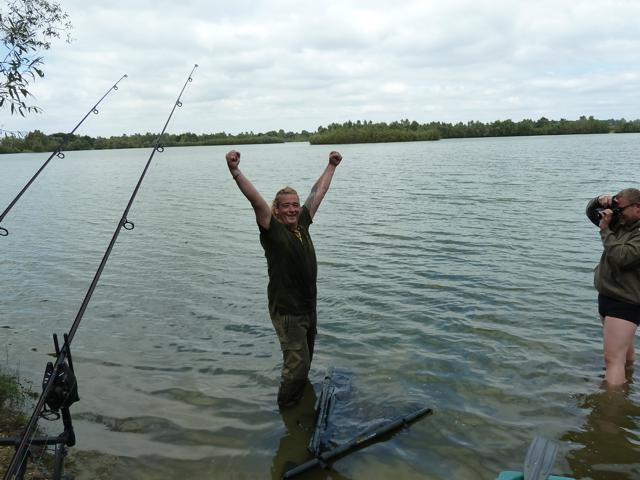 Nach all den Jahren mein erster Fisch von über 25 Kilo! Ich war "over the moon"!

Es folgten noch ein paar weitere Fische, die neue Taktik ging auf!

Besonders nachts zogen die Fische ins flache Wasser und jagten dort Krebse.

Mein Schmusebär Uncas!

Mein Fazit: wenn man ein Ziel hat und Vertrauen in sich selbst, die gewählte Taktik sowie gute Köder hat, sollte man sich nicht aus der Ruhe bringen lassen und weiter sein Ziel verfolgen und keinesfalls aus den Augen verlieren.
In diesem Sinne, freut Euch auf das, was noch kommt!
Volker Protzek
———————————————————————————————————————————————————–
IB Carptrack Liquid-Powder Paste –
und Dein Leben als Angler wird nicht mehr dasselbe sein!
IB Carptrack Liquid-Powder Paste – 180 g = 10,90 €
klicken zum vergrößern

—————————————————————————————————————————————————-

JETZT KOMMT DER HERBST RICHTIG IN FAHRT!
Sichert Euch die IB Herbstangebote mit GRATIS Liquid-Powder Paste!
max nollert: "Wie immer ein top Deal, der super Fänge garantiert!"
Ordern Sie jetzt eines der drei Herbstpackete und starten Sie mit den richtigen Ködern, Pop Ups und der IB Carptrack Liquid-Powder Paste in die erfolgreichste Jahreszeit für Karpfenangler.
Neben 2, 5 oder 8 Kilo Boilies Ihrer Wahl, erhalten Sie die brand neue, ultra fängige und unverwechselbare Liquid-Powder Paste GRATIS dazu sowie Flying Hookbaits und Half'n Half Ihrer Wahl…
Herbstpacket 1 = 35 €
Inhalt:
– 2kg IB Carptrack Boilies*
– 65g IB Carptrack Flying Hookbaits*
– 180g IB Carptrack Liquid-Powder Paste GRATIS
Herbstpacket 2 = 75 €
Inhalt:
– 5kg IB Carptrack Boilies*
– 65g IB Carptrack Flying Hookbaits*
– 75g IB Carptrack Half'n Half*
– 180g IB Carptrack Liquid-Powder Paste GRATIS
Herbstpacket 3 = 109 €
Inhalt:
– 8kg IB Carptrack Boilies in iBox*
– 65g IB Carptrack Flying Hookbaits*
– 75g IB Carptrack Half'n Half*
– 180g IB Carptrack Liquid-Powder Paste GRATIS
*Sorte u. Größe nach Wahl (ausgenommen CT ELITE)
ACHTUNG: Bitte geben Sie am Ende der Bestellung im Bemerkungsfeld Ihre gewünschten Boilies und Pop Ups (Sorte u. Größe 16, 20, 24mm) an.
klick hier und gelange zum Onlineshop

—————————————————————————————————————————————————-
Experiment 1 – "Stormsure":
In Kürze geht es weiter…