KLICK HIER UND ERFAHRE MEHR / CLICK HERE TO READ MORE!
————————————————————————————————————————————————————
Umdenken und was Neues versuchen!
von Ernst Helmhart
das neue Jahr hat bereits begonnen und der ein oder andere unter euch Lesern, hat mit Sicherheit schon ein paar Schuppmänner auf die Matte legen können. Auch ich kann an diesem Osterwochenende endlich wieder mein geliebtes Boot zu Wasser lassen!

Obwohl ich den Karpfen schon 35 Jahre nachstelle, ist noch jedes Wochenende das Verlangen, egal bei welchem Wetter, unserem Zielfischen nachzustellen und in der Natur zu sein sehr stark.

Natürlich stellt sich nach so vielen Jahren eine gewisse Routine ein und man lernt, dass nicht alles was neu auf den Markt kommt und als die Wunderwaffe gepriesen wird, den erhofften Erfolg bringt. So habe ich mir natürlich über die Jahre meine Lieblingshaken, Vorfachmaterialien und Rigkomponeten so zusammengestellt, dass die Rig's so einfach wie möglich verhedderungsfrei und effektiv funktionieren.

Besonders auf die Haken habe ich immer großen Wert und Kontrolle nach jedem gelandeten Fisch gelegt. Immerhin hängt ja unser Traumfisch an dem kleinen Stück Stahl!
Auch das restliche Equipment ist perfekt auf meine Angelei abgestimmt!

Da sich an meinem Vorzugsgewässer die Karpfen hauptsächlich von reichlich vorhandenen Muscheln ernähren und damit auch ohne zusätzliches Futter durchkommen, gelingt es mir doch ab und zu, einige der Schuppenträger auf die Matte zu legen. Da ich mittlerweile schon dreimal auf dem Stand von Imperial Fishing helfen durfte, haben bei mir die Carp'R'Us ATS Haken das Interesse geweckt.
Sollte für mich eine neue Rig-Ära beginnen???

Nachdem Julian Jurkewitz und Jan Dadák mir einige Montagen gezeigt und die Funktion erklärt hatten, konnte ich mich von der Schärfe und dem Drehverhalten durch die Mouthsnagger selbst überzeugen!
…und meine ersten Karpfen damit überlisten!

Schon im Frühling kamen die Bisse auf mein neues Setup, ich hatte stets mein altes auf 2 Ruten im Einsatz und das neue Carp'R'Us auf einer Rute. Doch zunehmend hatte ich das Gefühl, mehr Fische auf das neue CRU Rig zu fangen!

Mit der Zeit stiegen die Wassertemperaturen weiter an, die Karpfen wurden noch kampstärker und ich viel wieder zurück zu den so oft bewehrten, starken Klauenhaken mit nach innen gebogener Spitze. Die Ergebnisse waren gut und so wurde gefischt wie eh und je, doch wenn man so alleine im Boot sitzt geht einem viel durch den Kopf, warum waren im Frühjahr wo die Fische noch empfindlicher sind, die Carp'R'Us Haken erfolgreicher?
… Zeit zum träumen und nachdenken!

Also so kam der Versuch erneut, auf einer Rute einen Carp'R'Us – ATS Centurion 2000 in Verbindung mit einem Mouthsnagger einzusetzen.
THE SHOW MUST GO ON!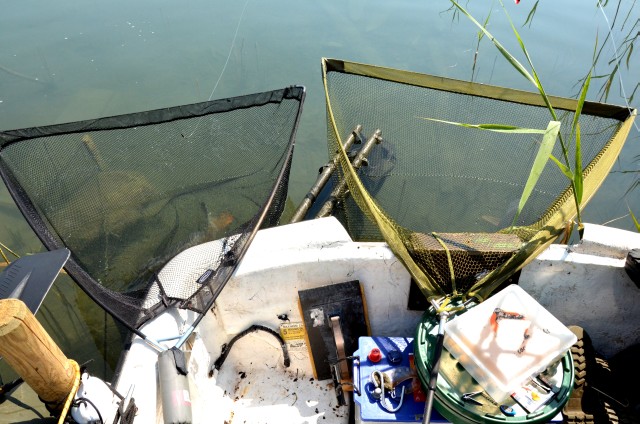 Die Anzahl der Bisse und gelandeten Fische ließen mich dann sogar auf zwei Ruten Carp'R'Us Haken einsetzen – ich hatte Vertrauen gefasst!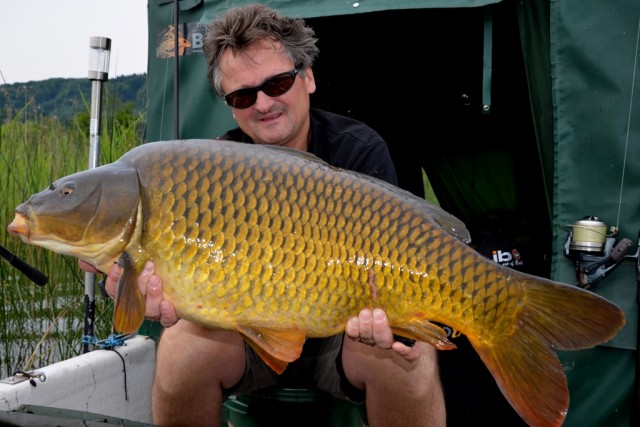 Dann, nach drei fischlosen Ansitzen auf der letzte verbleibenden Klauenhaken-Rute, der Entschluss: die dritte Rute musste auch noch mit den extrem scharfen und effektiven Carp'R'Us Haken bestückt werden!

Schon beim ersten Einsatz, lief auch endlich die Dritte Rute auf dem gleichbleibenden Spot ab. Im Nachhinein betrachtet, wurde mir klar das besonders die gerade, extrem scharfe Spitze der Haken, bei den sehr vorsichtigen, muschelfressenden Karpfen mit ihren harten Mäulern, entscheidend ist!

Stimmungsvolle Atmosphäre!

Die Natur hegen und pflegen, so heißt es doch?! 🙂

Und wunderschöner Herbstfisch

Ich liebe die Freiheit beim Bootsangeln!

Wenn es mal nicht beisst, sind blos die Ruten einzukurbeln, die Anker zu lösen und schon bin ich auf dem Weg zum nächsten Spot!

Etwas fehlt natürlich noch: welcher Köder hängt am scharfen Haken?
Er soll die Fische fangen, nicht verjagen 🙂

Seit Jahren vertraue ich auf die Boilies von Imperial Baits, für mich die Boilieschmiede meines Vertrauens!

…und es läuft!

Die gesamte IB Köderrange für mich ein wesentlicher Bestandteil meiner Erfolge.

Allen schöne Osterfeiertage!!!


Ernst Helmhart
Imperial Fishing Expoteam