Update 03.02.2008 – Chris Salzmann & Juri Becker (Download neue Diashow), Paul & Christian Quintus + Ferdy, Daniel Esche, Cedric Paillier, Jens Fuhrwerk, Thomas Ladurer ;Chris Salzmann und Juri Becker
Das Jahr 2007 ist zu ende und eine neue Season fängt an, neue Pläne und Ziele schwirren uns bereits durch den Kopf, doch gerne denken wir über das vergangene Jahr zurück, an die eher guten aber auch "schlechten" Nächte die wir am Wasser waren. Der Winter war an unserem Hausgewässer sehr schwer, wegen lang anhaltendem Regen stieg der Pegel des Neckars nach Lust und Laune, das machte sich bei den Fischen natürlich bemerkbar. Doch der Frühling bescherte uns recht früh wärmere Tage, so dass wir früher wie geplant die Laichgebiete der fische und Flachwasserzonen unter die Lupe nehmen konnten und unsere ersten Fische fingen. Dann kam der Sommer und wir machten uns wieder auf in Richtung Ungarn, mit frisch gerollten Carptrack Liver und Osmotic Spice Boilies haben wir die Karpfen heiß gemacht und fingen in dieser Woche kleine aber schöne Fische. Zurück in Deutschland konzentrierten wir uns wieder auf den Neckar doch erstmal war Boilierollen angesagt, denn der Neckar verschluckt einiges, so verarbeiteten wir über 500 Eier mit Carptrack Fish + Carptrack Monster Cold Water 50/50 Mix und den dazu passenden Additiven. Jetzt konnte es losgehen und wir fütterten unsere Plätze mit den neu gerollten Boilies und Carptrack Amino Pellets. Das bescherte uns bis zum Ende des Herbstes einige schöne Fische bis 42pf, die wir dann natürlich mit der Kamera verewigt haben. Zwischendurch machten wir einen 1 wöchigen Trip mit einem guten Freund an einen See in Süd Deutschland, voll beladen mit 3 Booten in einer Nacht-und-Nebel-Aktion, paddelten wir über den großen See und mit an Bord die guten Präparieten Kugeln. Wir hatten eine menge Spaß und Aktion, doch Leider versagte unser Echolot und somit konnten wir nur sehr schwer die guten Spots ausfindig machen, doch fisch fingen wir trotzdem <!smiley3> Langsam wurde es kälter und der Winter brach wieder herein eine schwere Zeit die wir mit T-Shirt Wetter, dank der Zeltheizung im Brolly überwinden konnten. 2008 das neue Jahr hat begonnen und mal sehen was uns das so bringt , wir wünschen euch schlaflose Nächte und krumme Ruten!!!!
Es ist bereits Jan 08
Die Tage sind kurz, die Nächte eiskalt und trotzdem sitzen wir am Neckar und versuchen den einen oder anderen Fisch auf unsere kalte Matte zu legen. Das klappt nicht immer und ist auch egal, denn meist ist es das Feeling das uns im Winter ans Wasser zieht. Gerne denken wir über vergangene Sessions zurück und an den Spaß den wir hatten.
2008 wir kommen!!!!!
We love to fish!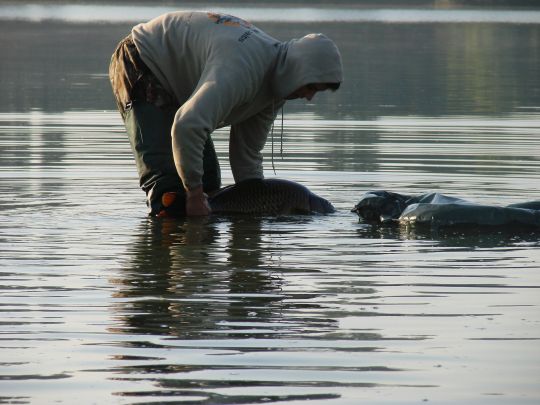 Paul und Christian Quintus aus Luxemburg
"Hallo Max,
wir hatten schon wieder eine tolle Nacht! 13 KG, 2 x 17KG, 19KG und 21.5KG. Ferdy hatte dieses Mal das Gänsehautfeeling<!smiley1>!
Anbei auch noch ein paar weitere gute Fische von unserer Neujahrs Session"
We love to fish!
Fery mit Flusskarpfen 27,8 kg auf Carptrack Monster Boilie

Wirklich ein toller Fisch!


16,5kg

18 kg

19 kg der Erste…

19 kg der Zweite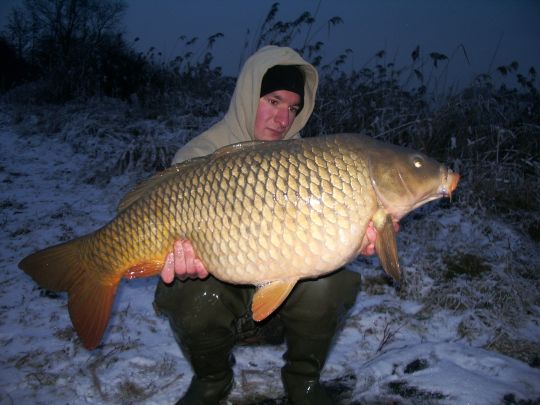 21,5kg

Daniel Esche
Alle Fische auf einen Fischboilie mit Black Pepper gefangen. War eine Nacht fischen.
Die neue Schlagschnur "Shock`it" hat sich sehr gut bewährt!
I love to fish!
Auch dieser ging auf Carptrack Fish Boilie<!smiley1>

Kunden-Feedback von Jens Fuhrwerk
"Hi Max. Wieder gut aus Holland gelandet?
Erinnerst du dich an mich? Ich hatte letztes Jahr die North Western von dir im Sommer abgeholt. Und der, der dir mal den Vorschlag mit den Anhängern machte.
Ich habe mich schon sau lange nicht mehr gemeldet. Ich wohne ja nun in Saarbrücken und habe da kein Internet.
Ich hatte dich nur in Zwolle gesehen und wollte dir noch mal ein Feddback über die North Western Ruten geben. Es ist echt eine Top Rute. Ich konnte 2007 noch ein paar gute Fische landen. Von der Aktion her hat die Rute keinerlei Konkurenz. Das ist mein 8 Satz Ruten. Ich war aber nie mit den anderen richtig zufrieden. Mit der NW bin ich mir aber sicher, dass ich sie länger fischen werde. Also wirklich ne geile Rute. Du hattest nicht übertrieben.
So ab Sep. 08 werde ich für 9 Monate nach Holland ziehen. Mal schauen wie es da mit dem angeln aussieht.
Achja was ich noch fragen wollte. Hast du noch so ne geile Kochschürze und Mütze von der Messe über? Die sahen echt geil aus.
Ich werde mich in laufe der Zeit noch melden, weil ich noch Boilies brauche. Hab mich aber noch nicht entschlossen welche.
So dann richte Andreas Scherf noch schöne Grüße aus. Er hat uns super über deine Produkte informiert.
Lass krachen
Jens Fuhrwerk
Italienische Schwergewichte
von Thomas Ladurer
Nachdem wir letztes Jahr an diesem See, leider mit nüchternen Ergebnissen nach Hause fuhren, stand für uns fest: Vicenza (ITA), wir kommen wieder.
Vollgepackt machten wir uns am 01.11.07 auf dem Weg in Richtung Süden. Angekommen, nach 3 Stunden Autofahrt, wurden die Spots betrachtet, Tackle ausgeladen, schnell ein wenig mit Carptrack Aminopellets vorgefüttert und ab ins Wasser mit den Ruten. Bestückt wurden diese mit gegärten Tiegernüssen, Carptrack Monster Boilies und gelben "neutralen" V-Pops, die sofort an meinem persönlichen "Hot"-Spot, 2 Meter vor der Spitze des Steges (ein guter Freund "jagte" an derselben Stelle erfolgreich), abgelegt wurden.
Die Nacht verlief relativ ruhig und am Abend des darauffolgenden Tages hatten wir ca. 0 Fische gekeschert.
Da nun die Tage anfingen kürzer zu werden, entflohen wir bereits um 8 Uhr der bitteren Kälte und begaben uns freiwillig in unsere wohlbeheizten Schlafsäcke, um abzuwarten. Run! 12 Uhr Mitternacht. Wachgerüttelt durch das akustische Signal meines EOS-R, kleiner Sprint zu der geV-popten Rute, anhieb und sitzt!
Sofort verspürte ich eine energiegeladene Kraft die sich meiner wiedersetzte und für die nächsten 20 Minuten stand volles "pumpen" auf dem Programm. Mit dem silberrot gefärbten Schuppenkleid im Wiegesack, schlug die Waage 31,5 kg aus. Schnell noch einige Fotos und um den Marmorkarpfen nicht länger seine Freiheit zu rauben, zurück in sein gewohntes Zuhause. Auch wir begaben uns in unsere bereits kalten Schlafsäcke zurück, um über diesen Fang zu träumen, so gut dies noch möglich war.
Am nächsten Tag fand noch ein weiterer Fisch den Weg auf die Matte meines Freundes: Schuppi, 16 kg.
Resümee dieser 3 Tage: 2 traumhafte Exemplare!
Vicenza, wir kommen wieder!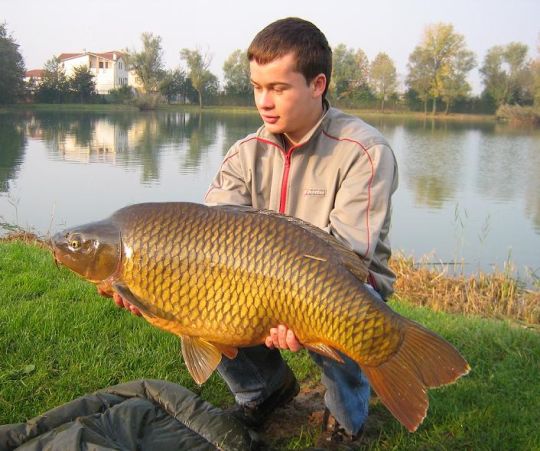 Grüße aus Südtirol (ITA),
Thomas Ladurner