Ostern und damit das erste Highlight für viele Karpfenangler in Deutschland und im Ausland ist vorbei. Ich hoffe es waren einige dicke Ostereier dabei!
In diesem Update wird Volker Seuß über seinen Saisonstart in Deutschlkand berichten nachdem er zu Beginn des Jahres einige sehr sehenswerte Fische in Neuseeland fangen konnte. Siehe Update vom 14.03.2007!
Zum Schluss gibt es noch ein paar Eindrücke von der Messe in Speyer sowie ein paar bilder von René Rex und mir vom vergangenen Wochenende…
Der etwas andere Saisonstart
von Volker Seuß
April 2007, mein Neuseelandtrip liegt hinter mir und ich habe die Arbeit in der Fabrik wieder aufgenommen, kurzum der Alltag hat mich wieder fest in seinen Händen. Wenn da nicht die milde Witterung wäre, die meine Hoffnung auf einen frühen Saisonstart in greifbare Nähe rücken lässt. Die Temperaturen liegen Tagsüber zwischen 14 und 20 Grad. Nachts ist es zwar immer noch ziemlich kalt aber das Gefühl in meinem Bauch sagt mir, es ist bald soweit. Meine Taktik ist einfach aber effektiv. Ich füttere drei Gewässer zur gleichen Zeit mit Carptrack Monster Cold Water Boilies". Die vergangenen Jahre haben nämlich gezeigt, dass es immer ein Gewässer gibt in dem die Karpfen zwei bis drei Wochen früher am Start sind. Also hier und da ne Nacht angeln gehen und ruck zuck weiß man, wo und wie der Hase läuft.
Ich erwache am Morgen des ersten Aprils und mir geht's beschissen. Hinter mir liegt die Messe in Speyer und eine Nacht in der ich mich neunmal übergeben musste. Irgendetwas muss meinen Magen gehörig auf den Kopf gestellt haben, also verbringe ich diesen herrlichen Sonntag im Bett. Abends schleppe ich mich irgendwie ins Auto und fahre in Richtung Gewässer Nummer Drei zum füttern. Als ich das Thermometer im hohen Bogen wie ein Lasso-Werfer ins kühle Nass befördern will, gleitet natürlich die Schlaufe aus meinen Fingern und schwupp ist es weg. Auch ohne exakte Temperaturangabe, finde ich mich einen Tag später am dritten Pool zur ersten Nachtsitzung ein. Die ersten Stunden laufen ziemlich ruhig aber ich rechne mir ohnehin nicht viel bei diesen Bedingungen aus. Als mich gegen fünf Uhr morgens der Wecker aufweckt, fällt mir das Aufstehen trotz der Kälte nicht wirklich schwer, denn ich hab mittlerweile zwei gefüllte Säcke im Wasser.
Mittags beim fotografieren dann der Schock, ich laufe mit Flodder zu meiner Angelstelle. Dort angekommen sehe ich eine Spaziergängerin und einen Beamten vom Ordnungsamt am Ufer stehen. Beide starren direkt in Richtung Karpfensäcke. Auf den letzten Metern bemerke ich, dass der Hilfssheriff schon mit den Grün-Weißen telefoniert. Schöner Mist denke ich mir und überlege mir zwanghaft eine Ausrede wegen der unbeaufsichtigten Fische. Als ich gerade mein zu Recht gelegtes Statement runter leiern will schweift mein Blick auf die Wasseroberfläche und mich trifft er Schlag. Vor mir liegt eine Leiche im Wasser. Ich muss mehrmals tief schlucken bis ich wieder einen klaren Gedanken fassen kann. Ich erkläre schnell dass ich genau hier zwei Fische zum Fotografieren aufbewahrt habe, ziehe anschließend die Säcke aus dem Wasser und befördere diese in der Matte ca. 30 Meter weiter zur nächsten Angelstelle. Wir beeilen uns mit dem Ablichten der Karpfen, denn jeden Moment wird sich hier eine Blaulicht-Armada einfinden. Die ansonsten so neugierigen Passanten interessiert die Fotosession dieses Mal überhaupt nicht.
Später erfuhr ich, dass es sich bei der Wasserleiche um eine Frau handelte, die wohl schon seit mehreren Wochen im See war.
Bis zum nächsten Mal
Volker Seuß
CARPS IN AUTUMN
von Alijosa und Andraz
One of my colleague wrote the following sentence in one of his articles: »You don't catch carps, you have to wait for them. There is some truth in this sentence.
When some fishermen pack their fishing tackle, the real carp fishermen start to think about how to outwit the royal carp. This year, the fall didn't show us the real face. Incredibly high temperatures for this time of year mixed things up. We had been confering with the team of IMPERIAL BAITS SLOVENIA for the manner and place of fishing. We chose the lake BLED.
The town of Bled lies on the northwest part of Slovenia, on the foothills of the Alps and close to the confluence of the rivers Sava Bohinjka and Sava Dolinka. You can visit this city in each time of the year. The lake originated when the Bohinjski glacier withdrew. The tectonic lake is 2120 m long and 1380 m wide, its maximum depth being 30.6 metres. It is the third biggest lake in Slovenia, its size is 145 hectares
Catching carps in this lake is something unique and pretentious. Pretentious because you can not catch them according to the rules that exist in EU. These regulations are bit more strict. Night fishing is not allowed but it is possible to catch craps until 10 p.m. at some places. You can be fishing with only one fish stick. The price of the daily ticket is 22 €.
As I said in the begining, the main problem was that there were amazingly high temperatures for this season. In this time of the year carps would retire back to deep water if the conditions would have been normal.
The temperature of the water falls bellow 11°C. In this time the fish is expected to eat a lot beacuse she has to prepare herself for the long winter. I would like to emphasize that the lake can be frozen up to two months. The smaller temperatures eliminate the smallest fishes, so that the fish you caught are as a rule much bigger.
But this autumn and its beatuiful days mixed the things up. The water temperatures were not as usual. The first weekend the temperature was about 17°C and the second one 5°C. The water on the bottom of the lake Bled has a temperature 8 to 9°C all the year round. As we expected, the fishes were mainly in the warmer layers of the lake. Even the little red tails and red caps were together in the shoal. The carps were swimming intensively in the upper layers of the water and not far from the bank. Lake Bled is glacial lake with a suitable bank. The shoal is bluff and the water is deepening quickly. That is why there is not so many places where the water is shoaly. The medium depth is 10 m.
The first weekend:
The place that we chose is in the immediate vicinity of the centre. Here, the water was 10-11 m deep. For this weekend we used the Carptrack Fish Boilies (three different fish foods, Haith's Robin Red & Super Red) and of course the Carptrack AMINOPELLETS. These extremely important pellets are dissolving very slowly. Their production is based only on biological criteria. These boilies are recommendable mostly in the waters where you can find a lot of natural food. The lake Bled has a lot of it also in the autumn.
Three day before the beggining, me and Aljosa fed them with 2 kg of boilies and 2.5 kg of pellets. The last day before the fishing we used only 1 kg of boilies. We were feeding with a small boat. On the first day of fishing we caught 11 carps from 6 to 10kg). Aljosa broke the record that day with 16.6 kg carp. Andraz joined us the second day – we caught twelve carps<!divider> Andraz caught the record of the day – 14.2 kg carp.
The second weekend:
We would continue on the same place. But we changed the boilies. This time we used the Osmotic Spice Boilies. Osmotic Spice boilie is made on the principle of the osmosis. With the use of high attractiveness and melting of the flour and as well as the use of particular formula (aroma net) which enable the water to exchange all the ingredients in the boilies. Probably everyone wonders why we change the boilies when the first ones did really do a great job! It is beacuse we want to test them. But our decision wasn't wrong. As a TEAM we had to convince in the effect of these boilies. We came to the conclusion that is works and after a two hours the boilies had become very yellow. This time, I did the fishing all by myself. I had only two catches<!divider> I caught the first carp not earlier than at 8 p.m. The weighing machine had shown exactly 13.7 kg. After taking some photographs, I let go the carp and continued with the fishing. The second fish I caught weighed 19.8 kg.
Next day Andraž and Aljoša joined me. We again caught some smaller fish. The biggest were Andraz's carp with 12.8 kg and Aljosa's beautiful common of 16 kg.
I did my last fishing on the Christmas Day. Previously, I fed 2 times with Carptrack Monster Cold Water Boilies" and with Carptrack AMINOPELLETS. When feeding them, I was adding 70 % of pellets and 30 % of boilies. Approximately 2 kg per day. It was a nice sunny day. On the surface of water there was 8°C. That day I caught only one time. The catch was extremely loose and weak which is disctinctive of this time of year. After succesfull drill, I got a beautiful scale carp with a weight of 15 kg. I got him with the Carptrack flying monster boilies. All this really made my day.
There isn't any conclusion beacuse the story continues. If you don't believe it, you have to pay attention to us and you will find out that the Imperial will continue.
We wish you a good catch!
Best regards from Slovenia
Jörg van Diffelen fing diesen Spiegler auf einen Osmotic Spice Big Ball
PJ Lasne war nun nach der Winterpause, in der er verstärkt den Räubern nachstellte, bei seinem ersten Trip erfolgreich.
"Les monster roulées cet hiver ont frappé fort pour cette première nuit,17.9 kg(photo) et 18.5 kg(pas de photo…longue histoire), cette semaine j'ai peche au meme endroit mais gros vent du nord,capot…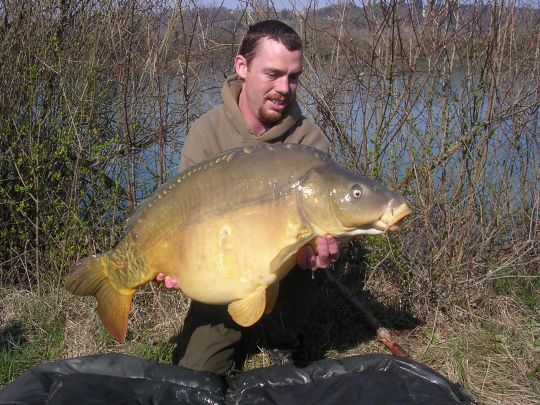 MESSE SPEYER
Gratulation an Bernhard Kilian – das kann man durchaus als Erfolg bezeichnen!
Volker Seuß
Klaus "ESO" Schneiderhan & Michael Flosdorf
Robin Wallisch

DVD`s im Angebot – jetzt auch nach der Messe!

Andreas Rothländer, ist auch mit von der Partie auf der neuen DVD "best moments 2005/06" die am Freitag den 13.04.2007 nach langer Wartezeit hier eintrifft. Versand somit ab Montag den 16.04.2007.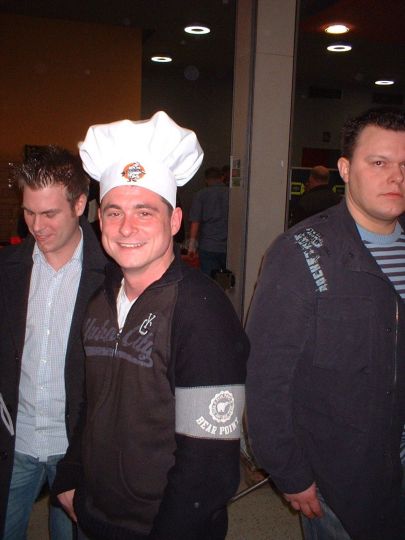 Ja und dann waren René und ich endlich mal wieder los zum Fischen. Nach 13 Messen über den Winter war es Zeit mal wieder ein paar krumme Ruten in der Hand zu halten, an dessen Ende keiner eine Schnur fest hält <!smiley3>.
Sicherlich war auch etwas Glück dabei – wir kamen Freitags am Ziel an fütterten ein paar Osmotic Spice Boilies und Carptrack AMINOPELLETS und konnten am darauf folgenden Tag zwischen 11:30 Uhr und 21:00 Uhr satte 18 Karpfen fangen, die bereits etwas gelbes auf der Matte hinterließen…!
In ca. 50-60 M Entfernung befand sich eine Kante die von 20cm (!) auf 2,10M abfiel. Eine gute 60er Mono Schlagschnur war für die Kiesbank ausreichend. Am Sonntag rückten wir mit Liege und Rod Pod etwas näher an das Geschen heran, bevor wir uns gegen Abend wieder an das feste Ufer zurück zogen. Am Ende waren es 23 gelandete Karpfen. Der schwerste wog immerhin 14,2 kg, der Durchschnitt lag aber unter 10 kg.
Der Osterplatz
René mit dem Auftakt – dann ging es Schlag auf Schlag – innerhalb 15 Minuten 4 Fische…

Zwischendurch einfach mal ans Liquid AMINO gehangen…
Die Karpfenwiege – Interessant wenn man es noch nicht weiß: Karpfen die man in der Mitte mit einer Hand ausbalanciert zappeln nicht! Dies gilt auch für andere Fische. Hilfreich ist dies bei dern Landung und Handling von kleinere Fischen. Kurz über Wasserobefläche gehalten kann man den Haken leicht lösen und den Fisch frei lassen. Erst wenn er wieder in der Vertikalen steht bewegt er sich wieder…! Dies ist wesentlich schonenender als der "Genikgriff", bewi dem die Fische meist sehr stark zappeln…
Da war Halten angesagt, da die Strömung hinter der Kiesbank recht stark war! Mit der North Western 2,75 lb kein Problem.
"Care for them!"
Aufgerückt

Die Kante ist deutlich zu sehen

Die Nacht auf Montag war noch ein Mal frostig
Zu guter Letzt kam noch ein besserer mit 14,2 kg
Und noch was:
Da das BPS für die Boilieprpduktion in 7-10 Tagen nun endlich lieferbar sein wird, haben wir beschlossen einen Video bzgl. der heimischen Boilieproduktion heraus zu bringen.
Produziert haben wir diesen bereits in Zusammenarbeit mit Chefkoch Bernard Hesse, der auch noch während der Produktion über einen erfolgreichen Cassien Trip berichtet…
Darauf werden wir als Bonustracks auch einige Aufnahmen dieses Ostertrips zeigen. Eine Interessante Technik über das Keschern von Karpfen in der starken Strömung werden wir ihnen dabei ebenfalls vorstellen….
Fängige Grüße,
max nollert