Update 12.Okt 2006 Teil 3
Großes Update "Esomaten-update" vom Sommer 2006
Juni 2006 "Pimp my Bait"
Es ist schwül warm und eine extrem hohe Luftfeuchtigkeit unterbrochen von kurzen, aber heftigen Regengüssen. Am Neckar, mein Hauswasser, geht schon seit mehreren Tagen überhaupt nichts mehr. Die ständigen Temperaturschwankungen, in der Luft wie auch im Wasser, schlagen scheinbar auf das Gemüt unserer geschuppten Freunde. Durch reinen Zufall bekam ich die Gelegenheit, an einem ca. 2,5 Hektar großen, privaten Weiher mit gutem Besatz mein Glück zu versuchen. Eine überaus Willkommende Abwechslung. Da ich wusste das die Amino-Pellets recht schnell angenommen werden, freute ich mich schon auf ein Beissfreudiges Abenteuer. Morgens um halb 8 Uhr flogen die ersten Pellets ins Wasser. Es dauerte auch nicht lange, bis der erste am Band zappelte.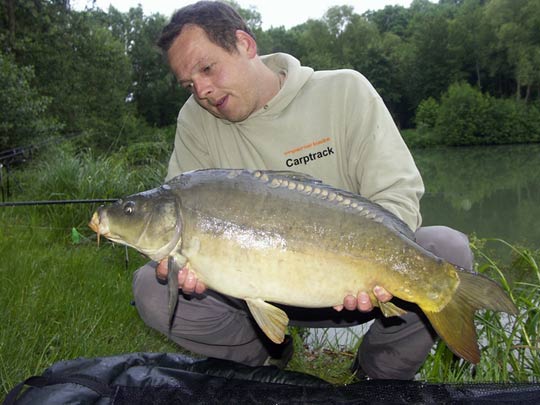 Was aber schnell begann, hörte ebenso schnell wieder auf. Die Bisse wurden selten, doch bei den wenigen Fischen konnte man eindeutig sehen, mit was sie sich den Bauch vollgeschlagen haben. Eine braune, fischige Brühe entleerte sich jedes Mal auf der Matte. Ich wusste also dass die Fische die Pellets regelrecht aufsaugen. Dennoch bekam ich sehr wenige verwertbare Bisse. Was nun? Warum? Zu viel gefüttert? Mit Pellets wohl kaum! Von Freitag auf Sonntag hatte ich ca. 5Kg Pellets gefüttert. Von Freitag früh 8:30 Uhr bis Samstag Morgen hatte ich bisher 4 Karpfen, alle auf Pellets, fangen können. Ich dachte mir, da musste doch noch mehr drinnen sein. Da kam mir der Gedanke, "Pimp my Bait". Ich wusste, ich hab doch noch ne Dose von dem neuen Carptrack Amino GEL dabei. Also schnell die Ruten neu bestückt, kurz ins Wasser getaucht danach ins Töpfchen und dann wieder kurz ins Wasser getaucht. Diesen Vorgang 2-3 mal wiederholt und fertig war die Gel-Bombe.
Hier vor der Behandlung
und hier nach der Behandlung
Am nächsten Morgen konnte ich dann insgesamt 16(!) Karpfen (also noch weitere 12) auf meiner Habenseite verbuchen.
Hier die schönsten davon:
Easy-press, the easy way to make your Baits
"Hallo liebe Leser,
Eben noch war ich im Garten beim Boilies abdrehen und schon sitze ich am PC und möchte Euch allen etwas sehr sinnvolles zeigen. Doch der Reihe nach….
Im Juli hatte ich kurzfristig für ein paar Tage Luft und Zeit und wollte natürlich Angeln gehen. Doch wie sollte es auch anders sein, war mein Boilievorrat stark dezimiert und somit blieb mir nichts anderes übrig, als zusätzlich noch ein paar weitere Kilos abzudrehen. Da ich leider nicht im Besitz eines Kompressor und Bait-Airgun bin, wohl dem, der eine hat, blieb mir also nichts anderes übrig, als 120 Eier für 30er Kugeln von Hand auszupressen und abzurollen. Bei kleineren Mengen stellt dies sicherlich kein Problem dar, aber sobald man die "100 Eier Marke" überschreitet gibt's dicke und vor allem schmerzende Unterarme. Jeder der schon mal über 15 Kilo Mix von Hand in einer Baitgun durchgedrückt hat, versteht sicherlich was ich meine – egal ob 20 oder 30 mm Boilies. Deswegen habe ich mir lange Gedanken gemacht, wie ich meine Produktion einfacher, schneller und vor allem Schmerzfreier gestallten kann. Nach einigen Fehlversuchen, bastelte ich mir aus Stahl eine Vorrichtung, welche fest mit dem Arbeitstisch verschraubt werden kann. Die Baitgun wird mittels einer einzigen Schraube in der Vorrichtung wackel- und rutschfest fixiert und durch den einsteckbaren langen Hebel wird das Ausdrücken zum Kinderspiel. Mit nur einer Hand ist die komplette Vorrichtung zu bedienen, damit man mit der anderen freien Hand die austretenden Teigwürste sauber führen und in optimaler Länge dann einfach kappt. Ist die Presse leer, wird einfach der Zylinder abgeschraubt, neu mit Teig befüllt und schon kann es wieder losgehen.
Noch nie war das Auspressen schneller und einfacher. Als Ergebnis erhalte ich glatte und saubere Teigwürste und demzufolge sind diese optimal zum abrollen.
In Kürze hier erhältlich: Einfach anzubringende Vorrichtung, um Einhändig, sehr schnell und ohne Kraftaufwand saubere Teigwürste auszupressen.
3 x schneller als herkömmliche Baitgun ohne Vorrichtung
Kräfte schonend, d.h. nie mehr schmerzende Unterarme.Viel Spaß beim ausprobieren. Easy-press…..made by Eso (KLaus Schneiderhan).