Update 18.07.2008
Thomas Bastien – 30kg, Jake Langely Hobbs – 17 x über 20kg, 3 x über 25 kg, Nico & René, Anthony;Thomas Bastien – 30kg!
"Salut max,
A l'heure où j'écris ces quelques lignes, je vais attaquer ma 100ème nuits de pêche sur un lac où j'ai fondé beaucoup d'espoir. Depuis que je me suis attelé, l'an passé, je dois avouer qu'aux travers de multiples péripéties, je me suis éclaté à analysé tous ce qui en fait son charme, sa complexité… vraiment très éloigné du degré de difficulté des grands lacs que l'on peut rencontrer dans l'Est de la France.
Alors que la moyenne annoncé par un rédacteur de la presse halieutique spécialisé sur un forum VIP qui ferait état d'1 moyenne à 1 run tous les 15 jours, je devrais pouvoir me satisfaire d'avoir déjà épuisé plus de 100 poissons. Mais voilà le pechkator est un maniaque, un vrai monomaniaque de la grosse carpe. La rage au ventre, tous ce qui ne le tue pas le rends plus fort, il en veut toujours plus…
Si mon travail de fond est colossal, les résultats régulier sur les 4 saisons de l'année où j'ai pu le pêcher attestent aussi assurément de la qualité de mes appâts Imperial Baits.
Je souligne ici une nouvelle fois pour les plus sceptiques de la gamme Carptrack (j'en ait récemment rencontré…2), que pour prendre des carpes, plus de carpes, toujours plus, il faut aussi stimuler la blanchaille. Susciter leur intérêts sont les principes élémentaires et fondamentales de tous les mélanges Imperial que je connais évidemment par cœur. Que chacun trouve son compte en pêchant aux glands, à la patate, ou même à l'asticot mais que l'on arrête de chercher des failles ou des pal-copie « moyenne » sur des appâts, des nourritures alternatives complémentaires en fait, qui cherchent encore leur équivalence sur le marché. Un livre ne suffirait pas à exposer le nombre hallucinant de thons qui ont croiser le fer des très nombreux utilisateurs…
Mais pour en revenir à cette 100ème, puisque c'est le but initial de cette news un peu spéciale, je voudrais partager avec tous les amoureux de la carpe, un poisson, mais pas n'importe quel poisson… Non, je voulais un colosse, une vrai carpe specimen à l'image imperial. La résultante d'une lutte extrême marginal et solitaire qui me pousse à avancer toujours plus loin dans mon rythme soutenue de tous les jours. Le fruit d'une passion hors norme qui m'habite et qui fait partie intégrante de ma vie.
Bref, à tous les imperial drogué amoureux de la nature, je souhaite de bonnes pêches estivales, de bons moments au bord de l'eau seul ou entre amis, et pour ma part, les vacances c'est pour plus tard, car Edgar n'attends pas…
A bientôt,
Tom « le Pechkator » Bastien
Jake Langely-Hobbs
Preview zu seinen enormen Erfolgen am Lac de St. Cassien. Eine ausführliche Geschichte dazu, wie er 17 Karpfen über 20 kg fangen konnte, erscheint schon bald im Carp Mirror…
My first Cassien sunrise

My first Cassien carp and new personal best 13.5kg!

My fourth carp on the 2-03-08 and second over 20kg. 22.5kg liver munching mirror! Note my dog!

16-3-08 24kg and about 24cm wide!

22-3-08 Orange V-pop and a 20mm Fruit Boilie please!! 21kg and stunning.

25kg exactly!! And another personal best!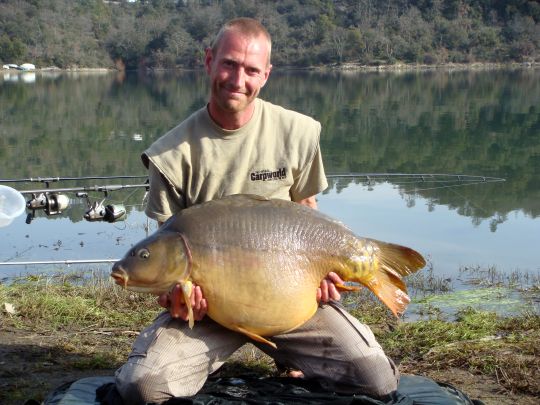 27-3-08 My PB Common of 18.2kg and an English 40!

9-4-08 I took the left side and had this 19kg mirror.

Time for the Big Fish-Banana baits.

11-4-08 Hello again! This one loves Imperial Baits in all flavours – 23kg

18-4-08 What a stunner! 27.5kg. Imperial Baits Fish pop-upbottom. My new PB and my first goal achieved.

7-5-08 Oh! You again! 25.6kg Big Fish-Banana Boilie

Cooling off after the 25.6kg carp is released!

…with my 25.6kg recapture.

8-5-08 20.5kg Hand rolled Big Fish Banana

9-5-08 My warrior 21.5kg Common and second goal achieved!

13-5-08 21kg Hand rolled Big Fish Banana and a sad little tail

How it looks in the water.

Getting ready for photos of my big common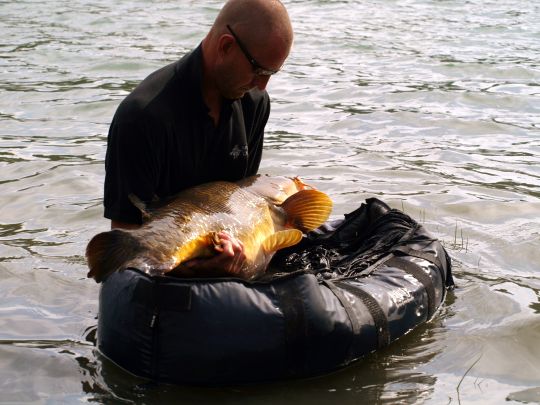 The common was rather lively!

My trusty companions Flash and Charley Girl!

PVA nugget and a stringerm – Half `n Half Fish + Sinker Carptrack ELITE

18-5-08 20.5kg Imperial Baits Half `n Half Fish fished with a 20mm fish bottom bait.

My Kitchen (carp fishing is about good food too)!

Log seat and table!

19-5-08 19kg Long Long Common!! Monster pop-upfish bottom.

My new bait arrives – Carptrack Elite – and Carptrack Half `n Half Fish – lovely!

20-3-08 23.5kg which likes PG tips for breakfast along with Imperial Baits Nut Boilies!

Interesting wildlife photography if your quick!

More wildlife at Cassien

20-5-08 22kg on Half `n Half Fish with 20mm Fish bottom bait.

My Shower Cubicle!

Torpedo Common 13.5kg and another PB!

Smiling for the cameras with a gorgeous 17.5kg common.

Cooking up hookbaits whilst fishing.

Air drying in a sling.

Big Bait for a big fish hopefully using the Blow-back rig

23-5-08 21kg on New Half `n Half Fish Pop-Up. My 15th carp over 20kg…incredible!

25-5-08 19.5kg Leather taken on Fish pop-upbottom 20mm Snowman, during a windy evening.

26-5-08 18.2kg Leather taken on Half `n Half Fish Pop-Up, fish bottom. Self taken photo minutes after capture.

31-5-08 22kg Orange V-pop soaked in Fish Amino Dip

25-5-08 Self-taken picture of a nice 17.5kg Mirror on Monster snowman!

Some German guests enjoying a curry!

Snowman set-up with 360 rig – Half `n Half Fish Pop Up + Carptrack ELITE sinker

On the water and now taking orders for 2009!!

Nearly finished and christened 30 kilo!

My boat project underway!

My 17th fish over 20kg. 22.8kg taken on two 28mm baits.

Nico Hölzl & René Kretschmar
Wir beangeln seit 5 Jahren ein 350 ha großes Gewässer mit einem guten Karpfenbestand.
In diesem See sind sehr viele Schuppenkarpfen wie man an den Bildern sehen kann, aber es gibt auch einige schöne Spiegler.
Da es in unserer Region nicht all zu viel Interessante Gewässer gibt, kann man sich ja vorstellen was für ein enormer Angeldruck an dem See ist.
Durch Imperial Baits konnten wir uns doch sehr schnell von der Masse absetzen und Fische bis zu 21,5 kg als unser Bezeichnen <!smiley1>!
Wir bevorzugen als Köder Liver bzw. Monster-Liver Boilies.
Auch die Kombination mit einem V-Pop hat uns schon den einen oder anderen Fisch über 15 kg gebracht.
Leider ist seit 4 Wochen die Koi Herpes an unserem See ausgebrochen, so dass wahrscheinlich sehr viele Fische tot sind. Wir hoffen, dass einige durch kommen und wir vielleicht den ein oder anderen wiedersehen.
Vielen Dank an das ganze Imperial Baits Team für die geilen Baits und macht weiter so.
Gruß Rene & Nico
Anthony Gueneau
Les môts de son pére:
Pêche = amitié, plaisir, nature.. et les poissons ne sont que du bonus.
Voila un joli bonus pour Anthony