Zum Wochenende noch ein kleines iBlog Update mit Alex Kolacz, Daniel Hermann und Luka Blazic.
Als besonderes Bonbon haben wir ein Video für Euch gedreht, welches den Einsatz der Imperial Baits Monster Gun demonstriert.
Viel Erfolg und dicke Fische
max nollert & Team
Video Imperial Baits Monster Gun (3,5 kg Teig) im Einsatz
Jetzt und nur für Kurze Zeit zum Kauf der Monster Gun
5kg Monster's Paradise Mix GRATIS!
Für die Boilie Produktion im großen Stil!
– Fassungsvolumen: 3,5 kg Boilieteig
– Durchmesser: 9,5 cm
– Länge: 50 cm
Alex Kolacz
Hey Leute,
eigentlich wollte ich bevor ich für 4,5 Monate Richtung America abhebe euch noch eine mega Bilderserie von meinem Cassientrip im März da lassen.
Leider waren die Tage vor der Abreise zu stressig und ich habe es leider vergessen.
Die Bilder liegen jetzt wohlbehütet in Good Old Germany und werden erst bei meiner Heimkehr kurz vor Weihnachten veröffentlicht.
Meinen ersten Cassienfisch hatte ich zum Glück noch auf meinem IPhone gespeichert. Ein alter Cassienbulle, der auf den Namen "Mary Pierce" hört. Dieser Fisch belohnte meine Mühen in dieser schwierigen Jahreszeit am Lac de St. Casein.
Desweiteren konnte ich während einer Session mit Philipp Braun einen absoluten Charakterfisch überlisten.
Ein paar andere Photos habe ich auch noch gefunden… seht selbst!
In diesem Sinne…
einen erfolgreichen Restsommer und einen goldenen Herbst,
schöne Grüße aus dem sonnigen San Diego/California,
Alex Kolacz
Die alte Cassien Dame "Mary Pierce" belohnte meine Mühen.

Nachts beißen sie eben am besten!

Der Charakterfisch den ich zusammen mit Philipp Braun überlisten konnte.

Mein bevorzugtes Hakenmodell.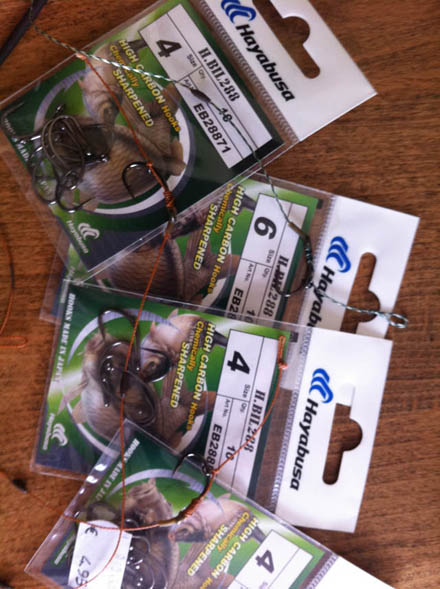 An der Mosel zu Besuch bei Imperial Fishing – leider ging ich leer aus…

Ein stinkender Waller.

Grüße aus San Diego/California 😉


Alex Kolacz
Team Imperial Fishing
Daniel Hermann
Hallo an alle iBlog Leser,
in letzter Zeit komme ich sehr wenig zum Angeln. Ein zweites Büro will eröffnet werden, die Umbaumaßnahmen müssen gemacht werden. Meine Kunden möchten mich auch ab und zu mal sehen, sodass das Zeitfenster welches zur Verfügung steht momentan sehr rar ausfällt!
Nichts desto trotz habe ich letzte Woche zwei Nächte fischen können.
Bei den momentan vorhandenen Wassertemperaturen fühlen sich die Krebse wohl. Kaum hat man die Hakenköder im Wasser so werden diese auch schon mit Ihren scharfen Scheren bearbeitet. Es dauert keine 2 Stunden und die 20mm Hakenköder sind abgefressen. So blieb mir an diesem Wochenende nichts anderes übrig als die Köder einzuschrumpfen. So bleibt zumindest der halbe Boilie am Haar.
Als ich am Gewässer ankam waren bereits zwei Angler am See. Nach einer kurzen Begrüßungsrunde setzte ich mich an einen Platz neben einem Badesteeg. Das Wetter spielte seit einigen Tagen verrückt, sodass ich nicht mit viel Badebetrieb rechnete. In der ersten Nacht fing ich einen Fisch auf der Rute die ich relativ flach in einer Krautlücke abgelegt hatte! Hier war ein 24mm Half´n Half Monster's Paradise am Haar. Gefüttert hatte ich wenig, vielleicht ein halbes Kilo auf kleiner Fläche.
Ein Fisch war für diesen See eigentlich zu wenig, sodass ich mich am Samstagmorgen dazu entschied die Stelle zu wechseln. Eine Woche zuvor fing mein Kumpel Basti auf der gegenüberliegenden Seeseite ein paar Fische.
Gegen Mittag lagen auch meine Ruten wieder im Wasser. In der Nacht konnte ich drei Fische auf einer steil abfallenden Kante in nur 1,5 Meter Wassertiefe fangen. Auch dieses Mal wieder auf Monsters Paradise half´n Half in 24mm.
Der Bursche viel auf einen 24mm Half´n Half Monster's Paradies herein.

Eingeschrumpfte Hakenköder halfen gegen die heftigen Krebsattacken…

…zumindest die eine Hälfte blieb über!

Und noch einer auf 24mm Half´n Half Monster's Paradise.


Daniel Hermann
Team Imperial Fishing
Luka Blazic
Success on gravel pit
About a week after the fishing in Hungary, I was driving with my friend again towards Hungary but this time we stoped in Slovenia on small gravel pit. It's not so pressured nowdays, but it used to be fished quite a lot. It has reputation being very hard water, with not so many carps swiming in it. Usually one take per week is all you get.
One day before our departure we roll Monster-Liver and Fish boilies. Boilies are without flavour, only natural additives like Carptrack GLM, Carptrack Liquid, Carptrack Betain and Carptrack Black Pepper Essential oil.
Components and end product-our boilies

We arrive on the water in the afternoon, and rain starts. Ohh just great, it's raining cats and dogs instead of sun for welcome. We stay in the car, as long as rain doesn't stop. Then we take a stroll arround the lake, in search of carp activity. Because we didn't see any, we decided to fish from place, where we could reach most fishing spots on lake. We hurry up with carrying equipment from the car, up goes the boat, echo sounder fitted, prodding stick in the boat and we are ready for exploring the lake. After three hours the picture is getting much clearer, and we set our traps in chosen spots just before dawn. The waiting begins.
It doesn't get much better than this.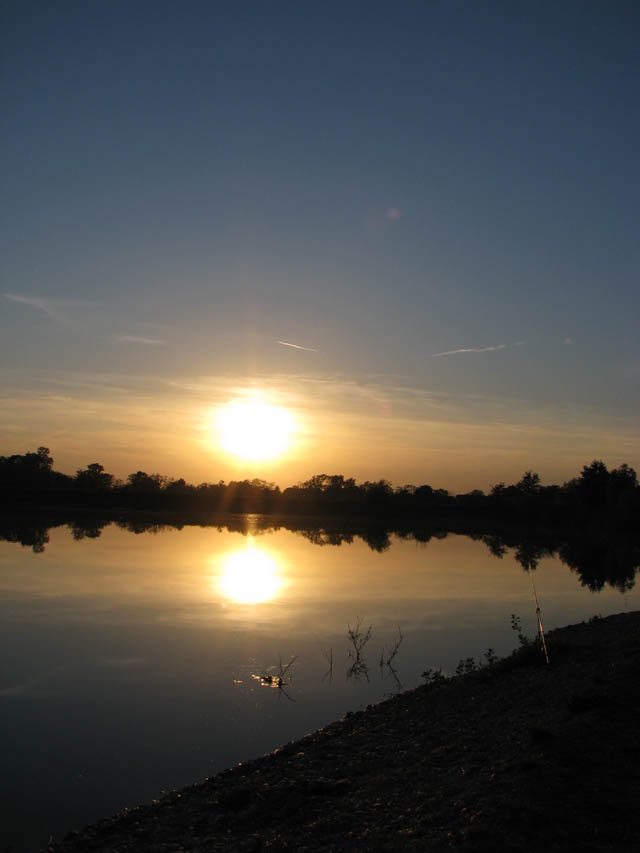 We both know what kind of water we are dealing. The water is full of weed, sunken trees, shallow gravel bars, silt areas and with a lot of natural food. With that in mind, we didn't expect any action during our first night. We were so wrong. We just fall asleep when buzzer on my right hand rod takes off. Quickly out of brolly, strike and on the boat. There is to much weed and sunken trees to take chances. Everything is normal untill the fish is under the boat, the line snaps. I can't believe it. I redo my rod and after one hour everything is on position. That was all for that night, but in the morning my friend received a take, and we were determined we won't loose that fish. After nerve wreckinh fight from the boat, we finally saw the fish and net it.
Patience has payed up.

There was no action during the day, so we spend te day tying news rigs and systems, which werer far more camouflaged, and more pined to the botom.
Camouflage is the key.

In the afternoon we even foundno new hot spots. I'm satisfied, but my friend want's to try new spots.
Prodding stick, it's like IB boilies, essential on waters like this and I can't imagine fishing with out it.

We both set our traps on the same postions in the evening and bait up with really small quantity of boilies, hemp and tigers in NHDC. Evening slowly turns into night, and we both go to bed wondering what night will bring. I really want to catch big one from this very hard water and with that thought I fall asleep. The sound of my LXR receiver wakes me up, and before I know it we are both in the boat, trying to convince the fish to get out of the submerged tree. I hooked very angry Mr. Carp. It seems like the battle with carp will never end, but then we saw first glimpse of the fish. We look at each other, we know it's a good fish. It takes few more minutes and the fish is in the net. Very nice mirror carp is beaten.
She couldn't resist Monster-liver boilie + tigernut in NHDC

I check my system, rig and knots. Everything is ok, and I put a fresh bait on. Quickly I set my trap on the same hot spot. This time it was left hand rod. After one hour I receive another take on the same rod. Again the same procedure, and the fish is a bit smaller common.
Victim of devastating bait-Monster-Liver boilie

We didn't put to much bait, only two handfulls because of breams (brassen).

To the end of the fishing we both received two more takes but we weren't successful in fights with them, the fish always found sanctuary under submerged trees. The lesson is learned, and next time we will come even more prepared. All in all it was very good fishing on one of most difficult carp waters in Slovenia.
Luka Blazic
Imperial Fishing Team Slevenien