Neuigkeiten aus aller Welt von Rimantas – Exklusiv Vetriebspartner Litauen, Behrends, Dennis, Katran – Exklusiv Vetriebspartner Ukraine, Maddin und Tobi Wassermann.
Mit "Give me 4" und "FOR THE BIG FIGHT!" zum Sieg!



Rimantas
Last weekend joy
Weekend was tough! First prebaiting session was done on Thursday. When we arrived on the lake on Friday there were no signs of carp existence in the water. For this weekend session we decided to use our main spot and established one more to explore lake deeper. After short feeding procedure, when Carptrack ELITE Strawberry Boilies where used, rigs flew to the lake. First night was peaceful and quiet.
Next morning we got up early in the morning cause silence in the receiver was not what we expected during the night. After some short discussions regarding what and why is wrong we decided to change our rigs, but kept our feeding strategy as we believed for this time of the year it is the most suitable for this lake. After new rigs was made (we made hooklinks slightly longer about 25 cm) and the same 20mm Strawberry Boilies where used on a hair as for baiting the spots + small PVA mesh "sticks"
filled with crushed boilies.
5:30 AM all rods where recasted and 7:05 AM we were lucky to see first signs of carp existence what was very promising.
After all morning routine was done it was time for coffee, but 8:30 AM fish thought different and after few Delkim beeps, swing dropped down and begun to rise slowly. There was no reason to wait and DONATAS jumped on his feet and after few seconds I've got confirmation – got it !!! This lake bed is full of weed, so we always use safety lead clips where lead drops down after first strike, and it is only way to be confident to have full fish control during fight. To get fish in to landing net was not an easy job, to do that boat was used and all fight was about 10 minutes, but it was probably the most beautiful morning view for carp angler to see friend in the middle of the lake fighting local monster.
After exiting fight fish was in the weighting sling and Reubens gave as probably more pleasant emotions than a Santa Christmas present 18,1kg.
Fish was caught by DONATAS JACEVICIUS – Imperial Baits Team Lithuania.
Santa Christmas present 18,1kg


Rimantas
Team Imperial Fishing Lithuania
Behrends
Hallo,
hier eine starke alte Ostlerdame aus dem Land der 1000 Seen, die mir zum zweiten mal an den Haken ging. Ps: Eure Dips sind Weltklasse!!!
Die starke alte Osterdame


Behrends
Dennis
Moin Moin Max!
Ich denke meine Fangmeldung wird dich insbesondere freuen, weil ich meinen Fisch auf deine ELITE Strawberry Boilies gefangen habe. Das Gewicht von 25.4 kg ist für dich vielleicht nicht besonders außergewöhnlich. Hier im Norden der Republik ist es aber schon etwas sehr besonderes und vor allem seltenes. Demnach vielen Dank für deinen geilen Köder und fette Grüße aus Hamburg. Ich hoffe dieses Jahr nochmal vorbei zu kommen. Deine Köder und Lockstoffe werden von mir jedenfalls am Wasser ordentlich verbraucht. 😉
25.4 kg im Raum Hamburg auf ELITE Strawberry Boilies


Dennis
Katran – Exklusiv Vertriebspartner in der Ukraine
Dear Max,
yesterday at noon we started competitions Imperial-Katran Grand Carp 2011 on Medvezhka Lake in Donetsk region, Ukraine. There is 11 best teams from all over Ukraine. There is a link for online track of events (pictures, videos and etc.): Imperial-Katran Grand Carp 2011
Mit "Give me 4" und "FOR THE BIG FIGHT!" zum Sieg!


Katran
Team Imperial Fishing Ukraine
Maddin
Hallo Max, Julian und Hallo alle iBlog Leser,
ich habe hier mal eine Anleitung zum Blockback Rig geschreiben:
Was braucht Man?
Knetblei, Ringswivel, Vorfach Material, Microringe, Mouthsnagger und ich nehme in diesem Fall die Fox SSBP Size:5

1. Zuerst zieht man 7-8cm der "haut" von dem Vorfach ab und dann macht man eine Normale Schlaufe an das Ende des Vorfaches.
2. Um den Abstand zum Ring zu er mitteln ziehen Sie den Köder auf das Vorfach, in diesem Fall 20mm Boilie und 16mm Pop Up und knoten den Microring fest.

3. Nun zieht man den Ring vorsichtig von vorne auf den Haken und knotet das Vorfach wie gewohnt mit einem Knot´less´knot an den Haken.

4. Zu guter Letzt ziehen Sie den Mouthsnagger auf den Hakenschenkel und befestigen Sie das Knetblei auf das Vorfach.

Mein Fazit zu dem Rig:
Ich habe in den 4 Jahren, wo ich schon auf Karpfen fische, noch kein Rig gefischt wo der Haken so gut in der Unterlippe sitzt. Mein absoluter Favorit unter den Rigs.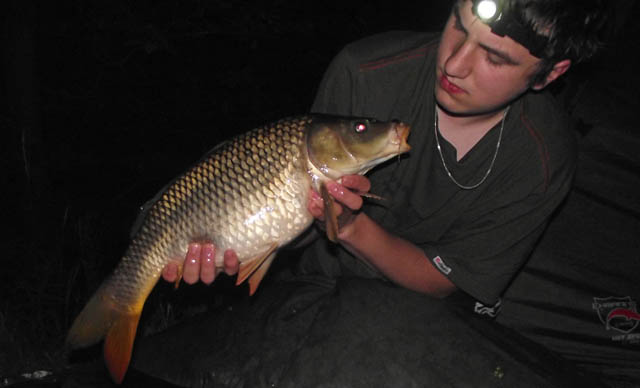 Viel Spaß Beim nachbinden und Tight Lines beim Fischen.
Gruß Maddin
Tobi Wassermann
Sehr geehrter Herr Nollert,
ich weiss nicht, ob Sie sich an mich errinnern. Vor ca. 8 Wochen war ich gegen Mittag bei Ihnen in Traben-Trarbach und habe 5 kg Carptrack Osmotic Spice Boilies gekauft.
Durch viele Termine kam ich leider nicht zum angeln, doch am Samstagabend war es soweit. Ich konnte mit Euren Boilies unseren uralten Vereinsrekord brechen und auf 32 Pfund steigern. Das ist zwar leider noch kein Big One, aber es war trotzdem ein toller Fang und vor allem ein geiler Drill.
Der Fang geht einzig und allein auf Ihre tollen Boilies und den Amino DIP Osmotic Spice zurück. Ich wollte mich einfach dafür bedanken. Eure Produkte sind einfach geil!!!! Macht weiter so!!!
32 Pfund Vereinsrekord!


Petri heil
Tobi Wassermann