KLICK HIER UND ERFAHRE MEHR / CLICK HERE TO READ MORE!
—————————————————————————————————————————————————————————
US Army Carp Event
from Brad Smudzinski
A steady effort to promote the hobby and passion of carp angling to the US Army soldiers stationed in Bavaria Germany has come to a head with the first annual Imperial Baits Carp Event. Held on 20 Sep 2014 on the US Army base in Grafenwoehr Germany the event brought together about a dozen local anglers on a foggy mid September morning.
About a dozen anglers meet up on a foggy morning on the US Army base in Grafenwoehr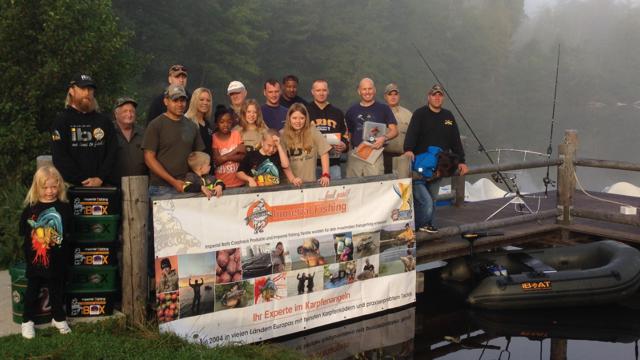 After an information briefing about the day's event plan the anglers were introduced to the product line from Imperial Baits. Of great interest was the new Carptrack Liquid-Powder Paste. The magic paste has performed so well for so many anglers and in so many varied situations and water types that there were many anglers paying close attention as the simple process to put it to use was described.
—————————————————————————————————————————————————————————
HD Video: IB Carptrack Liquid-Powder Paste: Anwendungstipps
von Max Nollert
In diesem kurzen Video demonstriert Max Nollert die Anwendung der neuen IB Carptrack Liquid-Powder Paste aus der Dose. Dabei geht er genau auf das "Coating" der Hakenköder ein, sowie einer speziellen Aufbewahrung mit Hilfe von Carptrack GLM-fullfat und Betain.
Die Liquid-Powder Paste gibt es aktuell in unseren Herbstangeboten GRATIS dazu!
KLICK HIER
—————————————————————————————————————————————————————————
The many great smells of Imperial Bait's products filled the air.

For the anglers the day was not to be one filled with many fish. At the end of the event there was one fish caught. Chris Fowler, an IB supporter and US soldier stationed in Grafenwoehr managed to take home first place with a two tone common.
Chris, very happy with his last minute catch.

Chris found success using a 20mm Half´n Half "Carp Total!" wrapped in Carptrack Liquid-Powder Paste. With many other anglers on the water and many baits being used by those gathered it was IB which brought home the victory at the inaugural event.
Chris being presented the Imperial Fishing Legend Carp by Team Angler, Brad Smudzinski, and US Army Hunting, Fishing, and Sport Shooting Coordinator Hans Hathaway
Along with the anglers on the water many families were present as well. While the weather in the morning was foggy at first, later it was picture perfect. The Fowler family used the great weather and time on the water to take some family photos. Their awesome shirts like the Monster's Paradise Kids T-Shirt demonstrate that they are all huge IB fans!

Family Fowler showing their IB support!

The iBoat 210 may not be the longest boat on the water but it is plenty wide enough for lots of kids. Or tackle and gear too!

Beautiful weather, awesome baits, what else can man want…?
As the day went on the weather decided not to cooperate and a rain storm moved in. It was right after the first showers that Chris landed his carp thus bringing him luck. For the rest of the competitors the rain brought wet gear and an unhappy time packing up. All things considered it was a great event which proved that carp fishing while immensely popular in Europe, is making small strides with the US population. The hope is that as more and more US soldiers are licensed to fish in Germany (100 so far this year) that they will see how great carp fishing and the carping lifestyle truly are.

IF POWER!


Brad Smudzinski
Team Imperial Fishing
—————————————————————————————————————————————————————————
Carptrack Liquid-Powder Paste!
no more words are needed…
—————————————————————————————————————————————————————————
First contact with IB in the spanish River…
from Oscar de Lucas Nieto
My first contact with Imperial Baits in a spanish river, the truth is that these boilies likes me a lot… You only have to see and touch them, its texture… Enough to know what kind of "balls" they are… I will talk more about some of them in the future, for sure!
A one-night session does not give too much time, so I tried to find the hot spots, holes on weed, very quickly. Each rig were put on a clean spot near the weed, with little feeding, very concentrated and all pimped with the Carptrack additives – this time we used Carptrack Liquid Amino 10 ml/kg, Carptrack Liquid 10 ml/kg, Carptrack inL 10 ml/kg and Carptrack Intense Fishoil 10 ml/kg. These liquids are highly concentrated and attractive!
For the powder we uses GLM full-fat 5 gr/kg, Carptrack inP 10 gr/kg and Carptrack Powder 10 gr /kg.
The night passed fairly quiet, but about 6 o'clock I get a bite, immediately I was fighting and trying to get the fish away from weed. A very pretty river common carp!

Oscar de Lucas Nieto
—————————————————————————————————————————————————-
ACHTUNG ACHTUNG ACHTUNG
– Herbstpackete bis Mittwoch Mittag versandkostenfrei!
Bestellungen bis Mittwoch (01.10.2014) Mittag 12 Uhr, die eines der Herbstangebote beinhaltet, werden VERSANDKOSTENFREI geliefert. Zustellung bis Donnerstag* garantiert!
*innerhalb Deutschland