KLICK HIER UND ERFAHRE MEHR / CLICK HERE TO READ MORE!
————————————————————————————————————————————————————
44kg Lac du Der Monster – bekannt oder unbekannt?
Wir ziehen den Vergleich!
Aktuell kursieren Bilder auf Facebook – ein neuer Weltrekordkarpfen sei gefallen und das auch noch an einem öffentlichen Gewässer, dem bekannten Lac du Der. Bereits in den 90er Jahren sorgte dieser BIG LAKE (4800 Hektar) für Aufsehen. Ein sehr guter Fischbestand mit stattlichem Durchschnittsgewicht und ein echtes Abenteuerfeeling zog Karpfenangler aus ganz Europa an seine Ufer. Ein großes Fischsterben 2005 ließ den See unattraktiv werden.
23,6 kg Lac du Der. 1997 waren das die TOP Zielfische!
klicken zum vergrößern

1998 – Lac du Der vom Holzboot

1999 – Lac du Der vom Holzboot
klicken zum vergrößern

Mit Rene Rex relaxed – 1997
klicken zum vergrößern

2012 dann zog der Franzose Dylan Porte einen Fisch mit 34,8 kg in seinen Kescher! Imperial Baits Carptrack Fish Boilies mit inP und inL gepimpt, lockten den Riesen aus seinem verborgenen Versteck.
"Die große Brasse" – Fangbericht KLICK HIER!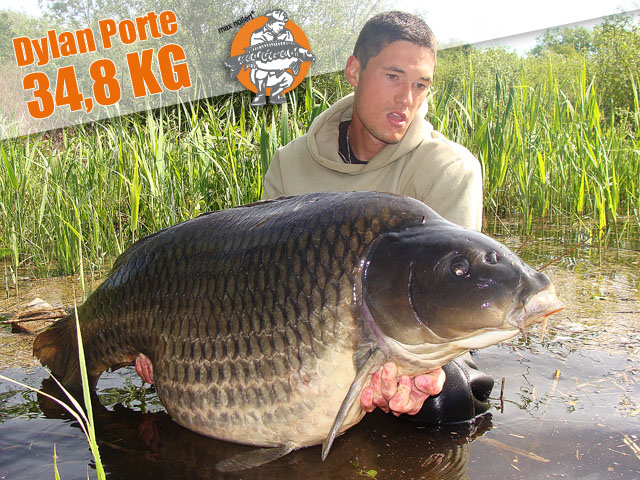 Der Fang von Dylan holte den See aus seinem "Dornröschenschlaf", Insider wussten schon lange was sich in diesem See verbargt und Gerüchte über einige unveröffentlichte BIG ONES lockten Extremangler aus allen Teilen Europas. Auch der bekannten tschechische Großfischjäger Tomas Blazek wurde neugierig und startete einen ersten Versuch. Er forderte sein Glück zum ersten Mal im Herbst 2013 heraus. Es dauerte einige Tage bis Tomas mit einem heftigen Fisch ringte und am Ende seinen Zielfisch "die große Brasse" mit 35,8kg über seinen Kescher zog. Es war der gleiche Fisch, wie Dylans!
Der heute genannte Fisch "Moby Dick", wurde von Tomas mit Imperial Baits Carptrack Elite Strawberry Boilies, die zusätzlich in Liquid-Powder Paste eingemantelt waren, zum Anbiss verleitet.
Die ganze Story dazu lest Ihr in diesem iBlog Update – KLICK HIER!

Dylan Porte angelte weiter in seinem unverwechselbarem Stil, fernab der anderen Angler, alleine in seinem Boot und stellte unaufhörlich dem nächsten BIG ONE nach. Und wen er nicht angelte war er zumindest an den Ufern seines "Hausgewässers" unterwegs um auf seine Art mit ihm zu "kommunizieren". Seine besondere Art und Weise zu angeln, brachte ihm nie besonders viel Fisch, aber er war der erste Bekannte der zwei verschiedene 70 Pfünder aus dem DER sein eigen nennen konnte – Chapeau! Im darauf folgenden Frühjahr fing er also dieses weitere Prachtexemplar mit 35,8kg. Dieser Fisch war bis dato unbekannt und wird hiermit zum ersten Mal auf unserem iBlog veröffentlicht!
35,8 Kilo brachte dieser Unbekannte im März 2013 auf die Waage, und es war nicht "Moby Dick!"

Das sind sie nun, die Lac Du der Monster – doch ist die neue Fangmeldung ein weiterer unbekannter Endgegner? Das fragen sich momentan viele!
Der aktuelle Rekordfang von 44kg:

Ganz sicher können wir nicht ausschließen, dass es sich um den unbekannten zweiten Giganten von Dylan handelt, der einige Unregelmässigkeiten im Schuppenbild aufweist.
Was meint Ihr? Gibt es genügend Ähnlichkeiten? Das Schuppenbild gibt uns zu denken. Habt Ihr so stark veränderte Schuppenbilder in der Historie Euer Karpfenbilder entdeckt? Welcher Fisch kann es sein oder ist es ein neuer Riese?
Postet Eure Kommentare am Ende dieses Beitrages oder auf Facebook: Imperial Fishing Germany
klicken zum vergrößern

Kommentar Max Nollert und Julian Jurkewitz:
Aufgrund der aktuellen verfügbaren Bilder und der zeitlichen Distanz der einzelnen Fänge, können wir folgendes mit Sicherheit sagen: Man weiß es nicht 🙂
Eine verblüffende Ähnlichkeit der grundsätzlichen Morphologie besteht zwischen Dylans 35,8kg aus dem März 2013 und dem neuen Giganten. Schwanzflossenansatz (4), Kiemendeckellinien (1 und 2) sowie Übergang von Kopf zum Körper (3 und 5) stimmen weitgehenst überein. Die Unregelmässigkeit des Schuppenbildes ist bei Dylans Fisch jedoch abweichend, sodass wir ein sicheres "Ja er ist es!", Stand jetzt, nicht geben können.
Tendenz Max: Ja, eher selber wie Dylans 35,8kg Fisch
Tendenz Julian: Nein, neues DER MONSTER!
Tendez Ihr? Setzt Eure Kommentare unter diesen Blogbeitrag oder auf Facebook: Imperial Fishing Germany!
————————————————————————————————————————————————————
Ja ist denn heut schon Weihnachten?
iBoat 210 jetzt in grün, camou und realtree zum Weihnachtspreis – 17% sparen!
ACHTUNG: nur solange der Vorrat reicht!
KLICK HIER und gelange zu den iBoat Angeboten!

————————————————————————————————————————————————————
HERBSTURLAUB – letzte Chance zu bestellen!
Eure Bestellungen werden noch bis zum Freitag den 30.10.2015 16 Uhr versendet!
Danach sind wir eine Woche im Herbsturlaub!
————————————————————————————————————————————————————
AUTUMN HOLIDAYS – last chance to order!
Your orders will be shipped until this Friday 10/30/2015 16 o'clock!
After that, we are one week in the Autumn holiday!
————————————————————————————————————————————————————
VACANCES D'AUTOMNE – dernière chance à l'ordre!
Vos commandes seront expédier jusqu'au 30/10/2015 16 heures!
La semaine prochaines nous sommes en vacances d´automne!