Mit dabei sind folgende Autoren:
Dylan Porte, Michael Gugler, Philip Luckas, Herve Cellard, Fabian Riedl, Alessandro Bonifazi
—————————————————————————————————————————————————–
28 mm Boilies jetzt im AUSVERKAUF – sparen Sie bis zu 45 %!
Der heiße Sommer, Krebs- und Weißfischattacken sind im Anmarsch!
Warum der Ausverkauf?
Es kommt etwas Neues auf Euch zu … 🙂
Tipp:
Gerade in den heißen Sommermonaten, wenn Weißfische, Katzenwelse und Krebse auf Hochtouren unterwegs sind, bringt ein 28 mm Big Ball die nötige Stärke mit sich den Attacken zu widerstehen!
Zudem sind Sie sehr selektiv, kleine Fische unter 10 kg interessieren sich weniger für Big Balls und haben große Mühe die Köder zu schlucken.
Sind Dir 28 mm dennoch zu groß? Dann empfiehlt es sich die Boilies einfach zu halbieren oder gar zu vierteilen. Damit erhöht sich die Lockwirkung um ein Vielfaches!
28 mm IB Carptrack Boilies ab 7,00 € pro Kilo
28 mm IB Carptrack Explosiv Stickmix Boilies 7,00 € / kg – BUY NOW
28 mm IB Carptrack Monster Boilies 7,00 € / kg – BUY NOW
28 mm IB Carptrack Liver Boilies 7,00 € / kg – BUY NOW
28 mm IB Carptrack Banana Boilies 7,00 € / kg – BUY NOW
28 mm IB Carptrack Boilies ab 7,49 € pro Kilo
28 mm IB Carptrack Fish Boilies 7,49 € / kg – BUY NOW
28 mm IB Carptrack Elite Strawberry Boilies 7,49 € / kg – BUY NOW
28 mm IB Carptrack Osmotic Spice Boilies 7,49 € / kg – BUY NOW
28 mm IB Carptrack Boilies ab 8,49 € pro Kilo
28 mm IB Carptrack Elite Boilies 8,49 € / kg – BUY NOW
klicken zum vergrößern / click to enlarge

—————————————————————————————————————————————————–
Frühjahrserwachen am großen Stausee
von Dylan Porte
Hey salut Max,
Dieses Frühjahr war eines der schwersten meiner Laufbahn, ich begann sehr früh einen gigantischen Stausee zu befischen und versuchte Tag täglich die Fische zu observieren. Doch aufgrund der fehlender Wassertemperatur, war in den seichten Gebieten einfach kein Karpfen zu entdecken. Ich steckte meine Nase also tiefer ins Wasser und versuchte mit IB Carptrack Fish und Worm Up die Fische zum Fressen zu verlocken. Trotz der extrem schweren Bedingungen bei kaltem Wasser ohne Sichtkontakt zu den Fischen gelang es mir einige Brecher an den Haken zu bekommen.
Folgende Fische versüßten mir das Frühjahr und brachten zwischen 18 und 23 kg auf die Waage.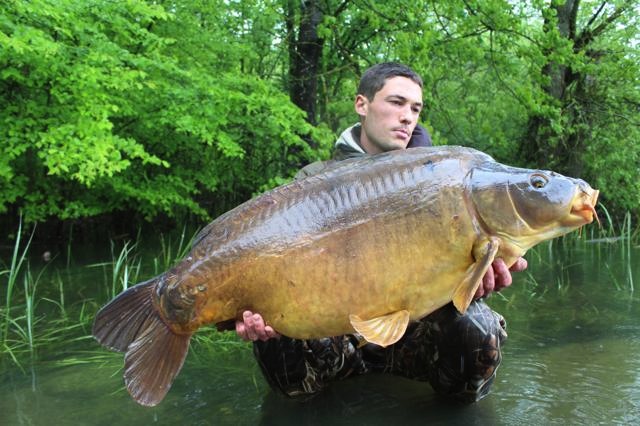 Dylan Porte
—————————————————————————————————————————————————–
Michael Gugler
Hallo liebes Imperial Baits Team!
Wie ich Max versprochen hatte sende ich nun Fotos von unserer letzten Session.
Das waren die dicksten Fänge mit 18,6 kg und einer 16,7 kg!
Ps: Das iBoat 160 war bei der Session voll im Einsatz und wurde für sehr gut und sehr geil bewertet!

Michael Gugler
—————————————————————————————————————————————————–
Eine gelungene Kurzsession
von Philip Luckas
Hallo liebe iBlog Leser,
nun melde auch ich mich zurück von meiner Frühjahrs Flaute…
Ich befischte einen der vielen Baggerseen in meiner Umgebung mit gutem Erfolg. Ich fischte mit allen Ruten auf einer großen Sandbank in etwa 3 Meter Tiefe. Die Stelle fütterte ich eine gute Woche mit Carptrack Fish Boilies vor.
Als es endlich Freitags los ging, benetzte ich meine Carptrack Fish Boilies und Osmotic Spice Baits mit Carptrack Liquid Amino, InP & InL, GLM full-fat und natürlich mit Carptrack NHDC – das Original!
Es dauerte nicht lange da meldete sich einer meiner Bissanzeiger. Ich dachte nur "WOW" das ging aber schnell und nach kurzem Drill stellte sich herraus, dass ein Spiegler mit 12 kg dem attraktiven Futter nicht widerstehen konnte.

Ich platzierte die Rute schleunigst neu und hoffte auf einen weiteren Run. In den frühen Morgenstunden meldet sich mein Bissanzeiger erneut nach schönem Fight landete ich eine weiteren Spiegler der genau 20 kg auf die Waage brachte.
Alles in allem eine schöne und gelungene Kurzsession, dank attraktiver Benetzung mit Carptrack Additiven und exellenten Carptrack Boilies…
20 kg – der short session Brummer!


Philip Luckas
—————————————————————————————————————————————————–
Herve Cellard
Salut Max, c est pour 4 nuits que j'ai poser mon biwy sur une gravière, deux cannes avec Carptrack Worm Up Boilie et deux canne avec ma favorite la Carptrack Monster-Liver Boilie! La première nuit commence bien départ simultané a ma grande surprise, impossible de gerer les deux! Une petite miroir rejoint le tapis alors que le deuxième poisson se décroche!
La journée impossible de pêcher! Les pêcheur de carnassier sont partout! La deuxième nuit est la meilleur, avec une magnifique commune et une massive miroir en quelques heures! Quelle plaisir ces max nollert Tempation MkIII!
Troisième nuits un seul poisson de sorti une commune bicolore mais dure de me faire oublier ce poisson hyper lourd qui sais décocher au moment ou il avait dégazé! Je commence a être épuisé obligée de déposer ces montage a 22 h30 et de relever les ligne a 4 h 30 est très éprouvant!
Catch & Release

Dernière nuit une belle miroir vient clore cette pêche!
BIG ONE!


Herve Cellard
—————————————————————————————————————————————————–
Fabian Riedl
I love to fish with Imperial Baits!!!
Dank Ihren Carptrack Boilies fing ich diese schönen Fische!
Macht bloß weiter so!!!
Ein Traum-Zeiler! Fantastisch!


Fabian Riedl
—————————————————————————————————————————————————–
Großes Imperial Baits Starterpaket – jetzt kostenlos anfordern!
10 teiliges Carptrack Muster Boilie Set, 7-teiliges Aufkleber Set, Katalogmaterial IF, IB, CRU
klicken zum vergrößern / click to enlarge

—————————————————————————————————————————————————–
Alessandro Bonifazi – Team Imperial Fishing Italy
In this Update we want to present you our Italian Teammember Alessandro Bonifazi. Well connected to one of the famous Carp Shops in Italy, Hobby Pesca & Aquari – www.hobbypescaeacquari.com – for Italian fishermen who want to buy Imperial Baits!
He knows the products of Imperial Baits very well and underlined by his successful fishing trips beside the fact that he has a lot of experience in carpfishing.
We are jealous that Alessandro's girlfriend is a carpfisher too.
Elena Antoniucci has finished the "Carp-Girl Voring 2012" on the second place.

Big lakes and big rivers like "Po" are the home of Alessandro and Elena.
More news about this carpfishing couple coming soon…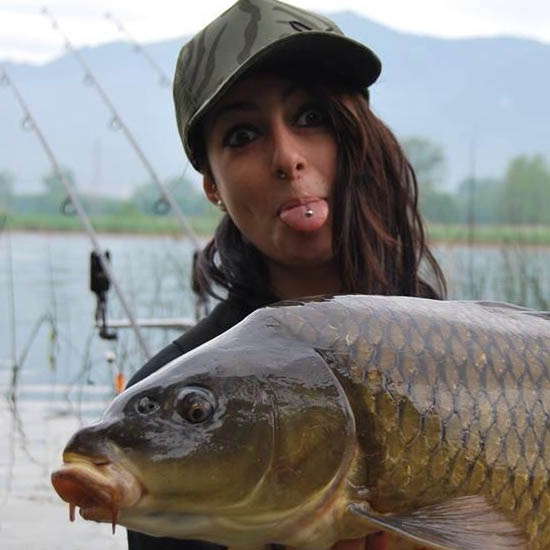 Team Imperial Fishing Italy
Alessandro Bonifazi
—————————————————————————————————————————————————–
Rent'n iBoat! Ab sofort 160, 260, 320, 400!
click to enlarge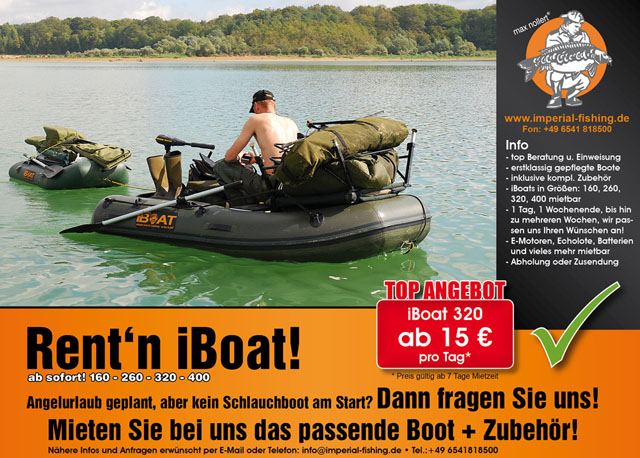 —————————————————————————————————————————————————–