KLICK HIER UND ERFAHRE MEHR / CLICK HERE TO READ MORE!
————————————————————————————————————————————————————
Bootsangeln – wo immer Du willst!
von Max Nollert & Björn Dostal
Knappe 4 Tage Karpfenangeln standen uns bevor und es sollte heiß werden.
Wie heiß, seht Ihr in dieser kleinen Bildergeschichte.
Falls Ihr am Ende mehr Lust auf Bootsgeschichten habt, hier zwei Magazinartikel aus der Vergangenheit:
Carp Mirror 2007 – Max Nollert – Angeln im Herzen der Stadt
Carp Mirror 2005 – Max Nollert – Bootsangeln auf Karpfen
click for big

iBoats 260 und 320 Generation 4 – ready to go!
click for big

Alles bereit, jetzt erstmal Plätze finden.
click for big

3 Stunden später – ALL IN!
click for big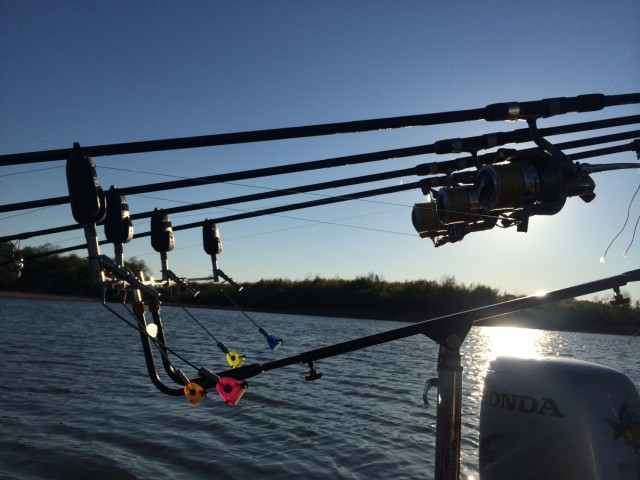 Sit and wait mit bestem Bait!
click for big

Auch Björn war auf der Suche nach…
click for big

Was bewegt sich da?
4 heiße Tage sorgten dafür, dass die Karpfen ins meterflache Wasser zogen und flacher!
click for big

Gerade erst ist die iBoat Generation 4 auf dem Markt, sitzen Björn und ich schon in der möglichen Zukunft. Optisch sind es Boote der Generation 4, jedoch haben wir je ein 260er und ein 320er der Light Version dabei! Wie dick und widerstandsfähig muss ein Schlauchboot sein? Muss es 0,9 und 1.0 mm dickes Hightech PVC sein, welches auch ein gewisses Gewicht mit sich bringt, oder kann man auch leichtere Boote bauen ohne gravierend dabei an Robustheit einzubüßen? Unsere hier eingesetzten sind um viele Kilo leichter und danken es einem bei jedem Transport.
We check it out und das wird noch eine Zeit lang dauern – wir haben Zeit und halten Euch auf dem Laufenden 🙂
click for big

Die Ruhe vor dem Sturm??
click for big

Alles vorbereitet – wir warten!
click for big

Wenn man morgens einen Karpfensack im Wasser sieht, weiss man, dass man Nachts etwas gefangen hat. In diesem Fall, war leider kein Karpfensack da, denn der Biss kam erst bei vollem Tageslicht! Nach dem Drill ging es zunächst zur Erholung in die Wiegeschlinge und dann zum Fototermin.
click for big

Gut gemacht Björn!
click for big

Passt alles!
click for big

Die grundsätzliche Tarnung vom grünen iBoat mit grünem Logo fällt im Kontrast zum bunten Basisboot erst richtig stark auf. Feedbacks zum neuen grünen iBoat-Logo bitte an info@imperial-fishing.de
Orange can be back soon 🙂
click for big

19.3 kg, ein toller Einstand
click for big

Perfekter Moment in der Morgensonne
click for big

Björn hat zugeschlagen, auf zum Nächsten!
click for big

Bei mir gings zumindest am Pod bunt her. 30er Snaggy Water als Hauptschnur mit 50er und 60er Shock'it als Schlagschnur, nicht nur im Schilf die allererste Wahl!
click for big

Vorne ein getönter Haken der Mitbewerber. Hinten der beinahe völlig reflexionslose CRU Continental Snag Hook
click for big

Björn hat auch Zeit für ein Sonnenbad und hat sich hierbei kräftig den Buckel verbrannt!
click for big

Chillarea auf dem Basisboot
click for big

Flugeinlage gegen die Raupenplage
click for big

Die Raupenplage wird bekämpft – den ganzen Samstag brummt es am Himmel
click for big

Click for big 🙂
click for big

Bei Björn passt auch farblich alles, 10 ft Ruten sind seit Jahren seine erste Wahl – auch vom Ufer! Seine Mono Hauptschnur kommt ihm bei der Bootsfischerei zu Gute!
click for big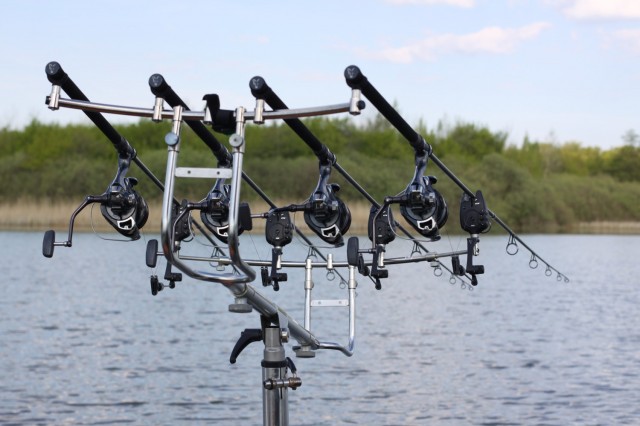 Auch hier bei extremer Schilffischerei sehr angebracht: höchst abriebfeste und dehnungsreiche Mono-Schlagschnur! Shock'it seit 2008 angesagter Leader unter Karpfenanglern!
click for big

Flaschenpost mit Biss
click for big

Kleiner Besucher – mit etwas Glück übersteht er den Winter und den Hunger anderer Räuber Jahr für Jahr, bis er einmal unter den Weißfischen ein gefürchteter Räuber ist.
Hab ein gutes Leben – Kleiner!
click for big

Bootsangeln – wo immer Du willst!
click for big

Nach der Wiegeschlinge ist vor der Fotosession – Teil 2
click for big

Der Recke im Sonnenlicht
click for big

Lovely – zwei Seiten – zwei Fische, oder?
click for big

So soll er aussehen
click for big

Wasser – H2O macht Karpfen froh! 🙂
click for big

Fast zur gleichen Zeit, wie am Vortag, biss auch am letzten Morgen dieser 23 kg Spiegler auf Björns Crawfish Falle.
click for big

Es war ein top Drill ohne Schilfkontakt!
click for big

Fast 110 kg auf dem Rand des iBoats. Breite steht…
click for big

Läuft bei Björn – von unseren 8 Karpfenruten brachte in diesen Tagen ein und die selbe die beiden einzigen Karpfen.
click for big

iBoats – aktuell die Generation 4, hoch im Kurs!
click for big

Für einen kurzen Augenblick hatte ich Hoffnung doch noch einen Karpfen landen zu können. Aber… seht selbst
click for big

Nix dolles aber dennoch bissl doll – feel good eben :-)!
click for big

Außer Waller gabs diesmal kein Knaller für mich
click for big

Schluss aus und vorbei!
click for big

Wer kommt denn da noch angebrettert?!
click for big

Zu Besuch: Julian und Alex mit seinem neuen Boot. Auch sie waren erfolgreich wie ihr auf diesem iBlog Update von letzter Woche sehen konntet.
click for big

Schon über Pfingsten wollten sie wieder los und was sie da erlebten hätten sie jetzt noch nicht zu träumen gewagt. In Kürze mehr dazu, hier auf dem iBlog natürlich!
click for big

Breite Schnauze – viel dahinter und vor allem an Platz darin. iBoats Generation 4 im Schlepp
click for big

Zwei Boote, zwei Teams – wir kommen wieder!
click for big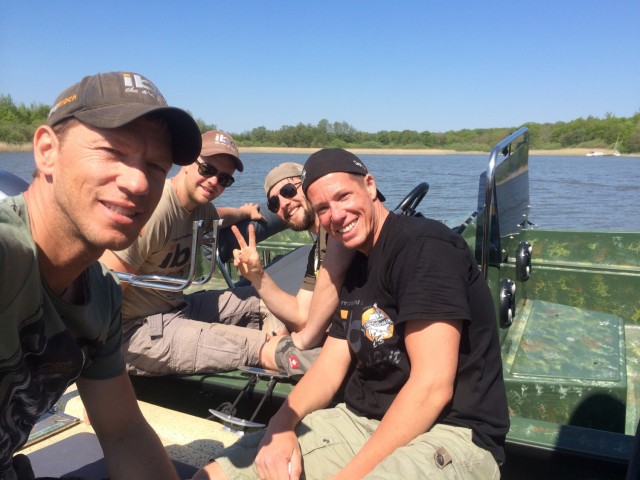 Nur noch die "Segel" runter, iBoats rein und los geht's!
click for big

"…feel good" Aufkleber in Kürze hier bei uns im Shop – jetzt schonmal vormerken!
————————————————————————————————————————————————————
Lust auf mehr Bootsartikel von Max Nollert?
Dann klicke auf die folgenden Vorschaubilder:
Carp Mirror 2007 – Max Nollert – Angeln im Herzen der Stadt

Carp Mirror 2005 – Max Nollert – Bootsangeln auf Karpfen