Carp-GPS – das Wallerupdate 15.05.2008 – Fische bis 250 cm!;Black Cat knackt auch in Frankreich die 250cm Marke
Ende April 2008, ein vierköpfiges BC Team auf dem Weg an einen Nebenfluss der Rhone. Die Rhone zählt neben dem italienischen Po zu den Top Adressen für Großwelse.
Bei der Tour an den Fluss stehen mehrere Vorhaben im Vordergrund, Test der neuen BC Multibaiter Ruten, ab Herbst 2008 auf dem Markt erhältlich, Test der neuen Owner Drillinge und Einzelhaken, sowie der Fang eines Weißen Wallers.
Stefan Seuß: Ich habe in den vergangenen Jahren sehr viele Großwelse gefangen, mein aktueller Zielfisch ist ein Weißer Riese……die besten Chancen habe ich in Spanien und an der französischen Rhone, Spanien ist zu überlaufen und hat anglerisch keinen Reiz mehr für mich, die Rhone ist unbetretenes Terrain und verspricht Abenteuer und vielleicht irgendwann meinen Weißen Waller…..
7 Tage waren wir im Dschungel unterwegs, riesige Nutrias attackierten unsere Wallermontagen, Schwärme von Stechmücken und teilweise subtropische Temperaturen erschwerten die gezielte Fischerei. 3 Angler fingen ihren Personal Best bei dieser Tour und dafür gabs ne neue Haarfrisur <!smiley3>
Wir konnten zusammen 27 Waller fangen, 1 Rekordfisch von geschätzten 105 Kilo bei 250cm, 227cm, 210cm, 202cm und viele Fische zwischen 130cm-190cm.
Hier einige Bilder der Tour:
Peter Merkel and the BIG ONE mit 250cm / 105kg

Wolfgang Michel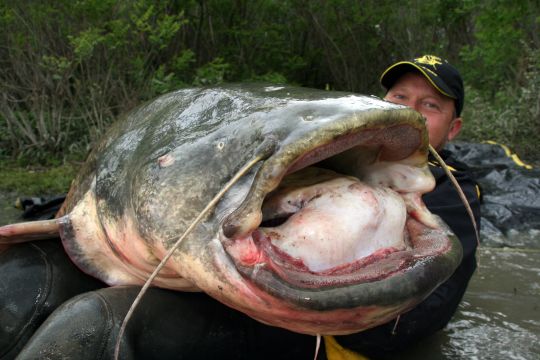 Der neue PB ließ bei Wolfgang Michel Haare fallen

Wolfgang Michel mit 210cm PB

weitere Infos unter:
www.neckarrwaller.com
Jörg van Diffelen fängt 2 Meter Waller mit der leichten Spinnrute – am Schwanz gehakt!
"Hallo Max,
mein Schwager und ich fingen kürzlich diesen 2 Meter langen und ca. 51 Kg
schweren Waller im Altrhein am oberen Niederrhein. Gefangen haben wir den Koloß mit einer 1,80 Meter langen Spinnrute 15-20 gr
Wurfgewicht!!!!!! 25er Monofilen Schnur und einem 6 gr Spinner.
Der Wels war im äußeren Ende an der Schwanzflosse gehakt, ansonsten hätten wir ihn wohl nie rausbekommen! Drilldauer 30 min.
Viele liebe Grüße Jörg"
Hi Max. Wie gesagt ich war ja über die Pfingstfeiertage mal wieder am Wasser und konnte auch einige schöne Karpfen Fangen. Doch der Höhepunkt des Trips war ein 1,88Meter Waller, welcher am sonntag mittag um 14.14.Uhr auf einen einzelnen Pop Up einstieg. Aber überzeugt euch selbst….
Peter Schuh und Frank Knauf waren an der Saone in Frankreich:
Hier eineige Bilder Ihres Trips:
6 Waller
1,50 Meter, 1,54 Meter, 1,72 Meter
und 3 mal Kleinvieh <!smiley1>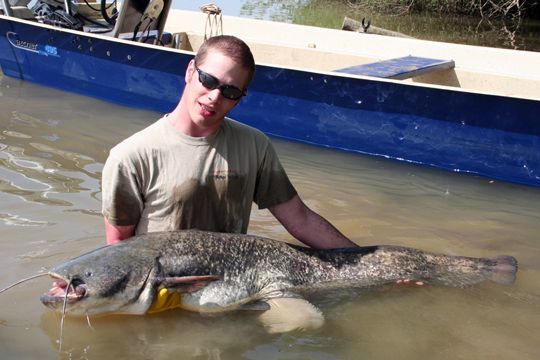 Yannick Klucken fängt mit 15 Jahren 188cm Waller beim Karpfenanglen mit einer 2 lb Karpfenrute!
Weitere Karpfen zwischen 10 und 16,5 kg konnte er auf gelbe Pop Ups überlisten. Ein ausführlicher Bericht dazu folgt an dieser Stelle: