—————————————————————————————————————————————————–
Mein größter Carp-Cup!
Wir landeten auf Platz 9 von 114 Mannschaften!
von Sylvain Halus
Hi Max, hi Julian
Me voila rentré d'une semaine de peche entre saone et lac pour le plus gros enduro de france:l'open de chalon.(114 équipes presentes c'est pas rien!!)
Apres un debut de peche plutot calme en fleuve avec la prise d'une petite commune la premiere nuit et une décroche l'apres-midi,la deuxime nuit fut beaucoup plus calme.
c'est apres reflexion, avec mon coequipier que nous decidons de changer de poste…….et la tout allé changer pour nous!!!!
Nous nous retrouvons sur le lac pour une peche plus fine et discrete.
Coté appats, je continuerai a pecher avec les bouillettes Carptrack Uncle Bait "The Boilie"
,les Carptrack Half´n Half Explosive Stickmix + Carptrack Amino Gel Explosive Stickmix
avec un melange de tigernuts et de Carptrack Explosive Stickmix
de la meme gamme.
Pendant ces 4 jours de peche en lac ,nous avons attrappés de tres beaux poissons ce qui vas nous propulser a la 9eme place de cet enduro sur les 114équipes.
Quel plaisir de combattre du poisson(petite ou grosse) avec mes nouvelles cannes les Imperial Legend Carp 12ft 3lbs: SENSATION ET PLAISIR SONT AU RENDEZ VOUS. En tout cas ce fut une éxperience inoubliable et que je vais surement retenter l'année prochaine!!!
Merci a Max Nollert pour la qualité de ces appats.
Imperial Legend Carp 12ft 3lbs

Carptrack Uncle Bait "The Boilie"

IB verhalf uns zu Platz 9 von 114 Mannschaften!


A bientot,
Sylvain Halus
—————————————————————————————————————————————————–
Zum Erfolg mit Carptrack Liquid/Powder Paste
vom Team Imperial Fishing CZ – www.imperialbaits.cz
Die Carptrack Liquid/Powder Paste ist hinreichend für ihre enorme Anziehungskraft auf Karpfen bekannt. Die Bilderstory zeigt den Erfolg einer Sommersession, bei der alle Karpfen auf die "Wonderpaste", wie sie oft genannt wird, gefangen worden sind.
Im nachfolgenden erfahren Sie mehr über die Anwendung dieser echten "Geheimwaffe"…

In der Nacht laufen die Dicken an!

Ein Karpfen jenseits der 20 kg Marke an einem schwierigen Gewässer,
gefangen auf die Carptrack Liquid/Powder Paste.

Die Carptrack Liquid/Powder Paste wirkt auf alle Fischarten.
Nicht nur Graskarpfen, sondern auch Hechte und andere Räuber lieben die "Wonderpaste"!

In der prallen Sonne geht der Tanz weiter…

…und der nächste DICKFISCH verfällt der Paste!

Einer der größten Schuppenkarpfen aus diesem Gewässer – Carptrack Paste fängt sie alle!

Wie wird's gemacht?
Die Carptrack Liquid/Powder Paste setzt sich aus 2 Komponenten zusammen:
1. 1 Teil Carptrack Liquid und 5 Teile Carptrack Powder werden zusammen in einen Beutel gegeben.
2. Der Beutel wird verschlossen und anschließend gut geschüttelt. Dann wird von außen gekneten, so bleiben die Hände sauber.
3. Hat die Paste eine homogene und kaugummiartige Konsistenz erreicht, wird sie aus der Tüte genommen und nochmals in den Händen gut geknetet.

4. Die gewünschte Menge für den Hakenköder wird vom gesamten Teig entfernt und wie Pizzateig platt und rund ausgedrückt.
5. Der Hakenköder wird in der Mitte platziert und mit der Paste eingehüllt.

6. Zuletzt wird der ummantelte Köder zwischen den beiden Handflächen gerollt und fertig ist ein Hakenköder, der an Attraktion nicht getoppt werden kann!

Die fertig ummantelten Köder können über einen längeren Zeitraum aufbewahrt werden.
Die Paste wird hart, fängt aber direkt im Wasser an zu arbeiten und wird schnell wieder weich.
SCHIMMEL AUSGESCHLOSSEN!
Diese mit Paste ummantelten Boilies wurden final nochmals in Carptrack Powder gewälzt!

Dicke Karpfen lieben Carptrack Liquid/Powder Paste!

—————————————————————————————————————————————————–
Give me 4 – Pimp my Bait Box
die 4 Klassiker zum Vorteilspreis – jetzt testen und fangen, fangen, fangen…
Hier geht's zur "Give me 4" Pimp my Bait Box – 29,90 €
Benetzen Sie Ihre Köder und machen Sie sie damit noch attraktiver und fängiger!
Der 30er PIMP! Je 30g bzw. 30 ml der 4 Additive!

Oder ummanteln Sie Ihren Hakenköder mit der famosen Carptrack Paste!

—————————————————————————————————————————————————–
Ein wunderschöner "Two Tone"

Das große Mitternachtsbuffet ist eröffnet! 🙂

Die Ergebnisse der Nacht…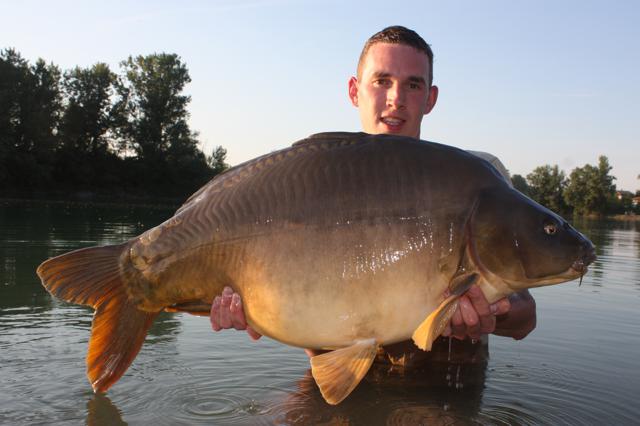 Der letzte Dicke
Wir sagen Good bye – bis zum nächsten Update!


Team Imperial Fishing CZ
www.imperialbaits.cz
—————————————————————————————————————————————————–
Lesen Sie zum Thema Karpfenfutter "Das 1×1 des Wassers Teil 1 & 2"
Ein Bericht von Max Nollert – erschienen 2006 im Carp Mirror
Klicken Sie auf die Bilder um zum Bericht Teil 1 und 2 zu gelangen…
—————————————————————————————————————————————————–
IB Carptrack Elite – my favourite!
von Steve Andrews
Hi,
I caught 3 fish on my trip to la valdore in france:
20lb common, 22lb mirror and 38lb mirror!
My favourite: Imperial Baits Carptrack Elite Boilie
Thanks to IB for this strong boilie!


Steve Andrews
—————————————————————————————————————————————————–
Sommerkarpfen
von Tamas Csörgo – www.imperialbaits.hu
Im Sommer macht Karpfenangeln besonders viel Spaß, auch wenn es Mal nicht läuft.
Baden, grillen, chillen, BEACHPARTY?
Dafür hatten wir keine Zeit denn bei uns lief es 🙂
Folgt uns durch die Bilderstory…
Der erste Karpfen, ein hochrückiger alter Recken – Stiernacken!

Die Fotosession im Wasser ist die sicherste und schonenste Variante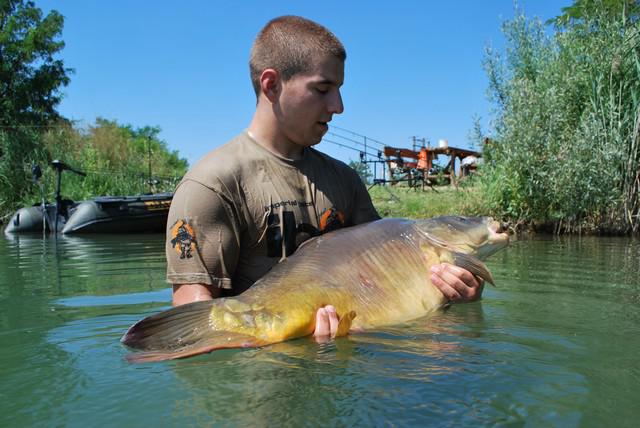 Der Sache einfach mal auf den Grund gehen und schauen, wie es eigentlich wirklich dort aussieht, wo wir unsere Köder präsentieren. Oftmals werden einem erst dann die Augen geöffnet.

Ein Tauchschein machen ist kein Problem!
Hier eine Szene aus einem Trainingssonntag. Am vergangenen Wochenende hat die Belegschaft von Imperial Fishing den Tauchschein erfolgreich absolviert.
Karpfen wir kommen…!

3 auf einen Streich!
Das Gruppenfoto haben wir uns nicht nehmen lassen…

Ein guter Schuppenkarpfen auf eine abgetauchte Montage!

Der "Lange" hat einen unglaublichen Kampf hingelegt und schoss wie ein Torpedo durch das Wasser! Beinahe hätte er den Kescher gesprengt…

Nach einer heißen Sommernacht – der Sack ist voll!

Und was hat er da???

YES, YES! Imperial Baits Karpfen 🙂

Wir sagen tschüss und wünschen ein erholsames Wochenende, hoffentlich am Wasser!


cheers
Tamas Csörgo – www.imperialbaits.hu