KLICK HIER UND ERFAHRE MEHR / CLICK HERE TO READ MORE!
—————————————————————————————————————————————————————————
Digging deep, finding success with Liquid-Powder Paste!
from Brad Smudzinski
With much anticipation I headed out on my first multi-nighter after many, many one-night-stands. Most often I am in a hurry when I get on the water after a longs days work. I am on the water first at 6 in the evening and quickly set up my gear. Always aware in the back of my mind that a really early wake up at 0330 in the morning was coming, followed by an hour drive to work, followed by a nine hour work day. Never easy and seldom fun. Unless it is one of those "special nights".
While the iboat 160 may not be made for big moves it is perfect for finding locations, baiting up and bringing out the rods. This time I awoke in the morning and made my way to the water without stress or haste as I knew I had the day to set up and that would be followed by two nights. The nights, when I was hoping to find success. As I made my way out on the small local lake I was in my iboat 160 and went about searching out my areas to bait up. Keeping the fish finder in sight I easily navigated to the spots using the handy e-motor which was mounted on the back of the boat. Finding the base of a drop off near the fish protection zone I lowered my Buoyant Marker Pole into the deep and probed around with the weight searching for a weed free spot. Once satisfied that I had found the edge of the drop and a relatively weed free area I began to bait up. I have always preferred a marker pole to a marker float attached by line to a weight on the bottom. I feel that a carp on a run can hit the marker pole and it will just sink under thus freeing the carp to continue his run. But a carp which runs into and pulls along the marker float line, and weight is much more of a risk. With the IB marker float set I can fish up to 6.5 meters deep and I have the Marker Pole Stick Light in red with comes on automatically when it gets dark. Sure enough on this session I twice had it where the bite alarm screamed and as I looked out at the spot the marker pole had shortly disappeared under water only to pop back up a few seconds later as the carp had cleared it. On the other runs which followed the carp ran in a direction out towards open water.

The perfect sight to wake up to…

I had an idea that I wanted to fish one rod with Stinkers and one rod Yummys. I have also been working with pre-baiting using several size boilies in the mix. I think that they are more leery of an area with a bunch of the same size baits in one area. Thus on this lake with high fishing pressure I stopped using PVA. The carp were too smart and avoided small pockets of bait. The l last thing I wanted to present to them was a small pile of 20mm boilies and a 20mm hook bait. Starting with 24mm Osmotic Spice as my main boilie I added the new Carp Total! 20mm, and 16mm Fish (a particularly effective boilie on this water and one which has a definite "spice" to it). Placing these three boilie sorts in an iBOX I proceeded to add Carptrack Powder followed by Carptrack Liquid to the boilies. Adding them in this order gives them a nice even dusting. To the boilies I added a small amount of particles containing hemp, tigers, corn, and the like and, and Stick Mix ground bait which further gave them a nice coating. Corn is to be avoided on this body of water as there is a high bream concentration as well as these beastly swimming rats which all too often go after the hook bait attracted by the corn and the next thing you know you are reeling in a rat hooked on his flank. Not fun!. I have been using in line leads as of late in combination with Carp'R'Us ready rigs . I like being able to pull the rig from the package and trust that all the materials are of high quality. Time tested hooks such as the Longshank Nailer , and Centurion 2000 are used. The mouth snaggers of which I am a big fan are on there already. I like both the Combi Blowback rig and the Clearwater Fluorocarbon and often fish one rod with each depending on spot location. Both come with extra long hairs so that you can tie and cut it to fit any bait set up you want, from 16mm single boilies, to pop up rigs, to 30mm boiles. Too easy!
Ready Rigs from CRU have my full faith. Heading out to my markers I tossed out four or five scoops of my mix at each location. As hook bait I was going to be using 24 mm banana boilies on my yummy location near the protection zone. Max had sent me some samples of the Carptrack Liquid-Powder Paste to test. The paste which has caught countless record fish was now being produced and sold in ready form. No longer must an angler sit on the bank and pour amounts of powder and liquid in a bag, working hard to get the equation correct. Mixing and needing away until a satisfactory consistency was achieved. Now you simply open the container and pull out an amount equal in size to the boilie being fished and you are set.

The early samples looked almost frightening in their unmarked packaging Rolling the paste in my hands for a short period makes the paste even more supple and easy to work with. Pressing out the paste to form a half shell the boilie is set in the paste and rolled in the hands around a few times until the boilies is smoothly coated in Liquid-Powder Paste. Now the boilie can be placed on the hair as normal. After all is set I then dipped the paste covered boilie in Carptrack Liquid and then place the entire rig in GLM full-fat Powder. I love that GLM! Nothing has led to quicker success for me on more waters then simply coating the boilie as a final step with this high quality powder. This is top of the line stuff here- Full fat, not to be compared with other GLM additives which have reduced to no fat content in them. This product has all the oils and fat which are the main taste carriers still in it.
The Liquid-Powder Paste which used to require much work to get just right is now simply pulled from the container.

Back in the 160 this time with rod in hand and a few handfuls of 24mm Banana boilies in my pocket. I keep the rig inside the powder until I reach the spot. I do this for a few reasons. One, the hook is protected inside the container and cannot find its way into the boat material or my skin, and two it keeps the boilie coated as I want it up to the time I lower it in the water. Arriving at the spot I lower the trap into the water and toss the few handfuls of matching free bait around the area. Heading back to the shore I keep the rod tip under the water's surface and place the armed weapon on the back sticks. Same procedure with the other rod but this time the 16mm Fish is coated in the pasted and then dipped and powdered in GLM- full fat powder.

Certainly not your average boilie!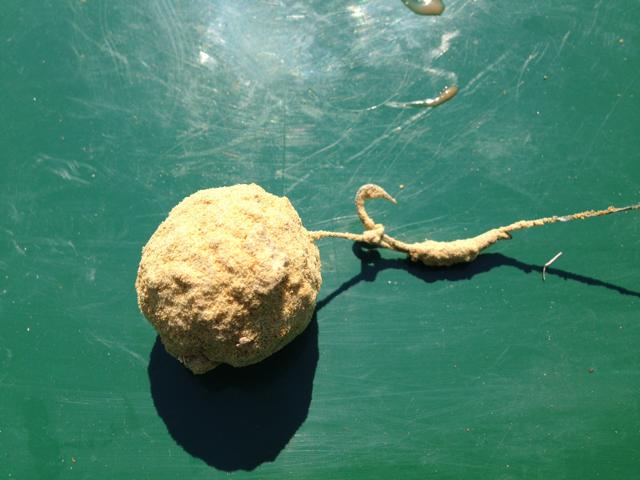 Confident that I had chosen good locations which should produce fish perhaps in the first evening I set about getting my camp set up. Bivy, bedchair, and co. were slowly making their way out of my car when the first run occurred. I was on the rod quick but after a few hard contacts with the fish that awful gut wrenching feeling swept over me as I realized she had hit the weed bank and come free. I was fishing at great distance to the protected water boarder- perhaps 250 meter. I also knew that fishing the weed perimeter was taking a risk but as carp had shown in that location earlier it was prudent that I give it a go. What proceeded to happen was a series of lost fish followed by netting a high teen mirror.
This carp appears to be missing his better half

I was in shock at how things were proceeding. At this water in the past it was considered a given that during the day nothing happens. Most anglers fish evening and into the morning hours before giving up hope around 0900 in the morning. Here it was around the noon hour and I had fish contact like mad. To further add to the theory that something was awry was the fact that the other three anglers on the water were not seeing anything.
What was the change?
The Liquid-Powder Paste, it had to be the paste!
A nicely scaled mirror hit the mat

That first day and night were full of carp. They were not picture taking material but for a few but they were carp some stunning some, well, not so stunning. Two nice tench were in the mix as well coming on the fishy set up.
A welcome surprise. This tench seemed to like the Liquid-Powder Paste on a fruity boilie as well.

—————————————————————————————————————————————————————————
HD Video: IB Carptrack Liquid-Powder Paste: Anwendungstipps
von Max Nollert
In diesem kurzen Video demonstriert Max Nollert die Anwendung der neuen IB Carptrack Liquid-Powder Paste aus der Dose. Dabei geht er genau auf das "Coating" der Hakenköder ein, sowie einer speziellen Aufbewahrung mit Hilfe von Carptrack GLM-fullfat und Betain.
Die Liquid-Powder Paste gibt es aktuell in unseren Herbstangeboten GRATIS dazu!
KLICK HIER
—————————————————————————————————————————————————————————
The second night passed and I was awoken to a screaming run. On the rod and after a few seconds of hard contact. Gone. I could just scream I was so upset. That rod at distance had produced so many runs and so few fish! I wanted nothing more than to return to my bed chair crawl in there and cry or just die. I dug deep, real deep and said to myself that just will not do. I must carry on despite how I felt. I must not lose faith. There were a few more hours until I was to break camp. I could sleep those away with no hope of a good fish, or go through the procedure and dutifully bring the rod back out. Back in the boat with a few handfuls of boilies and the rod. Rowing this time as I had drained all batteries at this point with all the running and re-running of rods I reset the rod and got back to shore. As the sun rose higher in the morning sky I slowly started the ever fun task of clean up and pack away. Oh, how I love it!
My girlie on the water, Elsa.

It wasn't at my task long before a Delkim cried to me. Ah ha! It was the same rod which I had reset shortly before. This time all went well in the drill with the carp hitting open water and me in control. This felt like a good one and that all too familiar shaking of the knees came to me as I wanted this fish so bad. Another angler on the water nearby came on to watch the battle. I am glad he was there and glad he was nearby because he was soon about to become a participant in this battle though we didn't know that at that moment. As the drill reached the shore line she decided to go sharp left and head for some trees. Without much thought I jumped into my iboat 160 and began to fight her from the boat and thus away from the trees. I realized that this was a particularly strong carp as she started pulling me across the lake much to my fellow anglers amusement. It was then that I realized I had no landing net on board. The iboat 160 is the perfect boat for short sessions to bait up and run rigs, to search with the fish finder, and manageable to fight from. That said, it is not the easiest boat to battle a carp from as room is at a premium and there is no room for a full size carp landing net for sure. Realizing I was in trouble my fellow angler jumped into his boat and rowed his way over to me in the middle of the lake. With a net for sure! He followed close behind as the carp pulled me here and there and dove under the boat. I was tossing my rod over my head like a baton thrower trying to keep up with the 360s the fish was making around the small boat. Finally the match ended and she made her way into the other anglers net and we made our way back to the shore. I was so happy that I had run the rod out again and so happy all had went well in the end. It would have been a disaster had my fellow angler not jumped into help. I thanked him and promised him a great US rib eye steak.
The reward for the effort given

After the loads of smaller carp, this one bigger one, though not huge was such a welcome sight. At just about 28 pounds she was a stunner! Finding that last bit of motivation had paid off and the Carptrack Liquid-Powder Paste test sample B2 had kicked ass!
Love…


Brad Smudzinski
Team Imperial Fishing Germany / USA
—————————————————————————————————————————————————————————
Jetzt NEU:
Uncle Bait – Das Starterpack!
KLICK HIER und gelange direkt zum Produkt in den Onlineshop

Uncle Bait – Das Starterpack! = 29,90 €
Starten Sie jetzt mit unserer Uncle Bait Range durch. Dieses Set beinhaltet alle 4 Uncle Bait Produkte (Boilie, Pop Up, Dip, Gel), die in unserer praktischen IB Klickbox inklusive Aufkleber geliefert werden.
Hochwertiger Kratz- und Spülmaschinenfester Logodruck.
Inhalt:
– 1 kg Uncle Bait "The Boilie" (Größe wählbar 16 o. 20mm)
– 40 g Uncle Bait "The Pop Up" (Größe wählbar 16 o. 20mm)
– 50 ml Uncle Bait "The Amino Dip"
– 30 g Uncle Bait "The Amino Gel"
– Uncle Bait Aufkleber
– Imperial Baits Klickbox – das Original von Buchsteiner
Achtung: Geben Sie bitte bei der Bestellbemerkung (am Ende der Bestellung) die gewünschten Boilie und Pop Up Größen an.
KLICK HIER und gelange direkt zum Produkt in den Onlineshop

—————————————————————————————————————————————————————————
Jetzt NEU:
"Give me 5" – Dips & Gele (freie Wahl) + IB Klickbox + Aufkleber
KLICK HIER und gelange direkt zum Produkt in den Onlineshop

"Give me 5" – Dips & Gele (freie Wahl) = 39,90 €
5 Dips / Gele + IB Klickbox + großer IB Aufkleber
Fülle die IB Klickbox nach Deinem Geschmack!
5 Dosen nach Wahl!
Bestimme die Sorten der Dips und / oder Gele selbst!
Inhalt frei wählbar:
– Carptrack Amino Dip 150 ml (alle Sorten möglich)
– Carptrack Amino Gel 100 g (alle Sorten möglich)
Achtung: Geben Sie bitte bei der Bestellbemerkung (am Ende der Bestellung) die gewünschten Sorten und Produkte (Dip oder Gel) an.
KLICK HIER und gelange direkt zum Produkt in den Onlineshop

—————————————————————————————————————————————————————————
Baggersee-Fischen mit Liquid-Powder Paste
von Tobias Seeber
Die Ruten lagen inmitten eines Teppich aus Carptrack Osmotic Spice Boilies und Fish Boilies neben einer Wand aus Kraut während die Nacht Einzug hielt.

Ein Fisch den ich unter der Woche zwangsweise per Selbstauslöser knippste. Er fiel, wie so häufig, auf einen Fish Boilie mit Liquid-Powder Paste und einem grünen V-Pop zum Opfer.

Am Morgen biss diese Schönheit. Bei nahezu herbstlichen Wetter schienen die Fische in einen Fressrausch zu verfallen.

Sie fraßen mir nach und nach den Spot leer. Der dicke blinde Schuppi konnte ironischerweise einem geruchslosen, grünen V-Pop nicht widerstehen.

Nach kurzem Landgang war er zurück in seinem Element.

Der nächste ließ wieder nicht lange auf sich warten. Eine fette Schuppendame, die nach der Laichzeit bereits wieder auf Topgewicht ist. Es scheint als hätten die Fische keine Blessuren davongetragen.

Die "Waffe" die nun endlich im fertigen Zustand zu kaufen ist. Ein wahrer Magnet für Karpfen!
Liquid-Powder Paste bei allen Herbstangeboten als GRATISZUGABE dabei!

…und andere Fischarten lieben sie auch 🙂

Wahnsinn wie die die Fische auf dieses Zeugs abfahren!

Abendstimmung am Baggersee
Beim nächsten Mal waren wieder ein paar der neuen "Carp Total!" Boilies und Liquid-Powder Paste mit am Wasser! Es konnte also weiter gehen mit der vorherbstlichen Fangorgie 🙂

…und die erste Schleie fand gefallen daran 🙂

In der Nacht ein weiterer guter Schuppi!

Plötzlich schienen alle guten Schuppies auf dem Platz zu fressen, weshalb mein Futter schnell knapp wurde.

Doch bevor ich zwangsweise abbrechen musste fing ich noch einen, welcher schöner nicht hätte sein können. Die Paste hat wieder zugeschlagen 😉 Nur
haarscharf verfehlte er die 20 Kilo-Marke!

Letztes Wochenende habe ich einen zweiten See "probegefischt". Leider lief außer kleineren Aktionen nichts, doch werde ich in diesem Herbst sicher die ein oder andere Nacht dort verbringen.

Definitiv ein See mit potenzial. Lange Zeit war das Fischen hier nur bedingt möglich…


Tobias Seeber
Team Imperial Fishing Germany
—————————————————————————————————————————————————————————
GOOD CARPING – Dédié à tous les héros de l´automne!
max nollert & Team
cliquez pour agrandir