Der Aprilscherz!
von Daniel Trinkl
Eigentlich hätte alles so schön sein können…
Zuerst war ein Trip an den Po in Italien geplant. Eine Woche Flussangeln pur, doch der Po hatte zunehmend Hochwasser und so musste ich den Trip abblasen! Dann entschied ich mich für einen See in Kroatien…
Ich fing 12 Winterkarpfen in 2 Tagen! Ohne die Monster's Paradise Cold Water Kugeln und einem gehörigen Bait Pimp mit Carptrack Additiven wäre ein solches Ergebnis undenkbar gewesen!

Das Auto vollgebackt und ab in den sonnigen Süden!
Denkste…! Als wir ankamen lagen 10cm Schnee und es herrschten eisige Temperaturen! Außerdem war unser Angelplatz einen halben Meter unter Wasser! Die Wettervorhersage meldete drei Tage kalten Nordwind – na SUPER! Das Wasser war sehr kalt und da wegen dem knall harten Wind ein Lageraufbau kaum möglich war, fuhren wir wieder nach Hause! Die Enttäuschung war mir ins Gesicht geschrieben. Wieder zu Hause angekommen recherierte ich kurze Hand im Internet und fand einen idyllischen See in Italien!
Am nächsten Tag sollte es erneut losgehen!
Als ich morgens aufwachte, sah ich aus dem Fenster: "Oh nein schon wieder Schnee!" Die Straßen waren so eisig und als wenn das nicht schon reichte, sprang unser Auto nicht an! Toll! Mir reichte es! Wir blieben zu Hause! Nach einigen Tagen bekam ich die glorreiche Idee an meinem Lieblingsgewässer, einem wunderschönen Natur See, zu angeln! Der See war jedoch erst seit 5 Tagen eisfrei und hatte eine Wassertemperatur von 4°C! Am 1. April sollte es losgehen. Es schneite leicht und es war richtig eisig kalt. Doch egal, einfach ein bisschen die Natur genießen und Angeln. Am See angekommen, bauten wir unser Lager auf und legten die Ruten an das gegenüberliegende Krautfeld! Ich angelte mit den IB Carptrack Monster's Paradise Cold Water Boilie 16mm + jeweils einen V-Pop Up pink und einen V-Pop Up rot. Zusätzlich pimpte ich die Baits mit Carptrack inP + InL. Die Hakenköder dippte ich außerdem mit dem Carptrack Amino Dip Monster's Paradise und wälzte den "WONDERBALL" in IB Carptrack Amino Gel Monster's Paradise.
Nach 20 Minuten bekam ich den ersten Run, unglaublich!
Es war ein schöner Spiegler mit 7kg

Das Erfolgrig! Ganz wichtig: Carp'R'Us Mouthsnagger für die optimale Hakendrehung!

10 Minuten später bekam ich den nächsten Run, ein goldiger 9kg Schuppenkarpfen ließ sich für einen Besuch vor die Linse überreden…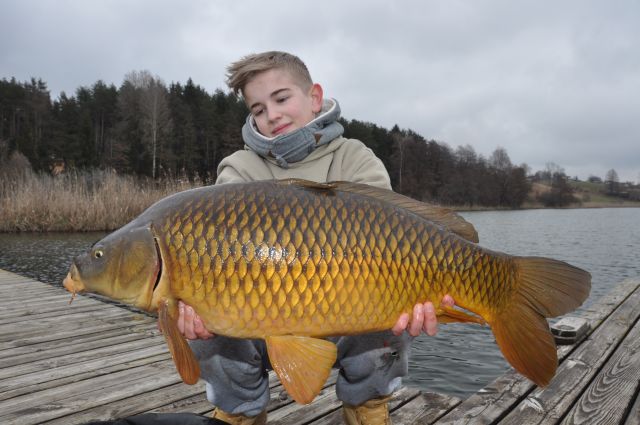 Der nächste Fight war schon viel härter und kraftvoller! Der erste Kescher Versuch klappte und ich hatte einen massigen Spiegler im Netz! Er wog 14 kg! Unglaublich wie dieser Fisch trotz der eisigen Wassertemperatur so stark kämpfte!

Einer der etwas Kleineren aber schön

Die Größe spielt keine Rolle, gerade im Winter freut man sich doch über jede Aktion!

Durch den IB Carptrack Monster's Paradise Cold Water Boilie kamen die Karpfen regelrecht in einen Fressrausch! Sie bekamen nicht genug davon! Dann hatte ich einen zaghaften Run mit vereinzelten Piepsern. Der Fisch zog direkt Richtung Krautfeld und ich konnte nichts dagegen tun! Gott sei Dank änderte er seine Fluchtbahn und schwamm ins Tiefe! Die Rolle kreischte "Yes so muss das sein!" Nach einem 10 minutigen Kampf konnte ich den Fisch beim ersten Mal keschern! Er lieferte einen starken Kampf, trotz der kalten Wassertemperaturen! Wow hatte der ein Kreuz, der war gut! Ein gewaltiger Schuppenkarpfen! Ich taufte ihn auf den Namen "Bulldozer", ich glaube der Name spricht für sich! A Big One!!

DANKE IMPERIAL BAITS!
I love to fish!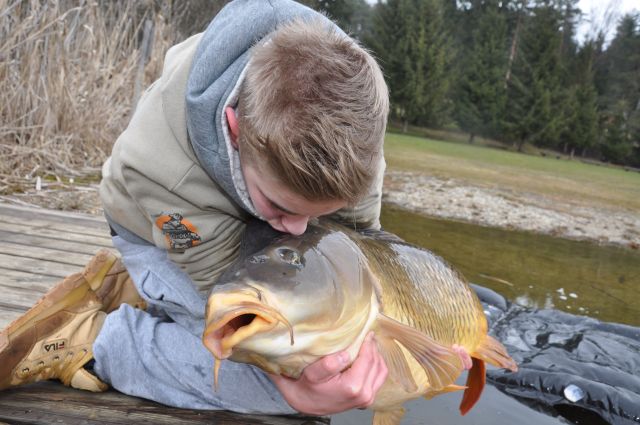 Und ab in die Freiheit

Es folgte noch ein weiterer Spiegler mit 8 kg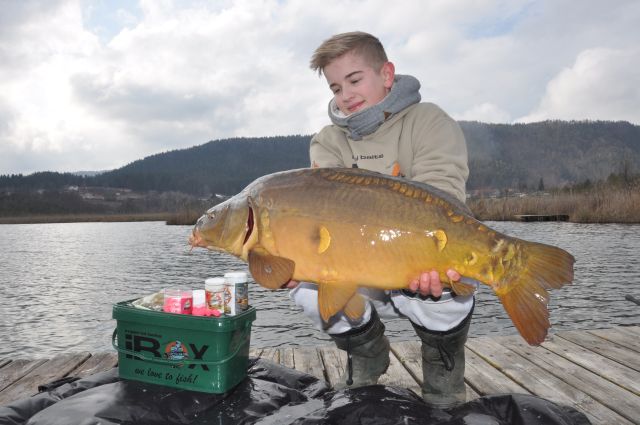 Bye, bye!

Beauty Alarm! Hier spielt die Größe keine Rolle! Passend zum kurzen Wetterumschwung mit Sonne!

Dann überraschte uns am nächsten Tag der Winter!
Doch die Fische blieben im Monster's Paradise Fressrausch!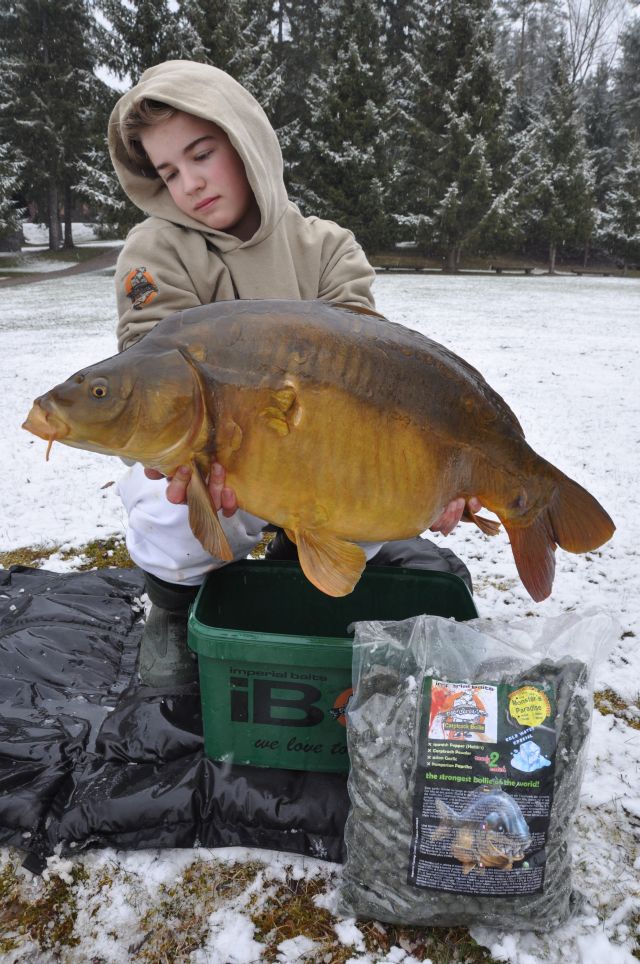 Ich fing 12 Winterkarpfen in 2 Tagen! Ohne die Monster's Paradise Kugeln und einem gehörigen Bait Pimp wäre ein solches Ergebnis undenkbar gewesen!

Videueller reiz mit Carptrack V-Pops – ein MUST HAVE bei diesen Temperaturen!


Team Imperial Fishing
Daniel Trinkl