KLICK HIER UND ERFAHRE MEHR / CLICK HERE TO READ MORE!
————————————————————————————————————————————————————
iBoats sind in aller Munde!
Die ersten Schlauchboote, die speziell auf das Karpfenangeln zugeschnitten wurden und den großen CARPZILLA Test gewonnen haben, gibt's jetzt mit einem zusätzlichen Rabatt!
UNSER NEUES iBOAT ANGEBOT – JETZT DU!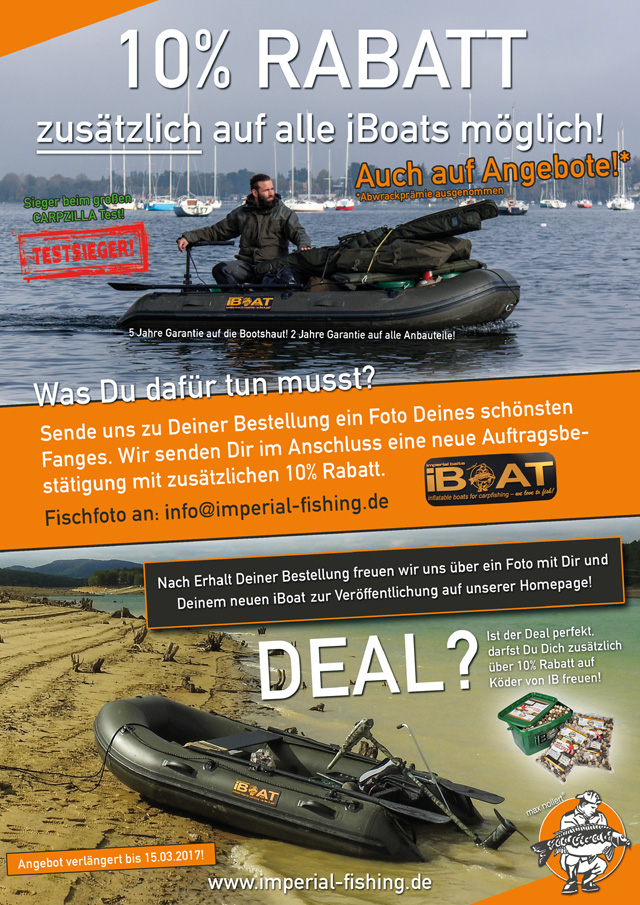 klicken zum vergrößern

————————————————————————————————————————————————————
Das RAMBO-RIG
von Matthias Hinrichs
Letzten Herbst kamen die neuen Imperial Baits Carptrack – RAMBO Hookbaits auf den Markt und somit wieder etwas, dass unsere Angelei um ein nicht ganz unwesentliches Detail beim angeln auf Karpfen bereichert!
RAMBOS weisen folgende Eigenschaften auf:
– federleicht aber sinkend!
– bleiben steinhart, auch über mehrere Tage im Wasser! (Schutz gegen Plagegeister)
– in allen aktuellen Boiliesorten erhältlich!
– in den Größen: 16, 20 und 24 mm verfügbar!
Da ich es aufgrund der verbesserten Hakeigenschaften liebe mit leichten Hookbaits zu fischen, kam die Neuigkeit genau richtig! Ich hatte auch gleich ein passendes, sehr aggressiv drehendes Rig zur Hand, das ich so bereits seit einigen Jahren fische, ich nenne es aber ab jetzt: Das RAMBO-RIG!
Es lässt sich sehr einfach binden und wir haben, dank Carp'R'Us, alle Rig-Materialien, die wir dafür brauchen.
Hier die Liste der benötigten Utensilien:
– Feuerzeug
– feine Boilienadel
– Zahnseide
– Titanium Scissors
– Tungsten Putty (grey)
– Rig Rings 3mm
– Clearwater Fluorocarbon 25lbs
– Antitangle Sleeves
– Shrink-Tube (multicolor)
– Longshank Nailer gr. 4
– IB Carptrack RAMBO Hookbait (Sorte und Größe nach Wahl)
Step-by-step-Anleitung zum RAMBO-RIG
Das benötigte Material auf einem Blick

Legt eine Schlaufe an den Longshank Nailer

Wickelt die gesamte Schlaufe um den Hakenschenkel und aus dem Öhr Richtung Hakenbogen schauende Stück vom Clearwater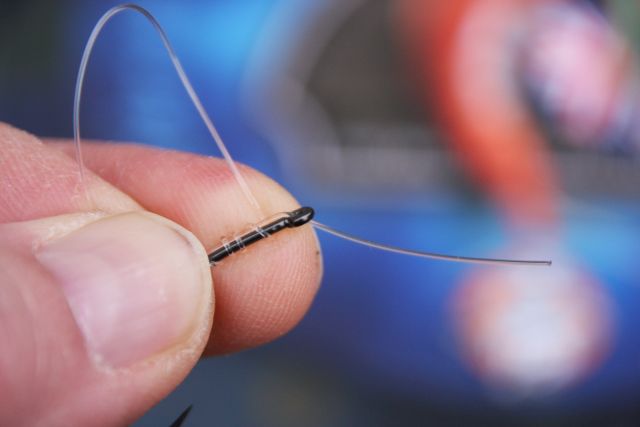 So sollte es nach Bild 3 aussehen

Schneidet nun das kleine Stück vom Clearwater mit der Schere ab

Den Rest vom Clearwater – Ende mit dem Feuerzeug finishen!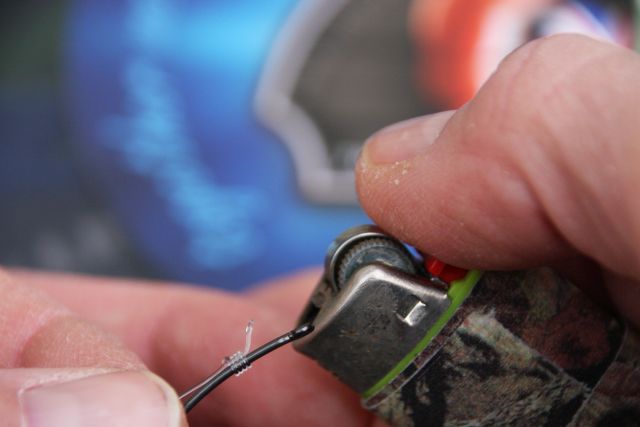 Zieht den Knoten bis in den beginnenden Schenkel des Nailers

Nehmt nun das lange Stück vom Clearwater und zieht einen Rig Ring darauf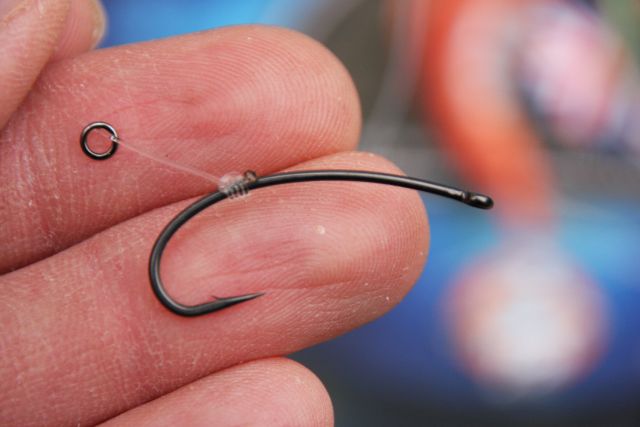 Jetzt das lange Stück durch das Öhr vom Longshank Nailer

Bindet jetzt einen no-Knot

Schneidet ein etwa 5-10mm langes Stück vom Shrink Tube ab und fädelt es auf das lange Stück vom Clearwater

Shrinkt nun mit Hilfe eines Kessels und dessen Dampfes das Tube zusammen

Fast fertig, noch einen Antitangle Sleeve aufziehen

Bindet am Ende des Rigs einfach eine Schlaufe

So sollte die Schlaufe aussehen. Am Bild nicht gezeigt, sei aber an dieser Stelle noch der Hinweis angebracht, dass ein weiterer Twist der Schlaufe vor dem Beenden des Knotens diesen am Ende gerade formt. Die meisten kennen das, wer es nicht kennt darf uns gerne eine Mail schreiben an: info@imperial-fishing.de

Zieht den vorher aufgezogenen Sleeve über den Schlaufenknoten, so könnt ihr später das Rig in den Wirbel hängen

Nehmt Euch etwas Tungsten Putty und zwirbelt es ungefähr in die Mitte des Clearwater

Jetzt etwas Zahnseide, um den Rambo an dem Rig Ring zu befestigen

So muss es im Zwischenschritt aussehen

Zieht einen RAMBO mit einer feinen Boilienadel auf die Zahnseide

Knoten mit den Enden der Zahnseide einen Boiliestopper ein

Nun mit dem Feuerzeug das überstehende von der Zahnseide abbrennen und fertig

Es ist vollbracht, ab ins Wasser damit

So sieht es im Wasser aus, schön zu sehen, wie der Rambo leicht aufschwebt!


Viel Spaß beim Nachbauen und viel Erfolg am Wasser!
Matthias Hinrichs
Imperial Fishing Germany
————————————————————————————————————————————————————
IB RAMBO Hookbaits – new offer online!
Click here!
click to enlarge the picture

————————————————————————————————————————————————————
Claudia Darga Kalender "My Fishing Impressions"
Schon hunderte wurden verkauft, langsam geht der Bestand zur Neige! Da wir schon Februar 2017 schreiben, jetzt einen zum Vorzugspreis sichern!
Nur 15 Euro inkl. 2 x A2 Poster!
Felix Kaczmarek vom Onlinemagazin Twelve Feet zu Besuch bei Imperial Fishing

Claudia Darga am Messestand von Imperial Fishing

————————————————————————————————————————————————————
Zu guter Letzt…
Unser Vertriebspartner in Ungarn hat bei der Messe in Fehova einen großen Erfolg zu feiern. Wir gratulieren zu einer gelungenen Messe!
Mehr Bilder gibt's auf Max Nollert Carpfishing im Facebook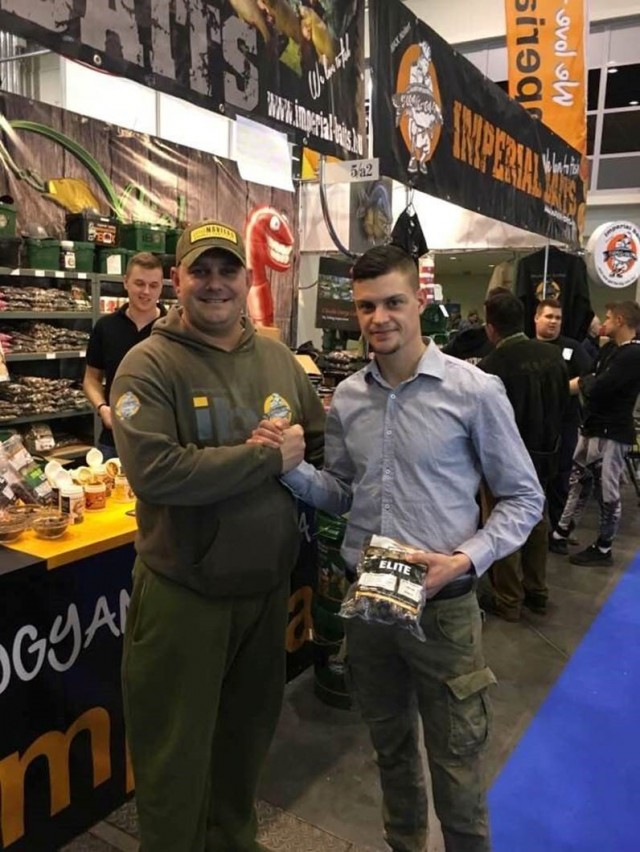 Exclusive Distribution / Wholesale
Xfish Global Ltd
H-1186 Budapest
Közdűlő u. 46-50.
phone: +36-1-290-2546
Mobiltelefon: +36 70 392 5733 / +36 70 392 5255
E-Mail: rendeles@xfish.hu
Online Shop magyarul:
www.imperial-baits.hu