KLICK HIER UND ERFAHRE MEHR / CLICK HERE TO READ MORE!
————————————————————————————————————————————————————
IB GOES POLAND – DIRECT!
SHIPPING COST 7,50 EURO PER ORDER!
English Onlinshop for Poland: www.imperial-fishing.com
German Onlinshop for Poland: www.imperial-fishing.de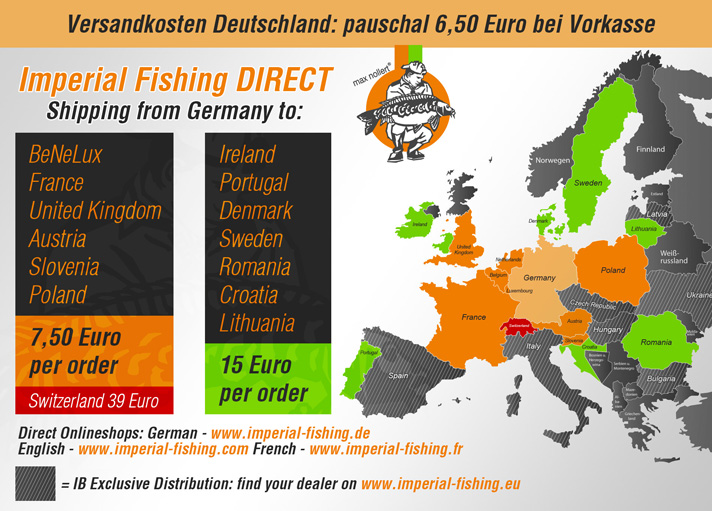 IB GOES POLAND – DIRECT!
SHIPPING COST 7,50 EURO PER ORDER!
English Onlinshop for Poland: www.imperial-fishing.com
German Onlinshop for Poland: www.imperial-fishing.de
————————————————————————————————————————————————————
South France in the autumn
from Zsolt Bundik
It was beginning of October and I had eight days to go fishing in South France. Unfortunately, it was not my best fishing trip but while the trip I took note quickly that this will be a hard challenge at least to have one good carp on my side!
And what do you think, did I get it? One after another, the trip started worse… My car after the first 80 km in Hungary has deteriorated and a trailer had to be taken at home. Big motor trouble was the reason why I had to buy another car, so the tour was shifted to 4 days. I decided to go fishing to two different waters, but finally I could only go to one lake. The next bad luck suffered during the moving in rain and big storm, with difficulty I struggled the bank somewhere and then I set up a tent which was packed full of water and soaked in the stuff. One day later the weather improved and finally I dried my stuff and I was able to start fishing :-). I prepared 10 kg Monster-Liver and Elite Boilie, as well as 10 kg Carptrack Amino Pellets. The chosen location has a lot of trees / wood in water and has compounded the problem of small fish and a lot of Crawfish. They were very active and hard-dried boilies where gone from the hair rig in a few hours. In the morning and evening I renewed them what I do not love. I managed to catch two catfish one of was 19.80 kg and the other was 23 kg, but could I finally catch a carp? You`ll see below in this iBlog. Finally one day I had to stay longer because of the great rain.
My car broke down after the first 80 km, so the fishing trips had to postpone a few days later.
Arrival of the new lake with my new fishing car.
The 260 iBoat can hold plenty of equipment.
Start of the great adventure.
The scenery is beautiful, but the rain was coming and it stayed long.
Unfortunately I came into the rain before the tent and set up was done.
Great lake!
The next day was better weather and I started fishing.
The bank was filled with a lot of pieces of wood.
BIG PICTURE – click to enlarge!

…which continued under water.
After 1 hour of searching I found four good places.
The forest was everywhere, on the bank and under water.
I fished only with big boilies, because of the large amount of crawfish and bream.
Next time when I go there I will have the new RAMBO which are especially done for these conditions! I am already looking forward to it!
click to enlarge the picture

A big lake, this is my world, my freedom.
During the tour they provided a great help to me: Rebelcell lithium batteries.
Small, lightweight and very durable. Rebelcell has its place on board!
In Big Lakes, where you have to move out of the boat, this is the best choice.
Powered by Rebelcell.
First "action".
More of them 🙁
Then came a surprise…
Catfish.
19,80 kg.
The weather was pleasant, sometimes :-).
Stunningly beautiful from above.
Closer.
The scenery was difficult.
Everywhere you turned the drone, still showed another image of the lake.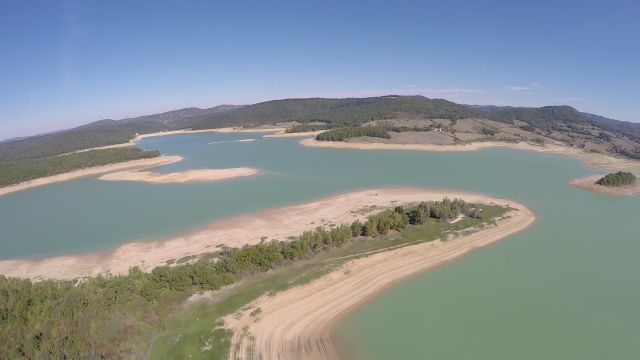 This shows an island what is now completly dry.
The water level decreased steadily.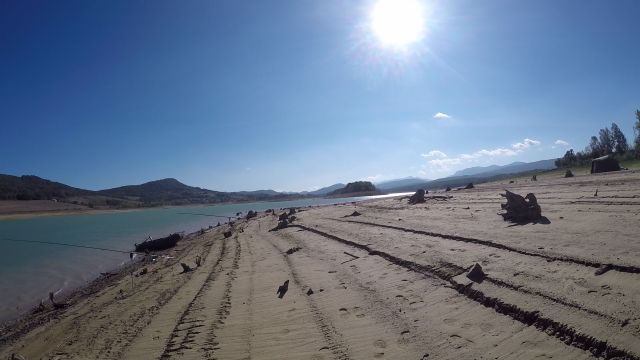 And more and more trees were getting dry.
During the day I walked arround and see this and that.
Those places are very well to fix now with the GPS for future trips when the water level is high.
Still a lot water anyway.
The weather started to be like we love it and I hoped that it will be good for the carp.
I prayed the fish were't present.
Finally, the fifth day again ran into a 23 kg catfish.
The bream picked up the boilies and a catfish took the bream and caught up the hook in his mouth.
While the stormy weather I managed finally to catch a carp.
He couldn't resist the 28 mm Elite boilies – again a catfish?
NO! Than finally I achieved what I was looking for! A 20.30 kg Two Tone was the gift from the lake to me – I was happy.
Just before release…
I had my short time with him – lovely!
Forever Imperial Baits.
The weather improved, the bite stopped immediately.
Now, the lake shows a fairer face again.
Therefore, once again I took my camera.
The water is still decreasing.
And the rods were more farther from the tent now.
Slowly the tour ended!
I started to pack up.
iBoat the best inflatable boat I have ever used!
Thank you Imperial Baits.
Thanks Rebelcell.
THE POWER!

Team Imperial Fishing Hungaria
Bundik Zsolt
————————————————————————————————————————————————————
Die zwei günstigsten Wege an ein nagelneues iBoat GEN4
heran zu kommen!
Weg 1: jetzt 15% Abwrackprämie für Dein altes Schlauchboot nutzen!
Wir holen Dein altes / defektes Schlauchboot auf unsere Kosten bei Dir ab!
Du zahlst 15% weniger für das neue iBoat!
Du kennst eines dieser Probleme:
– Das böse Erwachen nach der Winterzeit. Lochfraß am Schlauchboot!
– Boot zu klein, lässt sich schlecht rudern, hat nicht die gewünschten Features,
ist gar nicht mehr das was Du eigentlich nutzen willst…
…dann ist die Zeit für eine Neuanschaffung gekommen!
Die iBoats GEN4 bringen alles mit, was wir als Karpfenangler benötigen!
iBoats sind die ersten Schlauchboote am Markt gewesen, die speziell auf die Bedürfnisse von Karpfenanglern abgestimmt worden sind. Damit verfügen Max Nollert und sein Team über einen langjährigen Erfahrungsschatz, der weit über die Ära der iBoats hinausgeht. Die iBoats wurden seit 2009 bis heute stetig weiterentwickeln. Dabei wurden sowohl die eigenen Ideen als auch die der wachsenden Anzahl von iBoat Fahrern in ganz Europa umgesetzt. Das machen die iBoats GEN4 heute zu den durchdachtesten Angelbooten am Markt. Nichts wurde dem Zufall überlassen, jedes noch so kleine vorhandene oder auch nicht vorhandene Detail hat seinen Sinn und Zweck.
Wir wollen Dir helfen, Deinen Traum vom eigenen iBoat zu verwirklichen!
iBoats in den Größen: 160, 210, 260, 320 oder 400cm. Ob dunkelgrün oder im Realtreemuster überlassen wir Deinem Geschmack!
klciken zum vergrößern

Weg 2: Kein altes Abwrackboot am Start?
Dann sende uns doch einfach Dein schönstes Fischfoto und erhalte dafür satte 10% Rabatt auf alle iBoats! Mehr dazu in unserer Anzeige auf Seite 2!
Nehme Kontakt zu uns auf:
Tel: 06541 818500 (Max Nollert / Julian Jurkewitz beraten Dich persönlich!)
E-Mail: info@imperial-fishing.de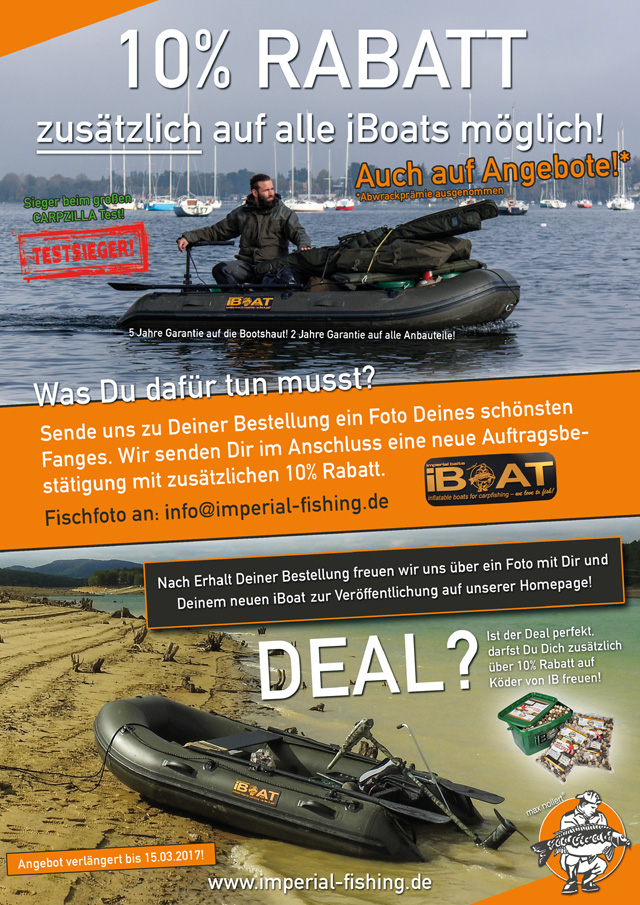 klicken zum vergrößern