KLICK HIER UND ERFAHRE MEHR / CLICK HERE TO READ MORE!
————————————————————————————————————————————————————
Der Frühling ist da!
vom Team Imperial Baits Italy
Der Frühling ist da und wie jedes Jahr nehme ich mir eine Woche Urlaub, um eine Session gemeinsam mit anderen Imperial Baits Teammitgliedern anzugehen. Am See angekommen, erkannten wir sehr schnell, dass der Wasserspiegel sehr hoch war. Weiterhin wurde Regen vorhergesagt. Der Wasserstand war ohnehin schon so hoch, dass die Karpfen ohne Probleme tief ins Schilf ziehen konnten.
Und dort mussten unsere Köder hin!
Wir entschieden uns für eine größere Menge Imperial Baits Carptrack Elite, Fish und Banana Boilies in 24mm, die wir vor dem Schilf verteilten.
Warum 24mm Boilies?
Nunja wir machten einige große Rotaugen und Brassen aus, die durch das überschwemmte Schilf sausten. Diese wollten wir natürlich nicht mitfüttern und am Platz halten!

Auf mein Banana-PopUp-Rig lief es hervorragend!

Mitte der Woche kam die Regenfront und ließ den Wasserstand um 60-70cm ansteigen! Mit dieser üblen Regenfront nahmen die Bisse jedoch zu und es ging Schlag auf Schlag!

Eine super Woche neigte sich dem Ende entgegen. 22kg und 23kg kurz hintereinander! Damit setzte Claudio Ghirardi unserer gemeinsamen Session die Krone auf!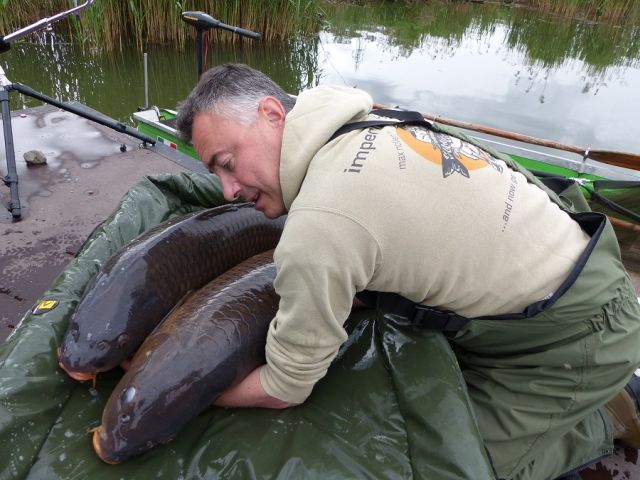 Wir verabschieden uns… Love them!

Nachfolgend noch ein dicker Winterfisch und der erste Karpfen mit der neuen Max Nollert Temptation TEN – 10ft / 3lb von Andrea Begarelli!

Eine wunderschöne Rute mit super geiler Aktion!

…Korkhandteil – ich liebe diesen Style!

Um den Style perfekt zu machen, dürfen die Imperial Fishing Rod Bands nicht fehlen 😉


Team Imperial Baits Italy
we love to fish!
Exclusive Distribution / Wholesale
Hobby Pesca & Acquari
Via Della Repubblica 105
26041, Casalmaggiore (CR)
Tel: +39.0375.41.659
Fax:+39.0375.030.068
E-Mail: info@hobbypescaeacquari.com
Orari
Lunedì: 15.30 – 19.30
Mar – Sab: 8.30 – 12.30 / 15.30 – 19.30
Negozio online in italiano:
www.hobbypescaeacquari.com
www.imperialfishing.blogspot.it
————————————————————————————————————————————————————
Unser Angebot für Deinen XXL Frühjahrsstart!
BIG FISH OFFER – 5 kg FISH Boilies + inP & inLiquid
gültig bis zum 16.04.2017
…Wenn dieser Fischboilie sprechen könnte, würde er grandiose Geschichten erzählen, von unvergesslichen Sessions und Fängen aus ganz Europa!
Inhalt
– 5 kg IB Carptrack Fish Boilies (Größe wählbar 16, 20, 24 mm)
– 150 g IB Carptrack inP (puderförmiges Additive zum Pimpen)
– 300 ml IB Carptrack inLiquid (flüssiges Additive zum Pimpen)
FISH, ein einfacher Name für einen extravaganten Köder:
– Fischmehl LT94 & vorverdautes Fischmehl, frisch aus Norwegen!
– Original Robin Red & Super Red von Haiths, frisch aus England!
– IB Carptrack ADD FAT, Proteinkonzentrat, Squid-Liver Mehl, Lac- & Eggalbumin, Liquid Amino, original indisches Black Pepper Oil, XXL Fish Flavour!
Achtung:
Geben Sie bitte bei der Bestellbemerkung (am Ende der Bestellung) die gewünschte Boilie Größe an oder teilen Sie uns diese per Email mit: info@imperial-fishing.de
vielen Dank und einen erfolgreichen Saisonstart!
max nollert & Team
Step by Step to the perfect Baitpimp:
Dylan Porte, Lac Du Der 34,8 Kilo
– gefangen mit IB Carptrack Fish + inP & inLiquid!

————————————————————————————————————————————————————
Gewinnspiel: finde Guppy
Nachdem ich letzte Woche bei den ersten Sonnenstrahlen, das erste Mal mit dem Fahrrad meine Runde drehte und dabei leider noch keinen einzigen Fisch an der Wasseroberfläche ausmachen konnte, war ich heute Mittag wieder zur Stelle. Schon von Weitem sah ich, dass das Wasser extrem klar geworden ist und damit die Initialzündung für den Wachstum von Seerosen und sonstiger Unterwasser-Fauna gegeben ist. Da sich im Moment noch kein schützendes Kraut oder Seerosenblätter an der Oberfläche befinden, konnte ich sehr schnell sehen, dass sich kein Karpfen in diesem Gebiet befand. Also schaute ich schnell unter Bootsstege und Co. und noch ehe ich mein Fahrrad abstellte, erkannte ich Guppy! Seine Form ist so markant, dass kein Zweifel besteht.
Finde auch Du Guppy und kreise ihn über welches Tool auch immer ein.
Sende es per Email an: info@imperial-fishing.de
Gleichzeitig ist sehr wichtig, um Chancen auf den Gewinn zu haben, dass du die Seite likest, falls noch nicht geschehen, und in die Kommentare "habe Guppy gefunden!" einträgst.
Viel Glück und viel Erfolg, vielleicht bist Du der glückliche Gewinner von unserem aktuellen super Angebot IB Carptrack BIG FISH OFFER!
Für alle die leider kein Glück hatten, bleibt das Angebot und somit das Einsparen von 20 Euro und nach wie vor die Möglichkeit, um mit einem Frühjahrsknaller zu starten!
Good carping und feel good!
Max Nollert & Team
Drei Schritte zum Erfolg:
– Kreise Guppy auf dem Foto (Hafen mit Steganleitung) ein und sende es per Email an: info@imperial-fishing.de
– Like die Seite MAX NOLLERT CARPFISHING
– Poste in die Kommentare "habe Guppy gefunden!"
Nur wer diese drei Schritte vollzieht, hat Chancen auf den Gewinn im Wert von 82,90 Euro!
klicken zum vergrößern

Guppy ziert das Cover des Imperial Fishing Katalogs 2017

Guppy im A3 Großformat auf der Seite 26-27