KLICK HIER UND ERFAHRE MEHR / CLICK HERE TO READ MORE!
————————————————————————————————————————————————————
Go Banana News – per Anhalter über den Rhein
Nähere Informationen zur Reise: https://www.gobanana.info/
WIESO, WESHALB, WARUM?
Das ist eine Challenge der etwas anderen Art! Die iBanane wurde speziell von unserer iBoat Produktion für Les Donhue Bromley gebaut. Alles weitere zu seiner 4000 km Reise findet Ihr auf seiner Webseite: https://www.gobanana.info/
Für uns ein toller Test, die Hartnäckigkeit der iBoat Materialien zu testen sowie ein verrücktes, nicht ganz alltägliches Projekt zu unterstützen. Was tun wir nicht alles um dem Alltag hier und da mal zu entfliehen 🙂
Les bekommt dafür die Krone auf – was für eine Reise!
Auf seiner Seite und diesem vorigen Update https://www.carp-gps.com/iblog/?p=30751 seht Ihr alle Infos und viele Bilder dazu und Ihr werdet noch besser das "WIESO, WESHALB, WARUM?" nachvollziehen!
klicken zum vergrößern

Les Donohue-Bromley – wenn ihn mal gerade keiner mitzieht 🙂

Aber schnell ist das nächste Boot gefunden und die Reise geht weiter – bei einem genüsslichen Heineken.

Von der "Lepelaar" wurde Les die nächsten Flusskilometer gezogen.

Gemeinsam passierten Sie die ein oder andere Schleuse

Abends wird auch gerne mal in einem neuen Städchen gefeiert…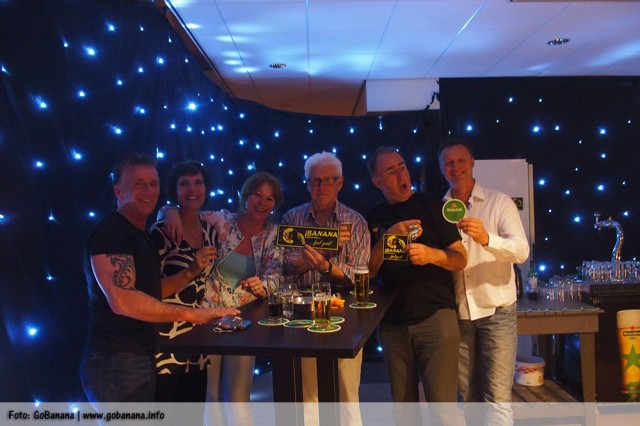 …Les weiß wie man Leute unterhält!

Tagsüber gibt er in den verschiedenen Städten Interviews an Zeitungen sowie TV- und Radiosender.

Bei schönstem Wetter geht die Reise weiter

Hinein in einen Yachthafen…

…Interview Termin!

Les ist super darin neue Kontakte zu knüpfen

Und er ist für jeden Spaß zu haben 😉

SHARK ATTACK on the iBANANA Boat!

Weiter geht die Reise mit Hilfe des Rhino Cobolt Motors,
angeschlossen an eine 50AH Rebelcell Batterie – LITHIUM-IONEN POWER!

Jetzt wird es verrückt:
Auf der Suche nach einem großen Frachtschiff als Zugpferd…

…schnell wurde Les fündig und koppelte die iBanana an!

Noch kurz etwas Kies abladen und los geht's…

Immer weiter Richtung Bulgarien – an dieser Position sind es noch 3750 Flusskilometer – zirka 😉

Und Les ist schon wieder dabei das nächste Schiff anzuheuern 🙂

Die täglichen Interviews unter der "iBanana on Tour" Flagge

Les lässt die ganze Welt an seiner verrückten Reise teilhaben und schreibt täglich Updates auf seiner Internet- und Facebook Seite.
Homepage: https://www.gobanana.info/
Facebookseite: Goban Ana
Wir sind gespannt was Ihn als nächstes erwarten wird!

————————————————————————————————————————————————————
Das große iBoat GEWINNSPIEL zur Messezeit!
Jetzt steht der Gewinner fest!
klicken zum vergrößern