KLICK HIER UND ERFAHRE MEHR / CLICK HERE TO READ MORE!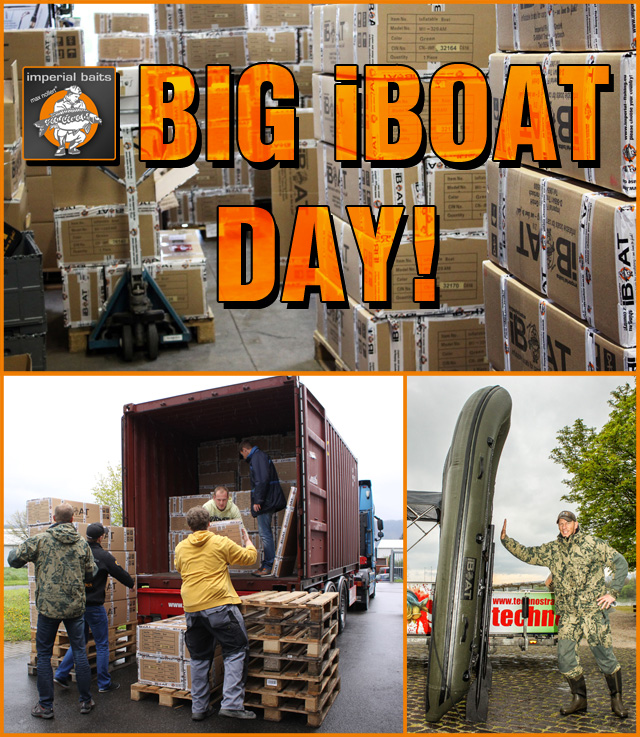 ————————————————————————————————————————————————————
BIG iBOAT DAY!
iBoats Generation 4 – jetzt lieferbar mit noch mehr Extras!
Seit mittlerweile 7 Jahren gibt es nun schon unsere speziell für Karpfenangler entwickelten iBoats. Schon einige Zeit vorher tüftelten wir an diesen ideal geformten Schlauchbooten zum Karpfenanglen – bis in`s kleinste Detail! Auch Wels- und Spinnfischangler lernten schnell die Vorzüge der iBoats kennen und kamen auf den Geschmack. Aktuell sieht man auf DMAX z.B. den Weltenbummler Jakub Vagner mit dem iBoat bei der Jagd auf Großwaller.
Die aller neuste iBoat Generation 4:

iBoats 4.0
Heute sind wir in der 4. Generation angelangt. Die Boote wurden stetig weiterentwickelt und immer präzieser auf die speziellen Situationen und Belastungen am Wasser angepasst.
Weiterentwicklung der Optik
Aktuell wurde auch die Optik weiter entwickelt. In der 3. Generation waren es die schwarz beschichteten Paddel, jetzt wurden die iBoats noch weiter an die Farben der Natur angepasst. Der ehemals hellgraue Hochdruckluftboden, musste nun einem weitaus unauffälligerem und zugleich gefälligerem Dunkelgrün weichen. Der D-Ring am Bug wurde ebenfalls schwarz pulver beschichtet, sodass kein Teil am iBoat mehr blitzt oder glänzt.
Bei den aktuell eingehenden Produktionen haben wir das ehemals orange Logo in "Wagenfarbe" angebracht – Feedbacks dazu sind erwünscht!
Sitzbankpolsterung
Um das Sitzen auf den kalten, harten aber sehr leichten Aluminiumbänken angenehmer zu gestalten, ist ab sofort ein super praktisches Sitzpolster im Lieferumfang enthalten, welches je nach Belieben fest an der Bank fixiert werden kann. Und das ohne Aufpreis! Im Gegenteil, die iBoats sind seit November 2015 sogar noch günstiger geworden (Beispiel iBoat 320 von 1250 Euro auf 1099 Euro), da die Nachfrage stetig wächst und wir die Produktion verdoppeln konnten. Bereits am 10. Mai erreicht uns die nächste iBoat Lieferung, da auch nach der Lieferung vom 27.04.2016 schon jetzt bestimmte Modelle wieder ausverkauft sind.
Scheuerleisten und weitere Details
Weitere Details, wie zusätzliche Scheuerleisten im Bugbereich oder noch stärkere Ruderdollen (optional auch komplett aus Edelstahl erhältlich – KLICK HIER!), machen die iBoats zu DEN SCHLAUCHBOOTEN FÜR ANGLER!
"Stand alone System" – iBoats machen es möglich! (260 und 320)

Überzeugen Sie sich selbst:
In den Größen 160, 210, 260, 320 und 400 verfügbar! (ACHTUNG: beachte die Hinweise im Onlineshop zur aktuellen Verfügbarkeit)
Ob klassisch grün oder im neuen Realtree-Style bestimmst Du!
Video über die Produktion der iBoats jetzt auf Youtube online:

————————————————————————————————————————————————————
ALLE VORBESTELLTEN BOOTE HABEN HEUTE UNSER HAUS VERLASSEN!
Die Chancen stehen sehr gut, dass Du Dein iBoat noch bis spätestens Freitag bekommst!
Containerleerung heute Vormittag
Teammitglieder wie Björn Dostal, Marvin Eckert und Thomas Keutmann packten heute bei der Entladung kräftig mit an!

Hand in Hand!

Alle gaben VOLLGAS, denn über 🙂 und noch mehr vorbestellte iBoats…

…sollten noch heute mit GLS auf die Reise zum neuen Besitzer gehen.

Geschafft!
Der Container ist leer – naja fast zumindest 🙂

Im Lager ging die Arbeit auf Hochtouren weiter – die iBoats wurden für den Versand vorbereitet.
In der Zwischenzeit wurden 3 große GLS Sprinter bestellt, die Halle war voll mit vorbestellten iBoats – na siehst Du Deines schon? 😉

Wir wünschen allen neuen und alten iBoat Besitzern:
ALLZEIT GUTE FAHRT und viel FREUDE mit EUREN iBOATS!


Max Nollert & Team
————————————————————————————————————————————————————
LAST BUT NOT LEAST
iBanana goes Bulgaria, still 3750 km to go!