KLICK HIER UND ERFAHRE MEHR / CLICK HERE TO READ MORE!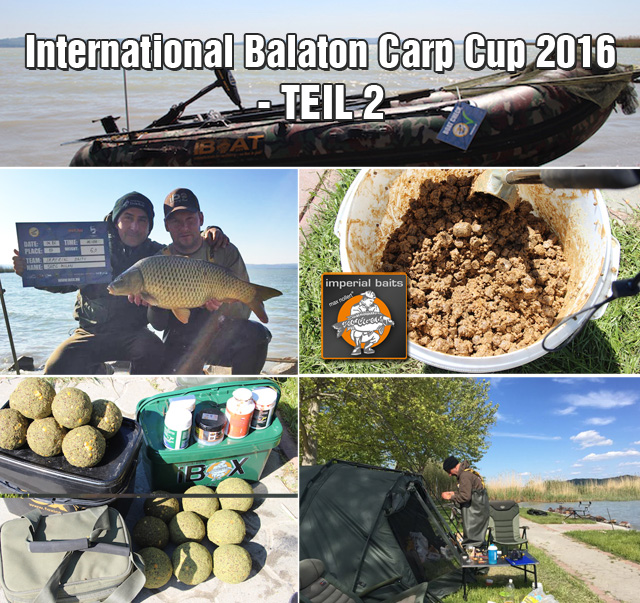 ————————————————————————————————————————————————————
International Balaton Carp Cup 2016 – TEIL 2
Quelle und genauere Informationen auf www.carpfishing.cz
Unser tschechisches Team rund um exklusiv Vertriebspartner David Fort (https://www.imperial-fishing.cz/), nimmt aktuell am International Carp Cup am Balaton teil.
Jetzt ist der erste Fisch fürs Team gefallen…
David Fort im Drill!

Ab an die Waage…

Der Anfang ist gemacht, die Würfel sind noch nicht gefallen!

Das Team setzt auf schnell lösliches Futter in Form von Groundbaitballen.

Das iBoat 320 (hier das vorherige Realtree) steht jetzt bei schönstem Wetter bereit für den Einsatz.

Mit dem hyper wasserlöslichen IB Carptrack Squid-Liver und Proteinkonzentrat…

…lässt sich das Futter hervorragend benetzen. Unter Wasser gibt es eine wahrhaftige Explosion an Attraktorstoffen!

Die Waffen sind startklar!

David Fort bei der Arbeit – weitere News folgen in Kürze!


Quelle und genauere Informationen auf www.carpfishing.cz
Verpasse nicht den LIVESTREAM – KLICK HIER!
————————————————————————————————————————————————————
Die neue iBoatlieferung erreicht uns MORGEN am 27.04.2016!
Alle vorbestellten Boote gehen noch am Tag der Ankunft raus, die Chancen stehen also sehr gut, dass alle innerhalb Deutschland schon zum letzten Aprilwochenende bei Euch im Einsatz sind!
Die "most wanted 320er iBoats" sind dann ebenfalls wieder verfügbar!
BIG, BIGGER, iBOAT 320!
Zu Sonderpreisen jetzt noch bei den letzten iBoat Angebote zuschlagen:
KLICK HIER um zu den aktuellen iBoat Angeboten zu gelangen!

klicken zum vergrößern

————————————————————————————————————————————————————
Zu guter Letzt:
Amazing Video about IB Carptrack Crawfish Black & White Boilies:
https://youtu.be/PwiN3Z7h26E
Take a look and follow the IB CRAWFISH Boilie explanations from our italian IB Teammember Sergio Ceccarelli. He has also some words about CRAWFISH Amino Dip , Gel and the CRAWFISH Pop Ups. You will see underwater timelaps about the solubility and attraction of the products as well!