KLICK HIER UND ERFAHRE MEHR / CLICK HERE TO READ MORE!
————————————————————————————————————————————————————
Half´n Halfs aufgepeppt
von Christoph Trippe
Gerade wenn es in Richtung Winter geht, sind aufgepeppte Köder meine erste Wahl. In meinem ersten iBlog Update habe ich Euch schon gezeigt, wie Ihr Eure V-Pop-Up´s attraktiver gestaltet. Jetzt sind die Half´n Half Hookbaits an der Reihe, die ich mittlerweile immer häufiger einsetze und sehr zu schätzen gelernt habe. Das NHDC und das Carptrack Betain bleiben weg, dafür kommen Amino Dip´s und Amino Gele ins Spiel.
Alles was Ihr für den Carptrack Half'n Half Pimp braucht:
– Imperial Baits Carptrack Half'n Half (Sorte nach Wahl)
– Imperial Baits Carptrack Amino Dip (passend zu den Half´n Halfs)
– Imperial Baits Carptrack Amino Gel (passend zu den Half´n Halfs)
Alles auf einen Blick!
Verschiedene Half´n´Half Baits, dazugehörige Amino Dips und Amino Gele

Schnappt Euch eine Dose Half´n Half Baits, schraubt die Power Tower Dose auf und gießt einen guten Schluck des passenden Amino Dips in die Dose. Nach ca. 2-3 Wochen (alle paar Tage mal schütteln und Dose drehen) sollten die Baits den Amino Dip gut aufgesaugt haben.

Danach werden die "gesoakten" Half´n Half Baits ca. 24 Stunden auf Küchenpapier getrocknet.
Achtung: Nicht alle Sorten trocknen zu 100% ab. Monster-Liver Dip z.B. ist unter anderem mit Frankfuter Saussage Flavour versetzt. Da dieses Flavour sehr fetthaltig sind, bleibt auf den fertig "gesoakten" Half´n Half Baits ein leicht öliger Film zurück.
Hier ein paar Beispielbilder:
Ab in die Dose damit und ans Wasser!

Durch den Dip schön ausbalanciert!
Am Wasser angekommen zieht ihr Eure Half´n Half Baits ganz normal aufs Haar. Durch den aufgesogenen Amino Dip haben die Baits an Gewicht zugenommen und sind quasi schwerelos im Wasser. Ein Pop-Up-Gewicht oder Schrotblei auf dem Haar wird hier meistens nicht mehr benötigt!
Durch den Dip härter!
Der Dip macht die Baits nicht nur attraktiver, er härtet sie zusätzlich aus und sie werden widerstandsfähiger gegen Weißfisch- und Krebsattacken.

GEL IST GEIL!
Zum Schluss behandeln ich meine fertig beköderten Rigs wie gehabt mit dem passenden Amino Gel. Ich bevorzuge immer zwei Schichten des Gels, also Wasser-Gel-Wasser-Gel-Wasser, denn dadurch hält das Gel unter Wasser für eine längere Zeit am Boilie. Wer mag, kann auch noch mehr Schichten Gel um den Boilie machen, allerdings wird er dementsprechend größer im Durchmesser, was man entsprechend auch bei dem Haarabstand berücksichtigen muss.
Mein Pimp kommt an!
In der letzten Zeit habe ich die aufgepeppten Half´n Half Baits an verschiedenen Kanälen in Deutschland, den Niederlanden und Frankreich getestet und sie sind super bei den Fischen angekommen.

Ohne vorfüttern!
Gerade wenn ich unter der Woche nur wenig Zeit zum fischen hatte oder ich im Ausland ohne vorzufüttern unterwegs war, brachten sie mir durch ihre hohe Attraktivität (sie fangen im Wasser sofort an zu arbeiten) immer mindestens einen Fisch.

Zurück in dein Element mein Freund 😉

Klein aber fein 🙂

Diesen Spiegler konnte ich in den letzten Stunden meines Ansitzes überlisten.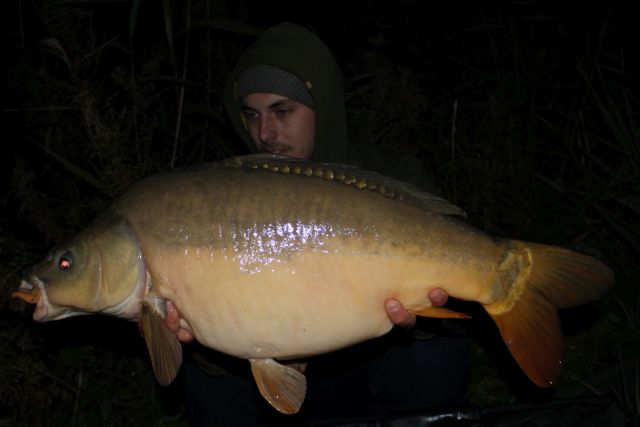 Einer meiner letzten Fische aus dem Jahre 2015…

Schöner Schuppmann gefangen auf einen 20mm Banana Boilie gepimt mit dem dazugehörigen Banana Gel und Banana Dip.

Wer die Dip´s und Gele einmal live sehen möchte, kann uns gerne am Imperial Fishing Stand auf den kommenden Messen in Berlin, Montluçon, Speyer und Graz besuchen. Am Baitkiosk werdet ihr fündig – und vielleicht sogar süchtig!
Ich wünsche Euch viel Spaß beim pimpen Eurer Half´n Half Baits und dicke Fische für 2016!!!


Christoph Trippe
Team Imperial Baits Germany
————————————————————————————————————————————————————
VIDEO: Claudia Darga na Rybomanii 2016 w Poznaniu!
Max Nollert:
Hi everyone, here comes a little video on youtube from Claudia Darga!
It is an invitation to the RYBOMANIA Fishing fair in Poznan!
Therefore, Claudia did her best to do it in local language.
Enjoy watching it!
Claudia writes in addition:
"I am looking forward to meet you personally at Rybomania Poznań 2016 at the Magazyn Karp Max stand" 🙂
Hallo zusammen,
Claudia Darga meldet sich zurück mit einer kurzen Video Einladung für die Rybomania Angelmesse in Poznan (Die größte Angelmesse in Polen und gar nicht so weit weg von der deutschen Grenze). Passend zum Messeort und Publikum spricht Claudia auf Polnisch!
Claudia schreibt zudem:
"Ein Besuch lohnt sich bestimmt! Ich freue mich auf Euren Besuch und erwarte Euch am Stand von Karp Max" 🙂
Aktuell ist Claudia in Thailand auf der Jagd nach entfernten Artgenossen und lässt alle schön grüßen!