KLICK HIER UND ERFAHRE MEHR / CLICK HERE TO READ MORE!
————————————————————————————————————————————————————
VIDEO: Carpfishing on the River Ebro January 2016
– Zsolt Bundik
Schon früh im Jahr verbrachte IB Teamangler Zsolt Bundik aus Ungarn einige Tage am Ebro Stausee in Spanien. Kurz nach seiner Session setzte sich Zsolt vor den PC und schnitt das nachfolgende Video für Euch zusammen. Wir wünschen viel Spaß bei fantastischen Luftaufnahmen, actionreichen Drillszenen und das in der rauen Ebro Natur – im Winter!
Enjoy!
————————————————————————————————————————————————————
Saisonstart 2016
von Patrick Härer
Es kribbelte schon wieder in den Fingern.
Am Wochenende sollte es das erste Mal im neuen Jahr ans Wasser gehen. Meine Freundin Selina und Ich spekulierten wo der beste Platz am See wäre wohl wäre?! Wo würden sich jetzt die Fische im Winter aufhalten? Wir hatten einen Plan geschmiedet! Am Tag davor wurde das Auto beladen, die Heizung montiert und die Schlafsäcke auf die Liegen gespannt.

Da wir es mit einer sehr niedrigen Wassertemperatur zu tun hatten, mussten unbedingt hoch attraktive Bestandteile im Futtermix enthalten sein. Wir entschieden uns für gecrushte IB Carptrack Banana Cold Water Boilies, Aminopellets, Hanf, Betain, inP und etwas Feinfutter. Die Bestandteile werden zusammengemischt und mit inLiquid angemacht, damit es PVA verträglich ist und eine noch höhere Attraktivität für den Karpfen darstellt. Das ganze Spektakel wurde ein Tag vorher angemacht, so dass es gut durchziehen konnte.

Am See angekommen bauten wir unser Tackle auf. Für den visuellen Reiz wurde die eine Rute mit einem weißen 16mm V-Pop-Up und einem kleinen PVA Säckchen, mit dem am vorherigen Tag angemachten Mix bestückt.

Die andere Rute wurde mit einem Snowman bestehend aus einem Banana Cold Water Boilies in 16mm und einen 10mm pinken V-Pop-Up beködert. Das PVA Säckchen fehlte auch hier nicht 🙂

Die Köder wurden in einem am Ufer liegenden tieferen Bereich des Sees platziert. Dort vermuteten wir die Fische. Es flogen eine Hand voll Murmeln und ein paar von Hand leicht gepresste Futterballen hinterher.
Als die Dämmerung einbrach und es noch nicht mal richtig Dunkel war, kam schon der erste Biss. Ein schöner Spiegler ließ sich unser Wintermenü schmecken.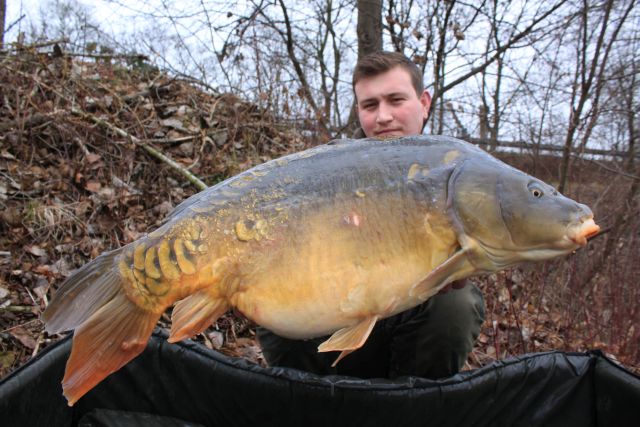 Der Zweite kam zügig im Anschluss, dieses Mal für Selina.

Hier warten zwei Schuppmänner, die zeitnah gebissen hatten, auf ihr Fotoshooting.

Reingefallen auf einen weißen V-Pop Up in 16mm

Dieser Fisch konnte dem Snowman, bestehend aus einem Banana CW Boilie in 16mm und einen 10mm pinken V-Pop Up, nicht widerstehen.

Wie leicht zu erkennen, vertragen die Fische unsere Banana CW Boilies und den Futtermix sehr gut 🙂

DICKE LIPPE RISKIERT und im Netz gelandet!!!

Adios Amigos!

Wahnsinn, wir verbuchten 8 Karpfen und 1 Brassen in dieser ersten frühen und kurzen Januarsession!
Männers raus mit Euch, die 2016er Karpfen warten 🙂
Tight Lines!
Patrick Härer
Team Imperial Fishing Germany
————————————————————————————————————————————————————
NEW EDITION: IB Carptrack Birdfood Banana COLD WATER!
Jetzt erhältlich – klick hier!
16 & 20mm – SOFORT LIEFERBAR!
klick hier!
————————————————————————————————————————————————————
Zu guter Letzt:
in Kürze: iBanana Rubber Logo!
12 x 12cm!